Like GearBrain on Facebook
Honda won our hearts at the Geneva Motor Show this year with a pair of retro-inspired electric cars — and at least one will be going on sale soon.
Styled like early hatchbacks of the Seventies and Eighties, the Urban EV is a compact supermini designed for city-center driving and short commutes. Meanwhile, the Honda Sports EV puts us in mind of the Toyota 2000GT of the late sixties.
More from Geneva 2018:
Although these are just concepts for now — representations of what future electric Honda cars might look like — the company says it will reveal a production version of the Urban EV at next year's Geneva Motor Show, in March 2019. That car, to be positioned as a premium but compact city vehicle and likely to rival the BMW i3 and upcoming electric Mini, will go into production next spring.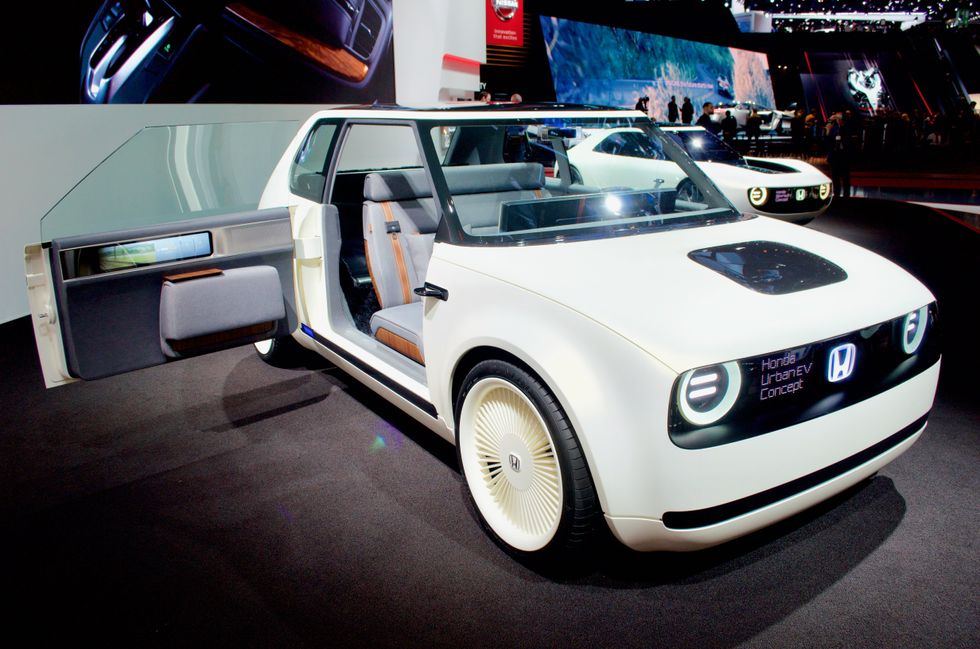 Rear-hinged doors and displays instead of wing mirrors are unlikely to appear on the production versionGearBrain
As the car shifts from concept to street-ready, we expect there to be major changes with the interior, which will be altered from four seats to five, and likely lose some of its retro charm. It is also likely to ditch the computer displays on its doors, and the doors themselves will almost certainly lose their rear-hinged design.

As is popular on concept cars, the Urban EV replaces wing mirrors with small cameras on stalks — a detail also unlikely to feature on the final model. With no forward-facing cameras or LIDAR systems featured on the concept, it is unlikely that autonomy will play a major part in the Urban EV.
Inside, the concept beautifully blends old with new, pairing a retro wooden dashboard and grey fabric seats with a huge display panel stretching almost the entire width of the cabin. We would like to see this remain, but suspect the production car will opt for a smaller central screen like the Tesla Model 3, or two screens with infotainment on one, and readouts like speed and remaining range on the other.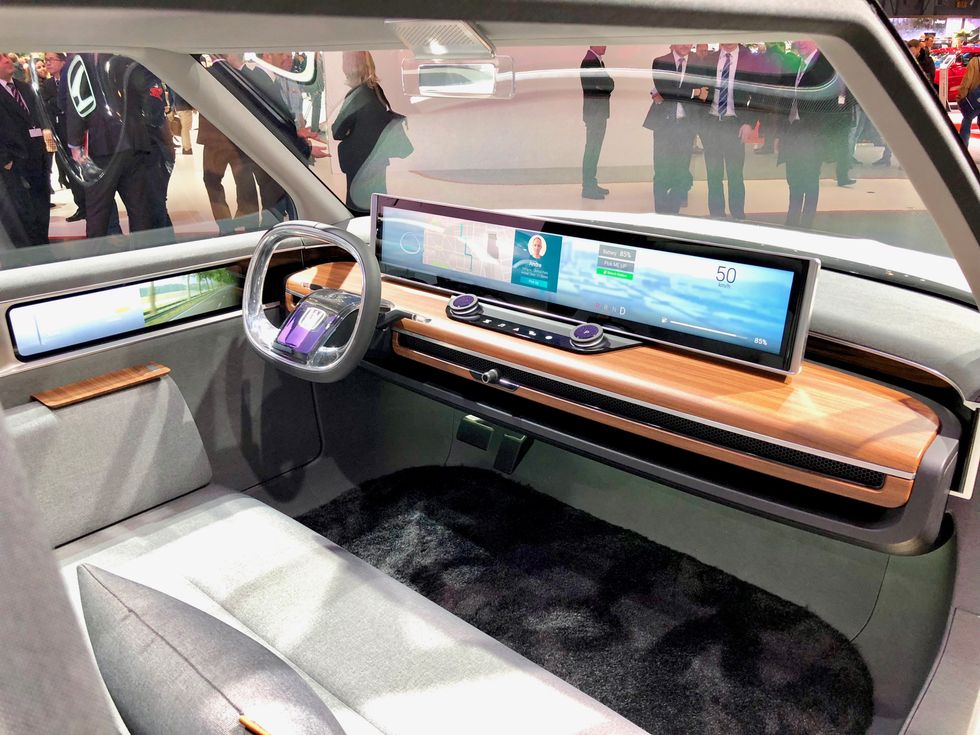 Interior blends retro design with modern UI and huge displayGearBrain
Speaking of remaining range, a feature we hope stays intact is a glowing blue battery icon on the outside of the car, just ahead of the rear wheels, which shows how much charge is left.
Very few technical details have been shared by Honda, though it is widely suspected that the Urban EV will have a range of around 155 miles — short of the Tesla Model 3's claimed 220 miles, but roughly on par with the BMW i3's claimed 186 miles.
The Urban EV's blunt face and black panel where a conventional car would have its radiator grille reminds us of the original Volkswagen Golf and the Peugeot 205 of the Eighties, while the interior fabrics and thick carpet have retro written all over them.
A quirky, futuristic feature is how the Urban EV has display panels on its exterior, used to give written messages to pedestrians and other road users, and greetings to its owner. A gimmick, perhaps, but possibly quite useful for letting people cross the road ahead.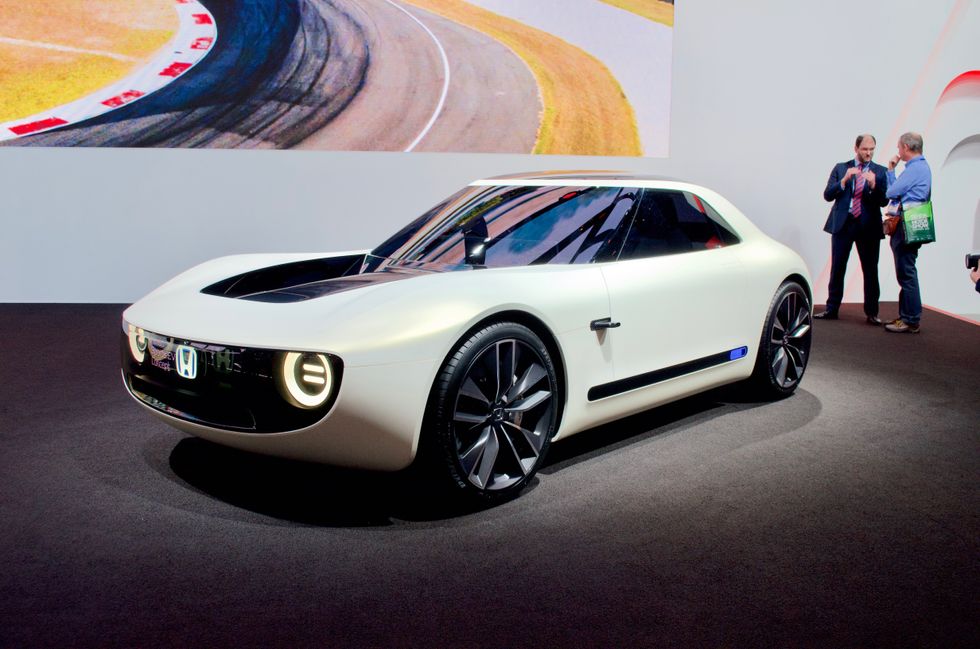 There's no word yet on whether the Sports EV will also enter productionGearBrain
At a compact 3,895mm long, the concept is 100mm shorter than Honda's current smallest car, the Fit (sold as the Jazz in Europe). Being smaller but aimed at a more premium segment of the market is likely why Honda feels it can invest in producing the new car, and that it won't cannibalize Jazz sales.
Honda also brought its Sports EV to Geneva, another retro-styled electric concept which blends great aesthetics with a compact design. Less is known about this car, however, and its blacked-out windows suggest the concept hasn't yet designed the interior. Whether the Sports EV will one day enter production remains a mystery for now, but if the Urban EV is a success then we could see it become an electric successor to Honda's S2000 sports car from the previous decade.
Although Honda already sells its electric Clarity in the U.S. and Japan, the company's current EV push is focused on Europe. There, it hopes that two-thirds of all its new car sales will feature a form of electrification (either hybrid or fully electric) by 2025. The company has also pledged to include some form of electrification in every new European mode line from now on.
Like GearBrain on Facebook