Most city-dwellers are familiar with ride-sharing apps for getting around by car. These can include Uber, Lyft, Via, Juno and others that led you hail a ride through a mobile app, which picks you and drops you at a destination. Sometimes these rides are shared with other riders, sometimes you ride alone. But there are other ways of getting around a city that take advantage of apps that share bikes, scooters — and if one company has its way, perhaps pogo sticks. A couple of these options are even environmentally-friendly, requiring only your own muscles to operate. Here's a run-down of some of the transportation sharing options around cities today that forgo the car, and how you can get your hands — and feet — on them as well.
Read More: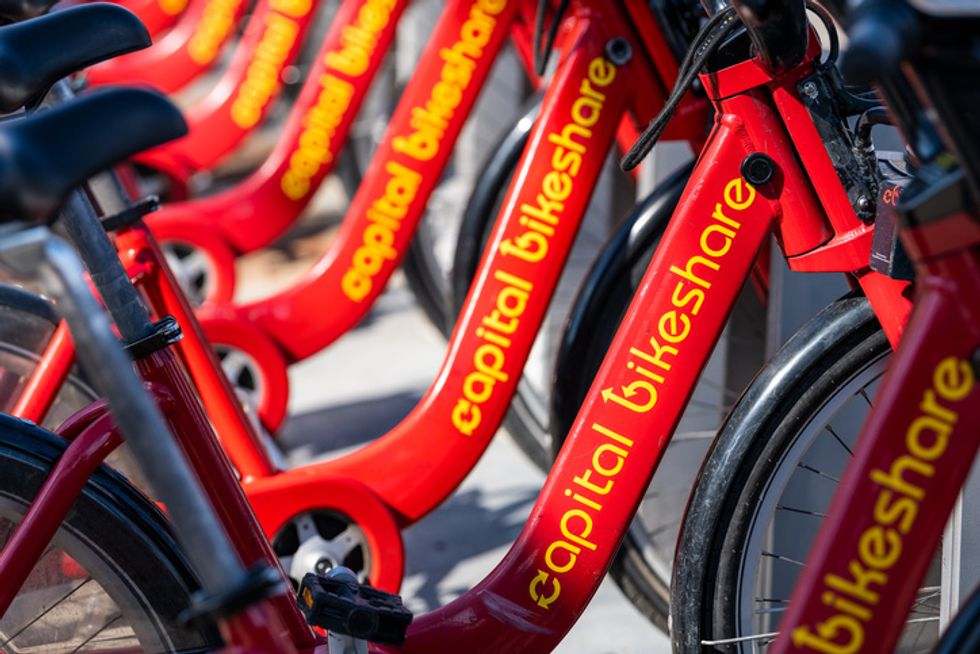 Capital bikeshare in Washington, D.C. is a way to rent, and share, a bicycle for a quick ride through a mobile appGearBrain
Bicycles
Ride-sharing bike programs are some of the longer-running options around. You can find them in cities around the world from London to Tokyo, and in the U.S. they're often in metropolitan areas such as Citi Bike (now run by Lyft) in New York City, Divvy in Chicago (which is also now run by Lyft) and Metro Bike Share in Los Angeles.
Using them can differ slightly but basically you download an app, and then subscribe. Certain programs have annual signups, some bikes can be rented for shorter rides. Citi Bike, for example, has annual memberships, but you can also grab a bike for a single ride for up to 30 minutes.
Once you have an app on your phone, and you've added a payment option, you can locate an available bicycle on a map, make your way to that station, use the app to unlock a bicycle. Then you're on your way. When you're done, you do need to drop the bike at one of the official bike stations — not where you necessarily started — in order to lock up the bike so your ride officially ends, and you're charged correctly.
One thing to note about ride-sharing and bikes, you need to have your own helmet — bike-sharing stations don't have them for rent with the bikes. And since riding a bicycle on city streets without a helmet is never recommended, bring one along.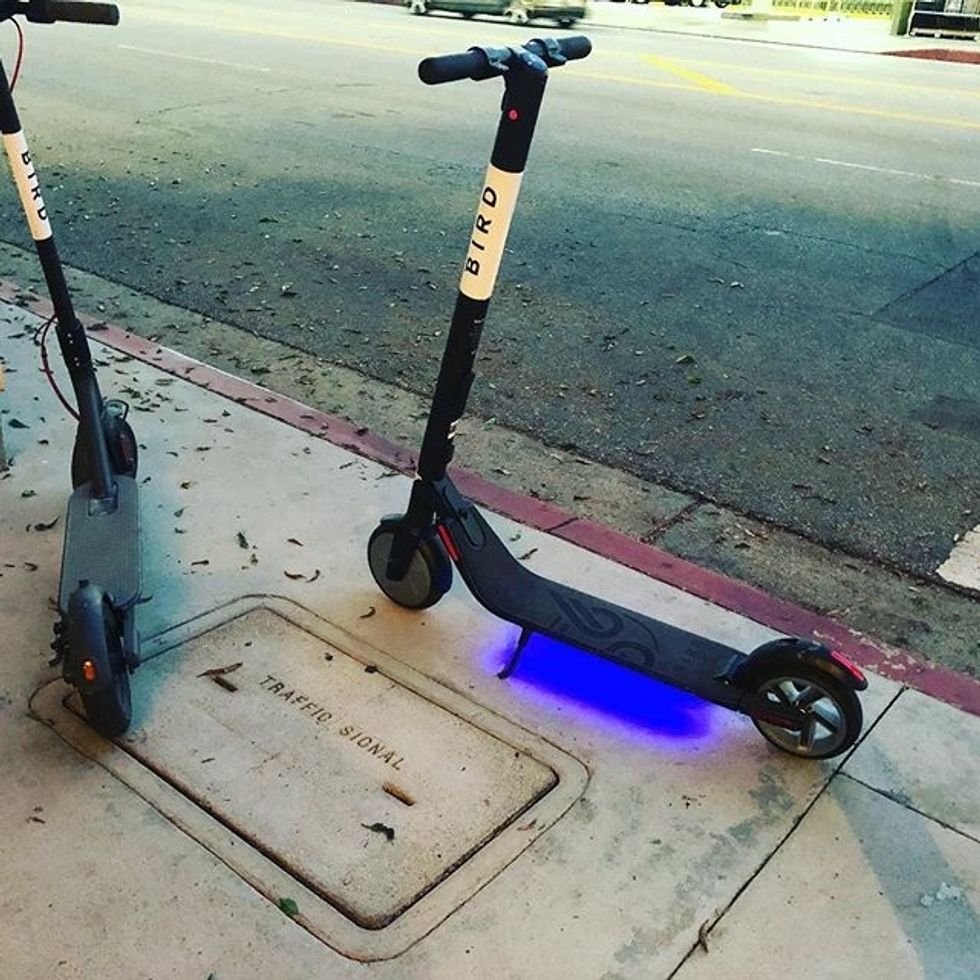 E-scooter ride-sharing apps help you find one on the street, and unlock it so you can ride for five minutes or as long as you need GearBrain
Electric scooters
Once you've mastered the bike share system, you may want to consider renting an electric or e-scooter. Many of these ride-share scooter networks are managed or owned by the same companies that operate bike-sharing and car-sharing, such as Lyft and Uber.
Ride-sharing scooter options are often not as welcome in cities as bikes. That's usually because scooters don't need stations where they can be docked. Instead, if you have an app and an account, you can find an available scooter through a map — and they can be anywhere, on a street corner, in a park or in someone's driveway.
This ability to pick up a scooter and leave it wherever you want when you finish a ride is part of the appeal of these services. But they've also incurred the wrath of municipalities which have banned many of these ride-sharing programs from their city borders precisely for that reason — scooters dumped wherever riders want.
Still, ride-sharing scooter options are also found around the world. Bird operates in multiple cities from Paris to Tel Aviv, and from Santa Monica to Miami. You can pick up a Lyft scooter in Dallas, Nashville and Washington, D.C. among other cities in the U.S. and you can ride Jump scooters (which Uber owns) in Madrid and Paris, as well as San Diego and Tampa, Fl., among other cities.

Scooter ride-sharing, like bicycles, requires riders download an app, attach a payment system, which then allows them to find and unlock a scooter. You typically pay a flat base rate, plus a per-minute charge. And absolutely plan to bring a helmet if you ride an electric scooter. They can accelerate quickly, and with people riding them on sidewalks (which they shouldn't) and streets, it's crucial to have something to protect your head.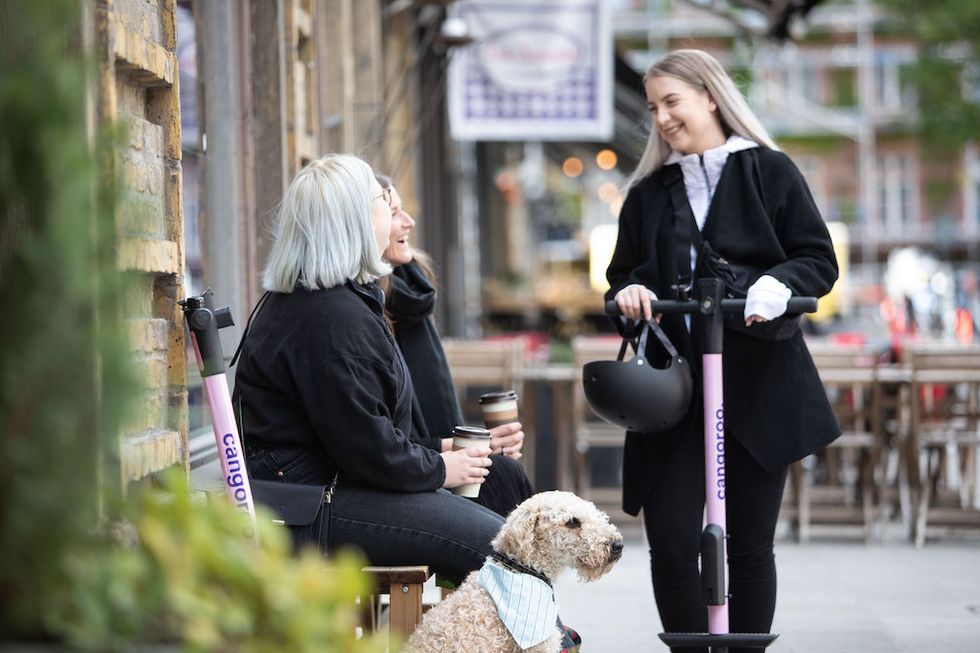 Swedish-based Cangoroo claims to be bringing ride-sharing to pogo sticks the summer of 2019Cangoroo
Pogo sticks

Yes, that's correct, a company based in Sweden called Cangoroo wants to launch ride-sharing for pogo sticks in 2019. Whether the entire concept is really going to take off or not remains to be seen as not one city has launched the ride-sharing service yet.
But the concept follows the same for bicycles and scooters — you'll pay a one-time flat fee, and then a per minute five cities are ready to launch during the summer of 2019 including London, Stockholm, Paris, Malmö in Sweden and San Francisco in the U.S.
No, pogo sticks aren't electric powered — and the company does encourage you to wear a helmet. That's key since you can apparently use one in bike lanes, although we'll be interested in seeing how bikers feel about someone bouncing Roo-like in their lane.