Like GearBrain on Facebook
The Eve, from Elgato, is a connected-home system created for the HomeKit space. If you're an Apple user, this is a system you'll want to pay attention to for a design tailored for the iOS environment.
Eve also works with its own stand-alone app. And while you're free to expand your entire HomeKit's functionality or invest in Elgato's line of products individually — keep in mind that, again, Eve is an iOS-only product. While you can configure the Eve using Apple Home, you're going to get some more options if you download Eve's app from the store.

Set up is straightforward and no-nonsense. Using the app, you can pair up each device by aiming your phone or tablet's camera at each gadget's product code. Most of Eve's products have the code listed directly on the device, as well as on the product information in the setup manual. Once your camera detects the code, it syncs the device and gives you options for setting up room choice, icon, and other individual product features. If your controlling device doesn't have a camera, have no fear, there is an option to type in the code manually.
It only took about five minutes total to set up the five devices I tested out: the Room, Degree, Motion, Energy, and Door & Window. However, it did take about another fifteen minutes to update the firmware for three of the devices. Still, it was easy and required nothing more of me than a few taps on my iPhone while I watched Netflix.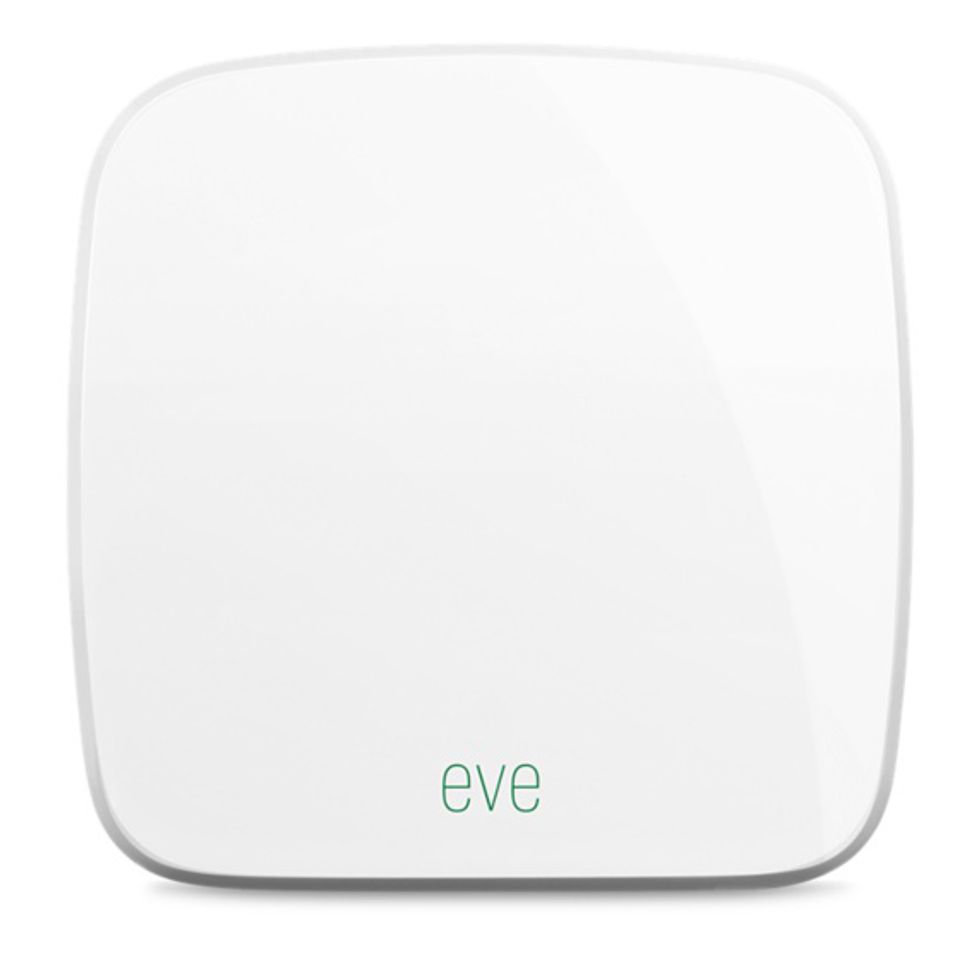 The Eve Room measure air quality as well as humidity levelsElgato
The Room
The Eve Room monitors your surrounding air quality, including temperature and humidity. It does this by detecting Volatile Organic Compounds (VOCs), which are chemicals we routinely come in contact with in plastics and many household products. VOCs are also produced by our daily activities, namely cooking and cleaning. In low concentrations VOCs are considered harmless. But some experts believe constant exposure to high levels can cause health problems. The Eve Room monitors air quality levels and reports back its findings.
From a practical standpoint, I didn't personally find much use for the Room. However, the device reported I was breathing excellent air throughout my house, so I suppose, in that case, having to do nothing is a good thing. That said, I can definitely see a few uses others might find for it. If, say, you live in a particularly dry climate, having the Room monitor humidity levels could give you a good indication of when to turn on your humidifier. Better yet, if you have the means, you can set up a scene using Apple Home or Eve's app to automatically turn on your smart humidifier when a certain level of humidity is detected. Furthermore, if you routinely suffer from allergies, the Room may be able to help you find the best location in your house to hang out in during those pollen-filled spring and summer months.
As with many products of this type, your mileage and use for it will vary, but I can report that Room functions well and does what it claims to do. The temperature and humidity readings were fairly spot on, and as for the air quality, I'm assuming its reading of excellent was also correct — although I cannot verify this information. The Room's biggest downside is it's $79.95 price tag. For a device that doesn't technically do or change anything, outside of merely reporting a few facts, $80 is quite the asking price.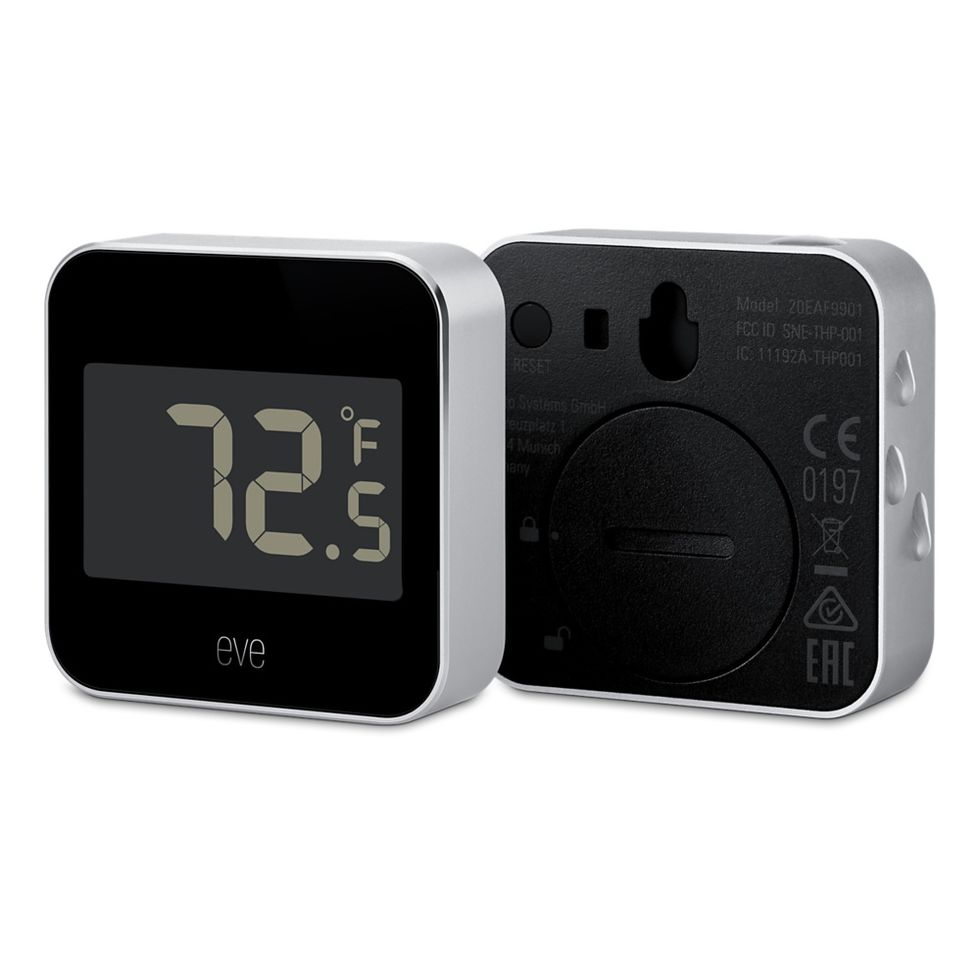 Temperature display and air pressure is what Eve's Degree is all about Elgato
The Degree
As you might expect from the name, the Degree is a temperature, humidity, and air pressure sensor. Of the five Eve products I had the opportunity to look at, this one left me scratching my head the most. If you're wondering what exactly is the difference between the Room and the Degree, you'd be forgiven for the confusion.
While the Room is a small 3 x 3 inch white box that measures temperature, humidity, and air quality, the Degree is a slightly smaller black box with a temperature display. Instead of air quality, the Degree measures air pressure, and it also works outside, as well as inside.
Like the Room, the Degree's readings were accurate, and the device worked as intended. However, I don't know its point in a connected home, outside of giving some basic information and allowing for scene triggers. I'm sure there are people out there who care about barometric pressure readings, but the Room's air quality sensor is a much more exciting statistic. Furthermore, the temperature reading was quite slow to update when switching rooms, or when altering the ambient temperature in the room which it already occupies.

You may think I'm being picky, and possibly I am. However, when you consider the $69.95 cost to buy a Degree, I would say being a little choosy is necessary. Considering the Degree, like the Room, doesn't effectively do anything, the price tag is oddly steep. Sure, it provides you with another trigger for your scenes, but the Room already serves that function. Furthermore, if you already have a smart home thermostat, you already have a temperature triggering device.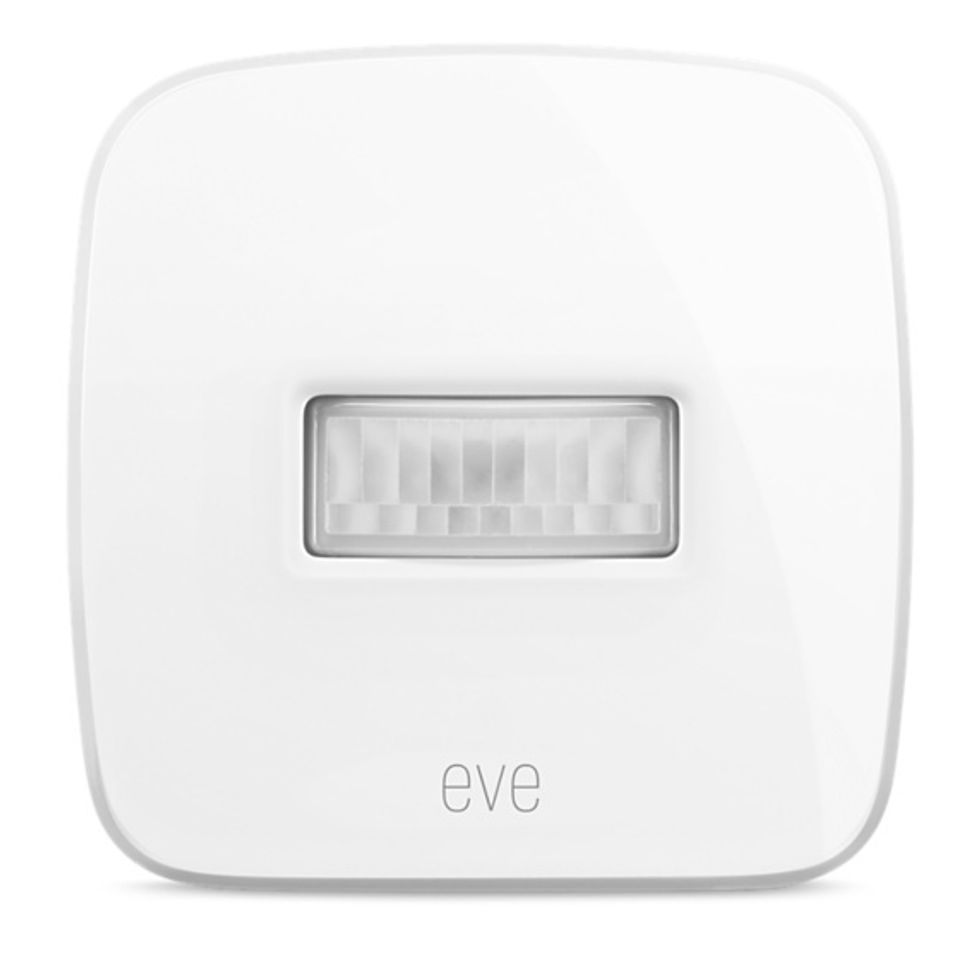 Used both inside and outside, Motion is as it sounds, the motion detector for the Eve systemElgato
The Motion

By now Elgato's naming trend should be pretty clear. The Eve Motion is, you guessed it, a motion sensor. It does its job quite well with a 120-degree field of view and a 30-foot detection range. Often sensors of this kind will report lofty detection ranges but fall short, sometimes woefully short. The Motion, however, detected consistent movement even from about 25 feet away on the highest sensitivity setting (Low-Medium-High).
Like the Degree, the Motion can also be used outdoors, which could be particularly useful for detecting new arrivals, both wanted and potential intruders. Of course, simply being able to detect movement would be useless if no actions could be taken. Like the rest of the Eve's line, the Motion can be used to set up scenes based on movement, or lack thereof, using Apple Home and the Eve app.

Once again, the biggest drawback to the Motion is its cost: $49.95. While cheaper than the previous devices, it is still more costly than many of its competitors.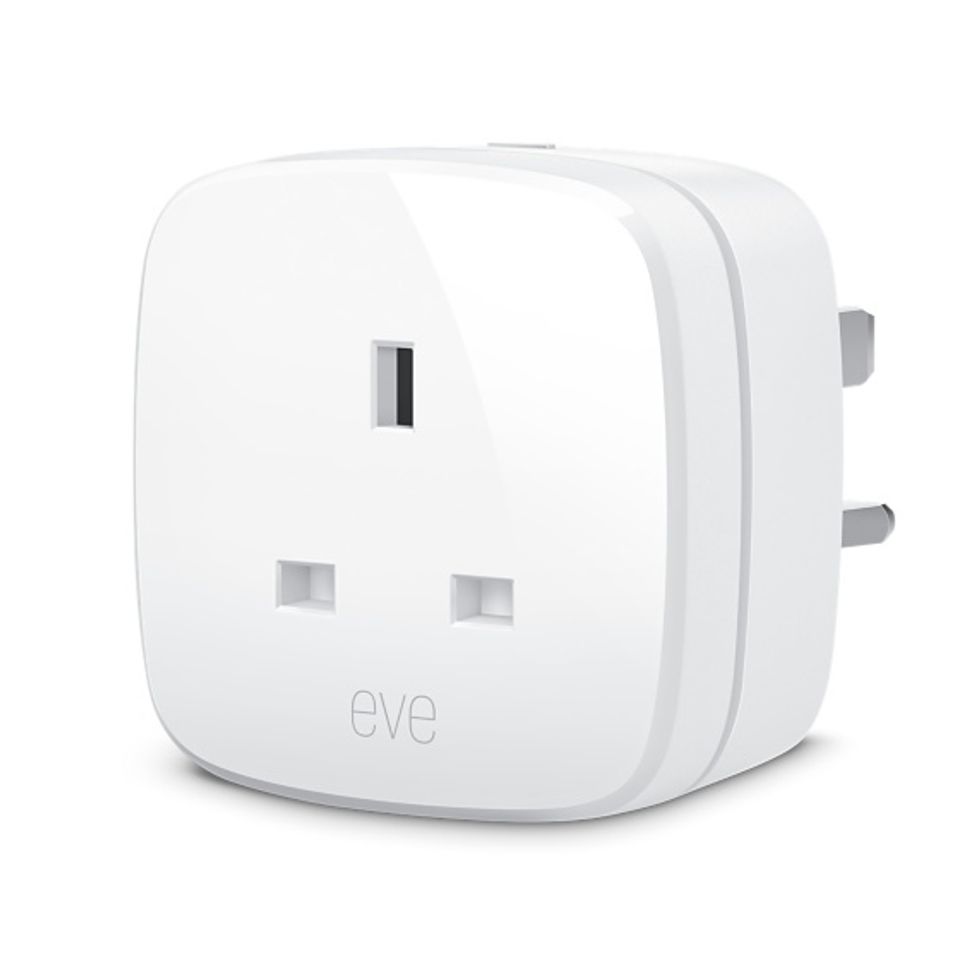 Eve's smart plug, the Energy, also monitors energy consumption in the homeElgato
The Energy
While not quite as obviously named as its peers, the Energy is a smart plug which lets you toggle on/off devices, as well as monitor their energy consumption and projected costs. It's this second bit that I enjoyed the most. Smart plugs are standard fare these days, but I did appreciate the consumption and projected costs, based on week, day, minute, or even year.
Sizing in at 2.6 x .2.6 x 1.9 inches, it is rather big. I didn't find it prohibitively large, but there were two sockets it wouldn't fit in, thanks to their proximity to the wall.
Like the rest of Elgato's products listed here, the Energy was easy and quick to install and functioned exactly as you'd expect a smart plug to behave. Its integration with the Eve app and Apple Home was in line with its brethren above. The price, too, is also comparatively high, at $49.95 per plug.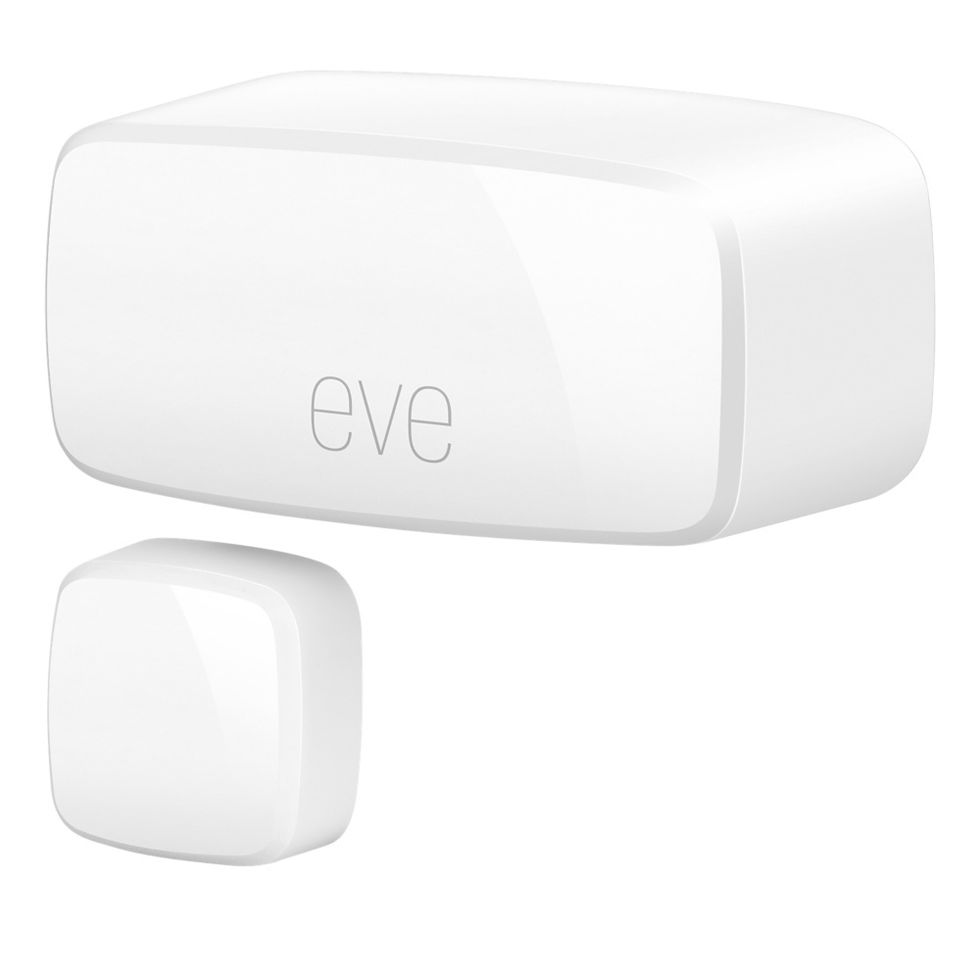 Eve Door and Window sensor are well-designed, but are costly at $39.95 eachElgato
The Door & Window
While the above products functioned as they should, I was pleasantly surprised by Elgato's Door and Window sensor. I've grown to expect somewhat subpar performance in this area, with sensors that have to be nearly touching to register one another, or ones that are so sensitive a minuscule movement will change a door's status from closed to open, regardless of the reality.
Not only did the sensor always detect a door's open/closed status accurately, but the general design of the device is well done. The sensor is designed to work on flat surfaces or uneven ones, thanks to the inclusion of some spacers which can be attached that alter the height of the sensor, bringing it in line with its sibling. This means that if you have side paneled doors, or windows, that create an uneven landscape for your sensors, you can use the included spacers to compensate the difference.
Naturally, it almost goes without saying at this point, but the $39.95 you'll need to shell out per sensor is a pretty big point to consider. Still, whether it was on my front door, bedroom windows, or even kitchen cabinets, the sensor never reported false readings.
Putting it All Together

Individually, the Eve is a functional connected-home system, with an excellent app. It has that classic Apple vibe, with boxy, white surfaces and a minimalistic design.
The problem comes when you begin to question the Eve's place in your smart home ecosystem. If you've already dove in and have a working system that isn't Apple based, then the Eve isn't going to offer you anything. If you're entrenched in Apple's HomeKit, then you may find something new to integrate into your ecosystem. Likewise, if you're looking to start from scratch, the Eve is a competent choice, if you can stomach the entry price.
-Lee Turner last wrote about the Nvidia Shield for GearBrain
Pros: Clean/Minimalistic look, easy to set up, great open/close sensor, and supports lots of devices to use in your Apple-centric household
Cons: Devices are a bit pricey, some sensors are slow to update and some devices don't do much outside of allowing for scene triggers
Like GearBrain on Facebook