Like GearBrain on Facebook
It's no surprise today's cable cutter generation is quick to sever ties with big cable companies — especially with the rise of easy-to-access home streaming services. Compared to the yesterday's clunky cable boxes ,the sleek and unobtrusive Nvidia Shield mirrors the generation's propensity for practicality.

Of course, while streaming services include content free of prepackaged stipulations, there are concessions. Nothing is without its flaws.
The Look
The Shield is about the size of a standard paperback novella, with a mostly matte finish, accented with an asymmetrical, glossy triangle and a subtle green LED. It's designed to sit flat but can be propped up on its side if you purchase a stand separately. I propped mine up between a couple of books that sit on my entertainment center, and it blended in nicely.
As for ports, the Shield can connect with two USB devices, Ethernet, and the usual HDMI and power connections. Oddly, there is no microSD or microUSB port. Considering the base model for the Shield only has 16GB of internal storage, this seems like an strange decision. However the USB ports do give access to beefy external storage capacities. Note, though, that the Nvidia's gaming controller does require access to one of the USB ports for charging.
Speaking of the controller, Nvidia's Shield has two different remotes — a traditional point-and-click style remote for streaming and browsing content, and a gaming controller for obvious uses.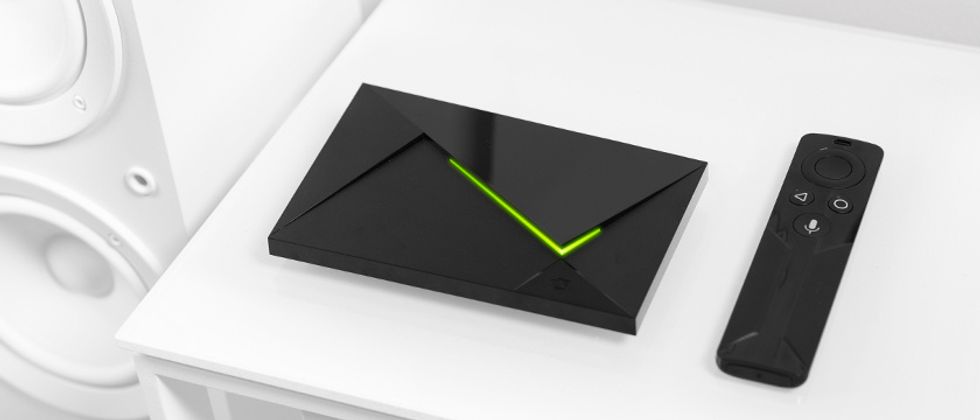 The Nvidia Shield remote is sleek and intuitive to useNvidia
The remote is thin, about as long as a standard sized smartphone, and has a very minimal button complement: directional, selection, back, home, and a voice search button. The center of the handle also functions as a touchpad, allowing you to drag your finger up and down its length to control volume. Overall, it matches the hub in design, being sleek, but with just enough pop to stand out from its boxy brethren.
The gaming controller has a bit more flair to its design, but even the textured handles fall in line with Nvidia's overall aesthetic. If you've ever held an Xbox controller or Playstation's Dualshock controller, you'll be right at home with Nvidia's mixture design. The overall look and feel is decidedly Xbox, however, the thumbsticks are side-by-side like the Dualshock's design. You'll find all the familiar buttons on the Shield's gaming solution, as you would on similar controllers, and even a touchpad between the thumbsticks.
User Interface
The Shield's UI is one place where Nvidia fumbled the ball a little. It's not horrible, and it is workable and responsive. However, finding the apps you want can sometimes feel needlessly frustrating.
There are no traditional categories to speak of in the Play store, and instead, you're presented with the cherry-picked apps that the device wants to show you. After moving past the curated content, there are a couple of selections you can make that narrow down the types of apps you're browsing, but it's pretty barebones. Overall, the presentation feels awkwardly thrown together, as if Nvidia and friends are more interested in advertising products than helping you find what you want. Truth be told, that is exactly what they're doing.
That said, the inclusion of Google Assistant is a godsend. At any time, you can do a voice search which routinely returns a variety of good results. More often than not, this is how I ended up finding the content I wanted.
Awkward user interface aside, the Shield was always responsive and transitioned smoothly from task-to-task with few hiccups. Very occasionally an app would crash, usually YouTube. But the Shield has a quick method for reopening crashed apps which relegated the few crashes I encountered from an annoyance to a passing roll of the eyes.
Apps
If you're looking for the best selection of streaming apps on an Android device, then look no further. The Shield's app variety is definitely one of its major selling points; it even has access to Amazon Video. If you've ever spent time trying to find an Android TV device that supports Amazon Video, you'll appreciate the Nvidia Shield's inclusion of the coveted app.
On top of a great selection of apps, the Shield can also play videos in full 4K HDR, give you access to your own media library via VLC, MX Media Player, et al., and provides Chromecast support. In short, the Shield can pretty much be your one-stop-shop for your content streaming needs.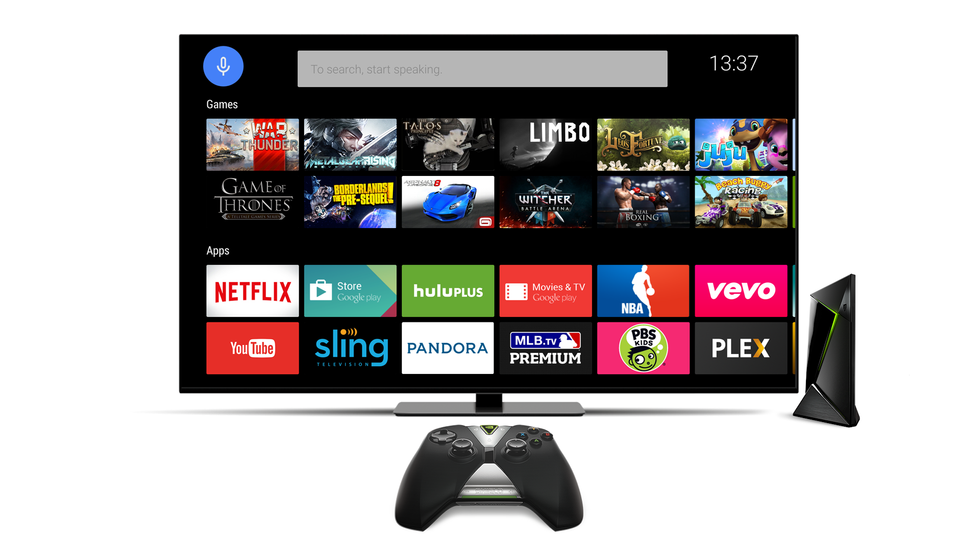 Gaming is Nvidia's Shield's real strength.Nvidia
Gaming
More than any other feature of the Shield, its gaming prowess is what sets it apart from similar devices. Gaming on the Shield comes in three —possibly four, flavors: Android games from the Play store, streaming games using GeForce Now, streaming games from your PC, and loading games from storage into one of the many emulators available in the store.
Buying and downloading games from the Android store works as well as you'd imagine. Something like Star Wars: Knights of the Old Republic was a delight for me to sit and idly play once again. This experience should be replicated for most everyone who dives into Shield's gaming capabilities. It isn't until you move onto streaming games that the caveats begin to creep up on you.
Firstly, you can stream games via GeForce Now, Nvidia's subscription service. For $7.99/mo you get access to a decent sized library of fairly high-end games, with the option to buy games directly. I was both surprised, and a bit let down by how the streaming service functioned. Let me first say that for those who might have less than capable ISP's controlling their gateway to the web, your mileage will absolutely vary.
If you do have the connection to handle GeForce Now, playing something like Bioshock Remastered was quite stable. There were good stretches of exploration in the game where I forgot I was streaming at all. However, the service isn't perfect and more than once I was jarred out of my immersion at various times thanks to packet loss. The drops in performance weren't enough to ruin my good time, but it was quite noticeable.

If paying the GeForce Now subscription isn't something you're interested in, then you can stream from your own home network via the GeForce Experience. Do keep in mind that this requires a compatible Nvidia GPU and a rather powerful gaming PC in general. While my GeForce Now experience ranged from pleasurable to passable, streaming directly from my gaming PC was measurably better. Even playing through chaotic sections of Dark Souls III worked surprisingly well, with all my deaths in game resting firmly on my shoulders and not on streaming performance.
Finally, those of you willing to download one of the Play store's many available emulators will be able to load up content via external storage into the emulator of your choice. This option will naturally expand your repertoire of games if you know what you're doing.
Final Thoughts
As a gaming and multi-media streaming device, the Shield is a very competent solution. The meager internal storage, UI oddities, and GeForce Now streaming issues aren't enough to detract from the Shield's overall performance and usability.
Perhaps the most detrimental aspect of Nvidia's Shield is its price point. The device is decidedly expensive, ranging from $179 to $199.99, depending on if you want the gaming controller or not. However, unlike its competitors, the Shield does do a fair bit more work, what with its robust gaming capabilities. Undoubtedly, not everyone is going to need or want a Shield, but if you're in the market for a media streaming powerhouse, Nvidia's Shield is definitely worth checking out.
-Lee Turner last reviewed the British Gas Hive system of smart home products.
Pros: Large selection of apps, two great controllers, responsive software design, sleek looking, and Google Assistant works relatively well.
Cons: Quite expensive, minor quirky crashes, UI oddities and meager internal storage.
Like GearBrain on Facebook