Like GearBrain on Facebook
Elon Musk just took the hyper out of hyperloop, as he plans to build a 'Loop' transportation system connecting O'Hare Airport to downtown Chicago.
Unlike his planned hyperloop, which is still very much in the development stage, the Chicago loop will not operate within a vacuum. Musk said for short journeys the removal of air - reducing drag and drastically increasing speed - is not necessary. Hence no 'hyper'.
Read more: What is hyperloop, how does it work and when will it arrive?
Musk said on Twitter on November 29 that he plans to bid for the route, which was proposed earlier that day by Chicago mayor Rahm Emanuel. The route is intended to transport passengers between downtown Chicago and O'Hare Airport in 20 minutes.
The 18-mile route currently takes between 40 and 90 minutes by road, or 53 minute by train. "Express service to and from O'Hare will give Chicagoans and visitors to our great city more options, faster travel times, and build on Chicago's competitive advantage as a global hub of tourism, transportation and trade," said Mayor Emanuel.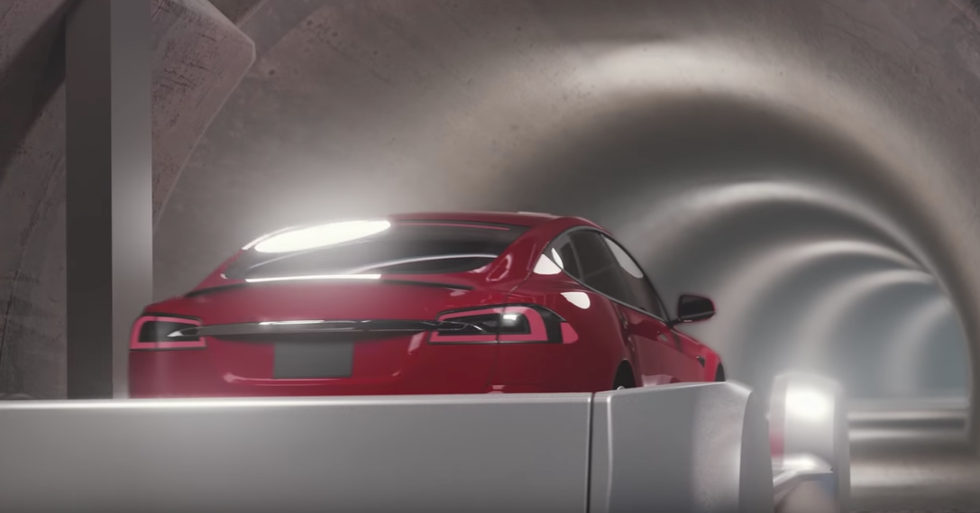 Musk separately plans to build electric 'car skates' under Los AngelesThe Boring Company
Musk posted a link to news of the mayor's plans, adding how his tunnelling firm will compete for the route. "The Boring Company will compete to fund, build and operate a high-speed Loop connecting Chicago O'Hare Airport to downtown," Musk said.
When asked to clarify what he meant by a loop, and if it would be similar to the 125mph electric car skates already detailed by Musk, the billionaire entrepreneur replied: "Kinda". He then added: "A Loop is like a Hyperloop, but without drawing a vacuum inside the tube. Don't need to get rid of air friction for short distances."
Musk was then asked whether the loop would use electric pods on rails, to which he said: "Electric pods for sure. Rails maybe, maybe not."
A Loop is like a Hyperloop, but without drawing a vacuum inside the tube. Don't need to get rid of air friction for short routes.
— Elon Musk (@elonmusk) November 30, 2017
Musk's electric skate concept, which he plans to install in a tunnel beneath Los Angeles, skipping the city's notoriously bad traffic, would see cars lowered from street level, placed on a skate, and propelled through the tunnel.
His other tunnel venture, hyperloop, removes most of the air from a tunnel to significantly lower drag. Electric passenger pods are then blasted through the tunnel over long distances and at speeds of up to 700mph.
For the Chicago loop project, Mayor Emanuel says there will be no taxpayer money available for the construction or running of the transport link. Instead, successful bidders must demonstrate how they will fund the project themselves, and generate revenue through ticket sales and advertising.
Like GearBrain on Facebook