Like GearBrain on Facebook
Reports of iPhone 8 batteries expanding during shipment, breaking the handset apart, could turn into a serious problem for Apple, says Sam Jaffe, managing director and founder of energy storage specialists Cairn ERA.
The iPhone 8 and 8 Plus went on sale on September 22 and in the following two weeks there have been reports in China, Japan, Hong Kong, Canada and Greece of expanding batteries causing phones to split open.

Speaking to GearBrain, Jaffe says: "It's a very serious problem. It's not Samsung Galaxy Note 7 seriousness yet [but] I am sure Apple is abuzz with activity to solve this. The fact that there are already at least four reported issues is a very bad sign."
The biggest issue, Jaffe says, is how the expanding problems are affecting brand new phones; such defects more commonly affect phones which are older and have batteries which have become damaged over time.
What causes a smartphone battery to expand?
Jaffe explains: "In essence there is a liquid electrolyte in the battery. It's made up of salts dissolved in some type of hydrocarbons. When something goes wrong, whether it heats up or short circuits, the hydrocarbon breaks down into hydrogen, which forms gas bubbles and gas expands and it causes the bloating of the battery."
Such bloating has, according to images posted to social media by iPhone 8 and 8 Plus customers, caused the panel housing the screen to break free from the aluminum body of the phone. Reports say this split may have prevented further damage, due to the breakage preventing pressure from building up inside the handset.
The fault is not believed to be dangerous, but nonetheless provokes memories of the Samsung Galaxy Note 7, which was recalled twice — and eventually cancelled — after the batteries of numerous handsets caught fire as a result of manufacturing defects.
With the same Apple fault being reported on different continents, this suggests the issue is not isolated to a single batch of bad batteries. The fault appears to have affected both the iPhone 8 and larger iPhone 8 Plus.
This is a point Jaffe backs up, saying: "Phone makers will use multiple battery vendors, and often the battery made by a phone company will go to one geographic region. In the past...you can figure out [which line is affected] and shut it down quickly. But the fact this is happening throughout many countries is a concern."
The new iPhones use different batteries than its predecessors. But despite reviews claiming the new iPhones have improved stamina, their batteries are actually smaller in size. The iPhone 8's battery is 1,821mAh, compared to the 1,970mAh battery in the iPhone 7, while the 8 Plus battery measures 2,675mAh compared to 2,900mAh battery in the 7 Plus.
An Apple spokesperson told GearBrain on October 2 that it was looking into the incidents, and added on October 6 that, despite fresh reports of expanding batteries surfacing online, Apple has nothing further to add at this stage. Apple is also not revealing how many handsets have been affected by the problem; there have so far been media reports on a handful of defective devices.

At this stage, there is no indication to suggest owners of defective iPhone 8 handsets could be harmed by the expanding batteries, or that Apple's issue is as widespread as that suffered by Samsung. There is also no sign of a recall, as expanding lithium batteries are not considered dangerous.
'A very worrying sign'
Owners are claiming their phones arrived split, before they arrived at their homes. Commenting on this, Jaffe says: "It's very odd it's happening during shipping. I've never seen this before. When you see bloating batteries in consumer electronics it's usually in a device that's a few years old and it's been so damaged from constant use it's starting to break down. But it's very unusual for this to happen in a brand new battery...To happen with a brand new launch of a phone, that's a very worrying sign."
Still, expanding iPhone batteries is not a new phenomenon. A search of Apple's online user discussion boards reveals a number of reports of expanding batteries in the iPhone 7 and other models, including the iPhone 6, 5 and 5C.
One post, dating from February 2017 and questioning whether other owners have the same problem, describes an iPhone 7 Plus with a swollen battery. The post indicates that 87 people have clicked a button marked 'I have this question too'.
The bad news for Apple isn't restricted to its latest iPhone. Average reviews for the new Watch Series 3, which features LTE and the ability to make phone calls for the first time, were followed last month by an admission by Apple that the device went on sale with malfunctioning Wi-Fi.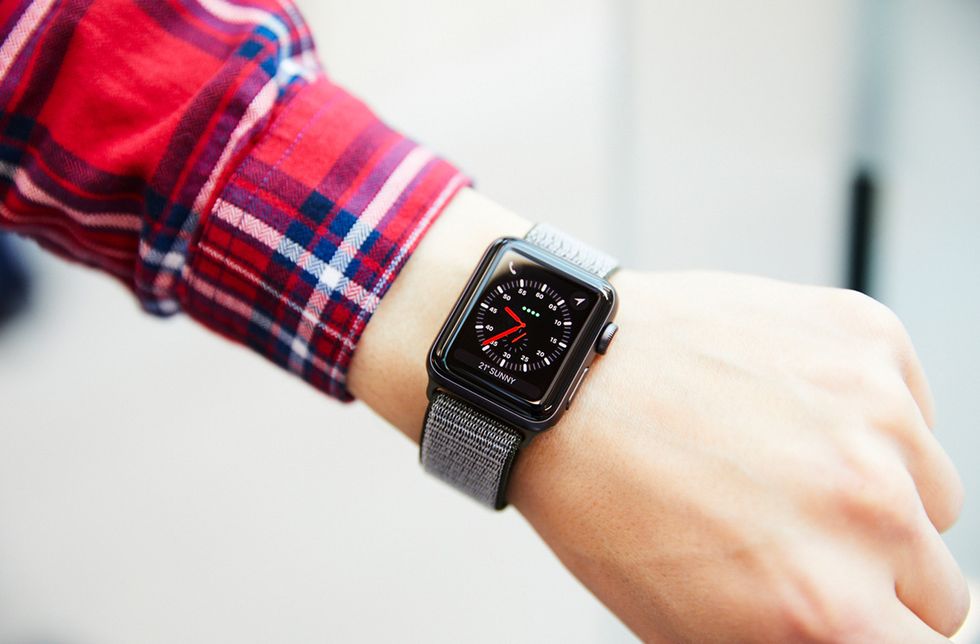 Watch 3 with LTE launched with WI-Fi connectivity issuesApple
Just two days before the smartwatch arrived in stores, and after negative reviews went live, Apple said: "We have discovered that when Apple Watch Series 3 joins unauthenticated WI-Fi networks without connectivity, it may at times prevent the watch from using cellular."

A fix was distributed by Apple via a software update on October 4.
Apple's share price stood at $155.39 at the close of trading on October 5, its highest point since September 20. Apple will release its fourth-quarter financial results after trading on 2 November, a day before the highly-anticipated — and highly priced — $999 iPhone X goes on sale. Despite its high price, widespread stock shortages are expected to last until the end of the year.
Like GearBrain on Facebook