With public libraries closed in many cities, and schools out across the country, getting physical books in hand is a tricky endeavor, shy of ordering them online. Having a book read aloud online is a nice substitute. Having a book read aloud by the actual author who penned the story is a rare treat.
There are many readings available on YouTube and others sites, some that are being recorded just now as COVID-19 has made staying at home more necessary. The lists are growing, adding to the other resources children can find online from science projects, to games to coding challenges.
Here are nine authors reading their stories out loud, from picture books to those written for older readers, along with a couple of extras including 15 lessons from illustrator Mo Willems on how to doodle and Kate DiCamillo who is currently giving short writing lessons, for free, online.
Eric Carle reads "The Very Hungry Caterpillar"
The read aloud may be more from 2012, but hearing Eric Carle read from the classic of all class children's books is a rare treat. The book is open, you can even hear that sound a printed page makes as it's turned, and the entire read-aloud is over in just two minutes.
Matt de la Peña reads "Love"
Author Matt de la Peña reads from his picture book, "Love." The Newbery Medal winner for his children's book, "Last Stop on Market Street," has also penned a number of young adult novels.
Kate DiCamillo gives you writing tips
Author Kate DiCamillo isn't reading any of her resplendent books, nor the two Newbery Medal award titles, "The Tale of Despereaux" and "Flora & Ulysses." Instead, she's offering writing classes, for free, through Candlewick Books YouTube page. To date she has four videos posted, and they're short, tops two minutes. And she even gives you assignments to do weekly.
Neil Gaiman reads "The Graveyard Book" and "Coraline"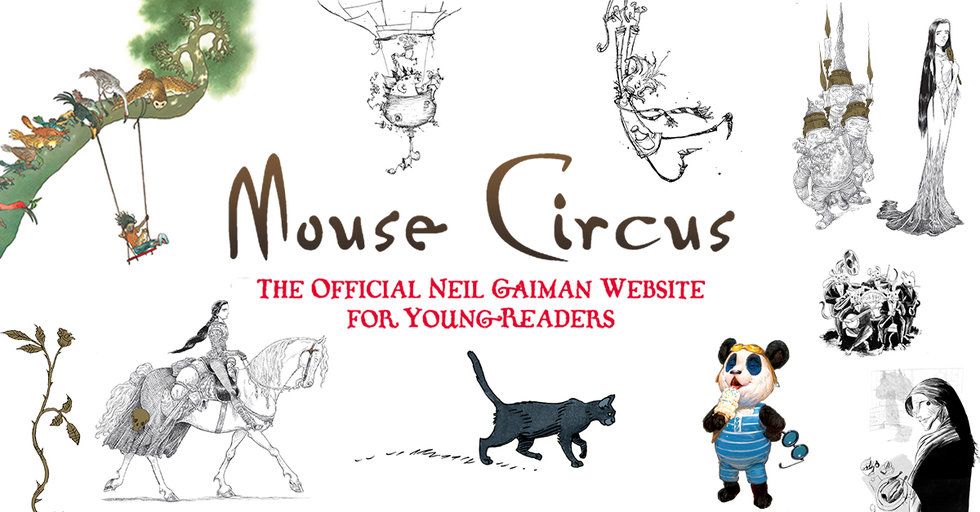 The Official Neil Gaiman Website for Young Readers
Author Neil Gaiman reads from his books on his web site, Mouse Circus. The readings for "The Graveyard Book" include all eight chapters, and you can watch Gaiman as well on video through the readings.
For "Coraline," Gaiman shares readings with some rather famous pals. While he takes the first and final chapters, the remaining 11 are read aloud by some well-known names including R.L. Stine, Lemony Snicket, Lauren Oliver and Neal Shusterman.
Melissa Iwai reads "Soup Day"
Illustrator and author Melissa Iwai reads from her picture book, "Soup Day." At the end, she even gives a little cooking recipe for a vegetable soup you can make on your own.
Kate Messner reads "Over and Under the Rainforest"
Author Kate Messner reads aloud her upcoming picture book "Over and Under the Rainforest," which isn't even released until August 2020.
Messner, a passionate advocate for librarians, teachers and other writers also maintains an online resource guide, including links to sites that may help educators and parents talk about COVID-19 with children. She has also curated links out to other read-alouds, writing and drawing lessons and more.
Jason Reynolds reads "Ghost"
Author Jason Reynolds, read a chapter from his middle grade book, "Ghost," in a five-minute video posted on YouTube. The book, published in 2016, was a National Book Award Finalist for Young People's Literature, and Reynolds was recently named the National Ambassador for Young People's Literature, an honor given by the Library of Congress.
Colson Whitehead reads "The Underground Railroad"
In a 2017 interview from Berlin, Pulitzer Prize winning author Colson Whitehead reads an excerpt from his book, "The Underground Railroad." The reading starts about 22 minutes into the video, which is on YouTube, and includes an early section of his book.
Mo Willems teaches you how to doodle
Illustrator and author Mo Willems isn't reading either, but he is doodling — or was. As the Kennedy Center Education Artist-in-Residence at Home, Willems created 15 episodes of doodling tips. You can watch him doodle too, and there's even an activity book and a diploma (yes, of course, doodled by Willems himself) that you can download when you're done watching.
All-New Fire HD 10 Tablet (10.1" 1080p full HD display, 32 GB) – Black