Like GearBrain on Facebook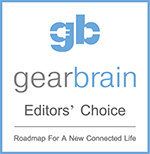 Toys that crack open the door into science, technology, engineering and coding are coming in waves this year, from what we saw while walking through Toy Fair 2020. Got a kid fascinated by the solar system? Or perhaps your child's a budding engineer, a young entomologist, or is just a Harry Potter fan at heart. In any case we have you covered with toys that blend technology with hands on learning in a way that still makes everything feel like play.
Here then are our 10 favorite toys from Toy Fair 2020 that blend science and tech in a perfect match — all due in stores this year.
PAI TECHNOLOGY Botzees Jr. Building kit - Dinosaur Toy and Construction Kit with Puzzles, Stem Toy, Educational Engineering, Ages 3 - 8 Year Old Boys & Girls (App Based)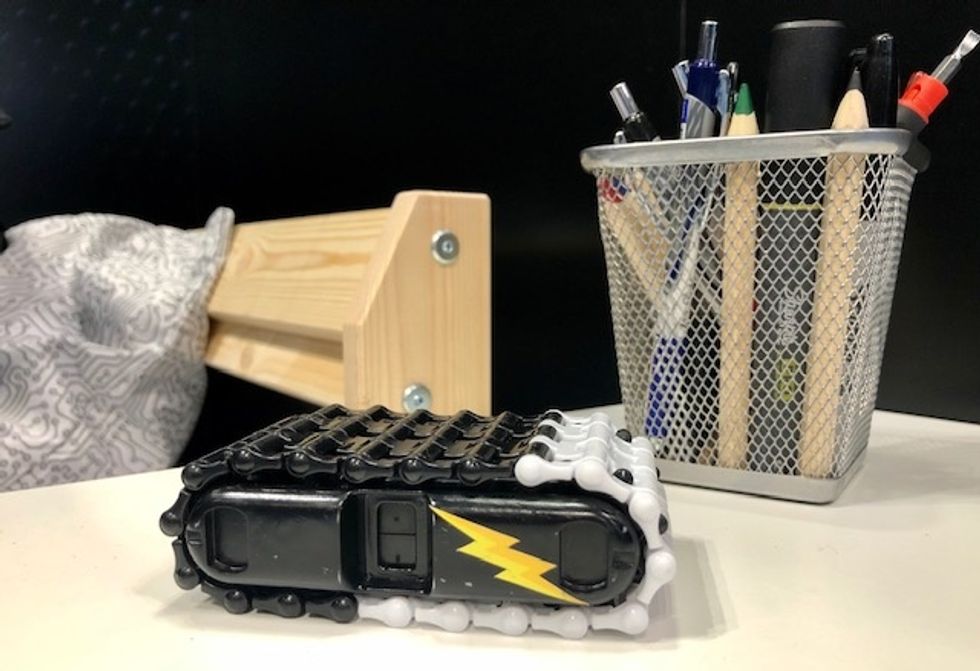 WowWee's Power Treads
GearBrain
From WowWee, is a battery-powered vehicle and track that lets kids engineer their own path for the car to follow. There are going to be different kits you can buy when this goes in sale in June 2020 on Direct TV (mass retail will follow in August.) But the basic kit will sell for $24.99 and includes changeable treads and some track pieces as well. The treads are able to move along most terrain — although sand, WowWee said is a bit tricky — and can go in any direction. Expect one to one and a half hours of run time for each two AAA batteries needed.
Harry Potter Invisibility Cloak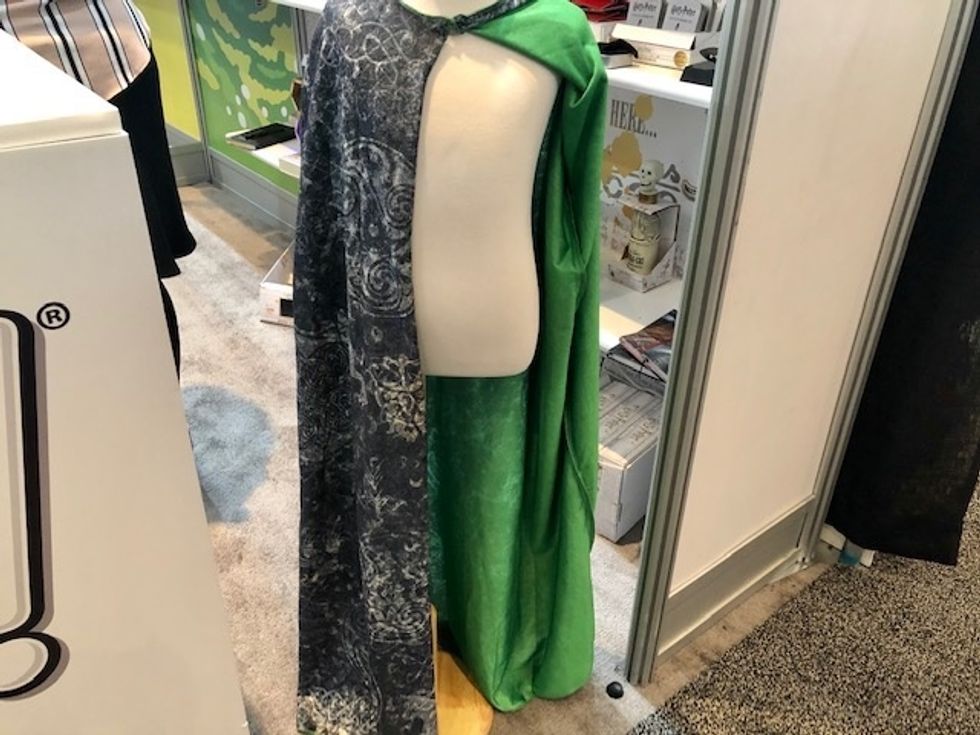 Harry Potter Invisibility Cloak from Wow! Stuff
GearBrain
From Wow! Stuff, is an invisibility cloak designed just for children tapping into one of the main magical artifacts from the stories. The new junior-sized $35 cloak takes advantage of the same technology move makers used in putting J.K. Rowling's stories on screen: chroma key, or green screen technology. The outside of the cloak is an exact replica of the cloak worn in the movies. (The company got permission to take measurements and images of the original costume.) But the inside of the cloak is lined in a green material. After taking an image of any background through the Wow! Stuff smartphone app (iOS and Android) — a child can then walk in front of the smartphone camera wearing the cloak, and anything covered by it is invisible. Any Harry Potter fan is going to fight for this toy which is expected to ship sometime this spring, and won Most Innovative Toy from the Toy Association at Toy Fair 2020.
Botzees color and chatbot sensors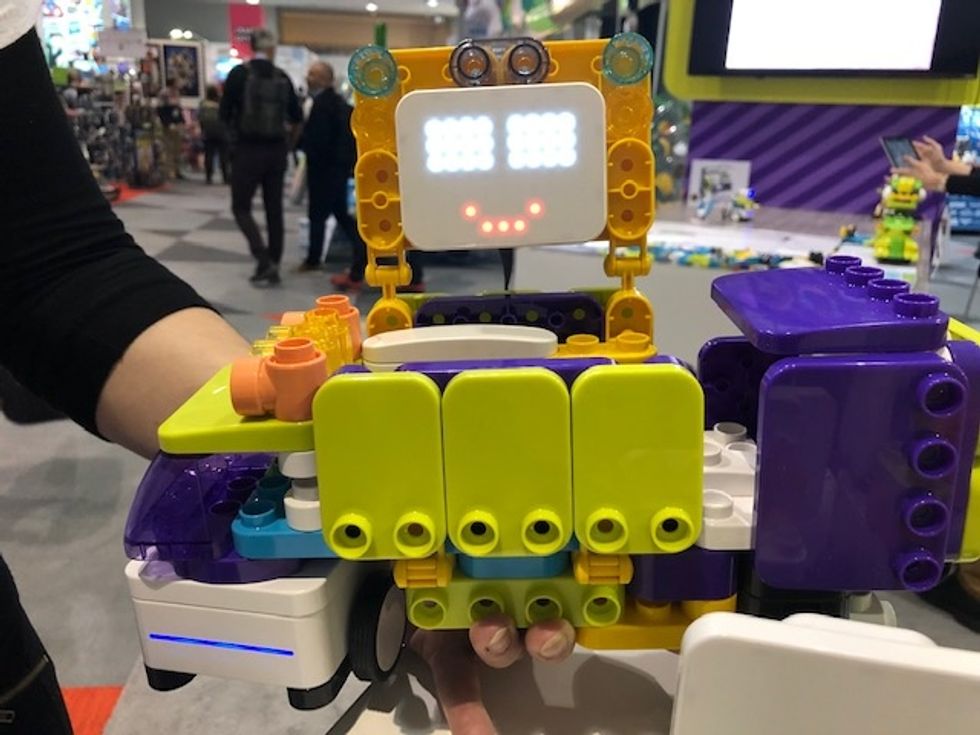 Botzees new chatbot sensors let children make their robots smile
Pai technology launched Botzees at Toy Fair in 2019, robots that can be programmed through drag and drop coding, and tap into augmented reality to expand what children see as they play. Each kit can build six robots, and play off motion sensors. For the new year, Pai is adding two new sensors expanding how kids can interact with Botzees, and the robots with their environment. The first is a $35 color sensor, which will let young coders control how the robots move based on the color it moves across. The second is a $39 chatbot sensor which will let children add emoji into their code so the robot displays a face on a screen. Both are due by end of the year.
Smart Lab's Outdoor Science Lab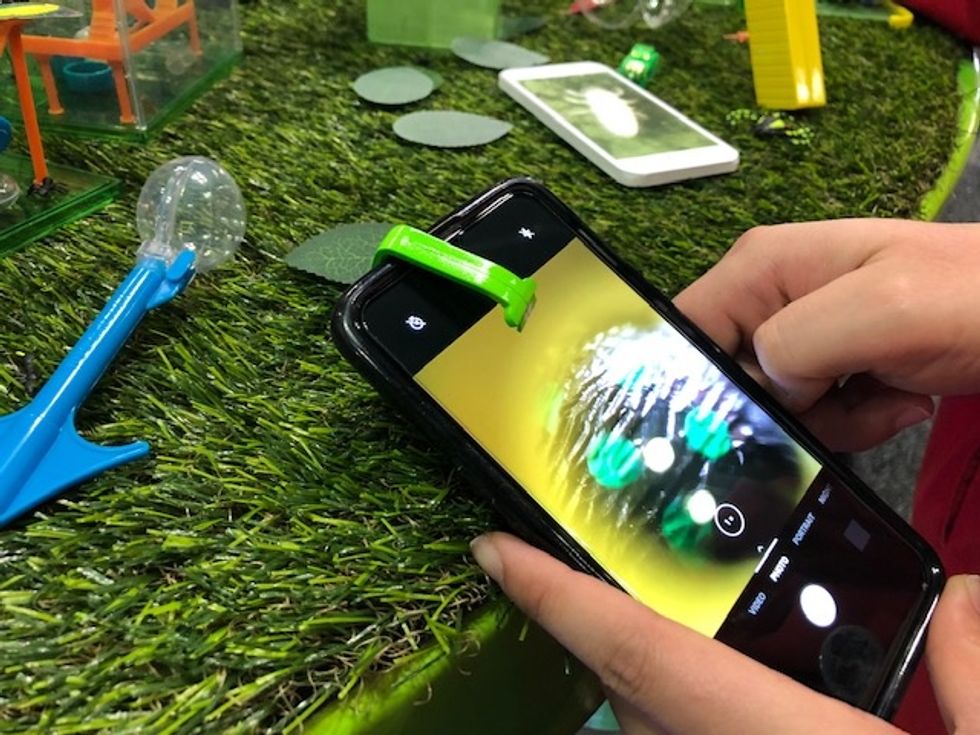 Smart Lab's Outdoor Science Lab
GearBrain
A big bug catcher is fun, but this new kit — due in the summer of 2020 — includes a smartphone magnifier and UV light. Young entomologist can use the light to view phosphoresce on any insect, like beetles including fireflies, and also use the magnifier to get up close with the bugs they've caught as well. At $39.99 this is a great way to safely study insects while not harming them. Each kit includes a book that teaches some science as well, a hallmark of Smart Lab's toys.
Star App telescope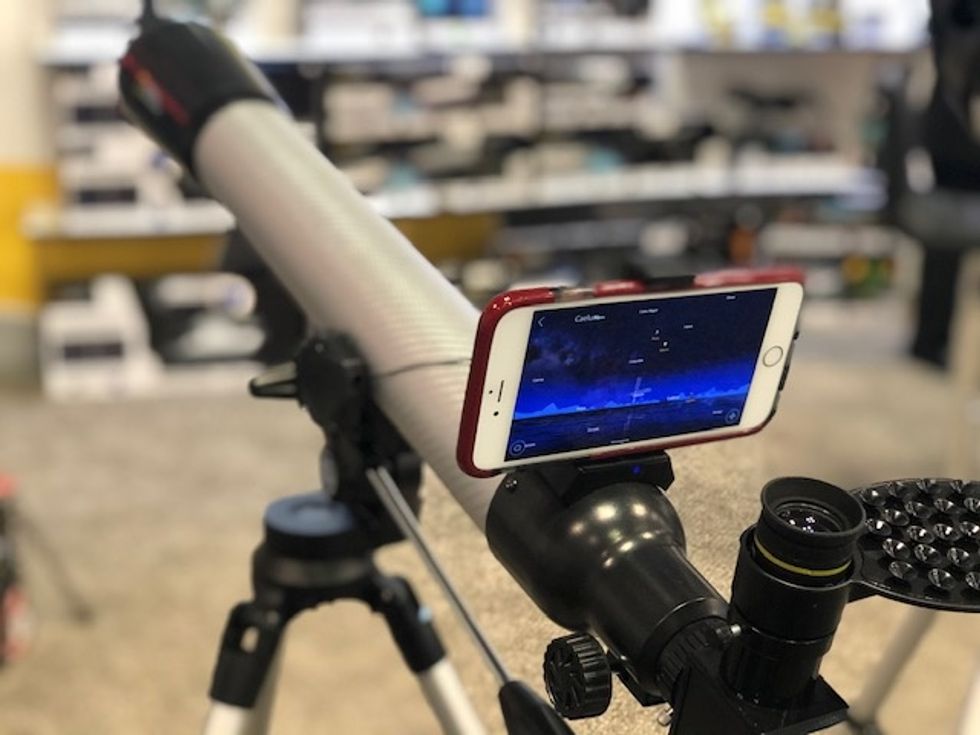 Star App telescope
GearBrain
This telescope pairs with a smartphone app, which acts as a citing scope helping young astronomers find stars and planets more easily in the sky. There are several new telescopes in this line, between 50 mm to 114 mm, and starting at just $69.99 when they go on sale in fall 2020, which is an excellent price for a starting telescope. These windows into space are selling well, said the company, and the company said they shipped 380,000 telescopes in 2019 — up 28 percent from the year prior. You may not be able to join NASA on its upcoming space flight, but you can certainly get a view of where they're traveling to next.
Mystery Prank in a box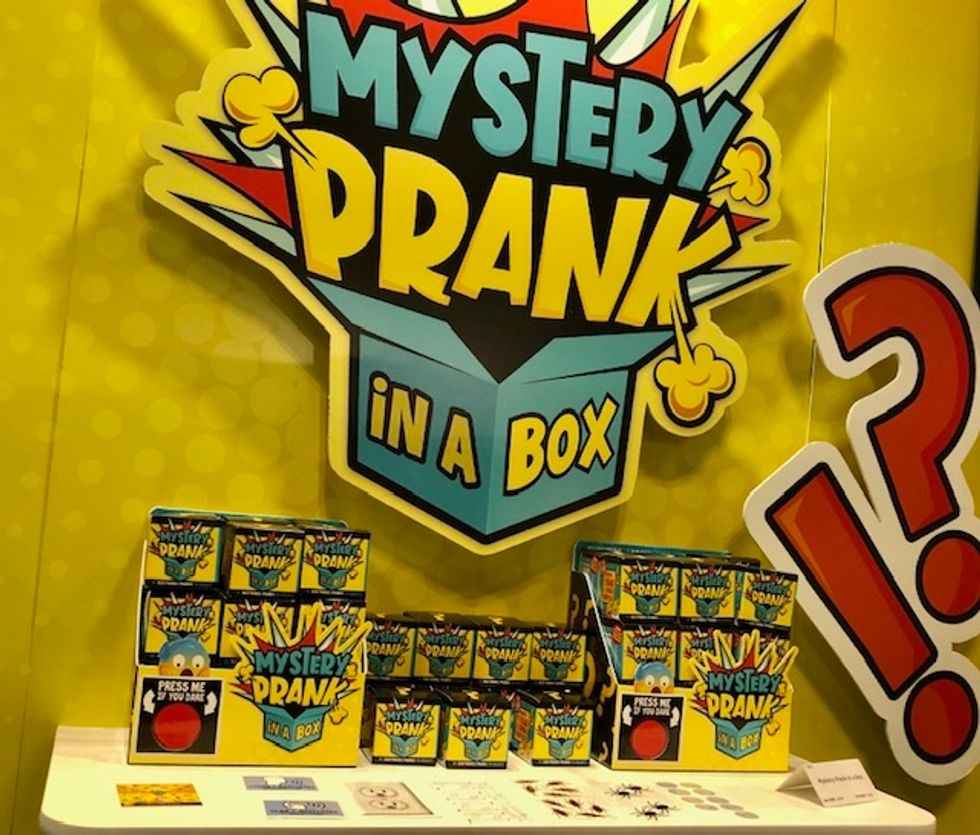 Mystery Prank in a box
GearBrain
This $4.99 blind box is another favorites this year from WowWee not just because of the price, but because every box includes a sensor and instructions on how to build a DIY smart device. WowWee likes to push the prank angle, and we promise there are several, including how to use an included light sensor to make a cricket chirping sound when the lights go off in your younger brother's room. You never know which prank or sensor you'll get, which is part of the fun. And there are sticker sheets that come in the box as well. We also suspect intrepid engineers will find other use cases on their own of the light, touch and other sensors they get. This is coming in the Fall 2020. We know these are filling stockings this winter.
3Doodler Build & Play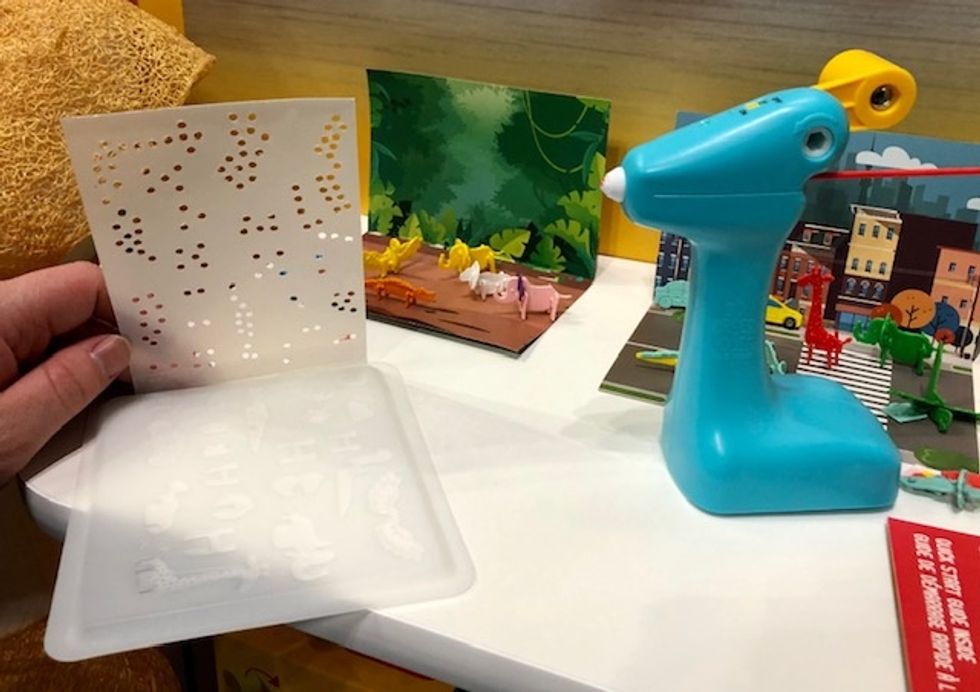 3Doodler Build & Play
GearBrain
We've always been big fans of 3Doodler's devices, mainly for the fact that anyone can start 3D printing for a very small price. The newest, which just launched, is the 3Doodler Build & Play which pairs with a storybook and lets pre-schoolers now print the characters they're reading about in an included book. What's nice about the device is that it includes molds, so young children can feel they've successfully made something that looks as they want it to — helping them build from that confidence as they build their next creation. And co-founder Maxwell Bogue told GearBrain that the company "…did a lot of testing on this device to make sure it was safe appropriate." That included using the toy with children at the Boston Children's Museum and the New York Public Library.
Fat Brain's Playviators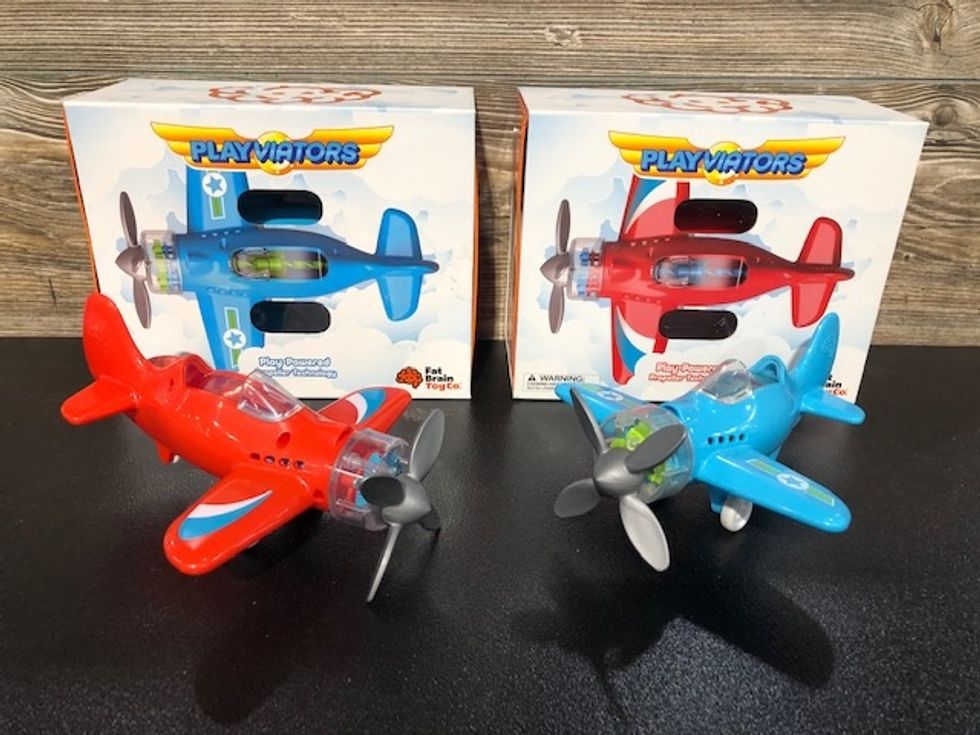 Fat Brain's Playviators
GearBrain
This low tech toy is another favorites because it uses a key science rule to make itself work: force. At $19.95, the toy plane does very little than twirl its propellers, but it dovetails nicely with imaginative play while still indirectly embedding the basics of engineering into young brains. You can pick one up in either red or blue and they're on sale now.
LEGO Star Wars Droid Commander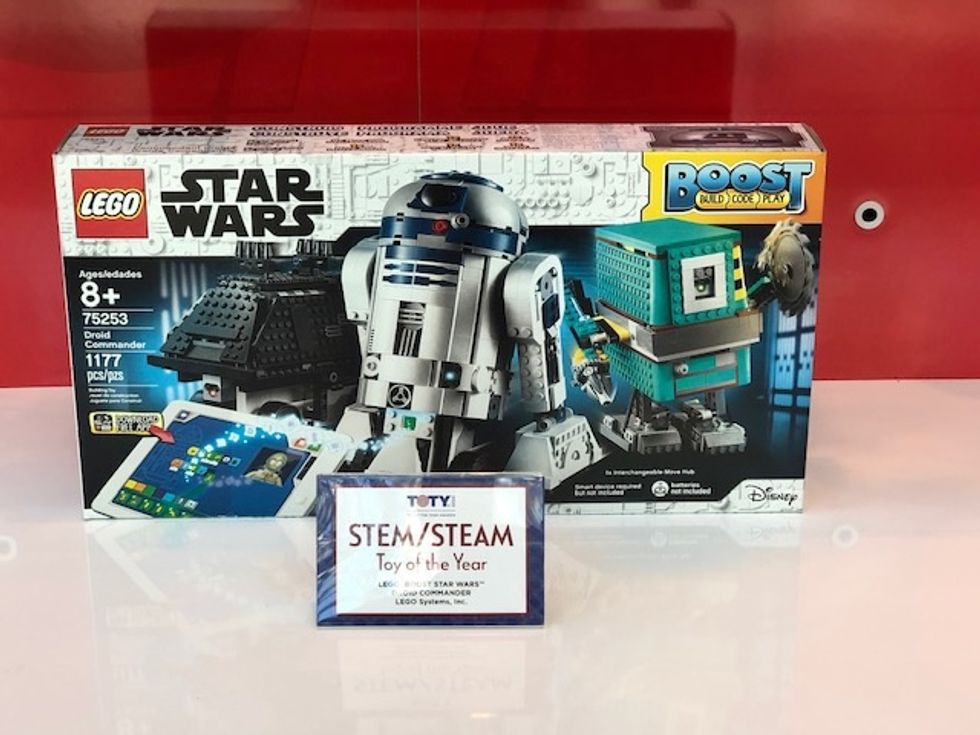 LEGO Star Wars Droid Commander
GearBrain
This year's STEM/STEAM Award from the Toy Association went to LEGO for its Star Wars BOOST Droid Commander set. People can build a number of droids, including R2-D2, and then operate them through the LEGO BOOST app on mobile phone or tablet. You can only control one robot at a time, with the $199.99, which is on sale now.
4M Mega-Hydraulic Arm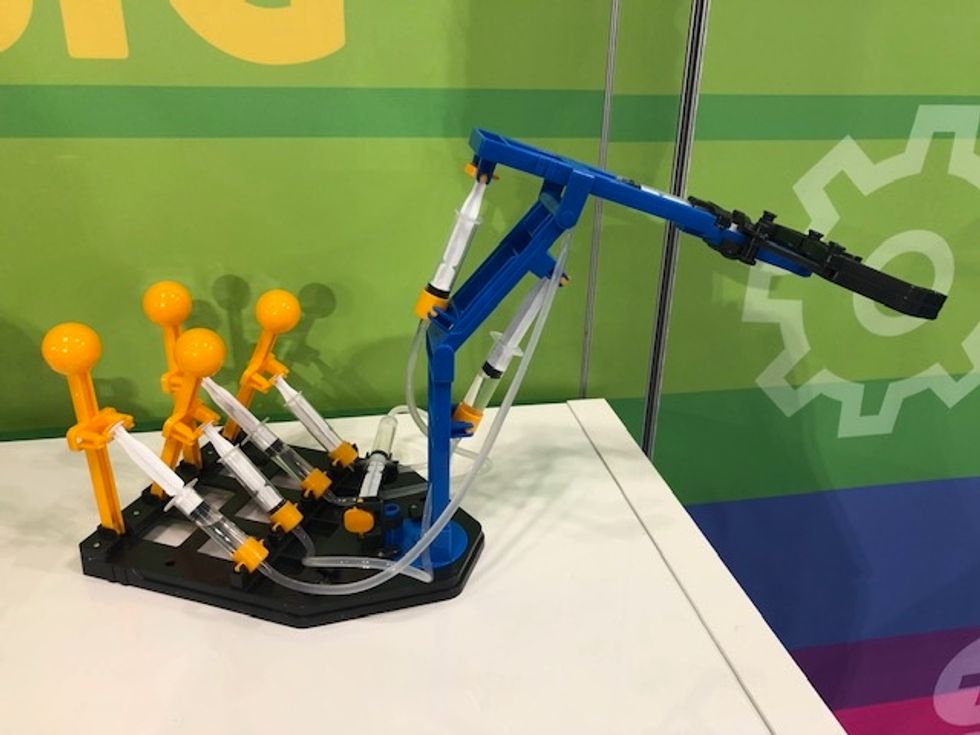 4M Mega-Hydraulic Arm
GearBrain
From 4M is a $24.99 robotic arm, completed powered through a water. What's fun is teaching kids how to generate energy through methods beyond plugging in batteries, or a cord into a power socket. The kit, which is on sale now, is part of the company's Green Science line which also includes a gravity-powered light bulb.
LEGO Star Wars Boost Droid Commander 75253 Star Wars Droid Building Set with R2 D2 Robot Toy for Kids to Learn to Code (1,177 Pieces)
Like GearBrain on Facebook