Like GearBrain on Facebook
Faraday Future, the electric car startup which was once thought to be run by Apple and promised to pose a credible threat to Tesla, is on the ropes yet again.
Earlier this week, co-founder and former Tesla executive Nick Sampson - the face of the company for much of its life - said in his resignation letter that Faraday Future is "effectively insolvent in both its financial and personnel assets". He added that it will "at best...limp along for the foreseeable future".
Read More:
Sampson's letter, published in part by The Verge, came as Los Angeles- based Faraday Future shut down some operations at its headquarters in Gardena, California, and its factory in Hanford, California. Workers at the two locations were either given pay cuts or put on unpaid leave until fresh funding to cover the $10 million monthly payroll can be found.
Also this week, Dag Reckhorn, the company's senior vice president of global manufacturing - and last of five co-founders - resigned. The only executive left at Faraday Future is now its chief executive and initial backer Jia Yueting, the Chinese billionaire who concerned FF staff when he launched an electric car maker seen as a rival to Faraday.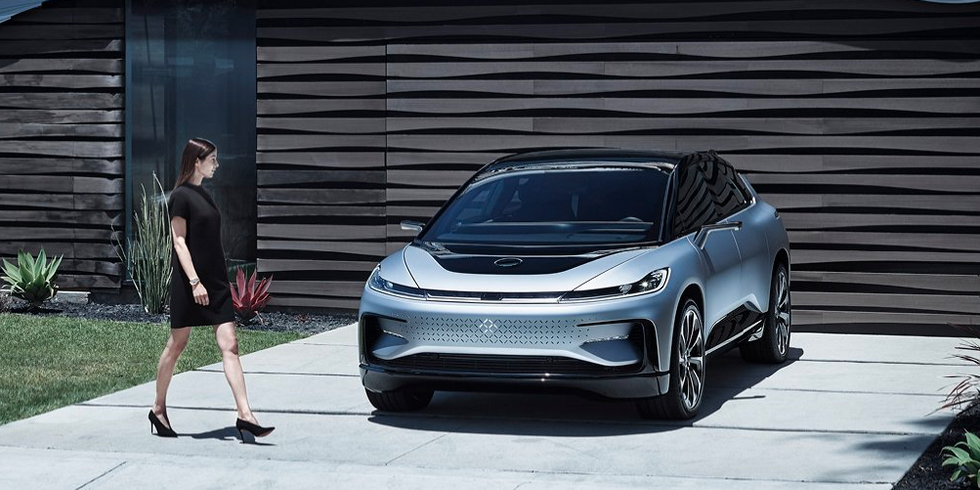 The company says its first car will still arrive in 2019Faraday Future
Also in October, Yueting was accused of trying to back out of a deal with Chinese real estate and healthcare group Evergrande, worth $800 million and crucial for FF's survival.

It was reported at the time how Faraday Future had been failing to pay suppliers - a criticism which has repeatedly been made of the company almost since its creation in 2014.
The recent layoffs, resignations and a search for fresh funding comes just four months after the company claimed to have secured $2 billion of investment. Faraday had hoped to use this money to finally put its first electric car, the fast and luxurious FF91, into production; it was now 18 months since the car was first shown off in public, at the CES technology show in January 2017.
A year earlier, FF scrapped plans to build a new $1 billion factory in Las Vegas, and instead moved into a 55-year-old former Pirelli tire factory in Los Angeles. It said at the time how its FF91 car, claimed to be quicker than anything made by Tesla, would cost in the region of $250,000.
In a statement published on October 25, FF said it is "just a few steps away from being able to introduce its halo vehicles to the users...FF is, and will continue, to seek funding from investors around the world who share our vision."
Faraday also said the first FF91 production cars will be delivered to reservation holders "in 2019".
Founded in 2014, the company once said it would reinvent the car as we know it, operate a subscription service instead of directly selling vehicles to consumers — and, most bombastic of all, promised to launch 13 different models over the coming years, selling one million units.
From Your Site Articles
Related Articles Around the Web
Like GearBrain on Facebook