Fender, the brand known for its guitars, is continuing to give away three months of online lessons through its app, Fender Play. The company is extending its original offer from March 2020, which launched just as the coronavirus began to shut down much of the country (and world), sending people home to work, go to school, socialize and pick up a new hobby, like learning how to play guitar. The new offer, Play Free, is just like the original, offering any new players a chance to learn how to play acoustic and electric guitar, bass or ukulele for free for three months.
"When quarantine began, we invited the world to make some noise with free access to Fender Play," said Fender in a statement. "Six months in, the world is louder than ever — and music still has the power to connect us all. So until 2020 is over, our invitation is back, 3 months of free online guitar, bass and ukulele lessons. No cost. No catch. Just music. Let's play on through to the other side. Play Loud. Play Free. Play On."
To access the three months of free streamed online lessons, Fender is not requiring people sign up for the a full year, nor do users have to enter a credit card number. The company is giving away codes online at the newly updated offer site, and once you've been sent one, you can then download the Fender Play app through Google Play or Apple's App Store. You can also sign up on your computer as well, with lessons playable on a desktop. This trial extends Fender's usual free offer of 14 days, which also typically requires people sign up for an annual plan.
JBL Charge 4 Waterproof Portable Bluetooth Speaker with 20 Hour Battery - Black
With much of the nation still being asked to stay indoors, or at least social distance, because of the coronavirus COVID-19, many are looking for ways to expand their usual skillset. Online lessons and classes abound, and for those with access to a string instrument including a guitar, bass or ukulele, the app could be put to use.

Fender actually has a collection of apps designed to help people, even non-musicians, get started playing instruments. That includes Fender Songs, which can turn popular music into chords for easier learning. Song choices on the Fender Play app are varied from Dolly Parton's "Jolene," to Taylor Swift's "Love Story," B.B. King's "Lucille," to The Weeknd's "In The Night."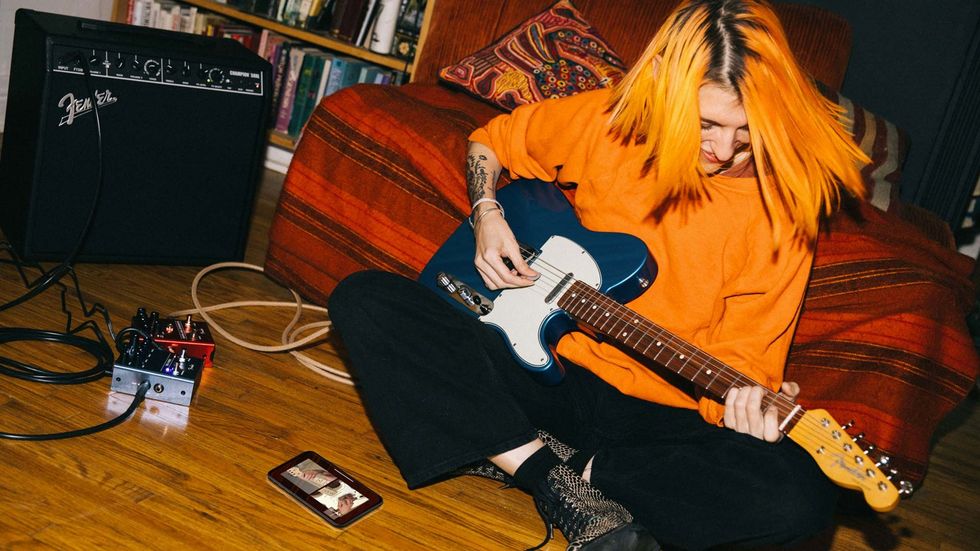 The Fender Play offer works on mobile devices and desktopsFender
Fender Play works through video lessons, aimed at both beginners and those with a bit more experience. You can choose from a number of genres including pop, rock and blues — and you can flip around between these. There are five levels, with each broken into about 16 to 21 lessons, enough to easily fill three months time.

Unlike the original deal, which limited how many people could sign up, the Fender Play Free deal now appears to be unlimited, so as many people who want to sign up, can.
Fender Play – Instructional, Learn to Play Guitar Lesson Platform for Beginners – 6 Month Prepaid Gift Card