Like GearBrain on Facebook
The boss of Ferrari has said his company will not produce its first fully electric car until after 2025.
The firm had previously said that its first EV (electric vehicle) would be launched around 2022, but now it will stick with hybrids for the "current foreseeable future," reports Reuters.
Read More:
Chief executive Louis Camilleri said his company was "certainly" looking at the potential for a fully electric grand tourer (GT) car, which could potentially replace today's Ferrari GTC4 Lusso, a luxury four-seater. But for now he believes hybrid technology is the way to go.
"My sense is the electric [car] will come out after 2025," Camilleri said. "The battery technology is not where it should be yet...There are still significant issues in terms of autonomy, in terms of speed of recharging. So eventually we will come out with one. But it's post-2025. Not in the short term."
This represents a slower shift to electric than was first predicted by the late Sergio Marchionne, who, while chief executive of Ferrari, said in early 2018: "If there is an electric supercar to be built, then Ferrari will be the first," Marchionne also said at the time how the shift from hybrid to fully electric would be "easy." Since then, Automobili Pininfarina, Rimac and Lotus have all revealed fully-electric supercars of their own.
Ferrari launched its first hybrid, the $1 million LaFerrari, back in 2013 and revealed its second, the more affordable SF90 Stradale, earlier this year. Unlike the limited-run LaFerrari, the SF-90 will be the company's first regular production hybrid, and not a limited-edition model.
For now, that car — which has an electric range of around 16 miles — puts the Italian company ahead of its rivals in terms of hybrid development, including McLaren, Lamborghini and Aston Martin.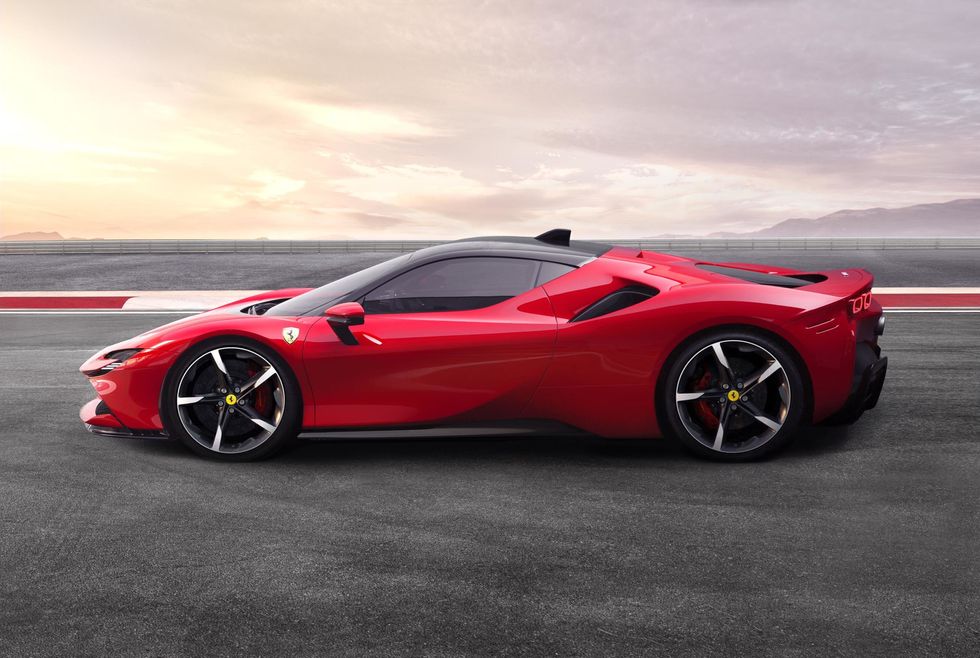 The hybrid SF90 Stradale has an electric range of 16 milesFerrari
Of course, makers of ultra-rare supercars are under less pressure to go electric, given their low production numbers, how few miles the cars are driven each year, and how unlikely they are to end up on the scrap heap. The focus for now should remain on the giants of Volkswagen, Toyota, BMW, Ford, Daimler and General Motors.

The Ferrari boss' negative comments about battery technology come as Porsche's first fully electric car, the Taycan, was given a far lower EPA range than expected. Announced by the EPA on Wednesday, the Taycan Turbo was given a range of just 201 miles, putting it far behind the 373 miles of the Tesla Model S Long Range. The figure is also well short of the 280-mile rating the Porsche received from European regulators using the WLTP standard.
The 79-mile difference raises questions about how different the EPA and WLTP test cycles are, and will no doubt be a disappointment for the German car maker. Early buyers will now be wondering if Porsche can extract more range out of the Taycan using software updates, as Jaguar did recently with its I-Pace, adding 12 miles of range with an over-the-air update.
From Your Site Articles
Related Articles Around the Web
Like GearBrain on Facebook