Like GearBrain on Facebook
It is an indisputable fact that electric cars produce less pollution — specifically, they emit less CO2 — while being driven, compared to an equivalent fossil fuel-powered vehicle.
While this means less pollution in our towns and cities (and lungs), it doesn't show the entire picture. Quickly coming into focus is the total lifetime CO2 emissions of a vehicle — that is, the amount of carbon dioxide produced and released into the atmosphere during the production, use and disposal or recycling of a car.
Read More:
When this is all taken into account, electric cars are still better in a like-for-like comparison, but the figures between the two are much closer than you might realize.
This is according to a study published by Volkswagen earlier this year, which compared a diesel Golf hatchback with an electric Golf hatchback. The company calculated that, during the functional lifetime of each car, the diesel emitted 111g of CO2 per kilometer driven, compared to 62g for the electric Golf — the latter coming from CO2 emitted during the production of its electricity. If the power came exclusively from renewable sources, VW estimates the electric car's CO2 figure would be just 2g per km.
But, when production and recycling is taken into account, the diesel Golf posts a lifetime figure of 140g per km, compared to 119g for the electric Golf. This is because Volkswagen says producing batteries for electric cars is more energy-demanding and creates more CO2 than the production of a diesel-powered car.
The study said: "Most emissions from the battery-powered electric vehicle are generated in the production phase." Volkswagen added that, with its new ID range of electric cars, it hopes to lower this figure during the production stage.
Another key factor is what happens to a car's battery when the car can't be driven any longer — when, just like your smartphone, it can't hold as much energy as it did when new.
Recycling vs Repurposing
This is where battery recycling and repurposes come into play — especially as more than 11 million tons of spent lithium-ion batteries are expected to be discarded by 2030. One thing everyone agrees on, is that these batteries simply cannot end up in a land-fill, not least because they are susceptible to thermal runaway, where damage to one cell of one battery could cause a fire that quickly spreads from one battery to another, while being nearly impossible to extinguish.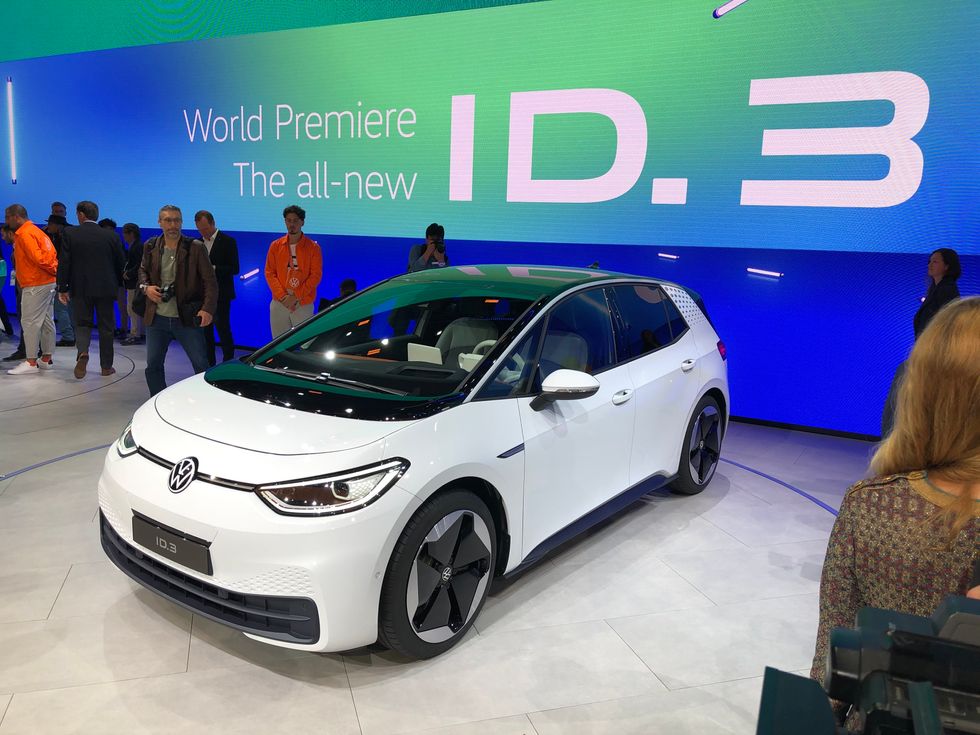 VW hopes to have improved recycling in place for its ID vehiclesGearBrain
When it comes to EV battery recycling, then, there are two distinct routes to take. One is to dismantle the batteries and recycle their chemical elements; the other is to take the battery as it is, and find another use for it.
Some manufacturers are ahead of others here, and a handful of non-automotive companies are even further advanced. For example, Umicore in Belgium has been recycling lithium-ion batteries since 2006, using a process where the batteries are melted down and their elements — mostly lithium and cobalt — are reused. Umicore works with Toyota to recycle the batteries of its Prius hybrid car, which it obtains via a take-back scheme run by the dealer and retail networks.
There has been a delay in getting recycling technologies up to speed, because electric car batteries are lasting longer than expected. As Tesla said in its 2019 Impact Report: "We are only just starting to receive these batteries back from the field."
But these batteries will start to come back increasingly quickly — just as rapidly as electric and hybrid car sales have increased in the last few years. Although it works with third-parties for now, Tesla plans to build a recycling facility at its Gigafactory 1 plant in Sparks, Nevada. Here, it will retrieve lithium, cobalt, copper, aluminum and steel from used batteries, and do so "in forms optimized for new battery material production," the company says. As well as lowering its CO2 footprint, Tesla believes this recycling approach will create "significant" financial savings over the long term.
Tesla boss Elon Musk also plans for the Gigafactory 1, including its battery recycling facility, will eventually be powered entirely by clean energy, he has said.
Tesla Powerwall is a battery for the homeGearBrain
While Tesla can dismantle and recycle its own batteries relatively easily, third-parties like Umicore and Canadian recycling startup Li-Cycle will have a harder time in the future. This is because electric battery cells differ between car makers. A study on battery recycling published in Nature in November 2019 stated: "...electric vehicles on the market possess a wide variety of different physical configurations, cell types and cell chemistries. This presents a challenge for battery recycling."

As car makers look to make their own batteries, and move away from buying batteries from just a few manufacturers, like LG, this challenge will continue. However, with car company marketing teams increasingly keen to demonstrate how their electric car is different from all the others, advances in cell chemistry will also likely result.
Battery repurposing
An arguably simpler approach to EV battery recycling is to just repurpose them. Renault is already experimenting with using old car batteries to power boats and become part of the public power grid. Here, battery performance is less critical than when powering a car, so while the battery might not be much use on the road, it can still power a river cruiser, or help keep your lights and television on during a power outage.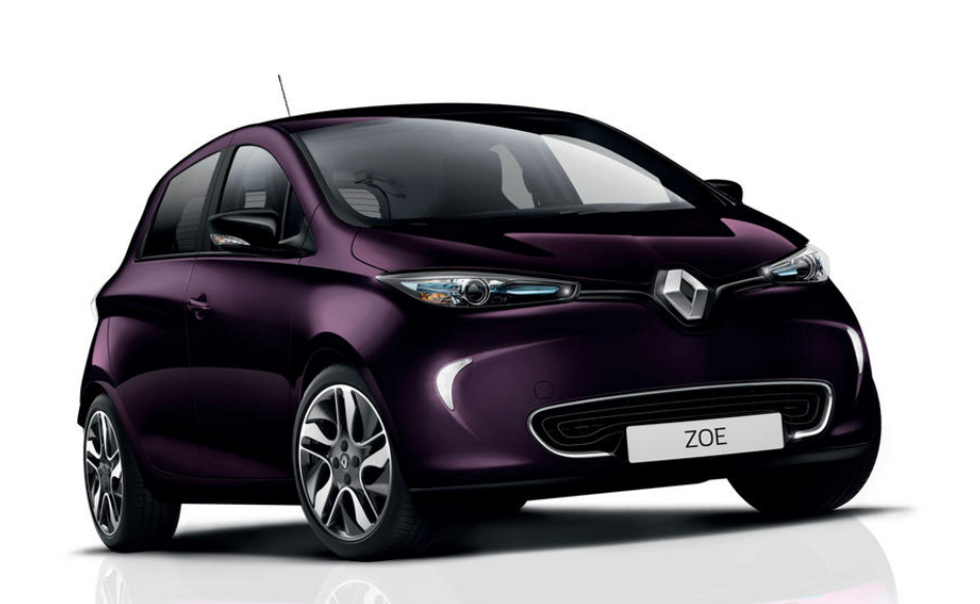 Batteries from old Renaults are being used by boats in Paris Renault
With grids, energy fluctuation — the way it's consumed and produced — can cause disturbance. But Renault believes that its new grid, powered by repurposed batteries and expected to be built in 2020, can help by "...maintaining the balance between offer and demand on the electricity grid by integrating different energy sources with fluctuating production capacities," it has said.

Renault is not the only electric car maker with plans to find new homes for old batteries. BMW recently connected 500 used batteries from its i3 electric car to the UK's national power grid, and Nissan uses old batteries from its Leaf car to power street lights.

Volkswagen plans to use its repurposed batteries in portable public car chargers, distributed across towns and cities when required — such as at an exhibition center during a trade show, or at a stadium during a concert.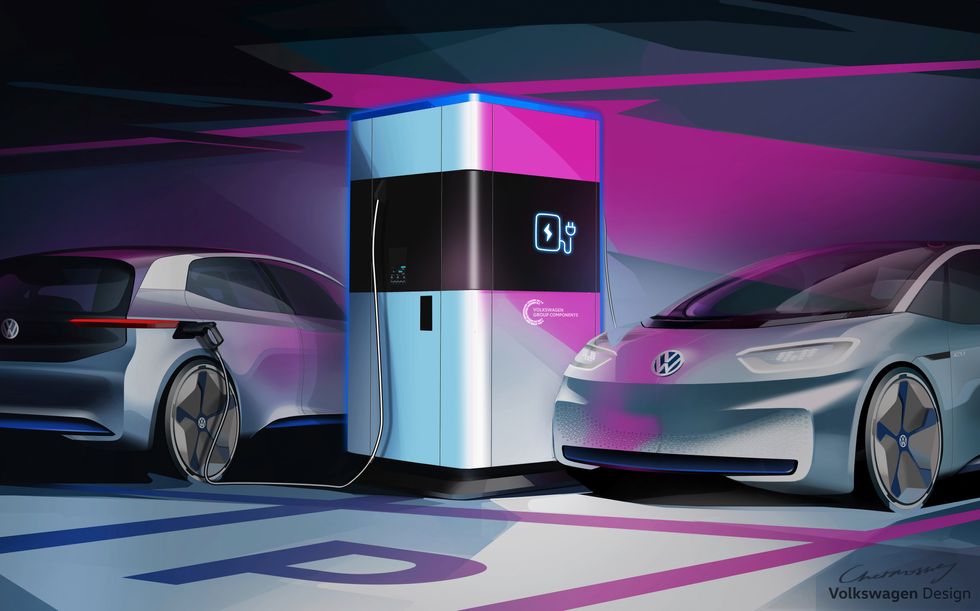 Volkswagen portable EV car chargers Volkswagen
Car manufacturers are also experimenting with using new batteries for home power packs to rival the Tesla Powerwall. These are intended to charge up using energy from the grid when it is at its cheapest (or via solar panels on the roof), then take the home off-grid and power it from the battery — or charge a car — when electricity is more expensive. Mercedes launched such a system in 2017 using the same batteries as its electric vehicles, but the company shelved the idea a year later.

Cost is an issue
The cost of recycling or repurposes battery packs will hit smaller car makers much harder, as a 2019 Deloitte report into electric vehicles warned, that "...the majority of manufacturers will have to consider creating further partnerships to give battery packs a 'second life'..." And despite Mercedes' setback, Nissan has since said it believes both new and old car batteries can be used by energy storage systems in the home, and in a way that is commercially viable.
Whichever direction proves best, this is not a problem that can be solved overnight. There are undeniable benefits to driving electric cars, the recycling of their batteries can help reduce mining demand, and using clean energy to produce and recycle vehicles will help further still.
But for now, we are only in the very early stages of working out what to do; even as the very first Tesla Model S vehicles to roll off the production line are only seven years old, so perhaps just half-way through their expected life. One recently passed one million kilometers (620,000 miles) and is only on its second battery pack.
As for what comes next, the answer is plain to see — many, many more electric cars. Deloitte estimates that global electric and hybrid vehicle sales will grow from two million in 2018, to four million in 2002, 12 million in 2025, and 21 million in 2030. A chief driver for this, Deloitte says, is a significant reduction in the cost of producing batteries. By that same year, it is estimated that pure EVs (as in, not hybrids) will account for 70 percent of global electrified vehicle sales.
As for what we will do with all those batteries once their abilities fade, the Nature study concludes: "Careful husbandry of the resources consumed by electric-vehicle battery manufacturing - and recycling - surely hold the key to the sustainability of the future automotive industry."
From Your Site Articles
Related Articles Around the Web
Like GearBrain on Facebook