Like GearBrain on Facebook
Ford made headlines on April 24 when it announced a $500 million investment in Rivian, a little-known electric vehicle startup with plans to build an SUV and pickup truck in 2020.
The move is a big deal for both companies, and for the US vehicle market as a whole. Not least because the investment helps Ford get itself back into the electrification game, where it has lagged behind global rivals like Volkswagen and trendsetters Tesla. But the investment also puts Ford in the perfect position to electrify its best-selling pickup trucks.
Read More:
In what could well be new information to readers outside of the US, Ford's F-Series pickup trucks are the best-selling vehicles in America, and have been for some time. They often sell twice as many units per year as the best-selling cars by Toyota, Nissan and Honda. Ford already has plans to produce an electric pickup in the next couple of years, but its sizeable investment in Rivian, which had similar plans, will only help accelerate these efforts.

But let us return to Rivian, and take a quick look at the startup's history.
Although described as a startup, Rivian is actually a decade old, having been founded in 2009 by chief executive Robert Scaringe, who graduated with a PhD in mechanical engineering from the Massachusetts Institute of Technology. At MIT he was also a member of the research team in the Sloan Automotive Laboratory.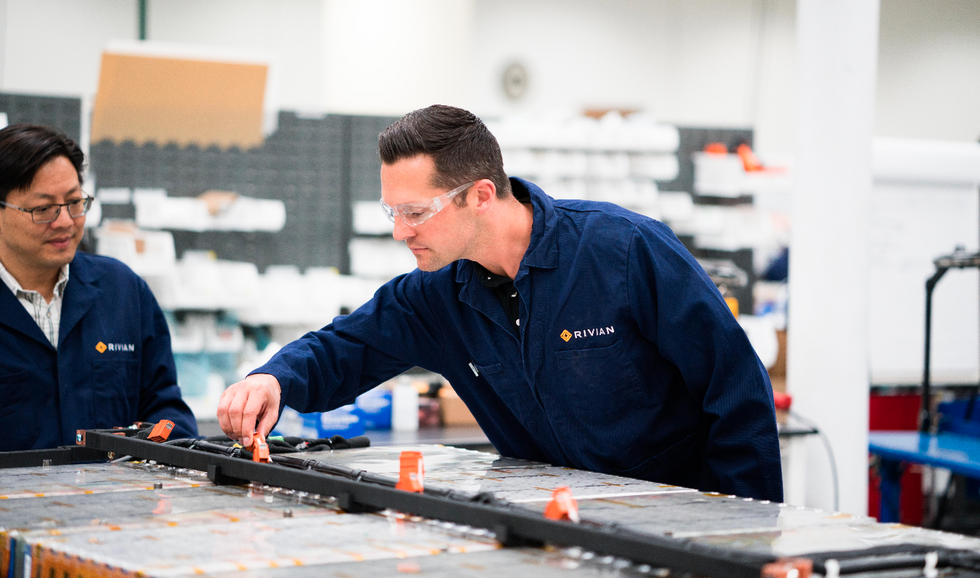 The battery technology facility in Irvine, CaliforniaRivian
Michigan-based Rivian was originally called Avera Automotive, before changing its name to Rivian Automotive, then simply Rivian. The first name change occurred in 2011 after South Korean car maker Hyundai filed a lawsuit against Avera as it claimed the name sounded too similar to that of its popular Azera sedan. The Rivian name was chosen, Scaringe said at the time, as it pays homage to the Indian River Lagoon, adding the first three letters of River to the last three of Indian.

Rivian then operated in stealth mode for several years, with Scaringe's original plan, as per a 2018 interview, being to build a rival to the original Tesla Roadster. With a 20-person team assembled, he built a prototype, but soon realized that other EV options were quickly becoming available as the market matured.
Then in December 2016, with around 100 employees, Rivian came out of the shadows to buy a 2.6 million-square-foot former Mitsubishi Motors factory in Normal, Illinois. The town of Normal said it would provide $49.5 million in state tax credits over 10 years if Rivian hired 1,000 local people by 2024.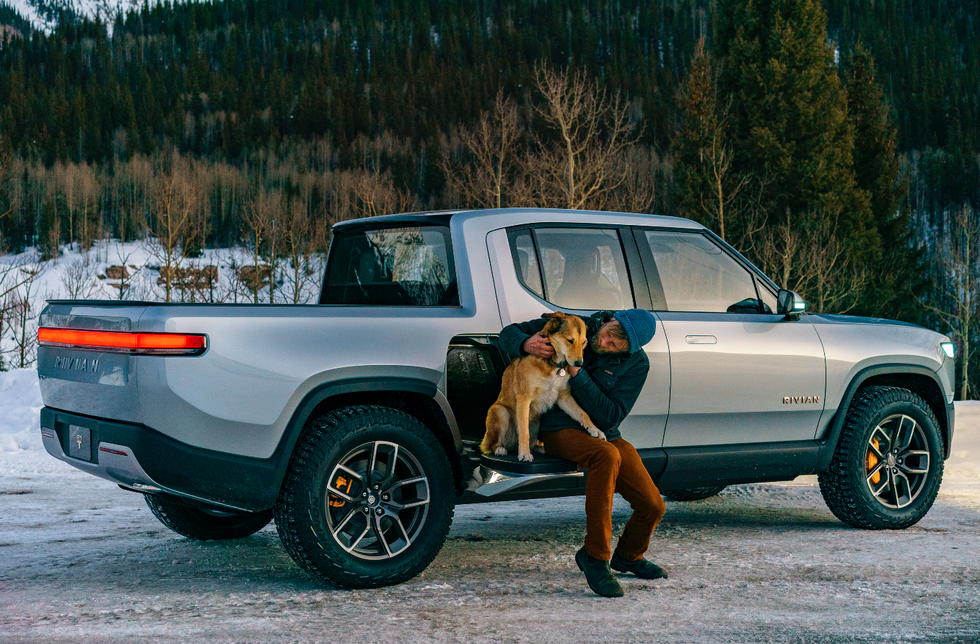 The Rivian R1T pickup track is to go on sale in 2020Rivian
The plan at the time was to reopen the factory by 2024, having invested up to $175 million in the development of electric vehicles with self-driving capabilities. Rivian said it wanted to develop "an integrated portfolio of vehicles and services to advance the shift to sustainable mobility."

Rivian's staff at the time included industry veterans like former long-time Chrysler executive Lawrence Achram and Gary Gloceri, a former executive at car assembly firm Magna, and who previously led the development of the Ford Focus Electric's powertrain. Rivian also hired Larry Erickson, former chief designer at General Motors and Ford.
A year later, at the end of 2017, Rivian said its first prototype vehicles were built and undergoing testing. At the same time, Sumitomo Corp, a Japanese company, announced it had made a "strategic investment" in the electric car startup for an unspecified amount. Sumitomo had previously provided technical support to Ford and GM.
It was also in late-2017 that Rivian said its first vehicle would be an electric five-seat truck, which would go on sale in 2020 and be followed by a seven-seat electric SUV. Along with these, Rivian said it had plans for a "new lifestyle provided by car-sharing".
By March 2018 Rivian had grown to around 350 employees, working at two locations in California and the company's HQ in Michigan. By now, total investment had swelled to the region of $500 million, in part from Sumitomo, plus Abdul Latif Jameel, a Saudi Arabian-based automotive supply chain conglomerate. Funding had also come via a $200 million debt financing round from Standard Chartered Bank in London.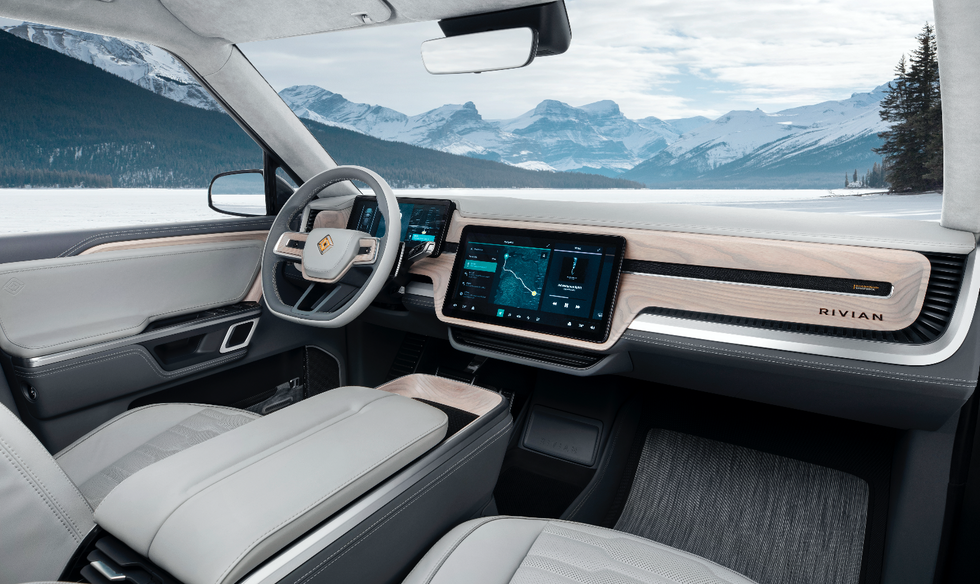 Rivian's interiors feature a large central touchscreen displayRivian
Rivian revealed both electric vehicles - the R1T pickup truck and R1S SUV - at the Los Angeles Auto Show in November 2018, and stated production would begin in 2020, with the truck to launch first. Both vehicles were described as being tough off-roaders with semi-autonomous driving features; Rivian said its next generation of vehicles would be fully autonomous.

The startup claims both of its 2020 vehicles will have a range of over 400 miles, a little beyond the 370 miles the longest-range Tesla is currently capable of. Rivian also claimed a 0-60 mph time of three seconds, and capabilities which include being able to wade in three feet of water, and use its four-motor drive system to be a competent off-roader.
Inside, both vehicles have modern, minimalist interiors with a large touchscreen display dominating the dashboard, similar to the Tesla Model 3. Unlike the Model 3, Rivian has also fitted a second display behind the steering wheel.
The R1S SUV is priced from $72,500 before incentives for a model with a range of at least 240 miles. The R1T pickup is priced from $69,000 for a model with a range of at least 230 miles. Both will give customers the option of paying more for a larger battery pack, taking their range to a little over 400 miles.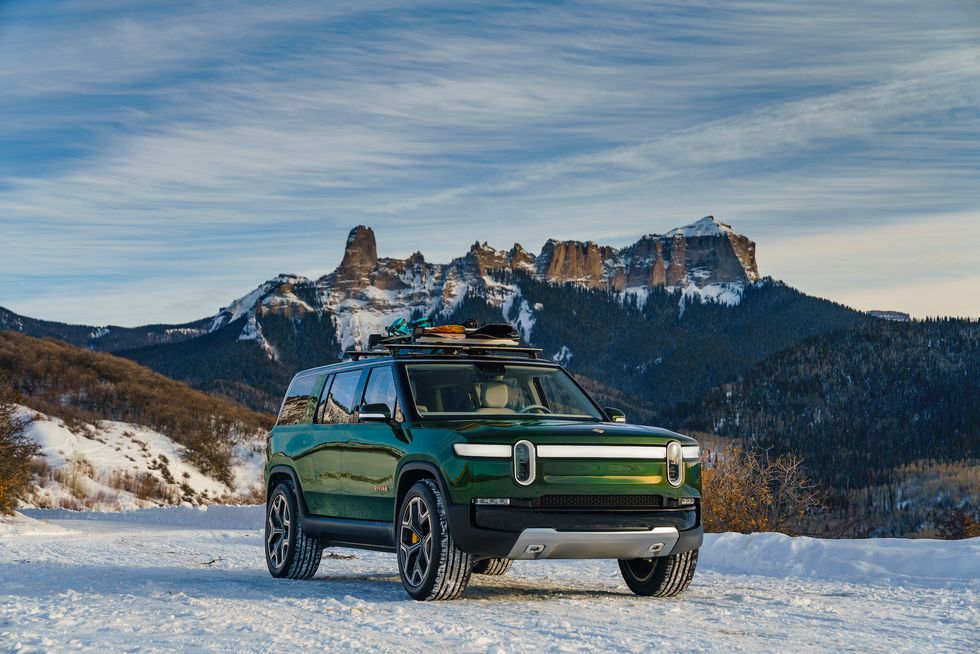 Rivian says its cars are fully capable off-road, and can wade in up to three feet of waterRivian
In February 2019, Amazon announced it had led a $700 million funding round in Rivian. The car maker gave few details, but said it would remain independent. Jeff Wilke, chief executive of Amazon's worldwide consumer division, said at the time: "We're inspired by Rivian's vision for the future of electric transportation…[Scaringe] has built an impressive organization, with a product portfolio and technology to match. We're thrilled to invest in such an innovative company."

Although speculative for now, Amazon's interest in Rivian - and autonomous vehicle company Aurora, in which it has also invested significantly - could be about creating an electric, and eventually driverless, delivery service for its enormous online retail division.
Rivian's technology has also caught the eye of Automobili Pininfarina, which plans to follow its Battista electric hypercar with three battery-powered SUVs to rival the Lamborghini Urus, Aston Martin DBX, and a similarly tall vehicle coming soon from Ferrari. According to Autocar India, Pininfarina is looking to partner with Rivian, which will provide the 'skateboard platform' of its own electric SUV, pictured below.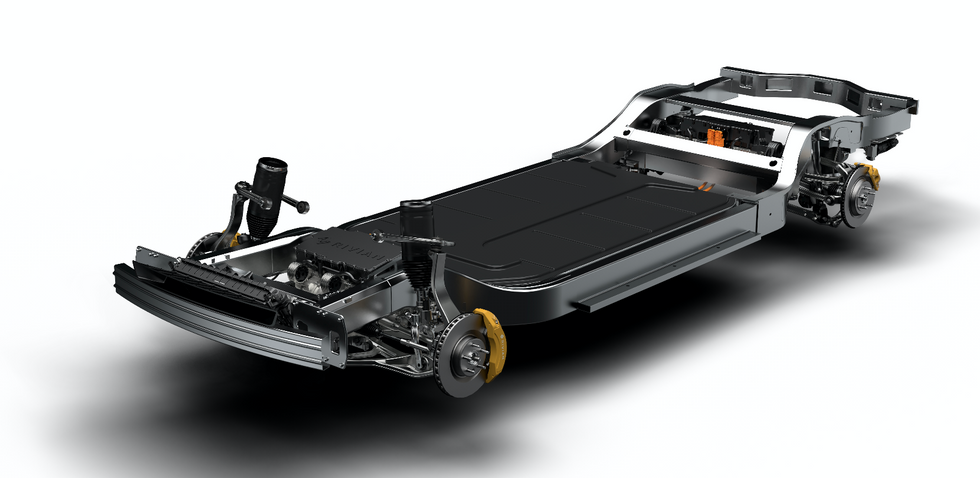 The electric 'skateboard' by Rivian is what Ford is most interested inRivian
A term used by many EV makers, the skateboard is essentially the chassis of an electric vehicle, often including the battery pack, suspension and electric motors, and onto which bodies of varying designs can be fitted.

This skateboard is what caught the attention of Ford, which says it will work with Rivian as part of its $500 million investment to produce a new electric vehicle. This will likely be either an SUV or truck but will be unrelated to Ford's pre-existing plans to create a Mustang-inspired electric crossover and an electric F-150 pickup, the company said.
Ford chief executive Jim Hackett said: "As we continue in our transformation of Ford with new forms of intelligent vehicles and propulsion, this partnership with Rivian brings a fresh approach to both. At the same time, we believe Rivian can benefit from Ford's industrial expertise and resources."
Rivian remains an independent company and still plans to launch its R1S and R1T vehicles in 2020.
GearBrain www.youtube.com
From Your Site Articles
Related Articles Around the Web
Like GearBrain on Facebook