UPS and its Flight Forward division has begun delivering prescriptions to paying customers via drone.
The first two deliveries were made using a drone in Cary, North Carolina on November 1. Rather than an experiment or proof of concept, both flights were revenue-generating and are expected to be the first of many offered by UPS and partner CVS Pharmacy.
Read More:
The flights saw prescriptions taken from a pharmacy to a customer's home and to a nearby retirement community; UPS says one of the customer's limited mobility makes it difficult for them to travel to the pharmacy themselves. They used the M2 drone made by UPS partner Matternet.
Roughly the size of a shoebox, the packages were lowered while the drone offered at an altitude of 20 feet, before flying back to the pharmacy to recharge its battery and pick up the next delivery. The drones flew autonomously, but were monitored by a remote operator who could take control if required.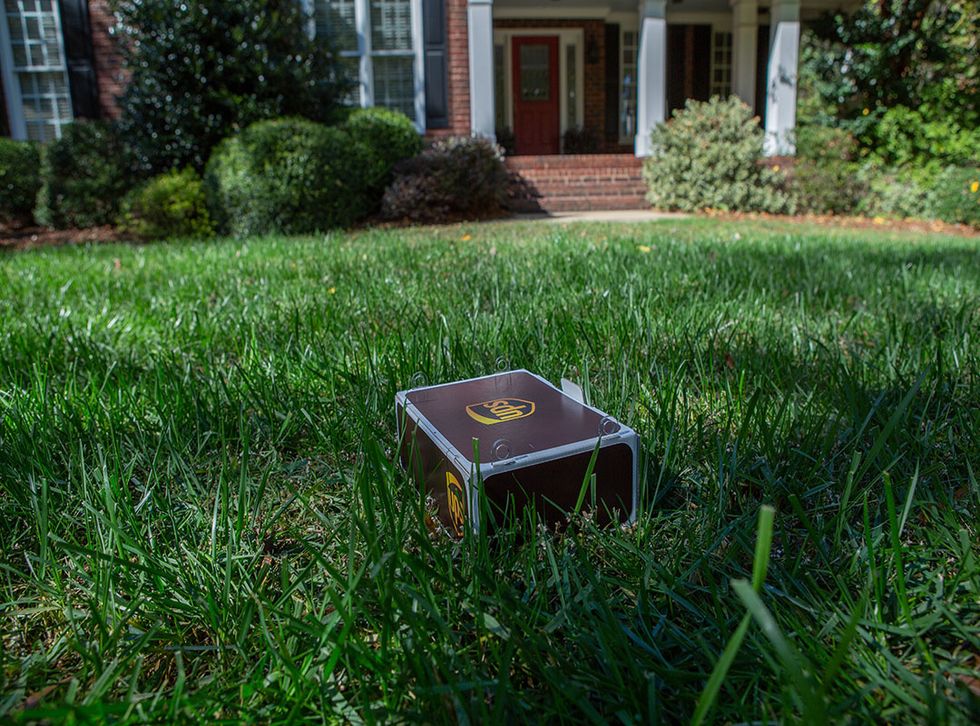 The packages are lowered into gardens from a drone hovering at 20 feetUPS
Although drones have previously been used to fly prescriptions and other medical items around hospital campuses, or between medical facilities, this marks the first time in the US items have been delivered directly to a paying customer. The flights also demonstrate exactly how revenue can be earned with drone deliveries, which is key to the success of UPS' new Flight Forward drone division.

In October Flight Forward became the first drone service to be granted permission by the Federal Aviation Authority to operate an unlimited number of delivery drones, at night and even beyond the sight of pilots if it wishes.
Initially, Flight Forward will work with the healthcare industry, using drones to carry critical packages around hospital campuses and prescriptions to customers' homes. Beyond this, the company plans to "transport a variety of items for customers in many industries, and regularly fly drones beyond the operators' visual line of sight."
Kevin Hourican, president of CVS Pharmacy, said: "This drone delivery, the first of its kind in the industry, demonstrates what's possible for our customers who can't easily make it into our stores...We see big potential in drone delivery in rural communities where life-saving medications are needed and consumers at times cannot conveniently access one of our stores."
Although these were the first UPS drone deliveries made to members of the public, the courier's Flight Forward service has completed more than 1,500 revenue-generating deliveries with Matternet drones at WakeMed Hospital in Raleigh, North Carolina since March 2019.