Like GearBrain on Facebook
Drones dropping off our evening supper isn't as widely spread a delivery option as many had hoped by 2020 — but there are some firm stakes in play where you can get groceries, and even some coffee, dropped down from up high. With coronavirus showing little sign of easing around the globe, and in the US, drone deliveries seem like a perfect solution; you don't have to interact with another person, making social distancing fairly easy.
Certainly autonomous robots are taking off a bit more, across college campuses as well as dropping off groceries along city streets. Food technology definitely no longer starts and ends with the appliances in your kitchen and the touch screen on your smart fridge. More than ever, there is a focus on the technology that brings food to your door. The goal is to cut delivery times — and even, controversially, wage bills.
While drones are still just a bit player in the food delivery world, these locations in the US and in some spots around the globe, are already enjoying a taste of a potential future in how our dinner may one day be served. Your hometown may be next.
Alphabet Wing — Virginia
Wing is still operating in the Christiansburg, Virginia area, delivering items from Walgreens, scheduled items from Federal Express, sweets from Sugar Magnolia, baked goods from The Mockingbird and coffee from Brugh Coffee. The Federal Aviation Administration had given Wing special permission to begin drone deliveries in both Blacksburg and Christiansburg, Virginia back in 2019.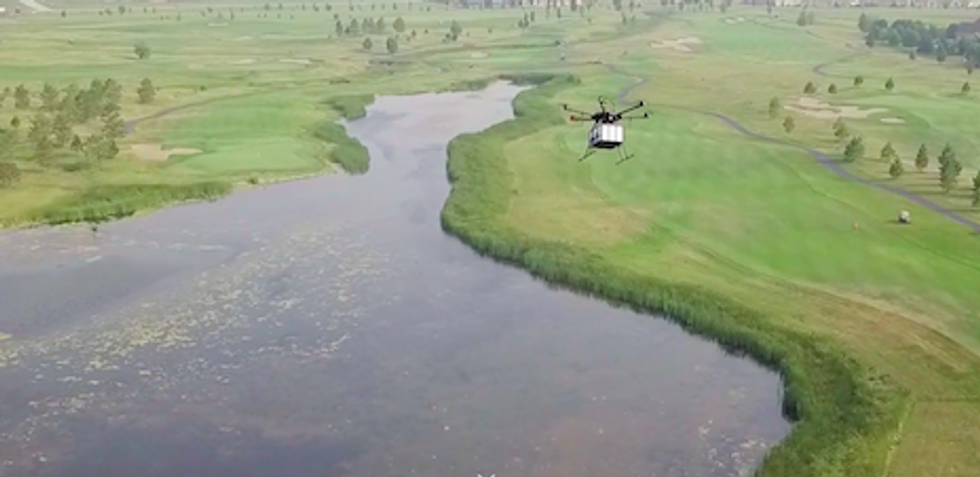 Flytrex drone flying across the King's Walk Golf Course in Grand Forks, North DakotaFlytrex
Flytrex — North Dakota and North Carolina

Golfers out at the King's Walk Golf Course in Grand Forks, North Dakota — a course deigned by none other than Arnold Palmer — can get a snacks, a burger, drinks, and yes, one of those drinks, delivered to them while they're on the green. The service is provided by Flytrex, and golfers place the order through their smartphone. The order is dropped done via a cable right to the spot on the course where players are teeing up.
The drone company is also piloting a delivery program in the town as well, bringing items from Walmart or Dairy Queen to about 120 homes in the area.
Flytrex also started testing an autonomous food-by-drone delivery service in Holly Springs, North Carolina, where it is bringing food and meals to people at their homes from the Holly Springs Towne Center, an outdoor shopping mall.
Deuce Drone — Alabama
Rouses Market, in Mobile, Alabama will start testing grocery deliveries by drone this fall. The partner is Deuce Drone, a drone delivery company, and they'll be doing this trial at just one location, the Rouses Market on Airport Boulevard.
The goal is the get people groceries — to their door — in 30 minutes or less, said Donny Rouse, the CEO of the chain of 64 stores in Alabama, Mississippi and Louisiana, in a statement.
The company is also working with a chain of Buffalo Wild Wings in Mobile as well, and will also start testing a drone delivery option in late August until December 2020. Deuce Drone will handle everything from operating the drone, and even creating the connection between the Buffalo Wild Wings ordering system and the drone's interface.

Update: UberEats and McDonalds - San Diego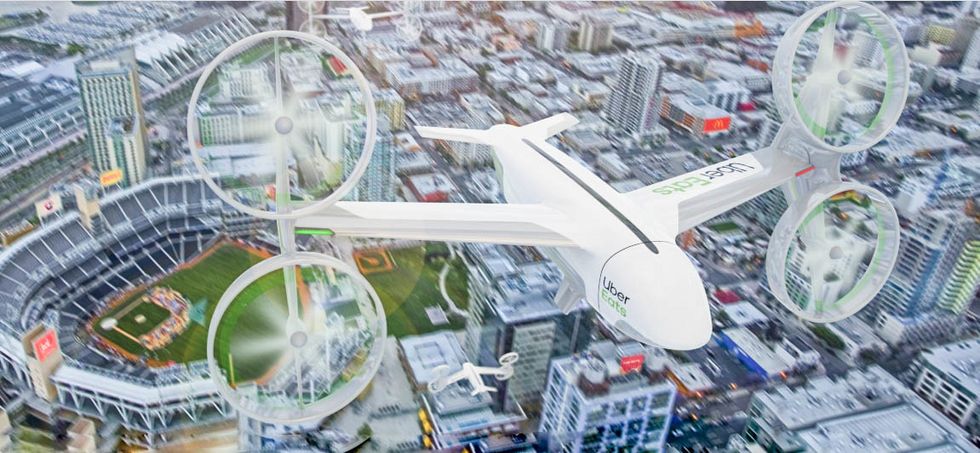 Uber eats to begin dropping BigMacs by drone this summer Uber
Uber seems to have stopped this service offering drone deliveries of Big Macs in California. Uber said in June 2019 it had planned to start delivering food by drone this summer, kicking off with a trial in San Diego with McDonalds. Customers were said to be paying a similar delivery fee to that of UberEats, and their food was flown from the restaurant, potentially speeding up the process.

But instead of dropping the door at your doorstep or in your garden, UberEats planned to fly food from the restaurant to a designated landing spot, and from there UberEats drivers brought the food to you. The company had suggested the drone could land on the roof of an UberEats delivery car, then the driver could finish the journey on foot. The company believed this multi-model method can cut average delivery times for a 1.5-mile journey from 21 minutes to seven.
Read more:
Update: Alphabet Wing - Canberra, Australia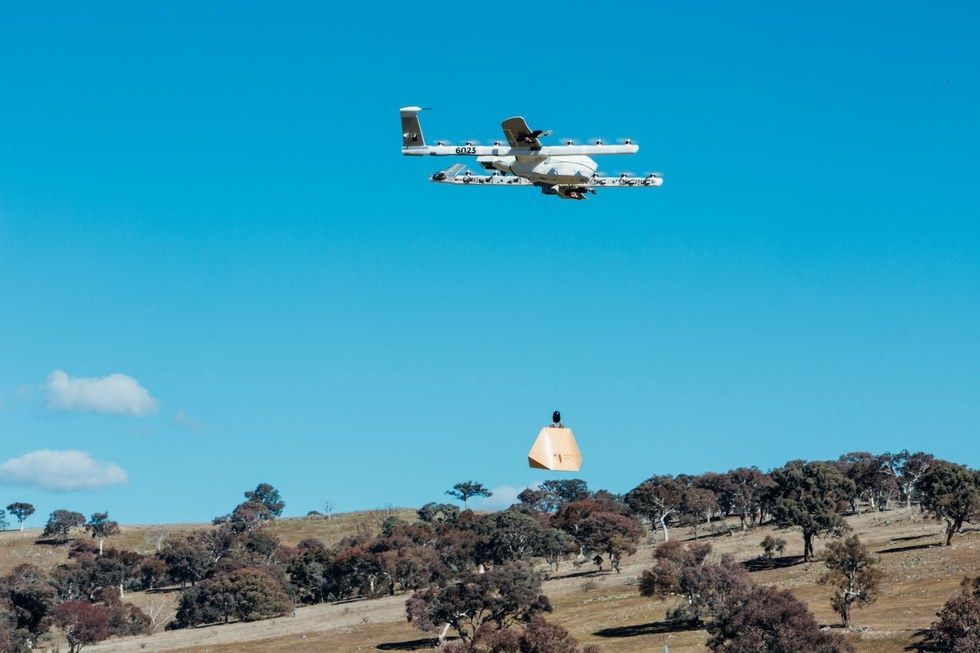 Wing is owned by Alphabet, parent of Google Wing
This service is going strong, and people can actually sign up to be a customer through Wing's web site. The list of items that can be delivered is extensive from spring rolls to dumplings, espresso to scones, and even milk, eggs and dark chocolate.
Wing, the drone division of Alphabet, the parent company of Google, started the trial service in Australia in April 2019, delivering takeaway food, coffee and medicines to 100 homes in Canberra.
The drones have been in development since 2014 and Wing earned special permission to run the public trial, in a bid to obtain valuable feedback from residents with regard to noise and safety concerns. Packages are dropped into customers' gardens from a thin length of rope; they are not allowed to fly at night, and cannot fly over crowds of people or main roads.
Companies involved in these early trials include a coffee chain called Kickstart Espresso, a bakery chain called Bakers Delight, a Mexican fast food chain called Guzman Y Gomez, and pharmaceutical company called Chemist Warehouse, but now has expanded to 16 different brands including a baked goods shop Krofne Bakery, a tea house Adore Tea, an ice cream shop Pure Gelato and Mitchell Supermarket, a grocery store.
Wing's plans to begin delivering food by drone in the Vuosaari district of Helsinki, Finland has also launched with partners including Herkku Food Market, a gourmet supermarket, and Cafe Monami, an independent cafe selling local and international cuisine.
Read More:
Update: Aha and Flytrex - Reykjavik, Iceland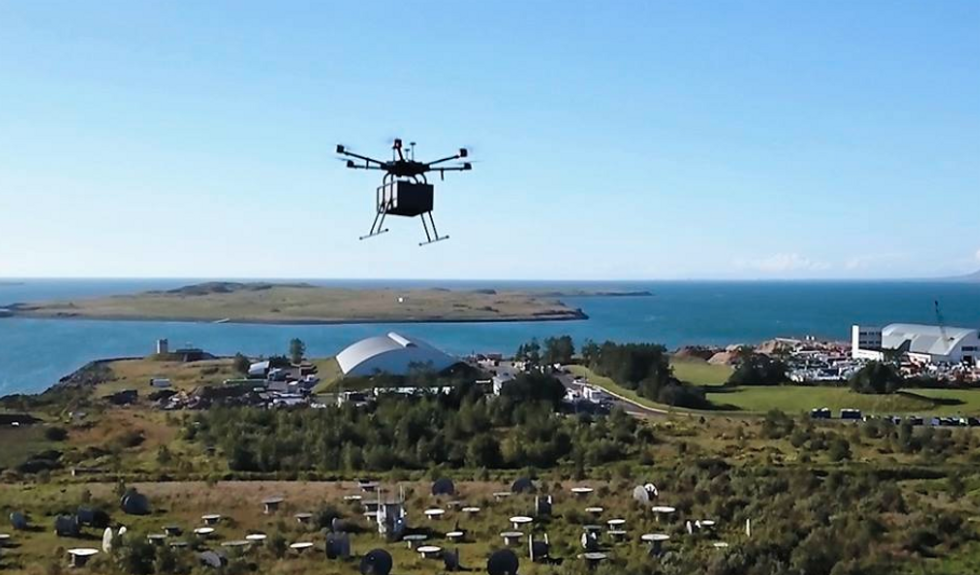 Drone startup Flytrex operates delivery drones in Reykjavik, IcelandFlytrex
One of the first food-by-drone services began in Reykjavik, Iceland in 2017, and Flytex is still running commercial deliveries in the city after making its first commercial delivery in August 2018.

Due to Iceland's rugged landscape, traveling from one part of its capital city to the other by road can be somewhat indirect. Drones, by comparison, can fly in a straight line regardless of the landscape below, saving a huge amount of time. In fact, the company claims the average delivery time can be cut from 25 minutes by car to just four minutes by drone.
Aha is permitted to fly autonomous drones on 13 routes around Reykjavik, and each drone can deviate by up to 700 meters from the route if it needs to make a detour. Currently Aha offers drone deliveries from 14 establishments across the capital city.
Update: Amazon Prime Air - Location unknown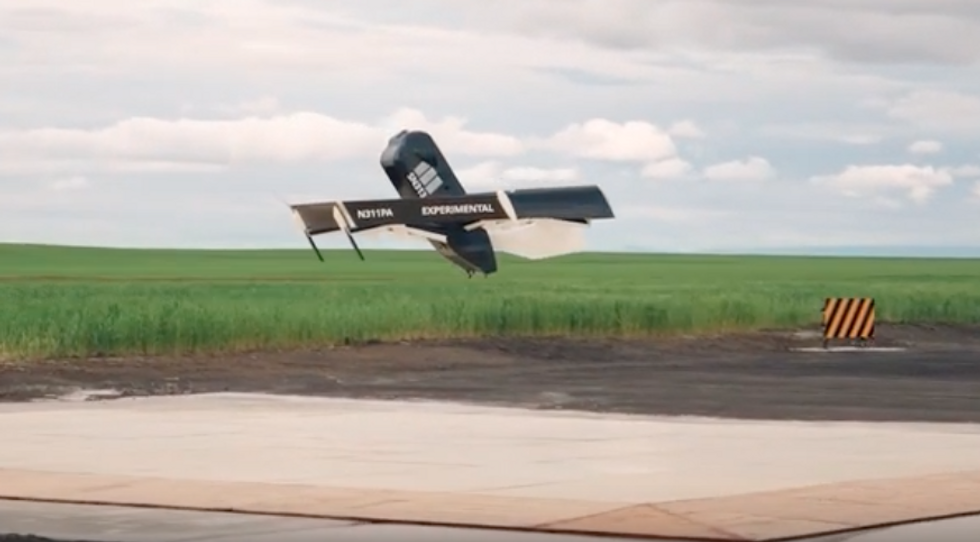 Amazon has been working on delivery drones since at least 2013 Amazon
Amazon has been silent about its plans to start delivery by drones. But with an operating cash flow of $39.7 billion as of the end of its first quarter in 2020, we wouldn't bet against the company being able to get this service off the ground.
While the retail giant has been working on delivery drones since at least 2013, and completed its first commercial delivery (albeit as part of a test) in 2016, the coming said in June 2019 that its Prime Air service would begin for real "in a matter of months."
The company said it had run "millions" of simulations to help teach its drones how to deal with all manner of situations when it attempts to land and deliver a package. If the customer is spotted too close to the landing zone, for example, the drone is designed to hover and wait until they have moved safely out of the way. The drone's rotors are covered to prevent damage and injury.
Amazon says the drones will be able to carry packages weighing up to five pounds and deliver to addresses within a 15-mile radius of a fulfillment center. However, the company is yet to say what items under that weight will qualify for drone delivery. Amazon does sell food and drink, so it is likely that these could be included as part of the drone service, albeit in fairly small quantities. If it ever gets off the ground.
Read More:
Like GearBrain on Facebook