Food technology no longer starts and ends with the appliances in your kitchen and the touch screen on your smart fridge. More than ever, there is a focus on the technology that brings food to your door.
This could be a drone dropping a Domino's pizza into the garden, an autonomous van pulling up outside with fresh fruit and vegetables, and a six-wheeled robot couriering lunch across a college campus.
Startups and tech titans alike are working on the technology, while food retailers and supermarkets are keen to trial their products in a bid to offer their customers something new — and, of course, cut their delivery times and wage bills.
Here is a look at the biggest player in the food-by-drone delivery market, as of summer 2019.
UberEats and McDonalds - San Diego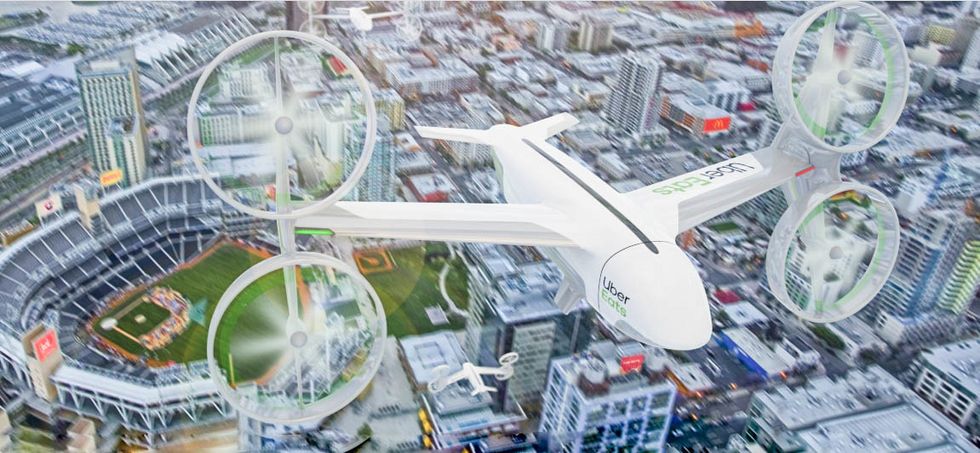 Uber eats to begin dropping BigMacs by drone this summer Uber
Uber said in June 2019 it plans to start delivering food by drone this summer, kicking off with a trial in San Diego with McDonalds. The service will see customers pay a similar delivery fee to that of UberEats, and their food will be flown from the restaurant, potentially speeding up the process.

But instead of dropping the door at your doorstep or in your garden, UberEats plans to fly food from the restaurant to a designated landing spot, and from here UberEats drivers will bring the food to you. The company has suggested the drone could land on the roof of an UberEats delivery car, then the driver can finish the journey on foot. The company believed this multi-model method can cut average delivery times for a 1.5-mile journey from 21 minutes to seven.
Read more:
Alphabet Wing - Canberra, Australia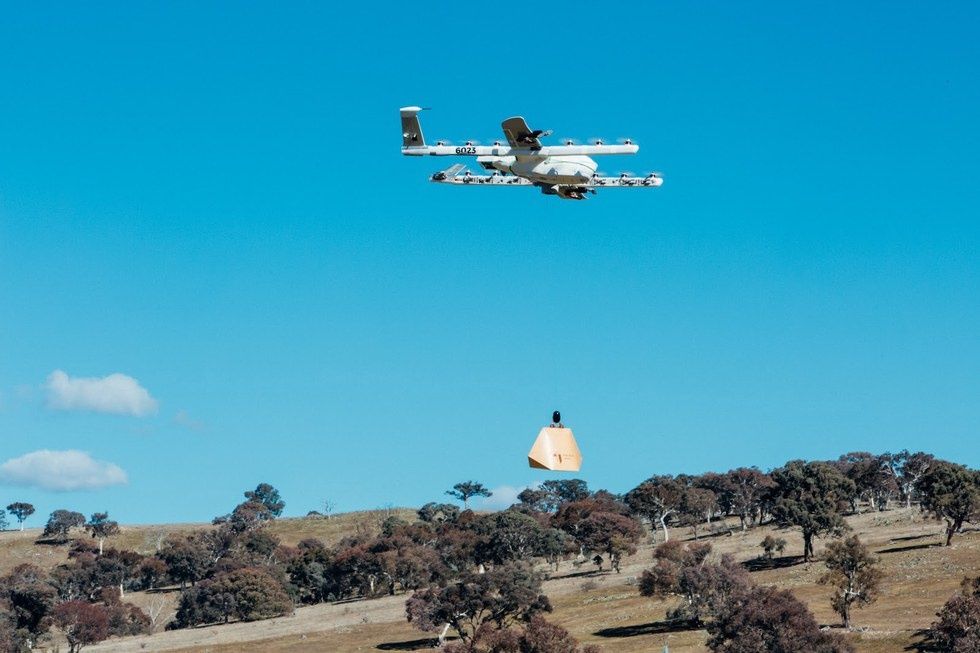 Wing is owned by Alphabet, parent of Google Wing
Also investigating food delivery by drone is Wing, the drone division of Alphabet, which is the parent company of Google. A trial service began in Australia in April 2019, delivering takeaway food, coffee and medicines to 100 homes in Canberra.

The drones have been in development since 2014 and Wing has now earned special permission to run the public trial, in a bid to obtain valuable feedback from residents with regard to noise and safety concerns. Packages are dropped into customers' gardens from a thin length of rope; they are not allowed to fly at night, and cannot fly over crowds of people or main roads.
It isn't clear exactly what Alphabet has planned for a commercial version of this Wing trial. But what we do know is that companies involved in these early trials include a coffee chain called Kickstart Espresso, a bakery chain called Bakers Delight, a Mexican fast food chain called Guzman Y Gomez, and pharmaceutical company called Chemist Warehouse.
In the U.S., the Federal Aviation Administration has also given Wing special permission to begin drone deliveries later this year in Blacksburg and Christiansburg, Virginia.
Wing also plans to begin delivery food by drone in the Vuosaari district of Helsinki, Finland this year. The first partners will be Herkku Food Market, a gourmet supermarket, and Cafe Monami, an independent cafe selling local and international cuisine.
Read More:
Aha and Flytrex - Reykjavik, Iceland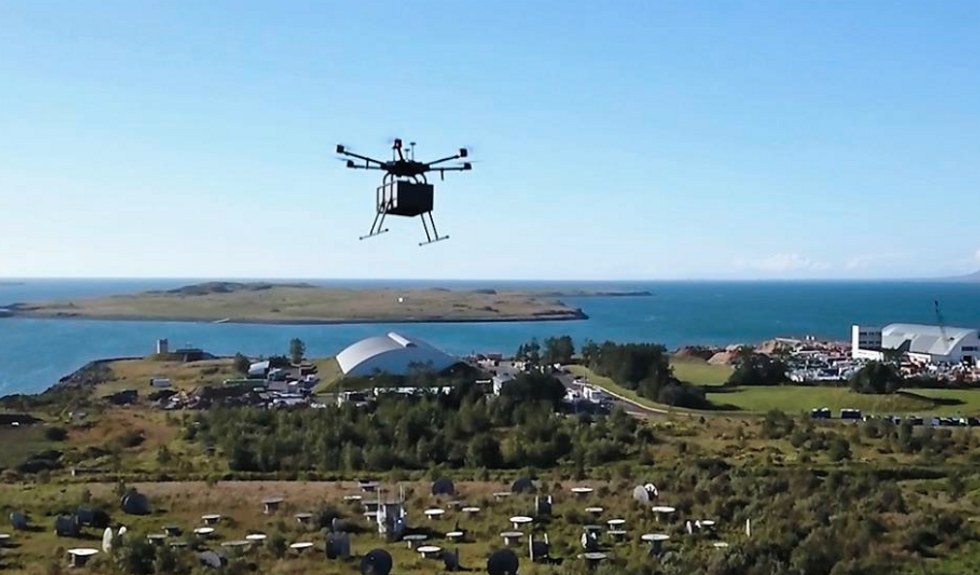 Drone startup Flytrex operates delivery drones in Reykjavik, IcelandFlytrex
One of the first food-by-drone services began in Reykjavik, Iceland in 2017 and is operated by e-commerce firm Aha and Israeli drone startup Flytrex. After a year of testing, the company made its first commercial delivery in August 2018, and has now completed over 1,000 successful flights.

Due to Iceland's rugged landscape, traveling from one part of its capital city to the other by road can be somewhat indirect. Drones, by comparison, can fly in a straight line regardless of the landscape below, saving a huge amount of time. In fact, the company claims the average delivery time can be cut from 25 minutes by car to just four minutes by drone.
Aha is permitted to fly autonomous drones on 13 routes around Reykjavik, and each drone can deviate by up to 700 meters from the route if it needs to make a detour. Currently Aha offers drone deliveries from 14 establishments across the capital city.
Causey Aviation Unmanned and Flytrex - Holly Springs, North Carolina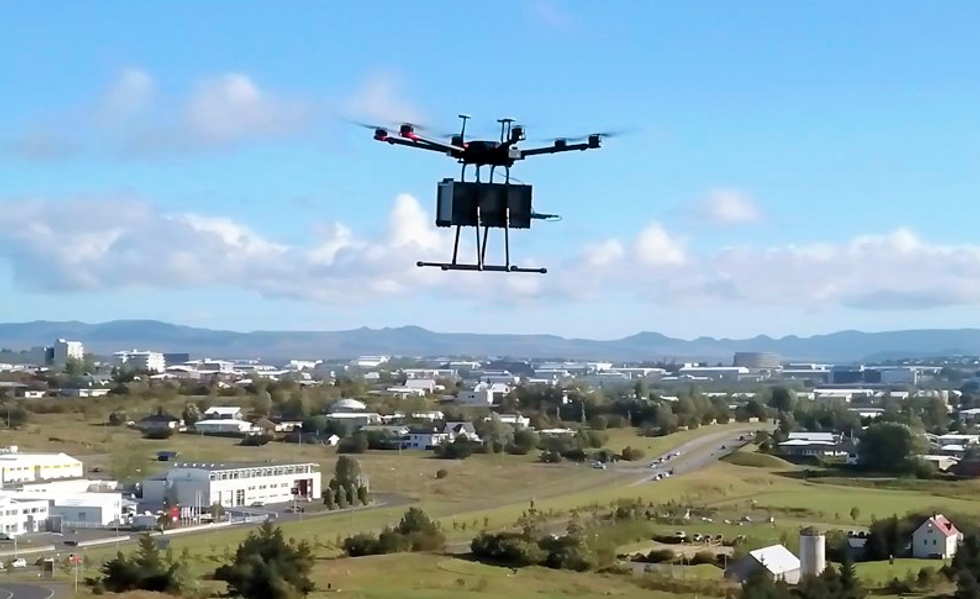 Causey Aviation plans to operate delivery drones in North CarolinaFlytrex
Flytrex has also partnered with Causey Aviation Unmanned to begin testing an autonomous food-by-drone delivery service in Holly Springs, North Carolina later in 2019. Few details have been given for now, but it is likely that the service will work in a similar way to Aha's in Iceland.

What Flytrex says sets its technology apart from its rivals is InAir, the name of its package drop-off system. Instead of landing, releasing a package and taking off again, the Flytrex drone hovers over the drop zone, then lowers the package on a wire, before gathering up the wire and flying away.
This should mean less noise, as the powerful drone rotors stay well above the ground. This way, the drone doesn't need to find a suitable place to land in the customer's garden or at the roadside, where it could potentially hit something, or be interfered with after hitting the ground.
Amazon Prime Air - Location unknown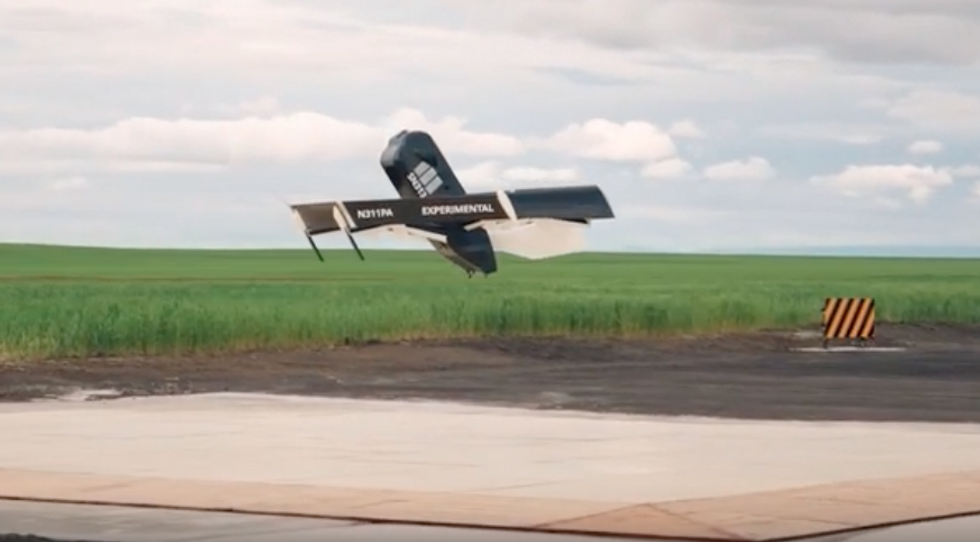 Amazon has been working on delivery drones since at least 2013 Amazon
Retail giant has been working on delivery drones since at least 2013, and completed its first commercial delivery (albeit as part of a test) in 2016.

Speaking in June 2019, Amazon said its Prime Air service will begin for real "in a matter of months."
The company says it has run "millions" of simulations to help teach its drones how to deal with all manner of situations when it attempts to land and deliver a package. If the customer is spotted too close to the landing zone, for example, the drone will hover and wait until they have moved safely out of the way. The drone's rotors are covered to prevent damage and injury.
Amazon says the drones will be able to carry packages weighing up to five pounds and deliver to addresses within a 15-mile radius of a fulfillment center. However, the company is yet to say what items under that weight will qualify for drone delivery. Amazon does sell food and drink, so it is likely that these could be included as part of the drone service, albeit in fairly small quantities.
Read More: