Like GearBrain on Facebook
The first Ford car to get hands-free, semi-autonomous driving capabilities will be the electric Mustang Mach-E.
But, while deliveries of that car are expected to begin later in 2020, hands-free driving on highways won't be possible until it is added via a software update a year later, in the third quarter of 2021.
Read More:
Ford's cautious approach to semi-autonomous driving comes more than six years after Tesla first introduced hands-free driving with its Autopilot driver assistance system.
Called Active Drive Assist and a part of the broader CoPilot360 assistance suite, Ford's system will come to the Mustang Mach-E first, before being rolled out to other future cars later.
Mach-E buyers who want the feature will have to pay for the Active 2.0 Prep Package when they order their car. This will add a forward-facing camera and radar sensors, so that it's ready for Active Drive Assist to be switched on via an over-the-air software update (and a second payment) later.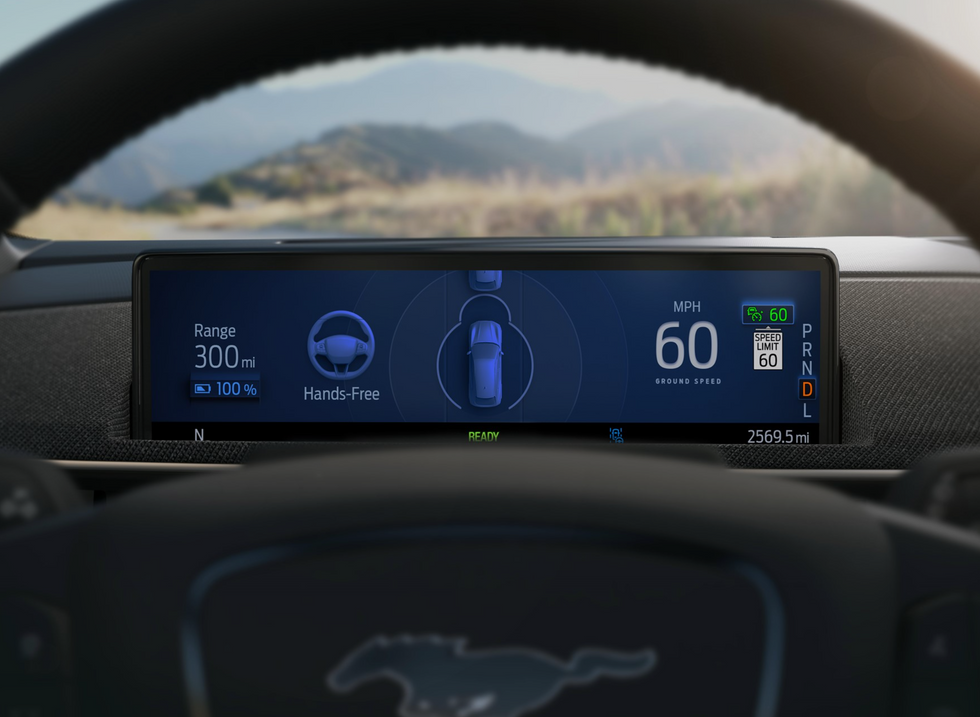 Hands-free driving mode in the Mustang Mach-EFord
Before then, Mach-E buyers will get access to the rest of the CoPilot360 driver assistance suite, including adaptive cruise control, blind spot information system, and cross-traffic alert.

Ford says it isn't revealing any pricing details just yet. Regarding the system's capabilities, the company says hands-free driving will be possible on highways that it has mapped. By launch, Ford says it will have 100,000 miles of divided highways mapped across all 50 US states and Canada.
To check the driver is still paying attention with the system engaged, the Mach-E will be fitted with an infrared camera on the steering wheel, which watches the driver's head position and eye gaze.
Ford says the driver can remove their hands from the wheel when the system is engaged on a mapped road – something other driver-assistance systems do not currently allow.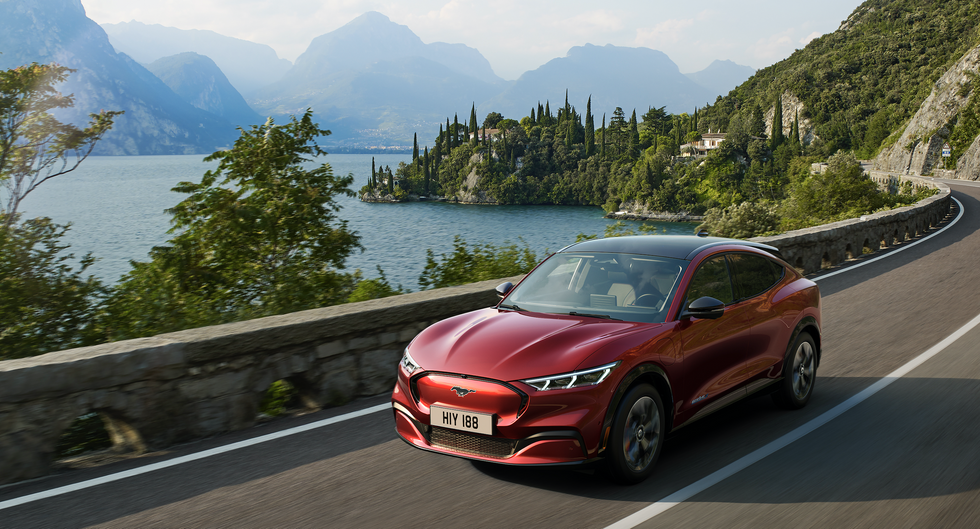 The Mach-E has a 300-mile range and is due later in 2020 Ford
As well as following the road and making lane changes where necessary, Ford says its Active Drive Assist system can stop or change lanes to avoid obstacles.

The car maker said: "Hands-Free Mode allows drivers on certain sections of pre-mapped, divided highways to drive with their hands off the steering wheel – if they continue to pay attention to the road ahead – granting them an additional level of comfort during long drives."
A lesser system, called Lane Centring Mode, works on any road with lane lines and helps keep the car in the middle of the lane, but drivers must keep their hands on the wheel with this engaged.
While developing Active Drive Assist, Ford says it exposed the sensors "to snow, rain, bright sun, dark nights, traffic jams and open roads over hundreds of thousands of miles across the US, Canada and Europe in an attempt to expose the sensors to a variety of extremely specific scenarios – or gray areas – so the technology is as ready to handle the array of real-world conditions drivers face daily."
From Your Site Articles
Related Articles Around the Web
Like GearBrain on Facebook