Like GearBrain on Facebook
Google surprised us all this week by announcing that its latest version of Android, until now known as P, is called Pie and is available for Google Pixel users right now.
This isn't a developer build or a public beta, which Google had offered for a little while. This, for Pixel users at least, is the finished build of Android 9.0 Pie. It will be made available to other handsets later in the year, and through 2019 as the various manufacturers and mobile networks modify the software to work on every device.
Read More:

Android Pie offers a wide range of changes to what has gone before, introducing iPhone X-style home screen swipes for the first time - where an upwards swipe returns you to the home screen.
But the most interesting new feature is called Digital Wellbeing. And, ironically, while Pie itself is available now, Digital Wellbeing is offered as a beta until the fall. If you have a Pixel phone running Android Pie, you can grab that beta from Google here.
Following Apple's Screen Time, which will be released as part of iOS 12 in the fall, Digital Wellbeing is a move by Google to help smartphone users limit how much they use their devices. Digital Wellbeing is made up of four key components. These are:
Dashboard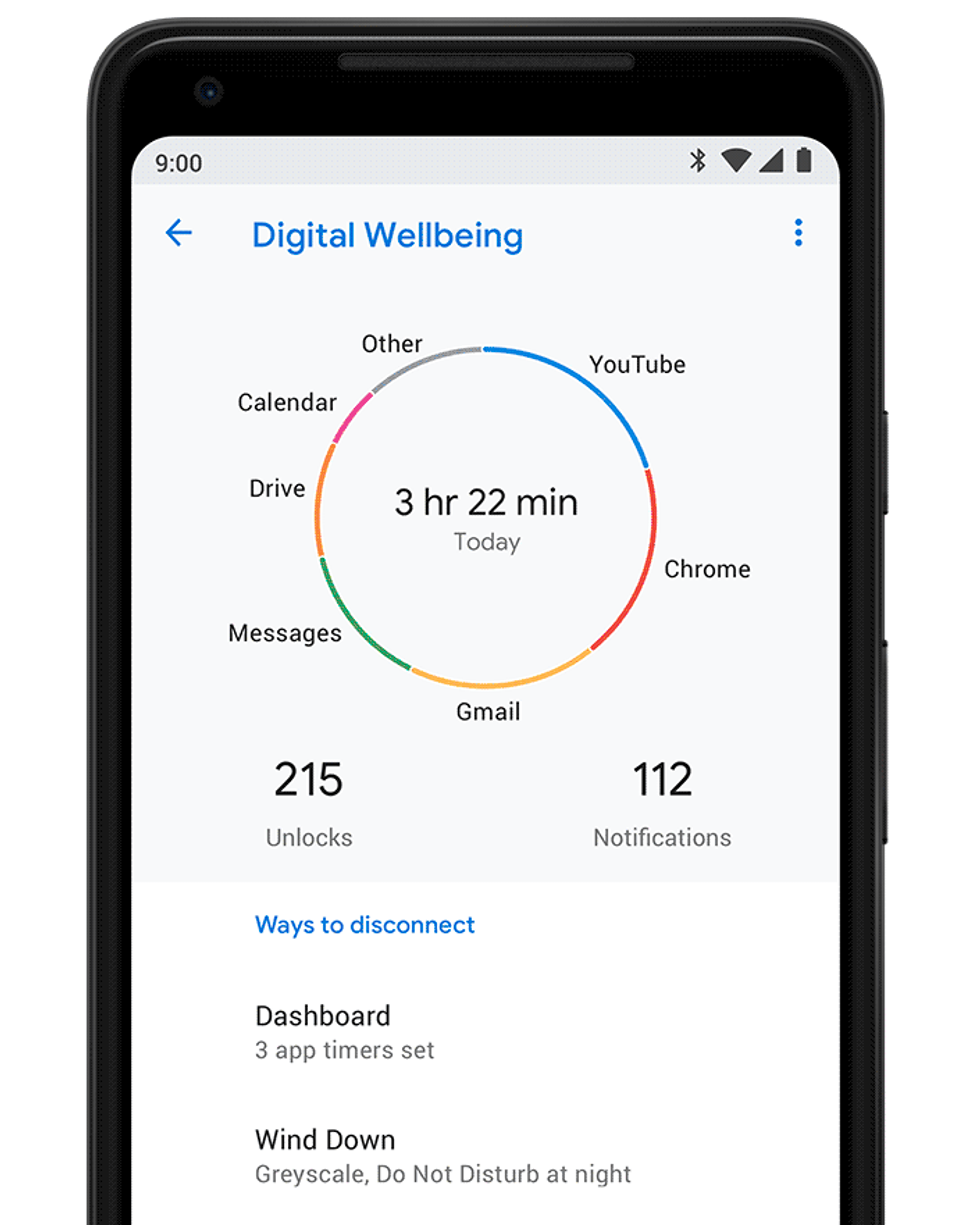 Google
Very much like Screen Time in iOS 12, the Dashboard of Digital Wellbeing presents a graphic to show how much you use your smartphone. Today's total is show in the middle, with the proportion of each app (Chrome Spotify, YouTube, Gmail etc) illustrated by a simple pie chart.
The dashboard also states how many times you have unlocked your phone today, and how many notifications you have received.

As we found when using Screen Time, these figures will likely be shocking at first. There is something unsettling about discovering you use your phone for many hours each day, unlock it over a hundred times, and receive hundreds of notifications.
App Timer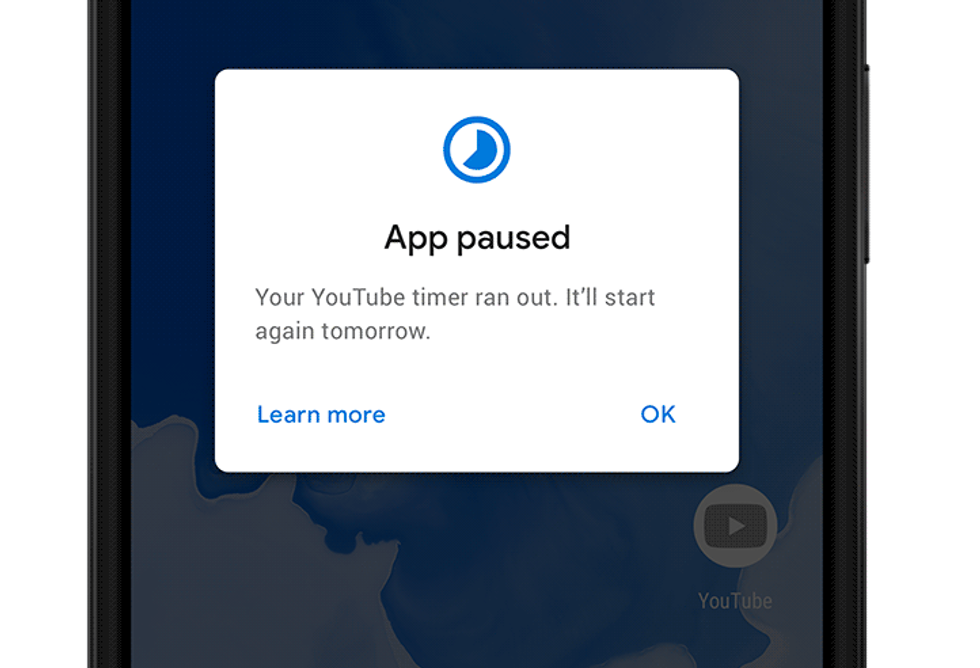 Google
This feature is also similar to Screen Time, allowing you to set limits for how much you can use certain applications each day. Because this is all self-imposed, you can always choose not to set a limit for your favorite apps, or adjust the limit if you reach it before the end of the day.
But, with having to dig into the settings of Digital Wellbeing to do this, we reckon Android Pie makes it just about convoluted enough to prevent all but the most app-hungry of users from cheating themselves.
Once you have reached the daily self-prescribed limit for an app, its icon is grayed out and tapping it no longer opens the app - at least until the following day, when your time limits are all reset. If you are using an app when the time limit is reached, a message will pop up stating "App paused. Your [app name] timer ran out. It'll start again tomorrow."

Shush
Part of Android's Do Not Disturb system, the new Shush gesture is a quick way of silencing notifications and enabling Do Not Disturb. All you have to do is turn your phone over so it's face-down on a flat surface - useful if you need to quickly reject a phone call and make sure the follow-up text is silenced.
Wind Down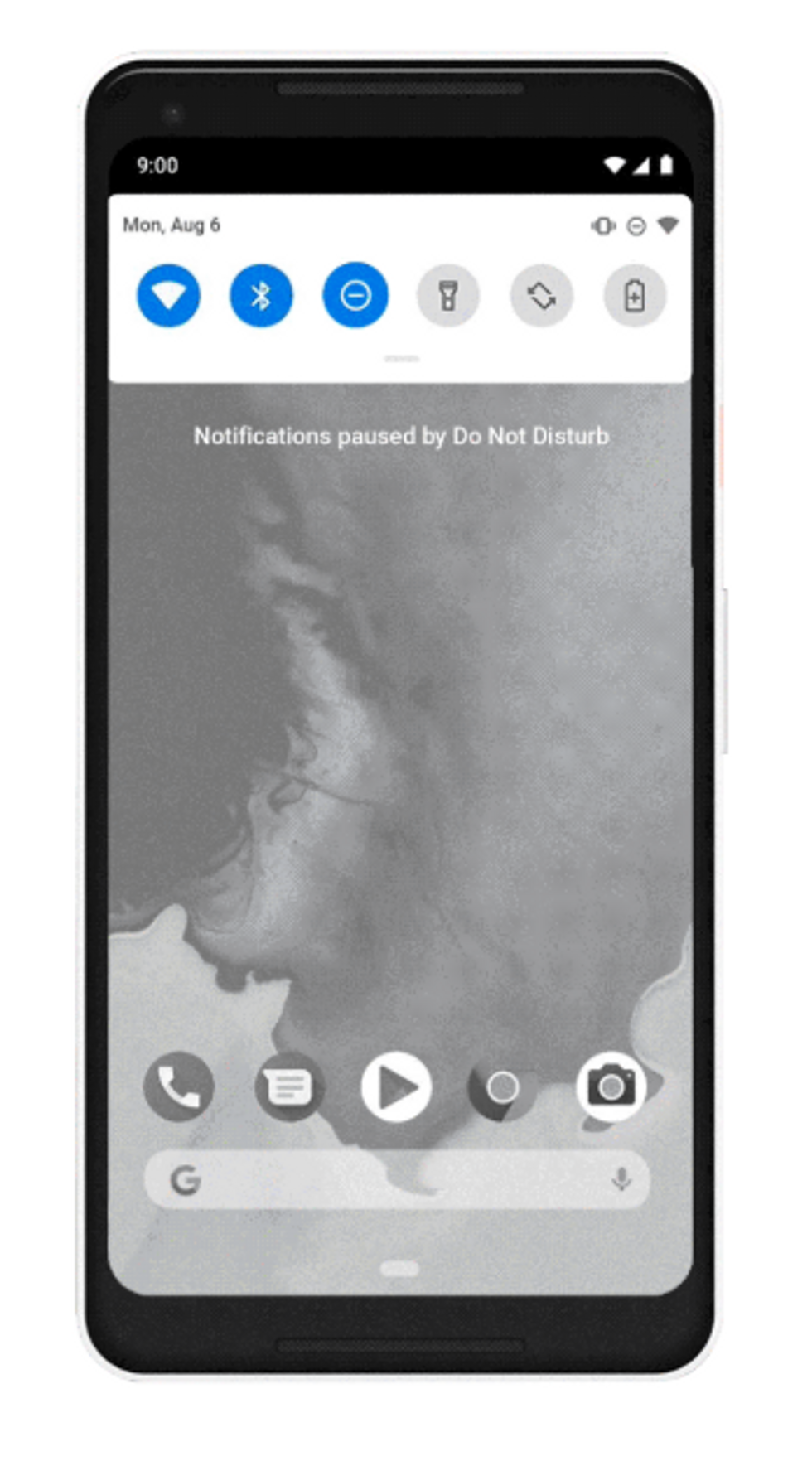 Google
Another new part of Do Not Disturb, this encourages Android owners to use their phones less towards the end of the day. First (once switched on and configured to how you want it), Wind Down activates Night Light, which dials down the blue light emitted by your phone. Blue light is known to tell the brain that it is daylight and you should be awake, so reducing this - in theory, at least - should help you become more sleepy towards the end of the day.
Then, when bedtime is approaching, the phone turns its screen into grayscale, removing all color. This further helps to reduce those stay-awake signals, but also makes your phone rather uninteresting. After all, who wants to watch YouTube or flick through Instagram when it's all black and white?
This may sound like self-punishment, but in a way that's what Digital Wellbeing is, albeit wrapped up in a nicer-sounding package. These features are intended to take the fun out of your phone and encourage you to put it down and step away, if only for a few hours each evening.
From Your Site Articles
Related Articles Around the Web
Like GearBrain on Facebook