Like GearBrain on Facebook
Project Wing, the drone company owned by Google parent Alphabet, has begun testing on-demand deliveries to a rural community in south-east Australia.
The trail will see alpaca farmers and other local residents be given access to a smartphone app, from which they can order burritos from a Mexican food chain called Guzman y Gomez. The trials are taking place on the boarder of the Australian Capital Territory and New South Wales.
A pharmaceutical chain called Chemist Warehouse is also a launch partner, giving rural communities quick access to medication, pain relief and other products which would otherwise be a 40-minute round journey away.
The test will help Project Wing understand how best to integrate drone delivery infrastructure into the already busy working days of the fast-food and pharmacy businesses. When an order is placed via the app, drones will be dispatched from Project Wing and fly autonomously to the local branch of Guzman y Gomez or Chemist Warehouse.
Here, they will be loaded up with a standardized package, then sent on their way, flying at an altitude of 400 feet and up to 75mph. On approaching the customer's house, they will pick a place to land based on the buyer's preferences - such as opting for the backyard to avoid unattended packages from being seen from the roadside.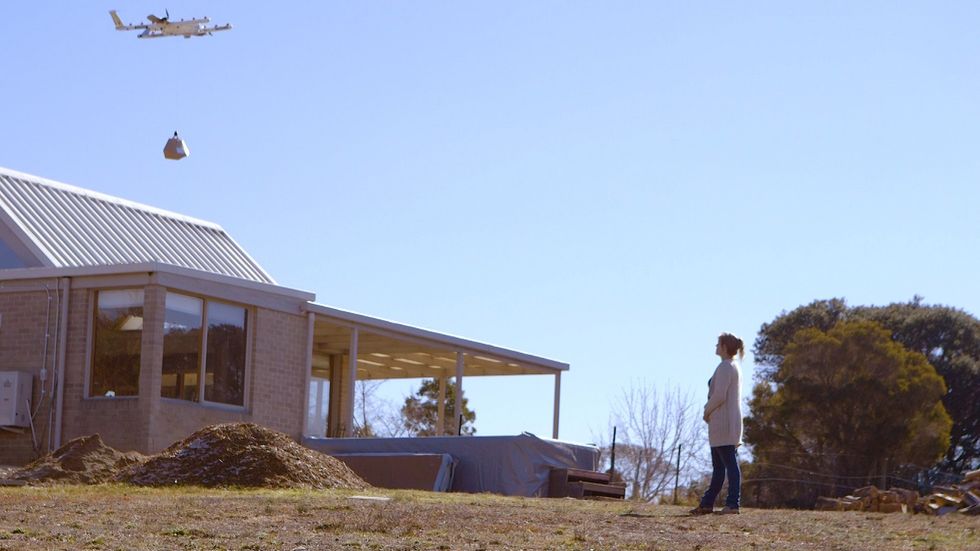 Autonomous drones drop orders off wherever the customer asksAlphabet
The electric drone then picks a safe place to land and delivers the package, before flying back to the Project Wing depot to be recharged. Project Wing's algorithms will get smarter the more landings they perform and the more variations they encounter with each drop off, the company says. Say a car is parked in an unexpected place, or garden furniture has been moved from where it was previously; these are all things the software will learn to work around.
Carrying out such tests is easier in Australia due to more relaxed air traffic laws. Strict rules imposed by the US Federal Aviation Authority make testing like this more difficult, prompting California-based Alphabet to look elsewhere.
James Ryan Burgess, co-lead of Project Wing, says in a Medium blog post: "Our drones are able to deliver items almost anywhere — backyards, public parks, farmlands or even fire-breaks. But we need to train our systems to reliably identify safe and convenient delivery locations. This is more complicated than it looks.
"We have to incorporate customer preferences — e.g. many of our testers would like packages delivered to backyards so they're not visible from the road, or near kitchens so food items can be unpacked quickly. And we have to be ready to accommodate changing conditions at the delivery location."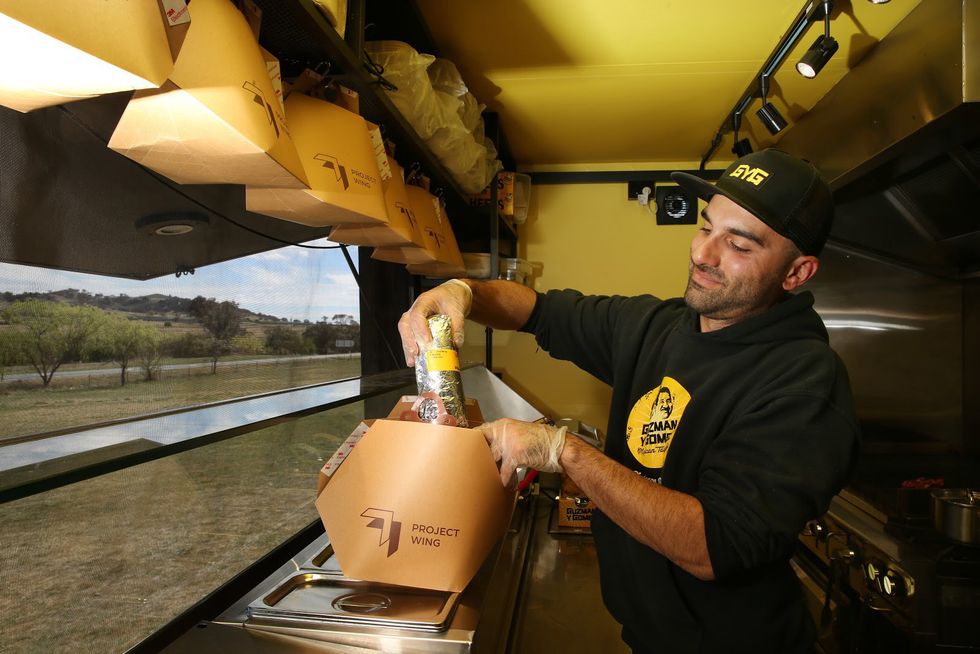 Burritos are packed up into standardised bags for the drones to carryAlphabet
As well as fast-food and medicinal deliveries, Project Wing has been given a number of other requests for drone deliveries from local residents.
Burgess says: "Our testers, including young families, busy professionals and retirees, had many suggestions for how our technology could address this fundamental inconvenience. They wanted fresh meals delivered at dinner time.
"Some who run small businesses at home wanted to be able to send customer orders from their doorstep. A few with farms wanted supplies to arrive at their paddocks, or spare parts delivered to the ailing vehicle on their property. Almost all said that they'd value having medicine delivered to their door, especially when they're unwell."
Additionally, locals suggested how drones could be used to transport drinking water, medical supplies and mechanical parts to emergency service workers operating in rural areas cut off by flooding or fires. An upcoming test will see Project Wing help the Australian Capital Territory Rural Fire Service and access how drones could be used to help them.
Like GearBrain on Facebook