Like GearBrain on Facebook
As we wrote about earlier in the year, the Google Assistant can already be used to look up flights details, check prices, and keep tabs on arrival and departure times.
Additionally, when Google is 85 percent confident there will be a delay, the assistant can let you know when you ask about the flight.
Read More:
Next, Google wants to have the assistant proactively inform you about delays, even before the airline itself has said there are any problems.
The search giant said in a blog post this week: "To make it easier to stay up-to-date on changes to your flight time, over the next few weeks the Assistant will begin proactively notifying you on your phone if we predict a flight delay and tell you the reason if we know it."
Note that the Assistant on your Google Home smart speaker won't randomly start talking about a potential flight delay - instead, you will be notified visually by the Assistant on your smartphone. But it's a nice new feature and one which shows Google has a lot of confidence in its artificial intelligence. Remember, this is using AI to predict the delays, rather than waiting for the airline or airport to announce a problem.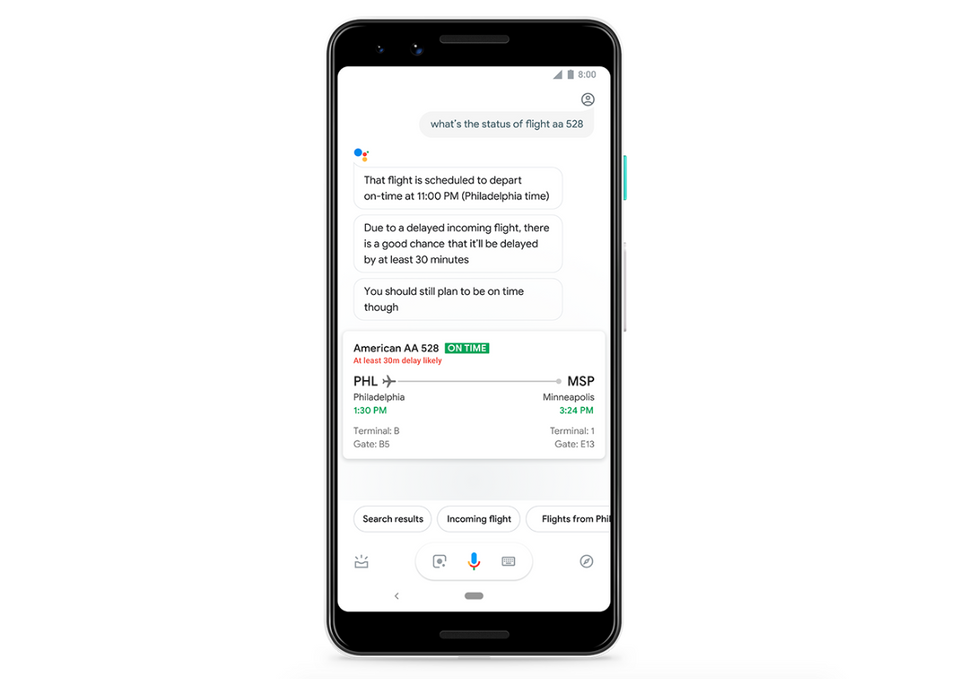 What predicted flight delays from the Assistant look likeGoogle
As for how Google does this, Richard Holden, vice president of product management in the travel division of Google Assistant, said: "We use historic flight status data combined with machine learning to make these predictions in advance of airlines confirming delays."

When a delay is predicted, the Assistant will issues messages like: "Due to a delayed incoming flight, there is a good chance that [your flight will] be delayed by at least 30 minutes. You should still plan to be on time though."
The message is accompanied on the Assistant smartphone app with Google's usual flight progress graphic, complete with the official status of the flight — "On Time" — and a red note by Google stating the length of a "likely" delay.
This is a smart system from Google, but the logic behind some use cases is fairly simple. For example, passengers can already find out the unique tail number of the aircraft scheduled to be used on their flight. It is also easy to see this plane's previous flights, so if there was a delay earlier in the day, it is likely the aircraft's next flight — your flight — will also be delayed.
Check out The GearBrain, our smart home compatibility checker to see the other compatible products that work with Google Home and Home Mini.
What You Need To Know About Smart Speaker Assistants www.youtube.com
From Your Site Articles
Related Articles Around the Web
Like GearBrain on Facebook