Like GearBrain on Facebook
Asking Google Assistant about flights is one of the best examples of using natural spoken language we have found on smart speakers so far. You can be specific, including a destination, exact dates, cabin class and airline all in your first request — or you can be casual, asking only for flights to a certain country.
Google Assistant then asks questions to help fill in the gaps, remembers the dates and destination you chose for future questions, and emails you whenever the prices change. For casually checking in on the cost of flights to anywhere in the world, at any time of year and with most airlines, Google Assistant is incredibly useful.
Even more impressively, if you have already booked a flight and the details are in your Gmail inbox, Google Assistant can tell you about them, and provide information on delays or cancellations when asked.
Here is everything you need to know about searching for flights with Google Home.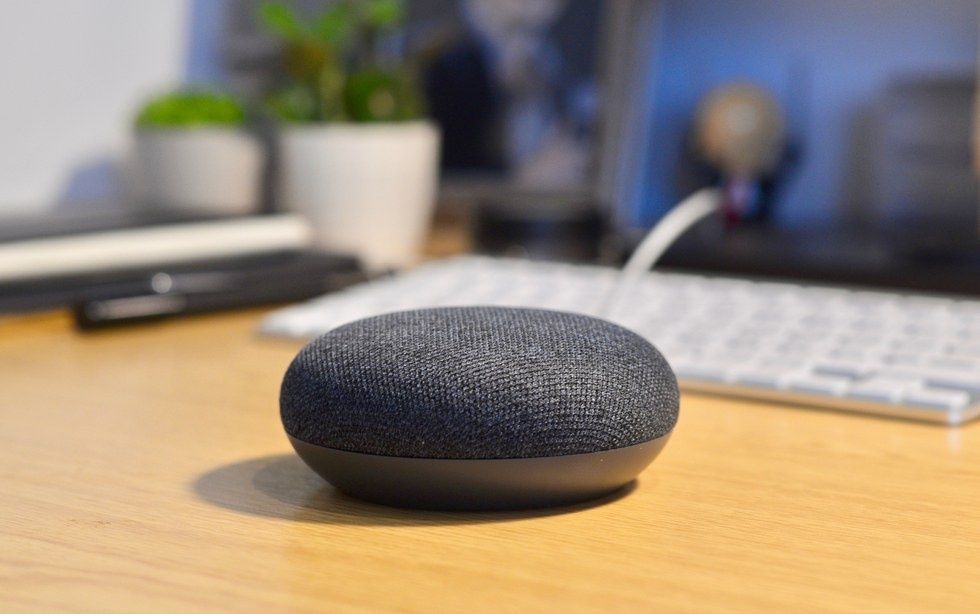 Google Assistant on the Home Mini (pictured) is great for looking up flight pricesGoogle
How to search for flights and prices with Google Home
To get started, say: "Hey Google, how much are flights to [destination]." Because Assistant already knows where you are, it will calculate upcoming roundtrip flights to your destination based from your current location.
Google Assistant then asks when you'd like to fly. Here you can say a month or a specific date, although Google does not understand if you say a season. Give her a month and Google Assistant will pick dates at random, so if you know exactly when you want to fly — and when you want to return — then it's best to say so. You can ask about flights "next weekend" but Google will think this means leaving on the Saturday and coming back on the Sunday, rather than, say, leaving on Friday evening.
Seconds later, Google will have your answer, stating, for example: "Flights from London to Hong Kong leaving on October 3 and returning October 7 start at [price]."
Google then asks: "Should I email you with any price changes?". If you say yes, Assistant will immediately send a message to the Gmail account you have associated with your Google Home, containing details for the flights you requested. Then, when these prices change over the coming days, weeks and months, Google will send an email with the new fares. Click on this email and you'll be taken to Google's flights service, which includes links to a number of booking companies like Last Minute and Expedia.
By default Google searches for the cheapest seats, but you can ask Assistant to look at business and first class seats, too.
Google also remembers details from your request, so later on you can ask: "Hey Google, how much for business class?" and the assistant will remember that you were talking about flights from London to Hong Kong on October 3-7.
Similarly, if you then say: "Hey Google, what about October 5 to October 8," she will perform the search again without you needing to say the destination or cabin class.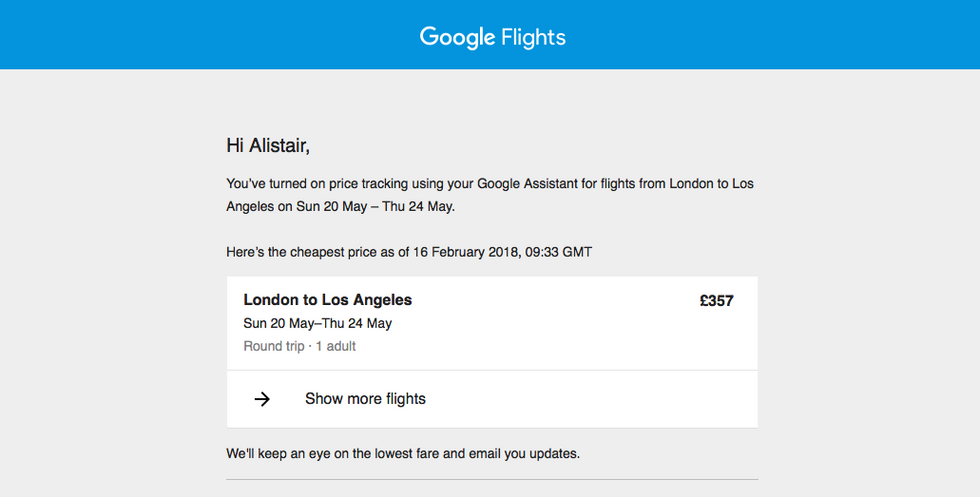 Here's an example of the email Google Assistant send youScreenshot
You can also specify which airline you would like to fly, but we found she sometimes struggles to understand so many details at once. A request like: Hey Google, how much are British Airways business class flights to Hong Kong from October 3 to October 10?" often failed. But if we removed the cabin class, then asked about this in a follow-up question Assistant was more likely to understand.
This issue aside, asking Google Home about flights makes for a natural-sounding conversation, but if you change the topic you often have to start afresh. After we changed the dates we then asked Google about the weather in London this weekend. She gave the answer. But when we then asked for flights in first class on October 5-8, she didn't understand. When we later asked about flights to Geneva, she remembered the dates from our previous enquiry. So we found it is best to state your destination and dates together when you ask about a new trip.
Ask too much, and Google might get confused
We also managed to thoroughly confuse Google Assistant when asking about flights to Ireland on budget airline Ryanair. She didn't understand, then failed to understand requests about flights to Ireland, flights to the Republic of Ireland, flights to Dublin, flights to Reykjavik, and flights to Helsinki.
Asking about flights to Berlin — something we thought would be easier to understand — somehow fixed this weird bug, and Google was then able to answer our previous questions without hesitation.
Minor hiccups aside, flight searching is one of Google Home's more impressive services, and is arguably quicker than performing the search manually. If you want to look into connecting flights, adding multiple travellers, or any of the finer details then an app or web browser will be your best option - but for quickly checking prices, or asking how long the flights take, Google Home is almost seamless.
Don't forget to check out The GearBrain and see what connected devices work with Google Home and Amazon Alexa.
Like GearBrain on Facebook