Like GearBrain on Facebook
At its simplest, the Home Hub is a Google Home smart speaker with a 7-inch touchscreen attached. It's the same voice-activated assistant as before, with the same intelligence, voices and personality, but with the screen attached, it comes to life.
Now, the assistant can show you things as well as talk to you; it can bring up a map when you ask about your commute to work, or show the weather forecast as well as say it. The assistant can also present cooking recipes on demand, or act as a central command hub for every smart device in your home.
Read More:
At $149, the Home Hub is $100 more than Google's entry-level smart speaker, the Home Mini. Both have the same assistance and the same basic abilities, but the Home Hub augments all that with a display to bring the assistant to life.
Is it worth it? We invited the Hub into our home to find out.
Google Home Hub review: Design and hardware
Our very first impression of the Home Hub was how small it is. The news of its 7-inch screen mostly passed us by at Google's launch event a fortnight earlier, so when the device finally landed on our desk we were taken aback by its compact dimensions.
The design is very simple. It's a display which looks a lot like a small Android tablet, stuck to a fabric-covered base. It's smart, simple and really quite attractive - the kind of device which could fit in neatly almost anywhere in the home, on any shelf, on your desk, or your kitchen counter, or maybe even your bedside table.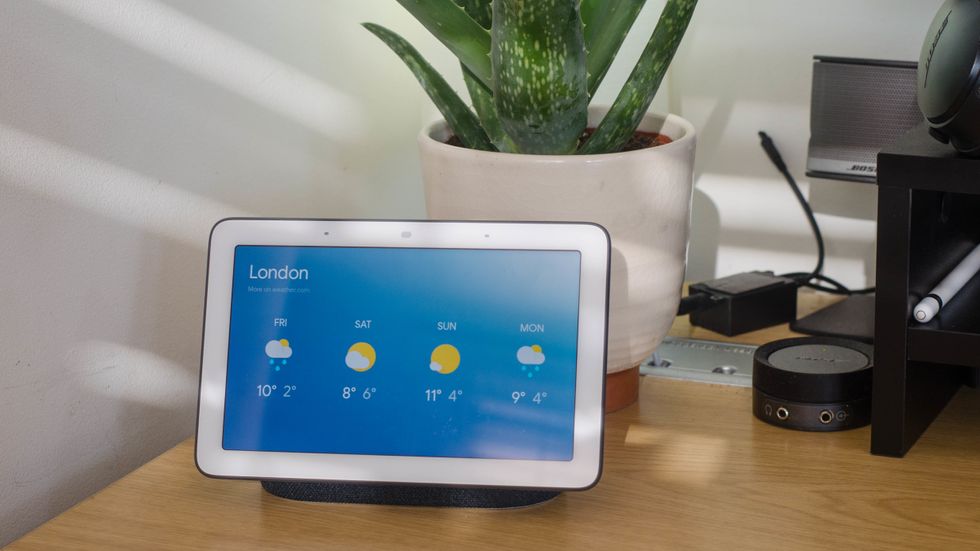 Google Home Hub shows you the local weather.GearBrain
On that last note, it's important to state that Google has not fitted the Home Hub with a camera. Unlike the Amazon Echo Show and Facebook Portal, Google is not interested in consumers using these devices for video calling - and removing the lens takes away the privacy concerns a web-connected camera can bring.

The Home Hub sits sturdily on its rubber-based mount, and while it may rock a little if you tap the screen especially hard, it's not going to topple over.
Above the display are a pair of far-field microphones so the assistant can hear you clearly, plus an ambient light sensor in the middle. This sensor does an excellent job of adjusting the brightness and temperature of the display to match the lighting of your room. This is especially obvious when the Home Hub is left in 'ambient mode', where by default it cycles slowly through photos from your Google account.
These images - plus collections of artwork and other quality photos curated by Google - look uncannily like printed photographs sitting inside a modernist frame. We found ourselves just staring at the Home Hub for minutes at a time, taking in old memories, or just enjoying Google's own photos. We'd actually consider buying a Home Hub for our parents and grandparents, so they can use it as a digital photo frame, updated as we take new photos with our smartphone.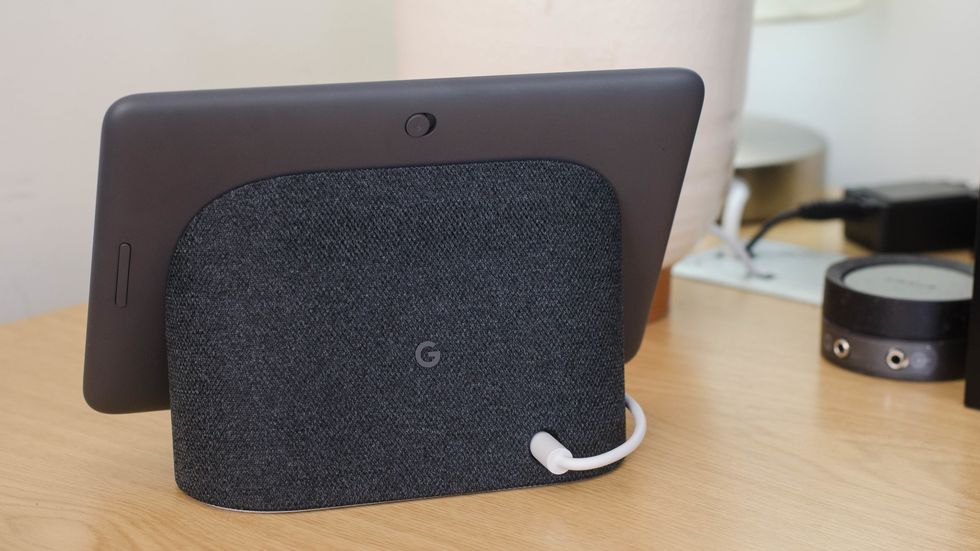 Google Home Hub's backsideGearBrain
The screen's resolution is only 1280 x 800 - low compared to today's smartphones - but this isn't a device to pick up and view from just a few inches away. Sat on our desk, an arm's length away, it looks gorgeous.

On the rear of the device there is a switch to mute the microphones, and two buttons on the right-hand side for adjusting volume. It takes a few attempts to reliably locate these without looking or feeling around, but after a couple of days their use felt second-nature.
Google Home Hub review: Software, Assistant and performance
As we said above, the foundations of the Home Hub - the Google Assistant - are the same as all other Google Home products. Say "Hey Google" or "Okay Google" to get the assistant's attention, then you can ask general knowledge questions, or have the assistant read out the news headlines and weather forecast.
The assistant can also tell jokes, play games, set multiple timers (great for cooking), play simple games, flip a coin to settle an argument, and a great many other things besides. It can also play any music you like, via Spotify, Google Music, and radio services.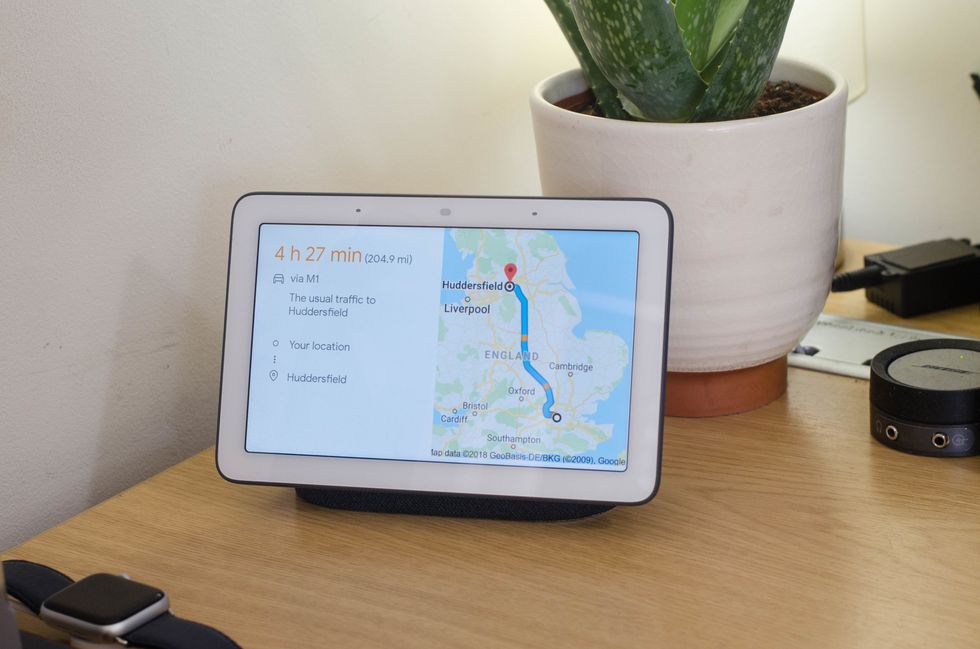 Use Google Home Hub to check out maps.GearBrain
Some of these are improved massively with the introduction of a display. You can see all of your active timers (complete with their names) at once, which is really helpful in the kitchen, and sometimes an image will be included to help make answers to your questions richer and more interesting. Ask how tall the Shard building is in London, and you are shown a photo as well as the answer (written on the screen and said out loud).

Unique for the Home Hub is YouTube, which you can control with your voice ("Hey Google, show me Red Dead Redemption 2 reviews on YouTube"), or by casting the video from your smartphone or computer. Ask for a video, and the Home Hub shows a scrollable list of options; tap on the one you want to play.
Seamless YouTube support is arguably the Home Hub's trump card when compared to the Amazon Echo Show, the Alexa-equipped smart display which has had an on/off relationship with Google's video service.
However, one thing to note - and which is universal across the Hub's operating system - is the lack of a keyboard. This is a voice-first device with just enough touch inputs to get by, but not being able to type in can be frustrating in some circumstances.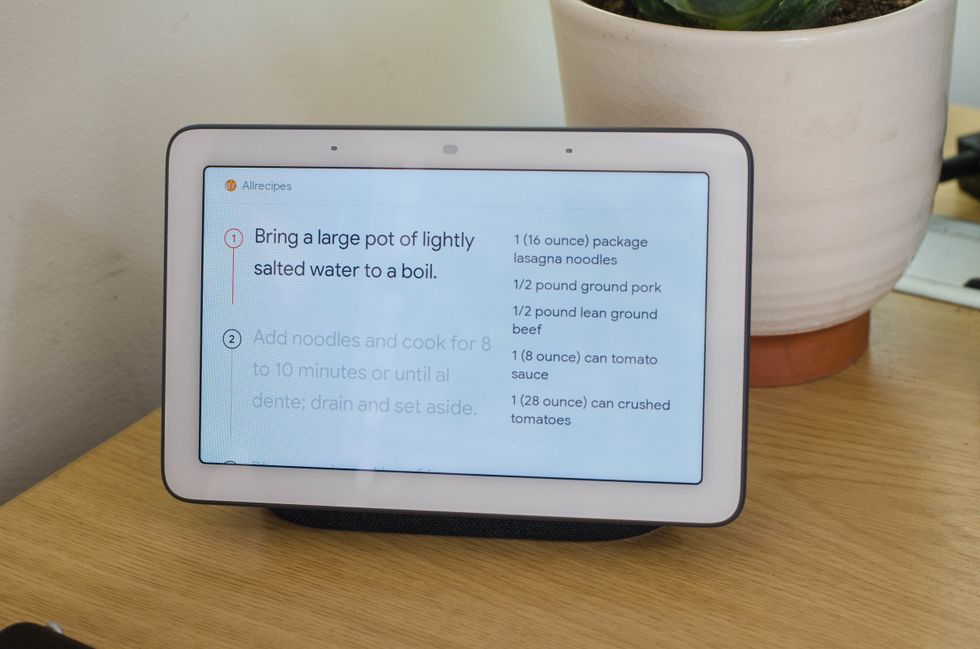 Use Google Home Hub to pull up recipes.GearBrain
For example, we wanted to listen to a podcast, but the Google Assistant failed to understand every time we said the title. We tried over and over again, but always ended up with the wrong podcast playing; there being no way to quickly type out the correct name felt like we'd hit a roadblock. However, we can appreciate that adding a keyboard would surely lead to feature-creep and see the simple Home Hub morph into something overly confusing and tablet-like. We ended up playing the podcast over Bluetooth from our iPhone instead.

What is helpful is how the assistant will often show suggestions for follow-up questions while answering your initial enquiry. You can say these out-loud, or just tap on them if that's more convenient.
Swiping up from the bottom of the display brings up two panels for adjusting the screen brightness and speaker volume, but for adjusting anything else you'll need to consult the recently-redesigned Google Home smartphone app for iOS and Android. This is also where you setup the Home Hub, connect it to your Wi-Fi network, and login with your Google credentials.
Google Home Hub review: Sound quality
Google says - rather vaguely - that the Home Hub has a "full range speaker". We found it is perfectly acceptable for hearing the Assistant (even from across the room), and for listening to the radio. The Hub worked best for us while sat on our desk, at arm's length, and with the volume at around three or four out of 10.
If you crank the volume up, quality begins to suffer. It isn't terrible, and it certainly has more power than small speakers like the original Amazon Echo Dot, but this isn't a device for party music. There isn't much bass and straying beyond level seven produces a fairly unpleasant listening experience. As an alternative, the Home Hub can be connected to better speakers via Bluetooth, but there is no socket for hooking up an audio cable.
As a final note on sound, we'd like the option to have music (or the radio) continue playing quieting in the background when we speak to the assistant, instead of being abruptly muted until she has finished talking.
Google Home Hub review: Smart home integration
Swipe down from the top of the display, and you are greeted by a control hub for all of your smart home devices. These will first need connecting via the Google Home app, if you haven't done so already.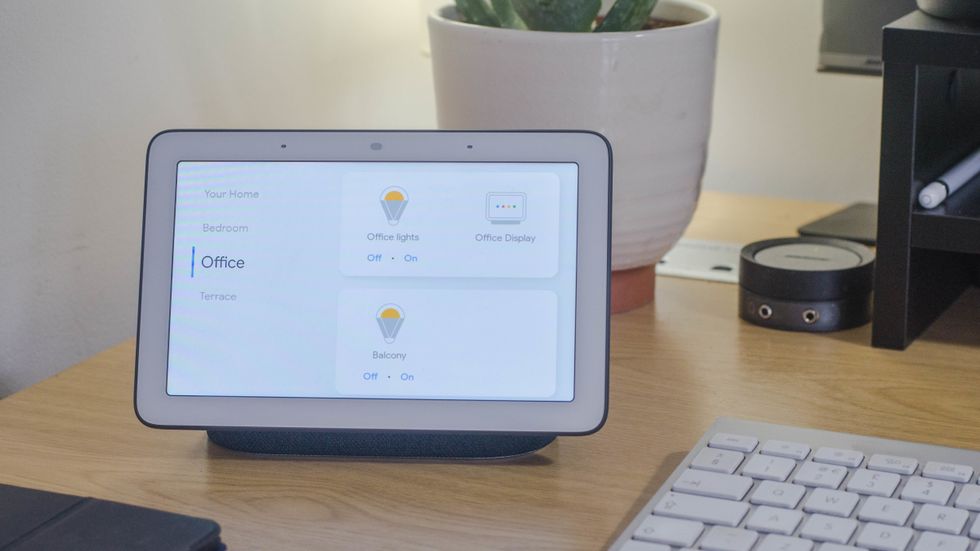 Use Google Home Hub to access your calendarGearBrain
Once set up, that swipe down reveals every device in your home, and every room you have created via the app. For us, we have three rooms, called Bedroom, Office and Terrace. You can control whole rooms at once (setting all the lights there to the same color and brightness, for example), or alter each bulb individually. You can of course speak these instructions to the assistant, if you prefer.

This is where we feel the Home Hub has real promise. We share a home with three other people who aren't always sure what to say to alter the lights or switch on a smart plug. With the Home Hub, they can swipe down for full access to every connected device - no voice commands required.
The Home Hub can also hook up to smart thermostats and locks, and show live footage from Nest security cameras and video doorbells.
Google Home Hub review: Should it have a battery?
We might be alone here, but we wish the Home Hub had a battery with a couple of hours of life. We don't want to take the Hub on a flight and watch movies, but think it'd be great to be able to pick the Hub up every so often to adjust our smart home settings. Or maybe pass the Hub to a friend to show them a photo or a YouTube video. Or move the Hub into the kitchen to follow a recipe without worrying about unplugging, finding a free outlet, and waiting for it to reboot.
We'd love to see the Hub sit on a wireless charging pad, from which it can be picked up for temporary use elsewhere in the home. Perhaps one for the Home Hub 2...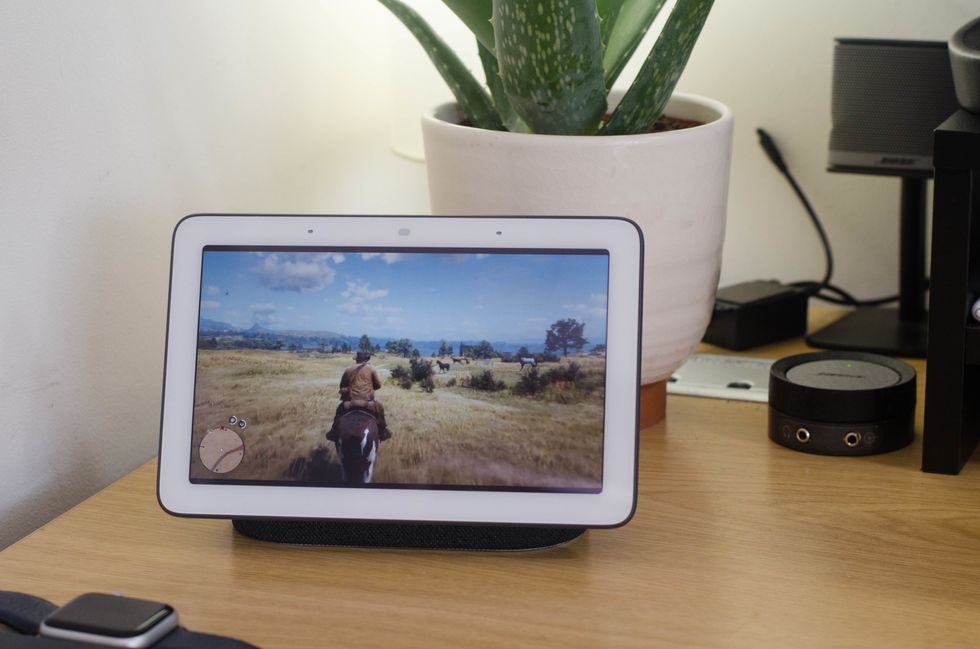 Watch videos on Google Home HubGearBrain
Verdict

Adding a display turns the Google Assistant into an entirely new service. Sometimes the screen isn't needed, but when it is, it's of huge benefit. Seeing the weather forecast and the route of our commute to work is a much richer, more valuable experience than merely hearing it being read out.
Seeing long-forgotten photographs appear on our desk is often heartwarming, and controlling the smart home by touch as well as voice adds a beautifully designed layer of simplicity to what can be a confusing system - especially to those housemates mentioned earlier.
The Home Hub is beautifully compact, looks right in almost any location, and makes a real contribution to anyone's smart home. We also enjoyed having YouTube videos play in the corner of our eye as we got on with work; it feels like a better at-desk solution than opening a video in a new browser tab, or viewing them on our phone.
Sound quality is not as good as it should be, which is a problem if you want the Home Hub to be a halfway-decent music player. It's fine for quiet radio, but is something we hope a second-generation model addresses.
That aside, the Home Hub makes a great addition to the smart home. It can be the central command hub to your dozens of smart devices, or merely a more attractive and engaging way to interact with the Google Assistant - or even just a nice photo frame. The choice is yours.
Pros:
Attractive and compact design
Great display
Simple user interface
Cons:
Poor speaker quality
Would benefit from a battery
Could occasionally benefit from an on-screen keyboard
Check out The GearBrain, our smart home compatibility checker to see the other compatible products that work with Google Home and Home Mini.
How to Find Products in The GearBrain, Our Compatibility Find Engine for Smart Devices www.youtube.com
Like GearBrain on Facebook