Like GearBrain on Facebook
Google is investigating a growing number of issues which have been reported with its latest flagship smartphone duo, the Pixel 2 and Pixel 2 XL.
First, the Pixel 2 XL was lambasted by reviewers for its screen producing a blue tinge, which gets markedly worse when viewed slightly off-centre. "The Pixel 2 XL screen is an inexcusable garbage fire that sears my very soul and spoils a great phone," tweeted Vlad Savov of The Verge. Others agreed.
Days later, other members of the technology press began to notice so-called 'burn in' issues with the screens of their Pixel 2 XL review units, provided to them by Google.
Alex Dobie of technology blog Android Central tweeted about his phone's burn-in issues: "That's some pretty wild OLED burn-in on the Pixel 2 XL after maybe seven days of full-time use," he said.
Burn-in is more often associated with older devices, where images are burnt permanently into the display, causing them to appear in the background no matter what else is on the screen. Early flat-screen televisions suffered from burn-in, where graphics like the score of a sports match would burn into the screen.
Dave Lee of the BBC also reported burn-in problems with his Pixel 2 XL, and so did Stephen Hall of tech blog 9to5Google.
Recognizing the fault, Google has issued the following statement: "We put all of our products through extensive quality testing before launch and in the manufacturing of every unit. We are actively investigating this report."
Reports of 'black smear' have also begun to surface, where scrolling up and down the Pixel 2 XL's screen would cause black images to stretch and distort until scrolling stopped. The issue was more common a few years ago with early OLED smartphones like the Samsung Galaxy S4. Comparison videos show how the year-old Pixel XL is not affected in the same way, and nor is the new Pixel 2.
Next up, and as this whole story starts to turn farcical, there are reports of the smaller Pixel 2 handset exhibiting issues with audible clicking and high-pitched whines. The problems first appeared in a Pixel User Community thread started on October 19; the phones reportedly emit the sounds when unlocked and when the screen is on. As dozens of reports were filed, a moderator said the issue would be escalated.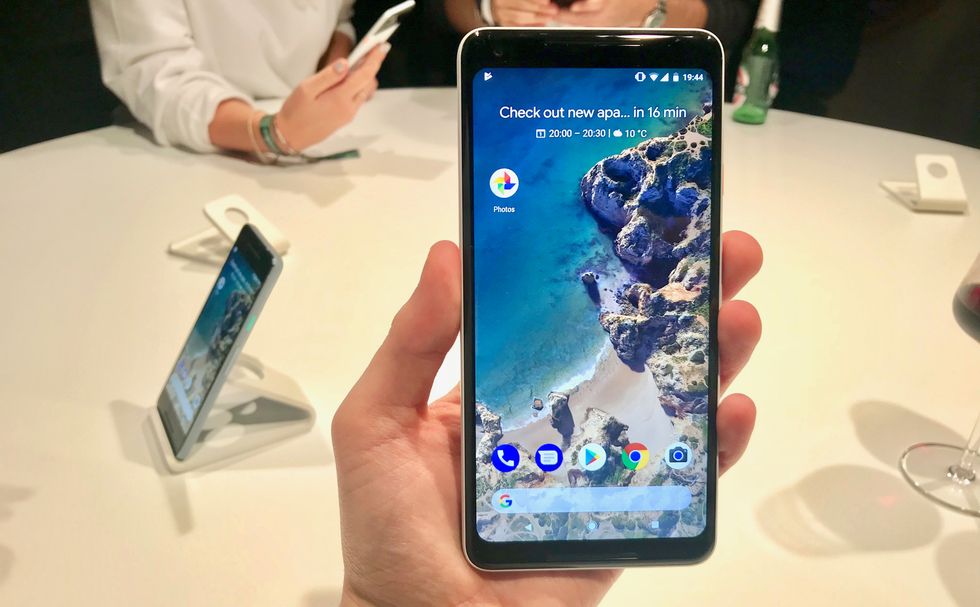 The Pixel 2 XL was criticized by reviewers for its screenGearBrain
A survey created by 9to5Google asks readers to state which issues their Pixel 2 or 2 XL phone has, or if they are fine. The blue screen tint is currently the most popular complaint, with 19.6 percent of the vote (155 votes at the time of writing). Burn-in issues were reported by 152 people, black smear by 58 and high-pitched clicking sounds had 41 votes. For balance, 153 people said their phones had no issues.

The numerous Pixel problems come just a week after Google was forced to permanently remove a feature from its new Home Mini smart speaker. It was found an early example provided to a technology reporter was listening almost constantly, instead of only when asked to. Google found the push-to-listen sensor was faulty and would start listening hundreds of times every day, effectively spying on its owner.
All of this adds up to a difficult situation for Google, which made a big bet on hardware this year. Following little success with the original Pixel (which holds just 0.5 percent of the global smartphone market), it was a brave move to release two new phones, plus two new smart speakers (the larger Home Max will be out later), a new Daydream VR headset and a new $999 laptop called the Pixelbook.

When millions of products are made in a short space of time, such as during a major smartphone launch like this, there are bound to be some defective units. Apple experienced this with several iPhone 8 batteries failing and expanding, pushing the new phone apart. But, two weeks later, reports of this issue have all but disappeared. Google will be hoping its Pixel 2 defects are headed in the same direction.
Like GearBrain on Facebook