Like GearBrain on Facebook
Ever since we began letting intelligent personal assistants into our lives, back with Siri on the iPhone in 2011, there has been an underlying concern that devices are recording us more than they let on.
But now these fears have been justified, partially, by a batch of faulty Google Home Minis which were caught recording almost constantly and sending everything to Google's server.
The issue was discovered and first reported by Artem Russakovskii over at Android Police. Russakovskii was given a Home Mini by Google at the device's launch event earlier this month, installed it in his bathroom (because every other room already had an Echo or Home, he claims) and used it as normal.
But while watching TV within earshot of the Home Mini, the device began to speak every few seconds — attempting to reply to what it thought were instructions given by a person nearby. (Check out GearBrain's review of Google Home Mini by visiting: Google Home Mini review: Small and simple, yet surprisingly smart)
There are anecdotal claims of smartphones recording offline conversations then serving up relevant ads on Facebook, and a belief that Amazon Alexa's sometimes erratic behavior is a sign of it listening more than it should. Both the Amazon Echo and Google Home sometimes mistake a nearby television or radio for instructions — by starting to listen, then more often than not realize the mistake and go quiet again. Occasionally the devices will say they don't understand. Very rarely will they perform on the misheard command, play music or answer a question.
But Russakovskii discovered his Home Mini was sparking into life every few seconds and, as with all devices running Google Assistant (unless you tell them otherwise), the device was sending recordings of everything it heard to Google's servers. Through his My Activity portal on Google, he saw the recordings — thousands of them.
First experimenting with a nearby TV, he soon found the Home Mini would begin recording when he knocked on a wall.
Google's PR team was contacted. They responded in 10 minutes and sent a representative to Russakovskii's house at 7 pm (on a Friday evening, no less). The Mini Home was taken away and swapped for two fresh ones. A day later, Google discovered the cause of the near-constant recording.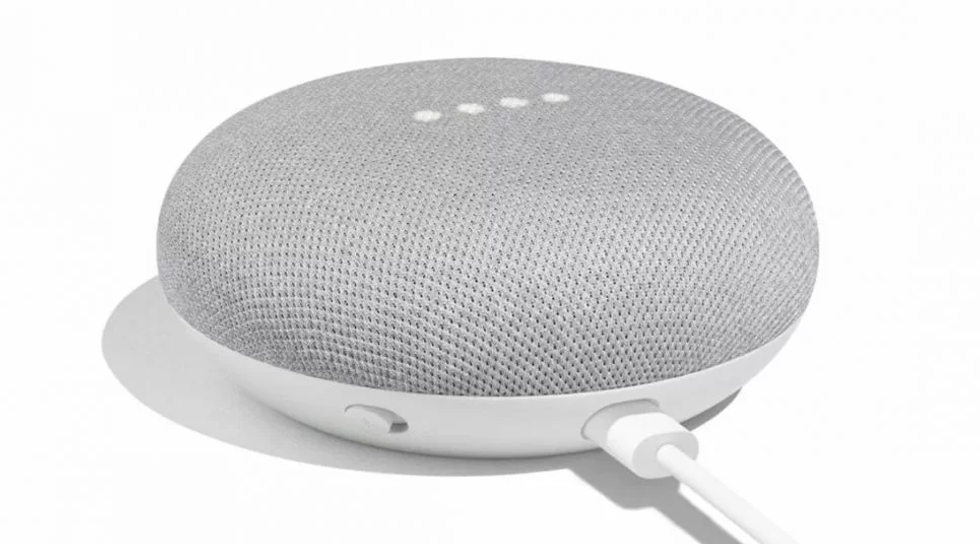 The Home Mini costs $49 and is available for pre-order nowGoogle
The issue stemmed from the Mini's touch-sensitive body. As an alternative to saying 'Okay Google', a long touch wakes the Mini and makes it listen. This mechanism was responding to so-called 'phantom touches' hundreds of times each day, then recording whatever was going on nearby and sending that to Google.
Google told GearBrain in a statement: "We learned of an issue impacting a small number of Google Home Mini devices that could cause the touch mechanism to behave incorrectly. We rolled out an update on October 7 to mitigate the issue."
Incidentally, everything you say to Google Assistant on an Android phone, or the Home and Home Mini, is uploaded to Google's servers and you can listen back to them all whenever you like. This can be switched off here, but Google says doing so will negatively impact its understanding of what you say.
A firmware update has now been issued to affected Home Minis, switching off the ability to use a long touch to activate Google Assistant. This isn't an ideal solution, naturally, because it takes a feature away from the device. Google is working on a permanent solution and says the fault is only present on devices handed out at the Made By Google media event. Those pre-ordered by customers are fine, the company claims.
So there we go; our first brush with the Orwellian scenario of a technology giant constantly spying on us, in our homes, then storing everything it hears. Still excited for the future, or should we all go back to vinyl and looking things up in the library?
From Your Site Articles
Related Articles Around the Web
Like GearBrain on Facebook