The Google Pixel 3 and 3 XL smartphones will be revealed on October 4, according to a post on a content marketing platform owned by Google.
This is exactly the same date on which the Pixel 2 and 2 XL were launched in 2017, and the same date we saw the first Pixel phone arrive in 2016. Just as Apple loves to launch products on Tuesdays, Google seems pretty attached to October 4.
Read More:
The leaked date comes from Famebit, a Google-owned website designed to connect companies with YouTube content creators. For example, a brand looking to work with some YouTubers could put up an ad on Famebit, outlining what their new product is, and when it's going to launch.
Spotted by This Is Tech Today, a YouTube channel, the advert which seemingly revealed the Pixel 3 launch date was looking for Canadian content creators. It stated: "The Pixel 3 phone is launching October 4th, 2018...Google is release the Google Pixel 3 phone, the next iteration of the Google Pixel 2 and 2XL."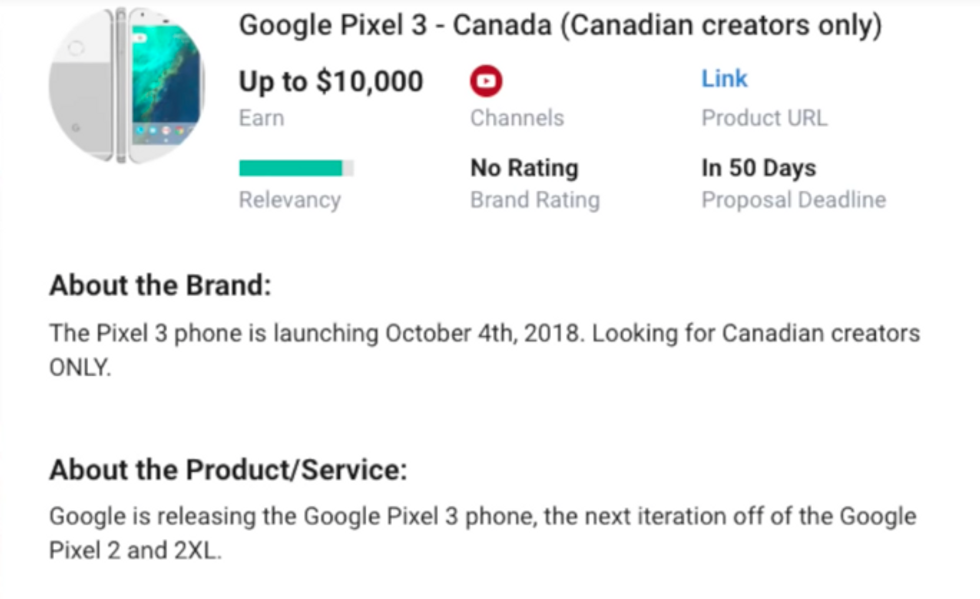 Screenshot of Famebit website shows the October 4 launch dateThis Is Tech Today / YouTube
Details of the Pixel have leaked out gradually over the last few months. The phones are claimed to feature a pair of front-facing cameras (but still just one on the back), and while the smaller Pixel 3 will retain a similar design to the Pixel 2, the 3 XL will get a larger, edge-to-edge display and a 'notch' like that of the iPhone X.
Both phones retain a pair of stereo speakers on their front, along with a USB-C port on the bottom edge. This is also where their SIM card tray is, having previously been located on the on the upper-left side. Both phones have a circular fingerprint reader on their backs, just as before.
It has also been claimed that the October 4 event will see Google launch other new products, including a Pixel-branded smartwatch and perhaps also an updated Google Home smart speaker.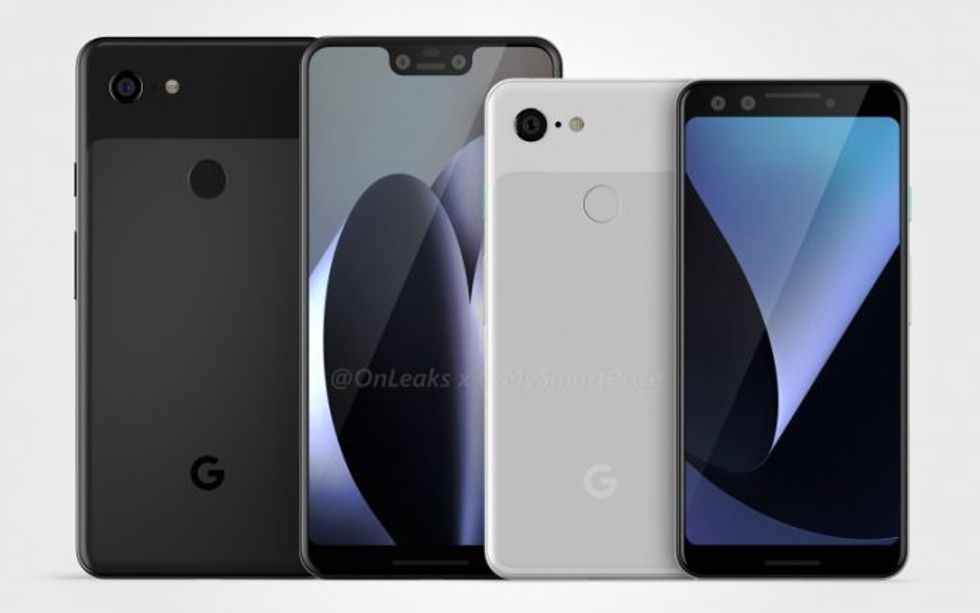 Renders claim to show what the Pixel 3 and 3 XL will look likeSteve Hemmerstoffer