A smaller and likely cheaper Pixel 3 smartphone from Google is on the way, according to a comprehensive leak on YouTube.
The three-minute video, published this week by a small channel called Andro News, shows off what is claimed to be the Google Pixel 3 Lite. Rumored for some time, the phone is a smaller, less powerful and likely cheaper version of the popular Pixel 3.
Read More:
The Lite features a similar design to the Pixel 3 - completely with large bezels above and below the display - and is claimed to offer the same photography performance as the regular handset. If proven to be true, this is quite an achievement, given how the Pixel 3 and 3 XL have a camera system which is widely regarded as the best in the industry.
Described by the video as a pre-production unit, the phone features the same central fingerprint reader on its back as the regular Pixel 3, but unlike its siblings the Lite model has a headphone jack. It also has a plastic body in place of the more expensive phones' glass finish - which means wireless charging for the Lite is unlikely.
The phone is claimed to be powered by a mid-range Snapdragon 670 processor with 4GB of RAM, and the LCD display is said to have a resolution of 2220 x 1080; the battery has a capacity of 2,915 mAh and storage is a claimed 32GB, which is a little on the small side.
All of these stats put the Pixel 3 Lite below the Pixel 3 and 3 XL - as you would expect - but the camera is said to be on par. This means a 12-megapixel rear sensor with 1.4-micron pixels, optical image stabilization, and the ability to produce what are claimed to be "the same quality photos as the Pixel 3".

The less powerful processor counts against the Pixel 3 Lite here, but we imagine the phone will have access to the same artificial intelligence and machine learning Google uses to take extraordinary photos - especially in low-light situations - with the Pixel 3. The front camera is said to have an eight-megapixel sensor.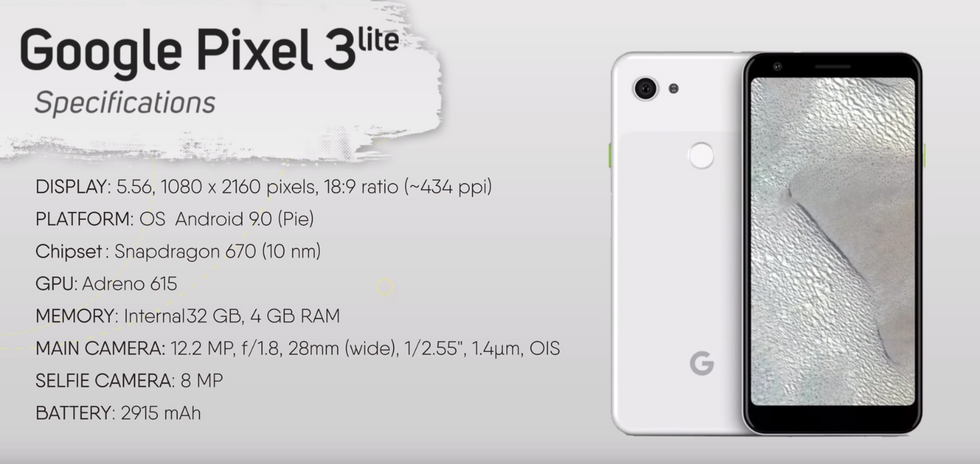 Claimed specifications for the Pixel 3 LiteAndro News
There is no word on when the Pixel 3 Lite will go on sale. Such a comprehensive leak suggests it could arrive imminently, but then Google has a reputation for its handsets leaking several weeks or even months before going on sale - as was the case with the Pixel 3 in 2018.

We expect to hear more about the Pixel 3 Lite at Mobile World Congress, the annual telecoms show which takes place in Barcelona in late-February.