Like GearBrain on Facebook
The battle between Amazon and Google for control of your smart home is about to kick up a gear, as the search giant prepares to start selling Smart Displays. These devices give the Google Assistant a screen, and go up against the Amazon Echo Show and Echo Spot with Alexa.
Here is everything you need to know about Google Smart Displays, and how they will improve your smart home.
What is a Google Smart Display?
You can think of a Google Smart Display as a Google Home with a screen, just like how the Amazon Echo Show and Echo Spot add a screen to the regular Echo and Echo Dot. This gives the Google Assistant more functionality, and means you can ask the Assistant to do things like show you a YouTube video or a meal recipe.
Information currently spoken by the Google Assistant, like news headlines, weather forecasts, and the answers to your general knowledge queries, will still be said aloud, but with a Smart Display these words are joined by graphics, images and writing.

The Google Smart Display is designed to be compact enough to fit in any room, but we reckon these will feel most at home in the kitchen, where a television often takes up too much space, yet there is demand for recipes, music, video and other information. Being voice controlled, the Smart Display can be interacted with hands-free - another reason why the kitchen makes most sense to us.
What can a Google Smart Display do?

Because Smart Displays run the same Google Assistant as your Android smartphone and Google Home speaker, they can perform all of the same tasks. This means the Smart Display has full control of your smart home, letting you ask the Assistant to dim the lights, adjust the heating and switch on a smart plug. Summoning the Assistant is done in the usual way, by saying "Hey Google" or "Okay Google," followed by your question or instruction.
Because they have Google Cast built in, you can also add a Smart Display to your existing multi-room Chromecast audio setup, where music can be played in any room you specify.
The screen can be used to serve up at-a-glance information like the time, date and weather, as well as any upcoming events in your Google Calendar. While the Smart Displays have touch screen capabilities, it will be up to manufacturers and developers to decide how this is implemented, or if they stick to voice-only interaction.
Although you can ask a Google Home smart speaker to play video content on your TV — providing it has a Chromecast device connected - the Smart Display shows requested content on its own screen. This means you can ask the Google Assistant to play a YouTube video and it will appear on the Smart Display. Remember, because of an ongoing spat between Google and Amazon, YouTube videos cannot be played on the Alexa-powered Echo Show.
An example of how the screen can enrich the Assistant's spoken answers is with maps and navigation instructions. You could start your day by walking into the kitchen and saying: "Hey Google, good morning." This could be programmed to switch on the lights and show your schedule for the day on the Smart Display.
You can then ask where your first appointment is, and the Smart Display will show you using Google Maps. Next, ask "How do I get there" and the screen will show you, before sending these instructions to your smartphone.
Ask Google: "What should I make for dinner?" and the Assistant will present some options on the Smart Display. Pick one, then say "start cooking" and the ingredients and recipe instructions will be displayed and read aloud.
Ask Google to show you photos of a recent holiday, and the Smart Display will cycle through that album, pulling the images from your online Google Photos image library.
As with the Google Home smart speaker range, the Smart Display can be used to play music on command from streaming services like Spotify and Google's own Play Music. You can request music by artist, album, track, genre or playlist.
You can ask the Assistant to call a contact or family member for a chat, and because Smart Displays are fitted with speakers, microphones and a front-facing camera (complete with a physical cover for the security-conscious ), these can be audio or video calls.
Smart home control with Smart Displays works in the same way as with the Google Home speaker, but the screen means you can also view video feeds from your security cameras or smart doorbell. Just say: "Hey Google, show me the [camera/room name]" and the feed will appear.
Who makes Google Smart Displays?

The answer, you may be surprised to hear, is not Google. Although it provides the platform, Google does not yet make its own Smart Display - much like how at first it didn't make its own Android smartphones or Wear OS smartwatches.
Instead, there are currently four manufacturers making Smart Displays, with one device each although some are offered in two different sizes. They are: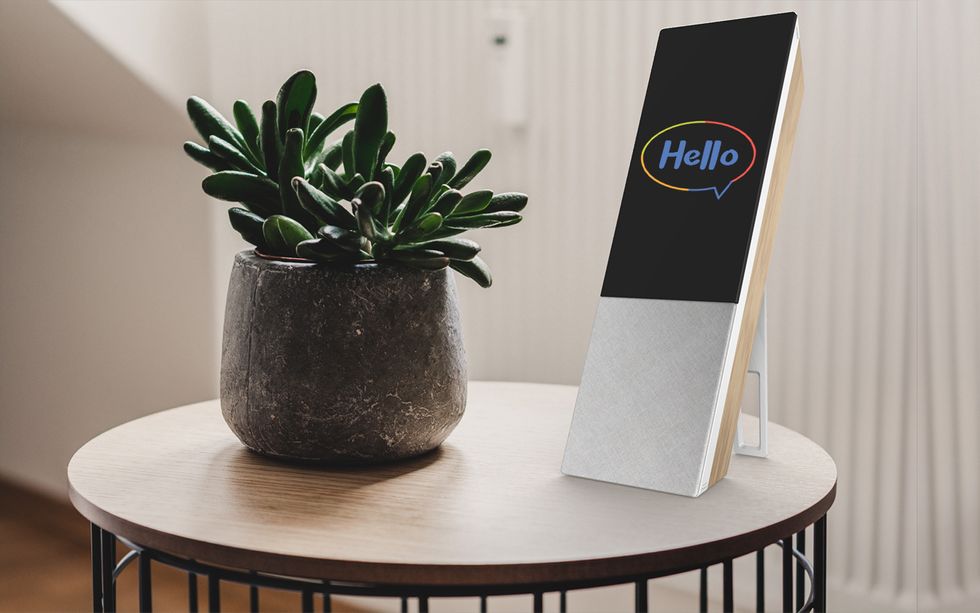 Archos
The Archos Hello's tall-and-narrow design makes it stand out from its three horizontal rivals. The two screen size options are 7-inch and 8.4-inch, with HD and Full HD resolutions respectively. The Hello has a wooden back with a fold-out kickstand, while a 4,000 mAh battery means it can run for a limited time without being plugged in — useful if you want to take a YouTube video with you when you've finished cooking.
There is also a 5-megapixel front-facing camera and 16GB of internal storage. The Archos Hello is priced at $180.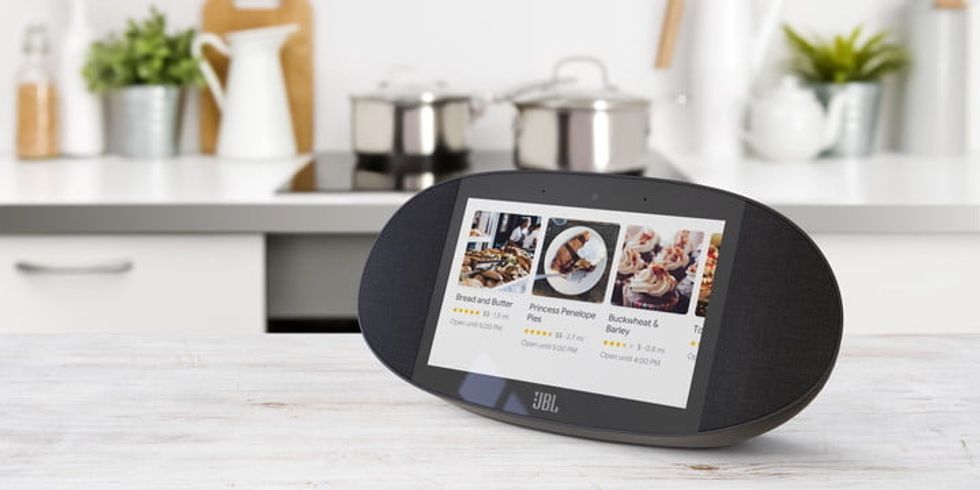 JBL
Looking more like the reference designs shown off in Google's Smart Display marketing material, the JBL Link View has an 8-inch screen with a resolution of 1280 x 720 and a 5-megapixel front-facing camera.
Given it comes from a company best known for making speakers, the Link View's audio should be better than some of its rivals, thanks to two 10-watt speakers at the front and a passive radiator on the back designed to help boost the volume and bass. JBL has yet to reveal a price for the Link View.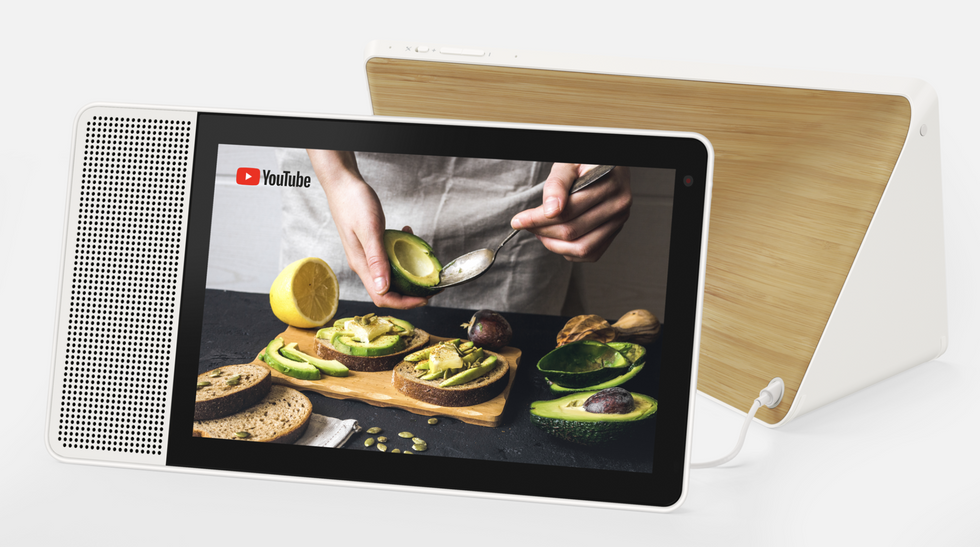 Lenovo
Sporting an asymmetrical design, the Lenovo Smart Display is available with either an eight-inch or ten-inch display. Both have a Full HD resolution (1920 x 1080) and two 10-watt speakers sat to the left of the screen — or below if you opt to sit the device in portrait mode.
The Lenovo Smart Display is priced at $199 for the eight-inch model and $249 for the 10-inch version. (See GearBrain's full review of Lenovo Smart Display with Google Assistant here.)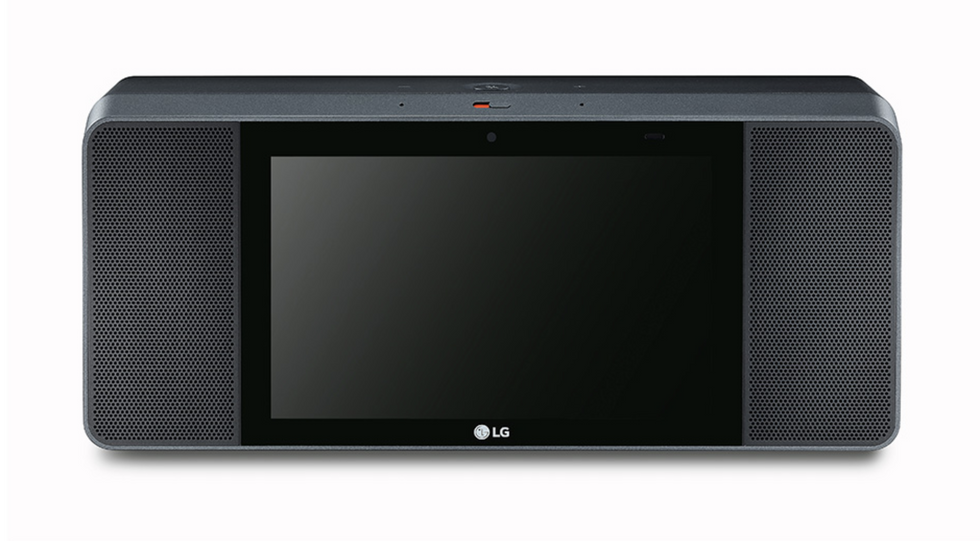 LG
LG's effort is (to our eyes) the least attractive of this initial range of Smart Displays. A bulky body makes the eight-inch screen seem smaller than it really is, but speaker tech borrowed from Meridian should at least mean it has good sound quality.
LG has yet to reveal any tech specs for the WK9 ThinQ, other than the screen size and how it will offer both the Google Assistant and LG's own ThinQ artificial intelligence. At $299.99, the LG is the most expensive of this initial offering of Google Smart Displays. But, with ThinQ it should provide integration with LG's other smart home devices, like washing machines, dishwashers and robotic vacuum cleaners.
Google says Smart Displays are also coming from Harman and Sony, but these have yet to be announced by their respective manufacturers.
When will Google Smart Displays go on sale?
Google said in May that the first round of Smart Displays would come to market in July. Given it is now late July, we are starting to wonder if Google will meet its own looming deadline.
In June, retailer B&H Photo listed both versions of the Lenovo Smart Display on its website, saying they were available for pre-order but would not ship until September 3. But, given how the prices differed to what Lenovo previously said ($50 less for the smaller model and $20 for the larger), we suspect this was a mistake. The product listings were soon removed and replaced by an error page.
This leaves us with Google's own July claim, which it now has a little over a week to meet.
Check out The GearBrain, our smart home compatibility checker to see the other compatible products that work with Google Home and Home Mini.
Like GearBrain on Facebook