Like GearBrain on Facebook
Here's what happens when the Mini dashboard gets a high-tech redesign fit for the 2020s. Dials and instruments are replaced with a single, central display. Buttons and toggle switches are removed for touch-sensitive panels with haptic feedback — and there's a sound bar running the entire width of the windshield.
This so-called Digital Cockpit is what Harman believes is the future of car interiors — showing off its vision at this year's Geneva Motor Show. The system, built on BlackBerry's QNX platform, will be ready to go into mass production by 2020.
Offering a nod to the original 1959 Mini's central speedometer, the new Harman system does away with current Minis' rev counter and instrument binnacle behind the steering wheel. The update relocates all information and entertainment to the central touch screen, with a large dial at the bottom which can be tapped, clicked, rotated and nudged up, down, left and right — just like the iDrive system found in today's Minis and BMWs. (But here there is a display added to its surface.) Harman also replaced the Mini's retro toggle switches with a row of illuminated, touch-sensitive buttons embedded into the dashboard's leather upholstery.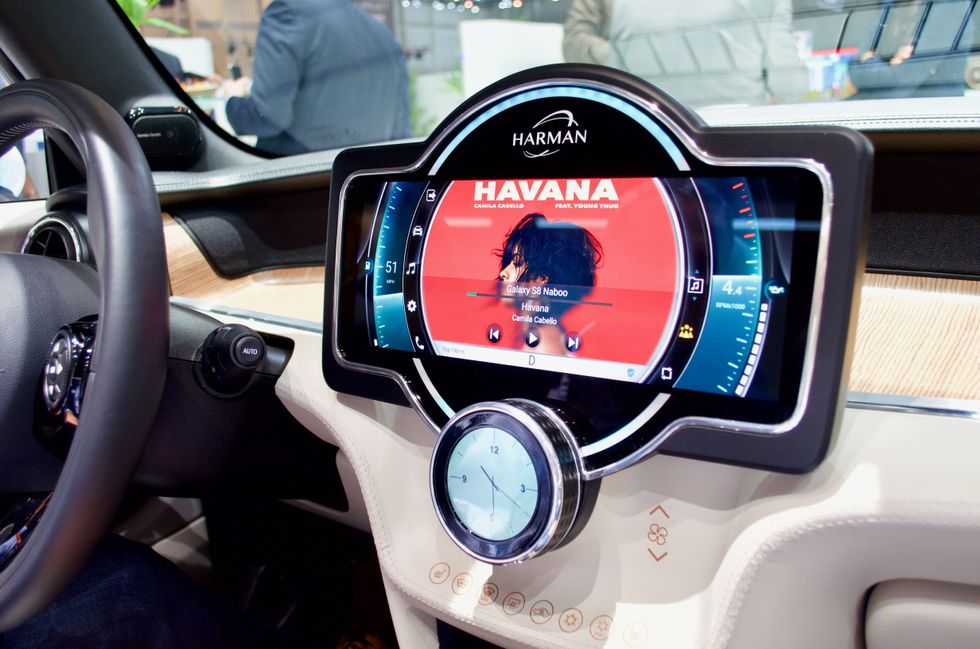 The UI here shows music central, with speed and engine revs at the sideGearBrain
Removing much of the top of the dashboard creates a greater sense of space in what's normally a compact interior. We're not sure the wood-paneled area is of any practical use — and light wood will likely reflect awkwardly off the windshield on a sunny day — but it looks superb. At the back sits a bar to fill the cabin with dramatically improved sound. It's a similar approach taken by Tesla in the Model X, which also fills this space with speakers.
The touch screen is a Samsung QLED panel with a 1080p resolution, and it's driven by a computer capable of maintaining a steady 60 frames per second. Harman told GearBrain how this system replaces three of the original car's computers with one, freeing up space and reducing production costs. Despite this, the company was quick to reassure us that safety-critical functions like hazard lights, the oil pressure dial and warning messages run on a separate system. That means if the entertainment needs updating, everything else still functions as normal.
"We have transformed the user experience inside this Mini; it gives a real fresh feel and gives a lot of extra space. It makes it feel like a bigger car," Stefan Balowiec, Harman's automotive solutions director, told GearBrain.
Balowiec went on: "This setup means we can start taking stuff out and putting new things in. Sound bars aren't expensive, so why not? If you have that space in the cockpit you can start looking at new audio experiences as well as visual ones."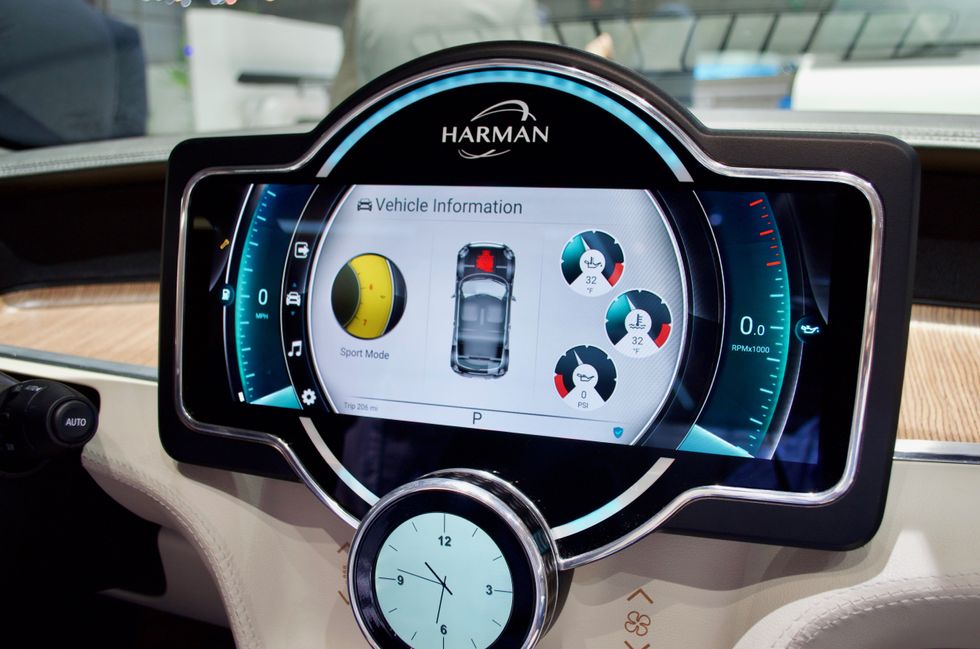 Safety critical aspects of the UI like oil pressure and engine warning lights remain functional even when the system crashesGearBrain
Samsung-owned Harman says this system can "address some very aggressive price points" and could even be adopted by manufacturers of A and B segment cars — meaning small hatchbacks, and not necessarily premium ones like the Mini.

Having sat in a Tesla Model 3 later the same day, we feel Harman's approach is safer and more logical approach to minimalist car dashboard design. The Model 3 requires several taps of its central touch screen to access commonly used features, like cruise control, headlights, opening the glovebox and adjusting the climate of the car. Sensibly, Harman has left many of the Mini's physical controls alone. Steering wheel stalks remain in place, as does a dial for the headlights and buttons for the cruise control, running the phone and media playback.
Climate control has been moved to a panel of touch-sensitive leather below the main display. But Harman says haptic feedback, or a physical click, can be added to make it easier to use these features without taking your eyes off the road.
"We wanted to show how you can actually do everything on a single display, but you still need some of the tactile elements in there," says Balowiec. "We could have movement and haptic [feedback] built into the touch buttons [if the car manufacturer requested]."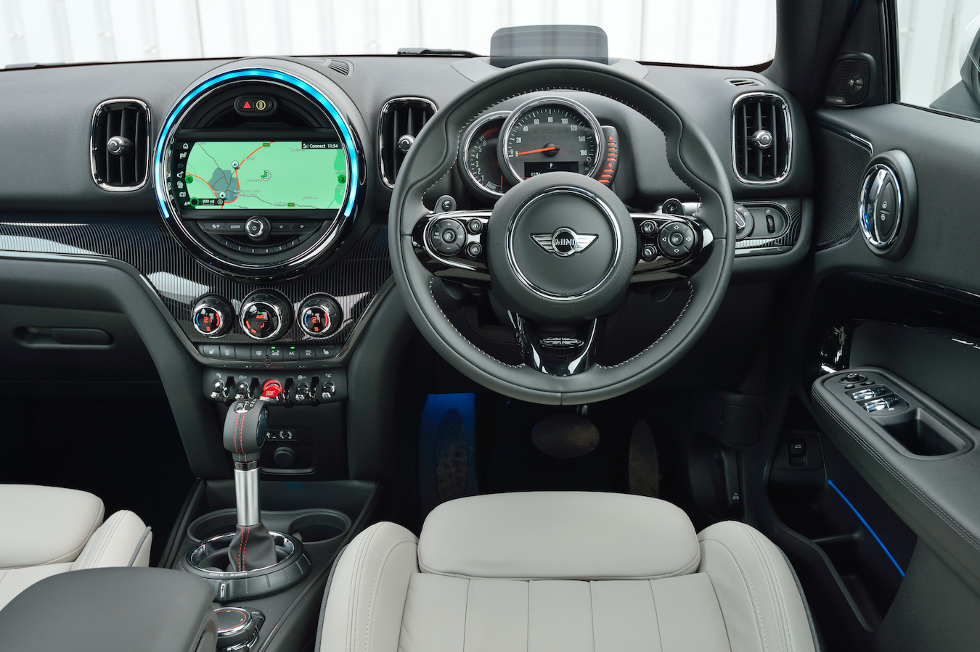 For context, here is the interior of today's MinisBMW Group
Both car manufacturers and technology companies have a complex road ahead of them. As cars begin to drive themselves, there is a solid argument for reducing the dashboard space taken up by superfluous dials and controls. There is also pressure from consumers who wonder why their smartphone is far superior to the display and operating system of their car.
On the other hand, placing too much reliance on touch screens with complex menus to navigate, could distract drivers more than tactile controls that can be used without looking.
We feel Harman is well aware of this and in our opinion has judged the situation well with this concept. It's now up to manufacturers like Mini to adopt the Digital Cockpit and implement it in future vehicles.
Like GearBrain on Facebook