Like GearBrain on Facebook
Welcome to a new series from GearBrain, where we review the technology and user interfaces of cars. While others will talk at length about the performance, handling, economy, and a car's ability to transport children, dogs and luggage in quiet comfort, we at GearBrain look at cars in the same way we look at other devices.
We will use this series to review car navigation and entertainment systems — often collectively regarded as a vehicle's infotainment. We will also feature autonomous driving systems, companion smartphone applications, and vehicle user interfaces — from the large touch screen of Teslas and Range Rovers, to the chrome toggle switches from Mini.
In fact, Mini is where we will start, and specifically we have recently been driving the new Countryman Cooper S Hybrid — the brand's first-ever plug-in car and its debut in the fiercely competitive 'crossover' market segment.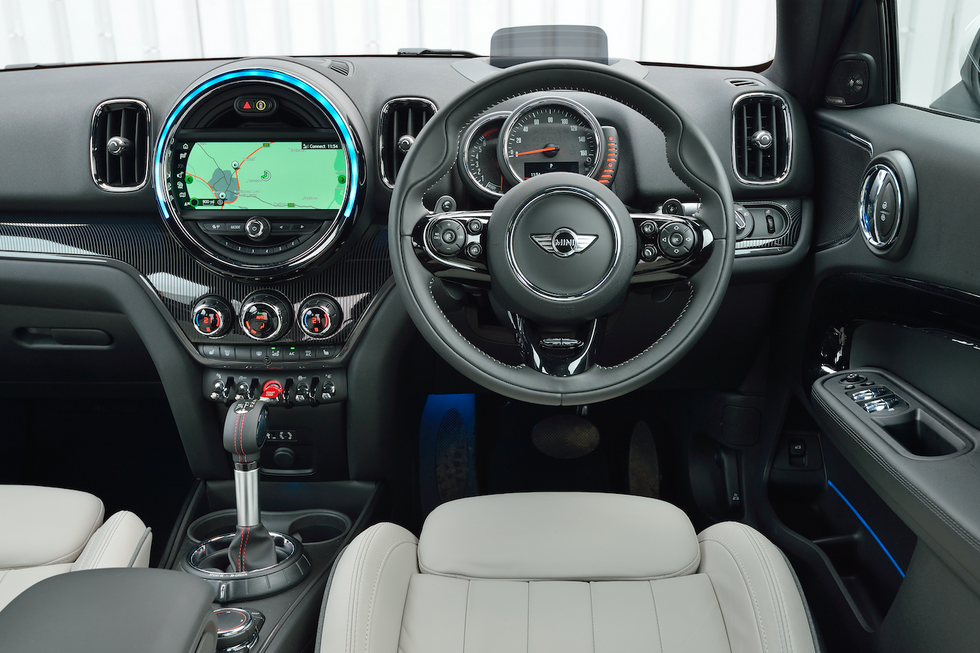 Touch screen and head-up display are mixed with retro toggle switchesBMW Group
Let us start with the 8.8-inch infotainment screen. It has a resolution of 1280 x 480, is wide and narrow, and comes with touch inputs as standard on this plug-in hybrid version of the Countryman Cooper S.
Sat inside a ring of color-changing LED lights like a square peg forced into a round hole, the screen is sharp, bright and more responsive than many other — and more expensive — cars on sale today. Alfa Romeo and almost all vehicles from Jaguar Land Rover could learn a thing or two from the Mini's smartphone-like reactions to tapping, pinching and swiping.
Although responsive touch inputs are nice, we find systems like this easier to navigate with physical controls when on the move - and for anyone who has driven a BMW, this is where the Mini's system begins to feel very familiar.
Mini is owned by BMW and, just as with Rolls-Royce, its cars share the same iDrive system as the German automaker. You won't find any iDrive branding on the Mini - and Rolls even changes the fonts to something a little more regal - but everything from the graphics and menus to the buttons and control dial are identical.
Unfortunately, BMW's use of Apple CarPlay was missing from Mini's version of iDrive until only a few months ago, and Minis built before the summer of 2017 cannot be upgraded to gain CarPlay. Thankfully, all 2018 models of the Clubman and Countryman offer CarPlay as an option, while Android Auto remains missing for now.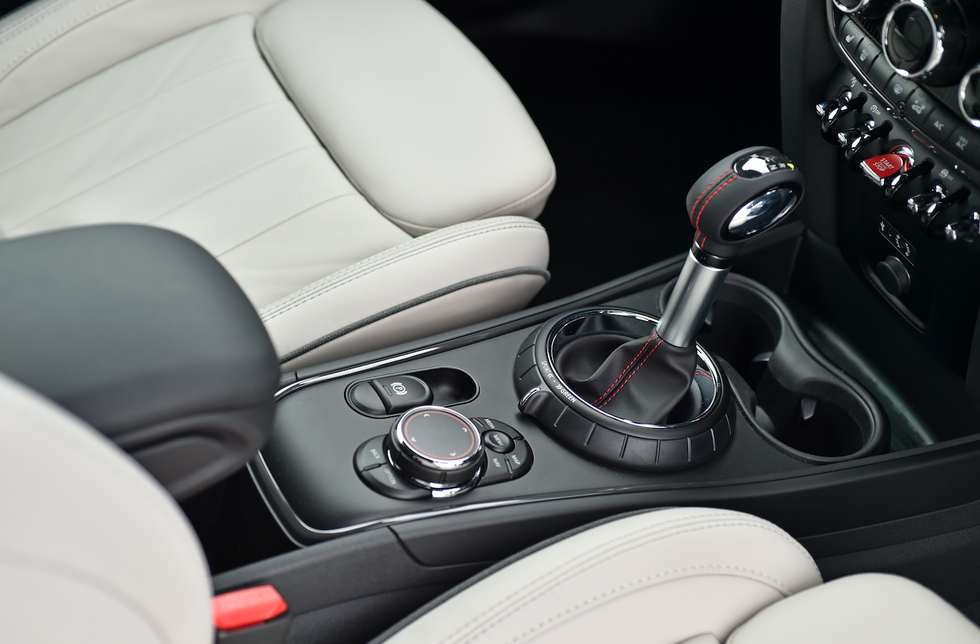 BMW-sourced controls are simple and intuitiveBMW Group
Instead of prodding at the touch screen, the majority of your time will be spent turning, tapping, nudging and sometimes drawing on the controller wheel which sits on a center console between the two front seats. Although an unremarkable location for most cars — and all BMWs — it is worth mentioning that the new Countryman is only the second ever Mini to have a proper center console at a sensible height. The controller wheel on all Minis apart from this and the current Clubman sprouted from the floor, in a position where it felt like you were reaching into the transmission tunnel to dial in a ZIP code or set up the Bluetooth.
The control wheel can be rotated to scroll through menus and lists, clicked to select, and nudged left or right to go forwards or backwards through the infotainment system. It also has a touchpad on top to be written on, which is handy for entering an address. However, as this reporter is based in the UK and is right-handed, the car had trouble understanding our left-handed scribbles. We found it quicker to rotate the dial to navigate through the alphabet when entering text.
Surrounding the control dial are seven buttons for taking you to a specific application with one press. So instead of nudging the wheel left several times to exit back through a menu and return to the home screen, you can press Menu; as you might expect, Map returns you to the navigation screen, while Nav takes you to the address input page.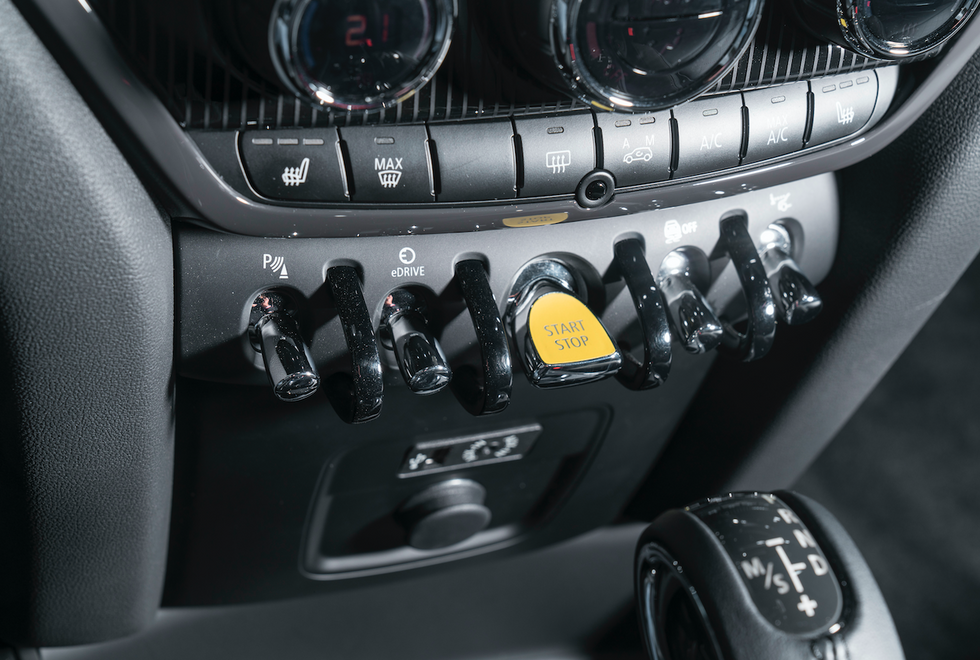 Possibly the coolest way to switch on any new carBMW Group
Knowing which button does what can take a few days of driving, so you'll likely find yourself glancing down to remember where the Map button is. But overall we felt far less distracted using the iDrive system than the touchscreen of a Tesla. To further reduce distractions, the Countryman can be bought with a head-up display, projecting the speed, navigation instructions, local speed limit and other information onto a small piece of glass which folds out and into your line of sight from above the steering wheel — something else not found on a Tesla.
Tactile controls are celebrated in the Mini in a way few of today's cars share. This isn't a case of buttons, knobs, dials and switches being used instead of touch screens because they are simpler and cheaper, but because their look and feel fits the retro style Mini is famous for the world over.
Nowhere is this more true than with the two rows of toggle switches. Four chrome toggles sit at the foot of the center console, below the climate controls. They perform the uninteresting tasks of muting the parking sensors, switching between hybrid driving modes, disabling the traction control and raising the head-up display - but they just look so cool, and feel great to use. In the middle sits a big green/yellow toggle for starting the engine.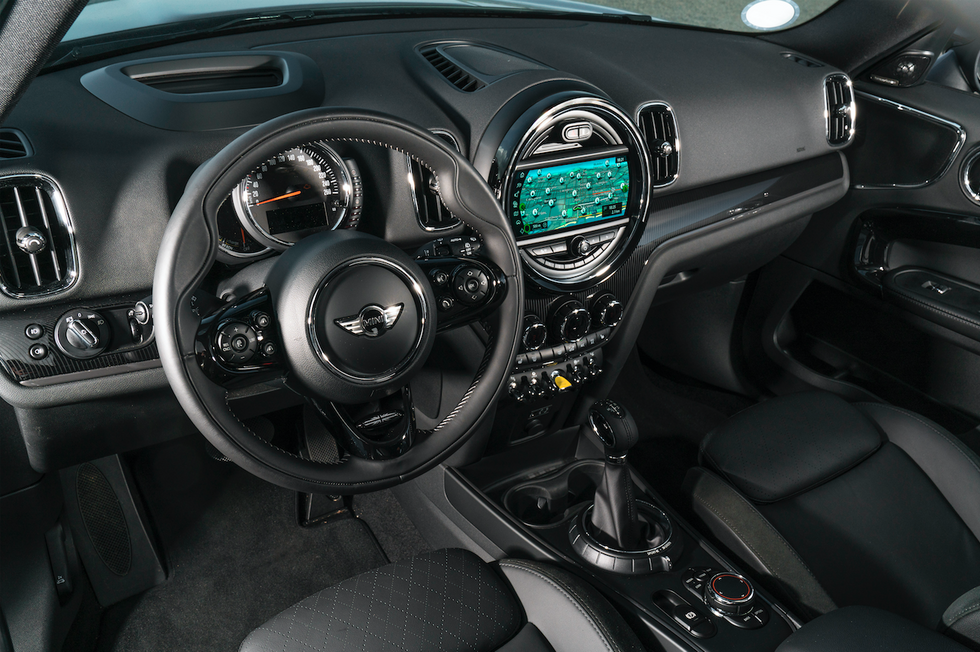 Touch screen is sharp and responsive, but looks awkward sat inside a circle of multi-colored LEDsBMW Group
There are more of these switches located on the roof, just behind the windshield, for the fog lights and interior mood lighting. And yes, reaching up to flick these makes you feel like a pilot.
Another fun piece of switchgear is a control which wraps around the gear selector like a collar and clicks left or right to cycle through the car's driving settings, from 'sport' to normal and 'green.'
Back to the infotainment, and in the US there is a good amount of kit fitted to the hybrid Mini Country as standard. This includes heated mirrors, parking sensors with rear camera, and Mini Connected. This software suite hooks up to an app for Android and iOS which lets you enter an address on the phone and have it automatically shown up on the car's navigation system (which uses maps from Here) when you next get in. The app doesn't come close to that of Tesla, which provides control of the climate, heated seats and more, but is a welcome free addition nonetheless.
Optional tech extras include a hands-free tailgate which opens when you wave your foot under the rear bumper, a 12-speaker Harman Kardon sound system, and Qi wireless smartphone charging. On that last note, we found there was only just enough space for our iPhone X in a stowage area beneath the front central armrest. Larger phones would likely not fit.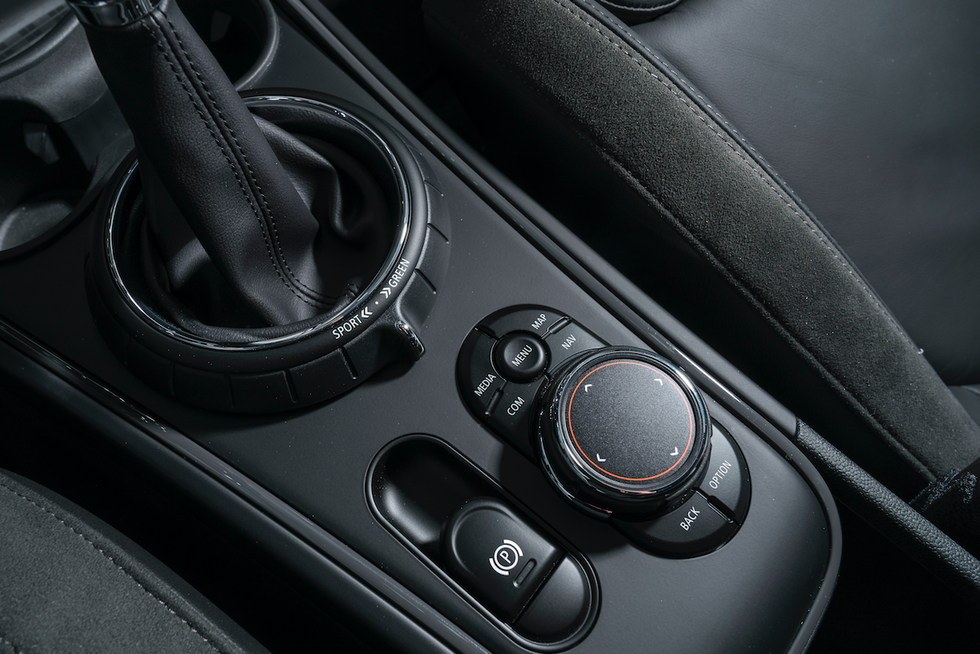 Control wheel can be drawn on to spell out addresses - which is tricky for right-handed BritsBMW Group
As for USB ports, there is one beneath the central armrest and one (next to a 12V socket and auxiliary input) below the lower row of toggle switches. A second 12V socket sits ahead of rear seat passengers, to which you could attach a dual USB charger of your own.
Verdict
All told, the technology on offer in this Countryman — excluding its hybrid powertrain — is identical to that offered by the rest of the Mini range. At its heart, this means the excellent BMW iDrive with control dial is complimented by a cabin full of retro switchgear which suit the car and its character perfectly.
Saying that, we think it is time that Mini ditched the iconic central roundel, where the speedometer once sat back in the Sixties. Partially filling it with a rectangular touch screen looks awkward, the lights around its circumference are distracting and often confusing, and the space above the display is completely wasted. However, these are small gripes with a brand whose cars we greatly enjoy.
Pros:
Interior blends modern tech with retro cool
Touch screen is fast and responsive
BMW iDrive system is simple and easy to use without looking
Cons:
Central roundel is starting to look out of place
Toggles above windshield not easy to see at a glance
No Apple CarPlay on pre-summer 2017 models, Android Auto still missing
Like GearBrain on Facebook