Like GearBrain on Facebook
This may sound strange to say about a car currently orbiting the Earth, but Teslas don't have much technology in them. Yes, they have huge batteries, can travel for over 200 miles at a time, recharge in 40 minutes or so, can almost drive themselves and are among the safest cars on the planet. But inside the car, there is little technology for the driver to actually enjoy.
Apart from Spotify, the novelty of that massive dashboard touchscreen and some daft Easter Eggs, there really isn't much for passengers to do while the driver keeps an eye on the Autopilot.
I've had the good fortune to have driven eight different Teslas in the last few years, and am always impressed by the very fact they are electric — and by the performance, which improves with every upgrade. Friends would gawk at the touch screen and say with wide eyes that the interior is like that of a spaceship. (Which, in fact, it now is.)
But, three years on from my first Tesla experience, the novelty feels flat. I recently drove a Model S 100D to the Scottish Highlands and a Model X 100D from London to rural Cornwall. Both left an impression on me with their decent range, fast recharging — and that sense of quiet calm you get from all modern electric cars, whisking you silently along the motorway.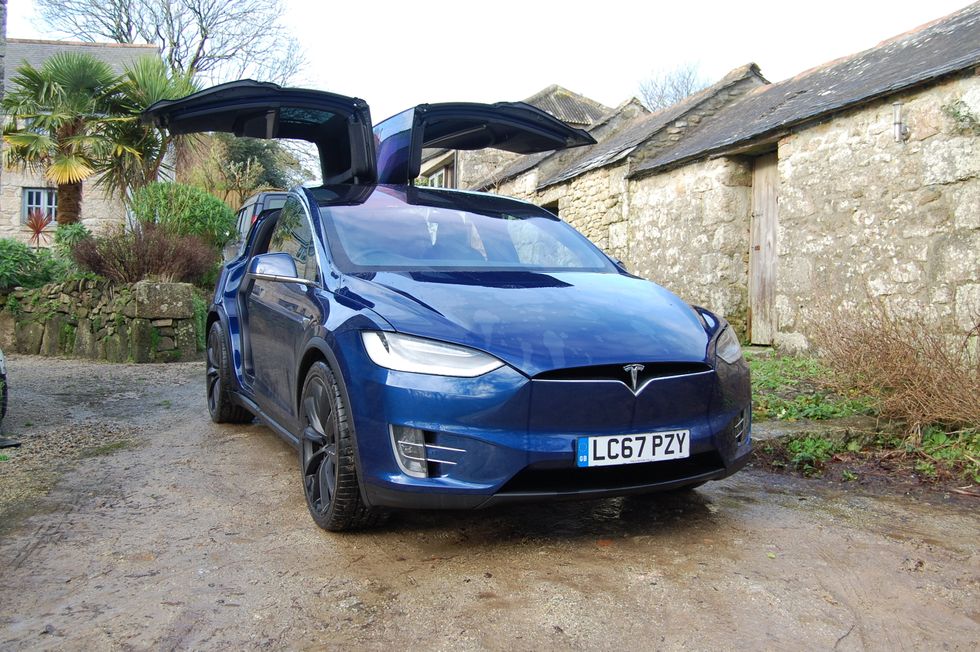 The Model X looks cool, but lacks the luxury of fellow six-figure carsGearBrain
And yet. The impressive acceleration damages range; the Model X's Falcon Wing doors can feel a bit of a show-off, and the giants of Ford, BMW and the VW Group are closing in fast on Tesla.
Tesla has an Apple-like buzz around it and a cult following from its devoted fans — but electric cars and partial autonomy are soon to be the norm. And as it now stands, Tesla cannot match equally-priced rivals for interior quality.
Spend $90,000 to $140,000 — the price of a Model X — on a BMW 7-Series, Mercedes S-Class, Jaguar XJ or Range Rover and every day you will step into a car that is certainly more luxurious than a Tesla. As late as 2015 the BMW 7-Series, the long-wheel-base model with extra legroom for rear passengers, already felt like flying in a private jet.
Every seat has a little soft cushion on the headrest; the rear seats could be reclined, heated and offered a range of different massages. Between the rear seats there is a tablet for controlling the seats, media, and even the smell of the interior perfume. And another remote gives the two rear passengers control of their own television. Tesla just isn't there.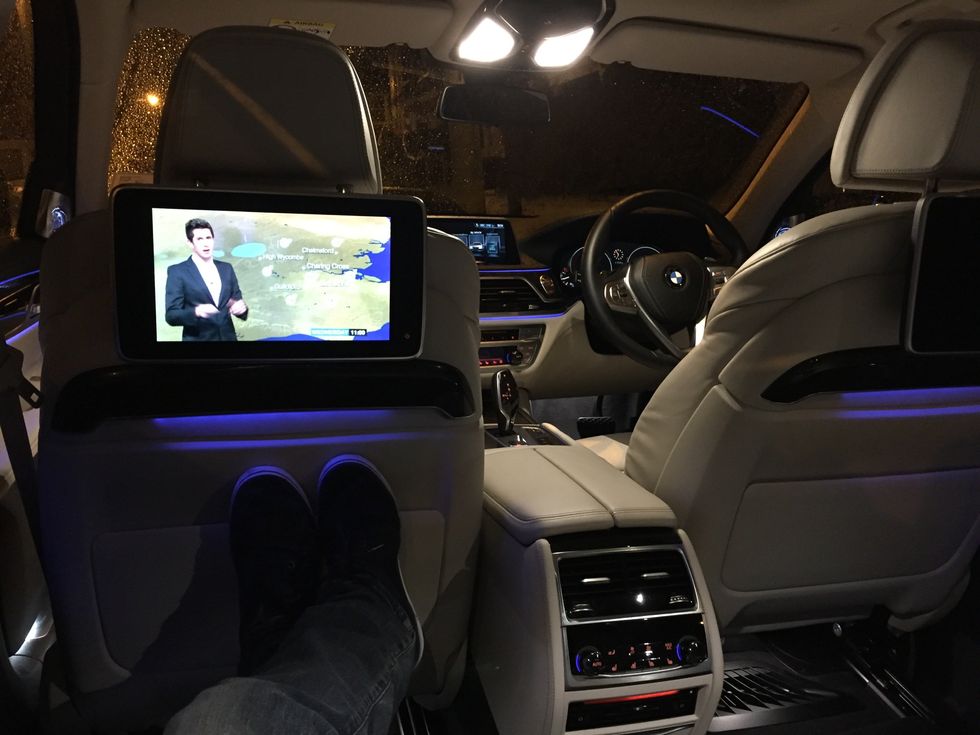 The back of a 7-Series, where you can put your feet up and watch TVGearBrain
Tesla also fails to offer a head-up display projected onto the windshield —something you can get on a Mini — and although heated seats are an optional extra, cooled seats (available on a decade-old Ford sedan) are not.
The Model S and X uses stalks for the wipers, gears and Autopilot from Mercedes, but the rest of the cabin lacks the quality of a six-figure car. The constant improvements to the touch screen user interface, Autopilot and the car's performance are unmatched by any other automaker, but the fundamentals of the interior are crying out for Model S 2.0 to put things right.
Furthermore, both models of Tesla suffer from a lack of interior storage. There is none in the doors of the Model S, so you end up filling the (admittedly large) central stowage bin with your phone, wallet, keys etc. But here things can slide under a second bin which folds open vertically, trapping your phone beneath. And being made of plastic, this feels, well, cheap. While we're at the central storage, a Lightning dock can be installed free of charge, but the wire is always on display and connecting your phone doesn't prompt the car to connect to it. Once you have connected, there is no Apple CarPlay or Android Auto.
The central unit has holders for two large drinks bottle (plus there are two cup holders under the central arm rest). This is fine for bottles and cups, but less so for the various flotsam and jetsam accumulated during a long road trip such as sunglasses, phones, wallets and the like. There are two USB ports in the smaller central bin, where my keys are in the image below, but plug a phone in and you'll struggle to close the top.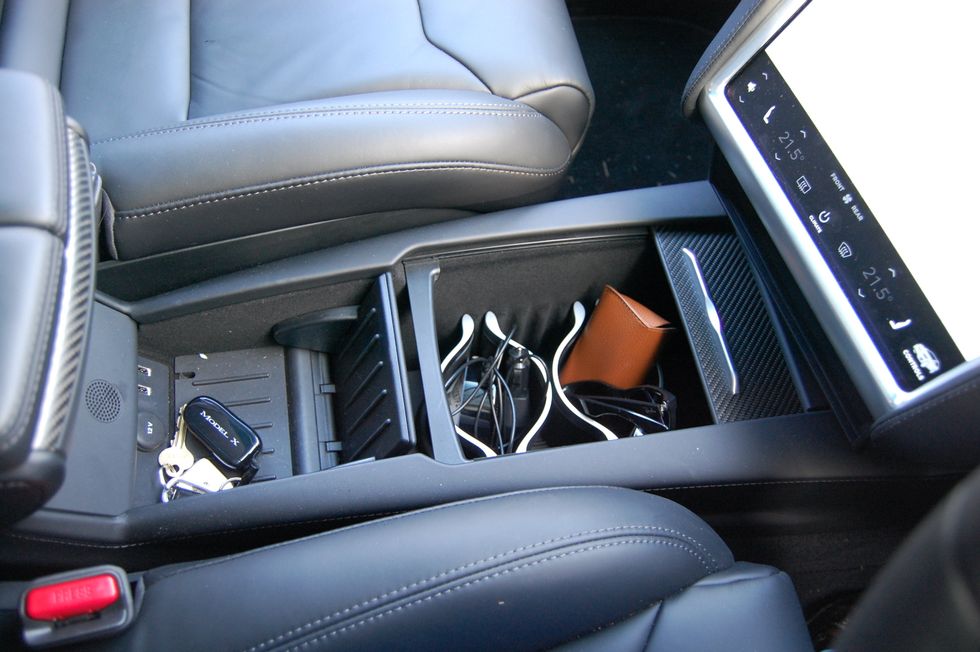 Central front-seat storage in Teslas quickly becomes a messGearBrain
By way of comparison, a Land Rover Discovery has space for four full-size iPads in the center console and five iPad Minis under the central armrest, plus a useful (and hidden) compartment for phone, wallet and keys behind the fold-down climate controls.

I should add that the Model S and X both suffer from average windshield wipers and a high-beam light which is hidden by the rim of the steering wheel. I'd suggest you use the car's auto high-beam feature, but that can't be entirely trusted and causes angry road users to flash their lights and wave at you.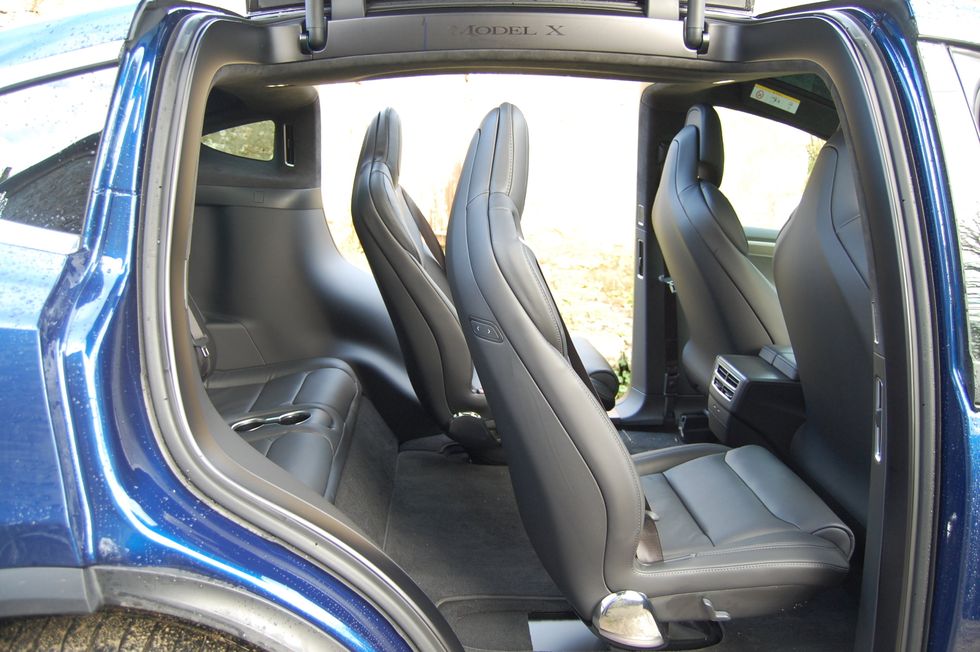 Pick the six-seat option on the Model X and rear passengers get no storage space at allGearBrain
The cost of a Tesla is in the battery technology and Autopilot. But Tesla needs to dream bigger on the inside. It needs to step away from incredibly complex electronic doors and face-melting performance, and focus on delivering what buyers of $100,000+ cars expect from their new ride. For now, Tesla has survived thanks to loyal and deep-pocketed support from EV believers and lovers of the brand.
However, if it wants to become a mainstream car maker — if it wants to truly rival the establishment — it needs to lure BMW, Mercedes and Range Rover buyers away with more than just electricity and self-driving smarts. And let's add some luxury in there too.
Like GearBrain on Facebook