Today, fitness trackers can do more than just track your heart rate or steps. Health wearables are tracking everything from calorie intake and your emotional state, to your sleep and weight. Healbe sent us its new connected health device, the GoBe2, that reads all of those areas. We put through the tracker our testing to see if it lives us to what it promises.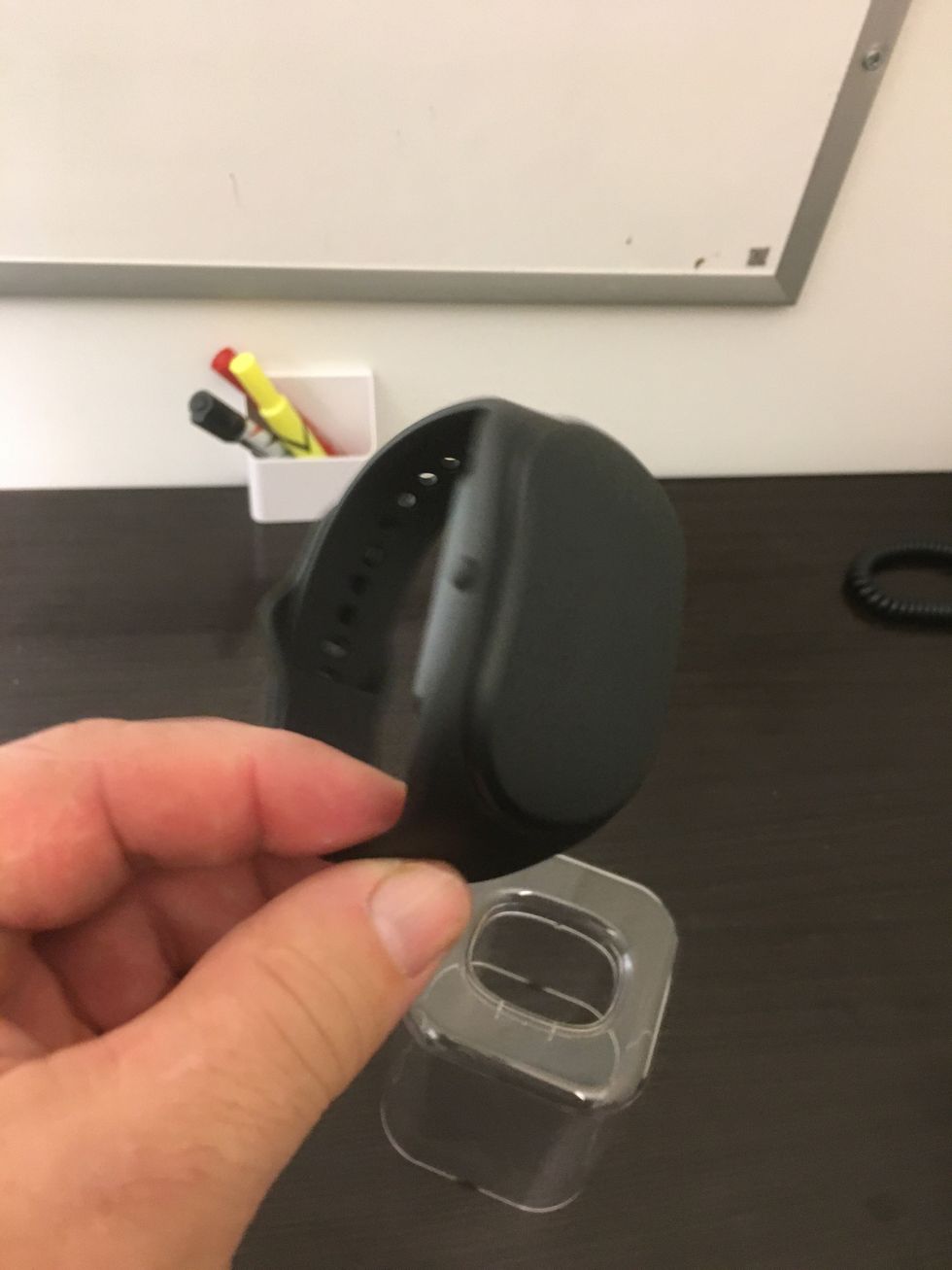 Healbe gobe3 outside of boxGearBrain
What is GoBE2?

GoBe2 is a fitness tracker that monitors your health and diet. The device is black, has ridges and looks like a smartwatch — but instead of the time piece there are LED lights that projects the information it tracks. GoBe2 says it can track not only calorie intake and hydration levels, but also your emotional state. It also read your heart rate and steps, while keeping an eye on your energy balance. The entire goal is to help you lose weight and stay healthy.
GoBe2 monitors nine key health parameters, the most we have seen in a fitness tracker or any other connected health device:
Calorie Intake
Calorie burn
Water Balance
Sleep quality
Heart Rate
Emotional state
Stress Level
Steps and Distance
How Does It Work?
Healbe says GoBe2 includes patented technology that collects and monitors their information without having to log into an app. The company uses an algorithm, called FLOW Technology, that reads the water traveling in and out of your skin's cells. When you start to eat, your body turns the food into glucose. Insulin absorbs the glucose and releases water. Healbe's sensors send high and low frequency signals through your skin's tissue to read that flow of water in your cells. Sounds amazing — but does it work? Let's see.
Setup and Testing GoBe2

After taking the device out of the box and charging it, I downloaded the app from the App Store to my iPhone and added my personal information including my current weight and height. You can also get download the app on Google Play if you have an Android device that's running 4.3 and above and supports Bluetooth LE. The app is also available for the web. Bluetooth connection is key to letting the smartphone app read the GoBe2.
The GoBe2 has six sensors built into the fitness tracker which monitor your data, including a galvanic skin response sensor, impedance sensor, accelerometer, Piezo sensor, Gyroscope and a magnetometer. These monitor the flow of water in your cells as well as all your other physical and emotional activity.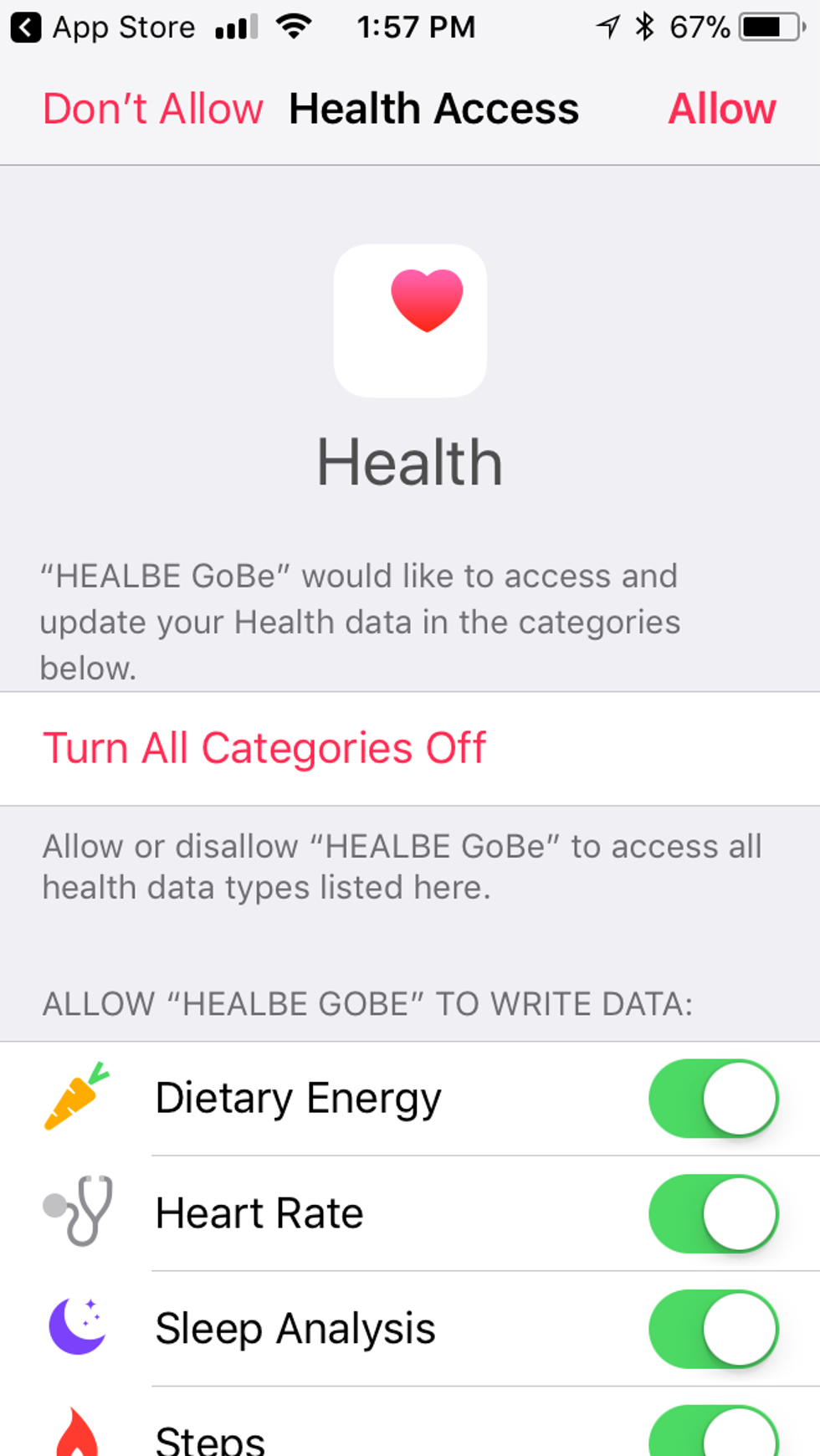 Healbe gobe3 app is for iOS and Android phones and tracks your health and fitness.GeaerBrain
Make sure you wear the device tightly on your wrist or GoBe2 will not be able to read the flow of water. It took some time for me to find the right tension on my wrist so the sensors would work — and I didn't cause my blood to stop flowing. You will get an alert on your GoBe2 that will tell you the sensor is not connected if the device can't read the data.

One thing we like about GoBe2 is it doesn't make you input everything you eat. We've tested many fitness trackers, which ask you to type in the food type or the beverages you're consuming every day. You only have to type information during the registration process. How accurate can its readings be if you're not keeping track of your food and drink intake?
According to Healbe, they say their app is 85 percent accurate, and the nutrition levels are 75 percent accurate. We wrote down our calorie intake for a few days and compared it to our GoBe2 data. The app reported fewer calories than what we calculated manually, but it was within the 85 percent accuracy level.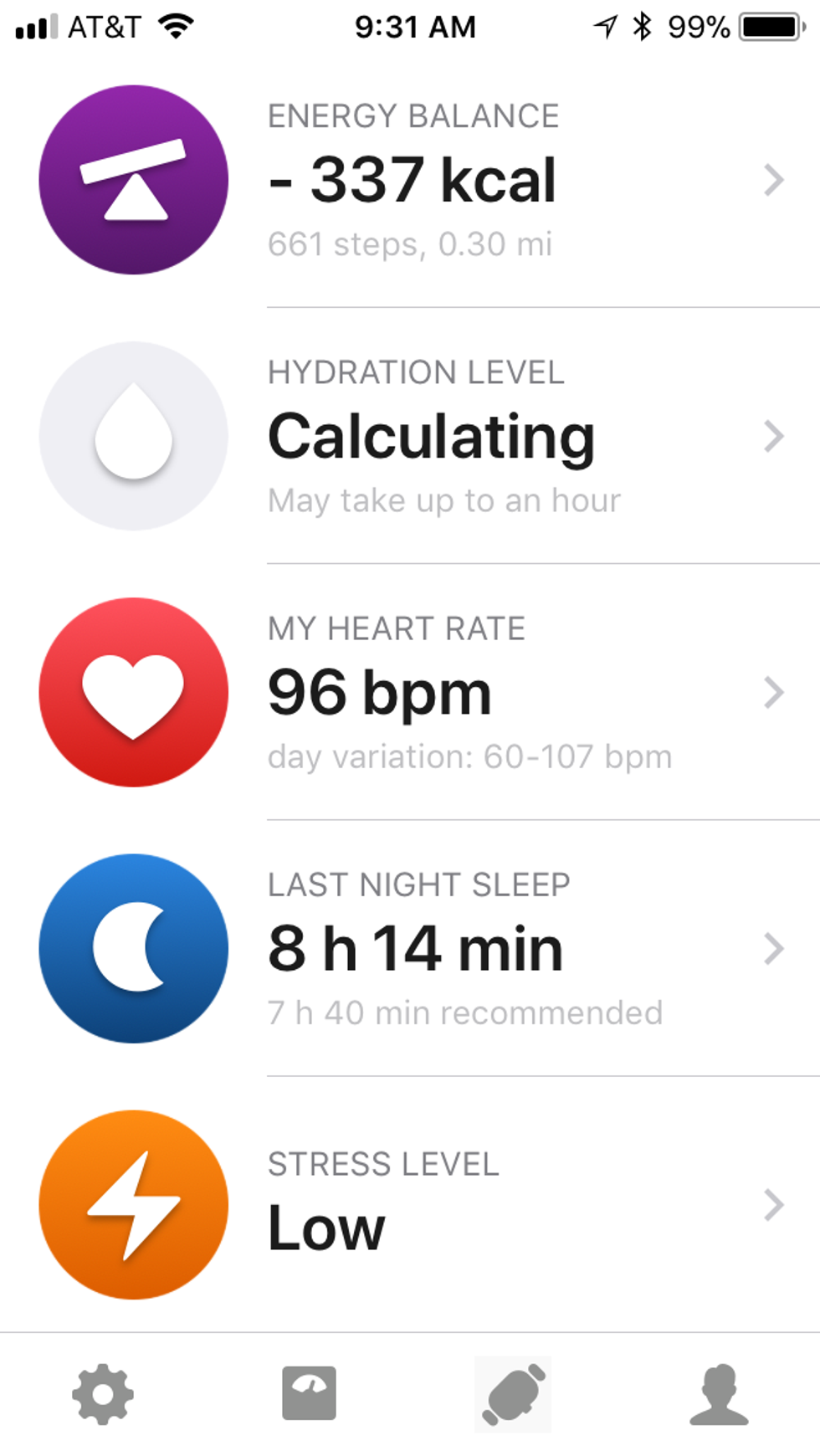 Healbe gobe3 mobile app tracks not only your heart rate but your sleep, stress and food and water intake.GearBrain
Keep in mind that it takes five to seven days of 24-hour tracking for your GoBe2 to collect enough information to formulate its findings. You will start to get readings right away, but they could be misleading. After six days we started getting more accurate readings on data including sleep, calorie intake and energy balance.

A nice feature of GoBe2 is its alerts. For instance, the device will buzz and tell you to drink if it senses you have low hydration levels, which happened to us several times during our testing.
How do the sensors track stress levels through your wrist? According to the company, stress can be tracked through the moisture in your skin, which activates GoB2's sensors. The amount of moisture determines the degree of stress – high, low or normal. A few times I thought I felt stress, but GoBe2 said I was normal. I'll leave this up to you to determine how accurate that reading is, but I think it was less than 85 percent.
On other points, GoBe2 works pretty normally, monitoring your heart rate through the wrist, for example, which some doctors don't think is as accurate as an arm reading, but we didn't find that much of a difference in the numbers we tested either ways.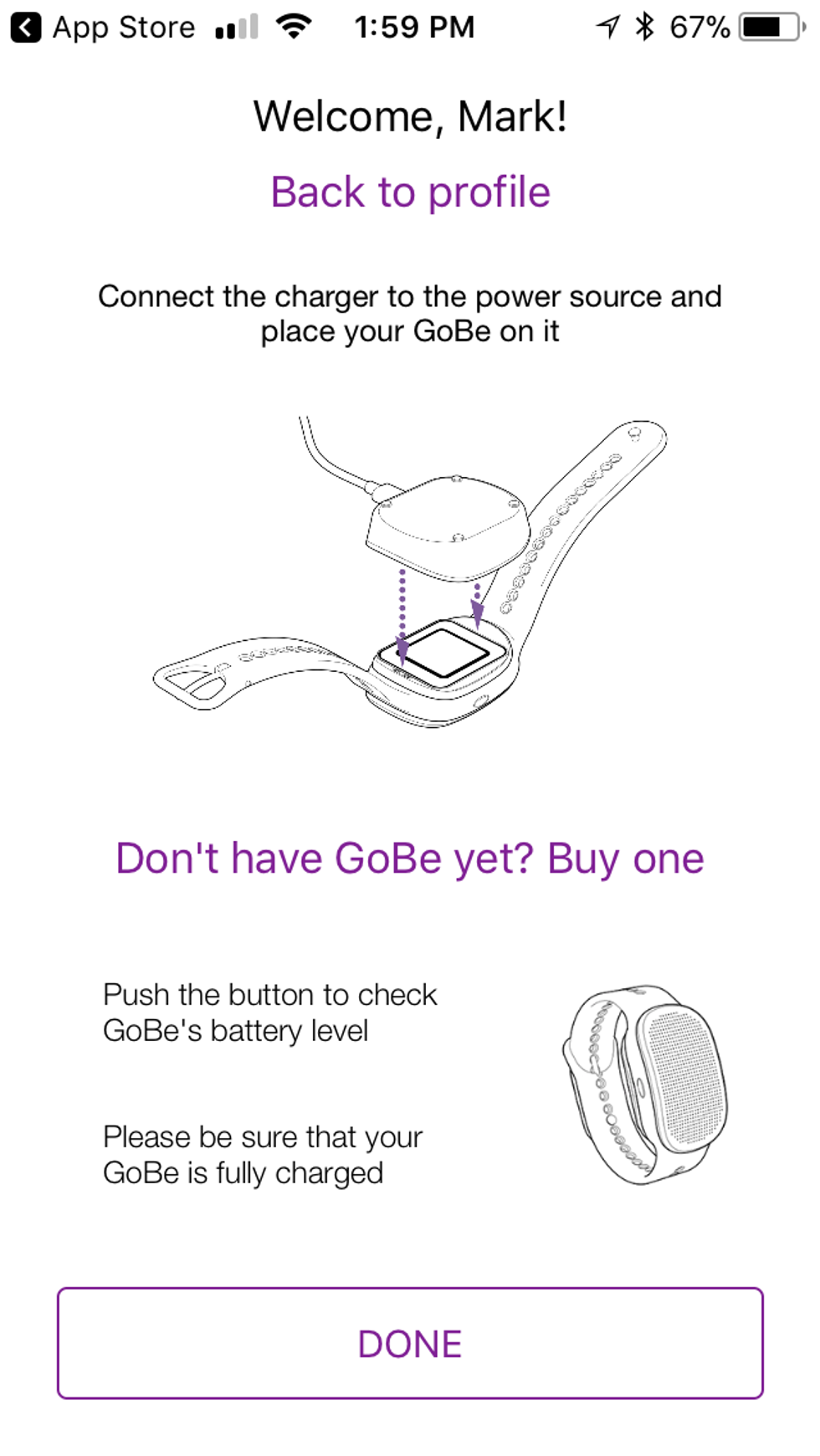 How to charge your gobe3. Make sure you remove charger when putting your gobe3 back on your wrist. GearBrain
What did we like about GoBe2?

Here is what we liked about the GoBe2 smart life band:
Energy balance data on the app is on a +, - or even levels.
GoBe2 is a beacon in your arm that can keep track of information on an ongoing basis.
For food and drink, how it reads the water levels and can see what passes through the cells attached to glucose. This is a very innovative way to track calories.
It can show you calorie intake over calorie burn on the app.
It tracks your steps per day and distance travel.
It measures your sleep quality. GoBe2 can track how many hours you sleep and determine how much of it was restlessly versus normal. Sleep is measured through a combination of movement and heart rate tracking.
What we didn't like about GoBe2?
In testing the GoBe2, there were a few things we didn't find ideal. The first was how tight you had to wear the fitness tracker around our wrist. My skin actually got irritated, developing an allergic reaction to the sensor's material. That was a downside since you have to the GoBe2 almost 24/7 so it can gather accurate data.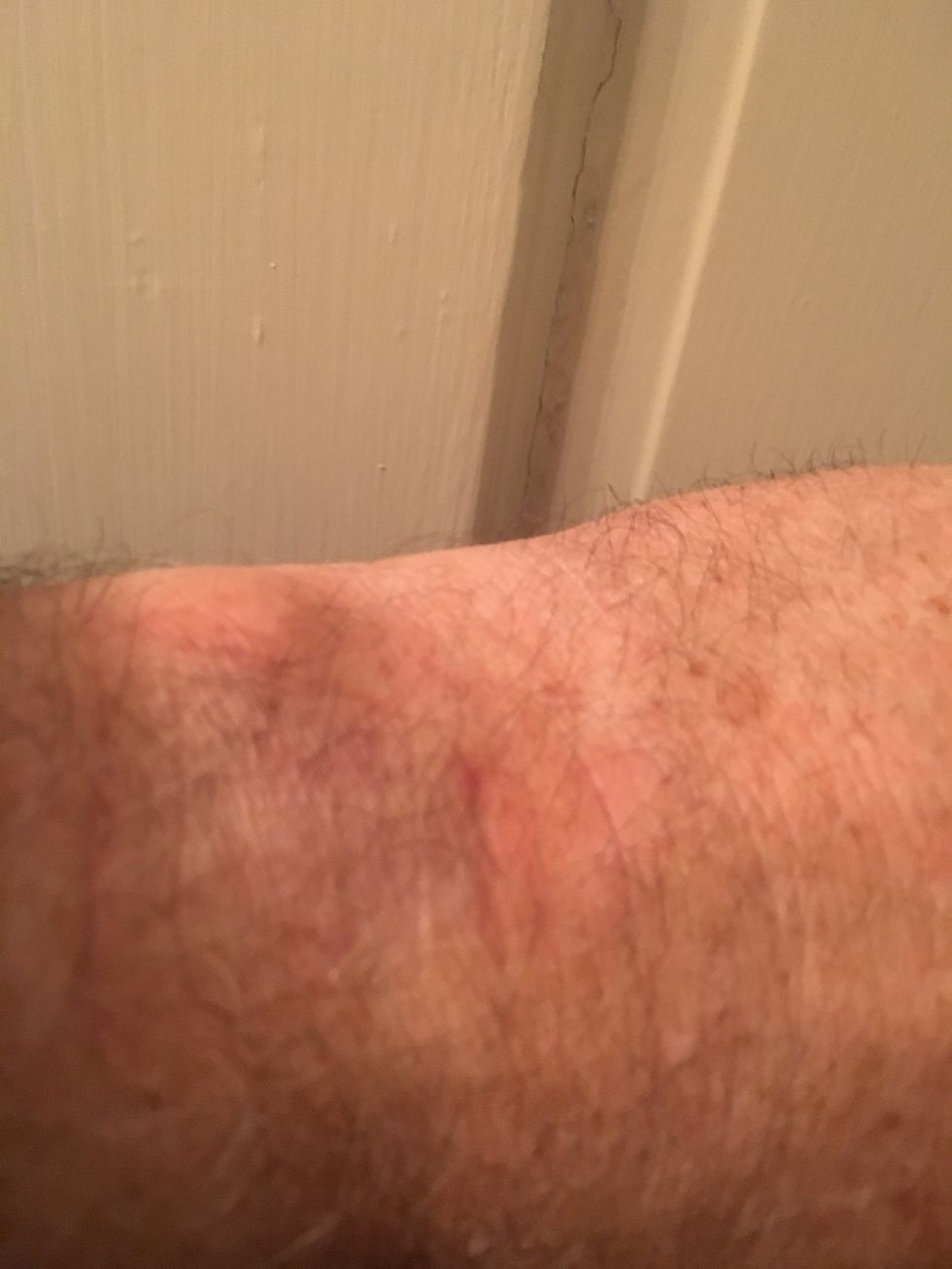 Depending on your skin sensitivity, you might develop a rash from the sensor on the back of the gobe3. Something to keep an eye on when in use.GearBrain
The second thing we had trouble with was around its stress readings. Healbe's emotional stress app is like a mood ring, implying it can detect anger or love. We found this a rather quirky take on my health — and not accurate in my opinion.

Third, GoBe2's battery is rechargeable and lasts up to two days if synced three to five times a day. Sync more often, the battery isn't going to last that long so you'll need to put some thought into when you want to charge so you don't miss tracking any important data. The company recommends charging the device when you shower, which makes sense since GoBe2 is not waterproof but is water resistant. We took the company's suggestions, and charged the GoBe2 when we showered and found it fully recharged in just 20 minutes. If you forget, GoBe2 will buzz to remind you when it's time to charge up again.
Finally, we found the face of GoBe2 to be rather large — and since it only shows text and numbers, as well as digital time readings, we would have preferred a smaller and thinner face. We did get comments on the look of our GoBe2, but they were not all positive.
Healbe GoBe2 retails for $199 and available on the company's website as well as Amazon, and currently there aren't any monthly fees to store data. The device also syncs with most health apps, incluidng Google Fit, Apple Health, Withings App and InKin apps.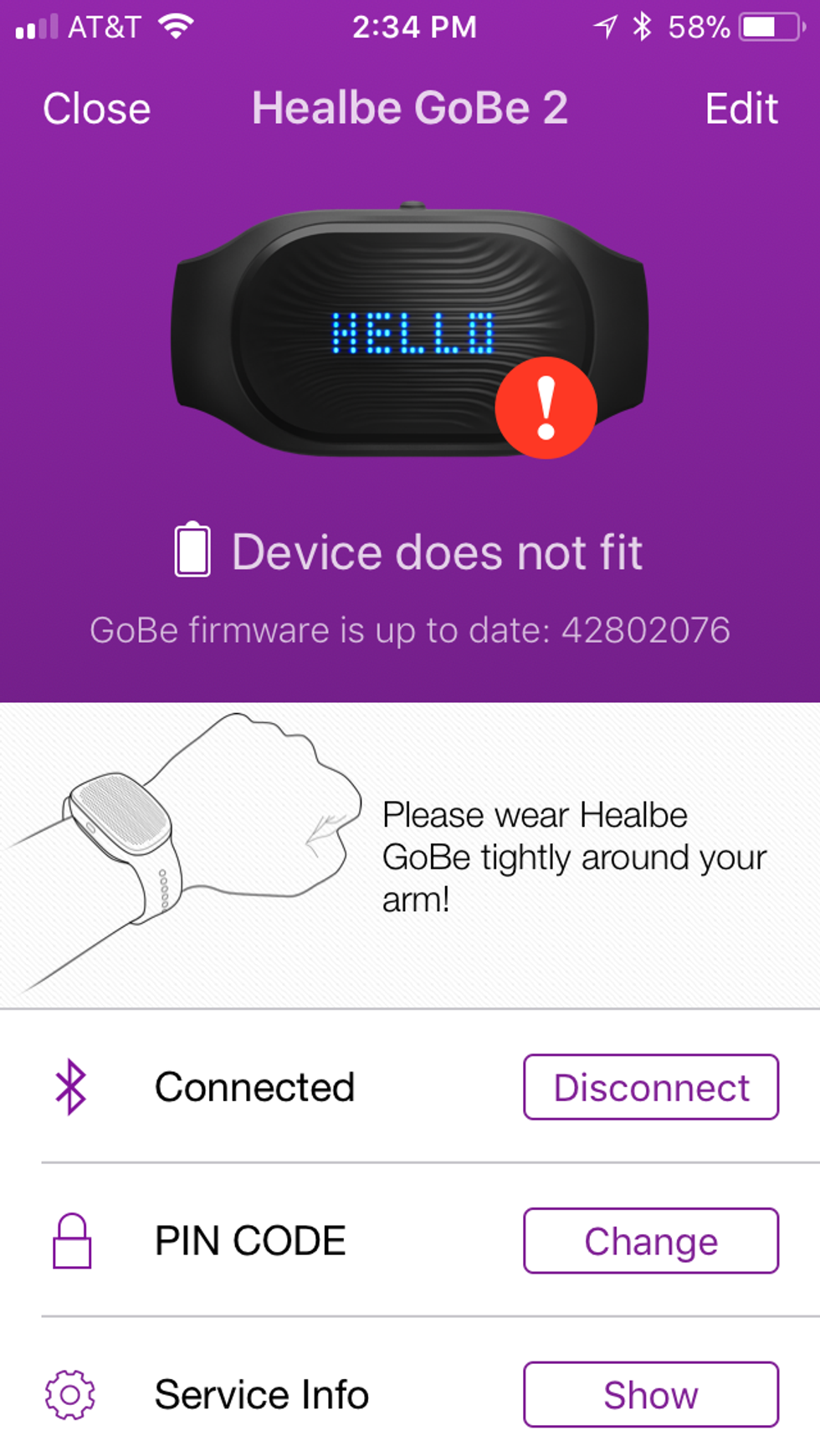 Healbe gobe3 mobile app will send to you alerts if the device is not fitting properly on your writst.GearBrain
Summary

If you're in the market for a health wearable that can keep track of your calorie intake, body's hydration and stress levels, your emotional state and how well you are sleeping at night, then take a look at Healbe GoBe2. Many people point to water intake as important for people who want to lose weight. Sleep is important as well. And having access to all these data points can be helpful — particularly if you're looking to lose weight. Plus, having a fitness tracker that doesn't make you input any of this data is even better. Be prepared, though, to have to wear the device all the time, even when you sleep.
Pros:
•Tracks nine different health parameters
• Doesn't require you to input data or keep track of food intake
• Combines emotional data with health stats
Cons:
• Size of device
• Could cause skin irritation
• Need to wear it all the time to get accurate data