Like GearBrain on Facebook
Nokia had a difficult start to 2018. The company's Health division, formerly French company Withings, decided to remove a unique feature from its flagship smart weighing scale, the $180 Nokia Body Cardio.
The feature, called pulse wave velocity, was unique among home scales, giving users health information not available from other products, or from the rest of the Nokia Health range. When logged properly, PWV can be used to measure arterial stiffness, hypertension and poor lung function.
However, Nokia issued a software update in January which removed the feature from its scale, and also deleted all PWV data collected by users' Nokia Health Mate smartphone application. Apologies were made, refunds issued and now the Cardio scale has been removed from sale until a new version can be made without PWV.
Putting the troubled Body Cardio to one side, we thought we would look at the $100 Body+, which has the same features and connects to the Health Mate app in the same way — it just lacks PWV and a way to take your heart rate. Instead, you can get this data from the Health Mate app, by pressing your finger against the flash of your smartphone's camera.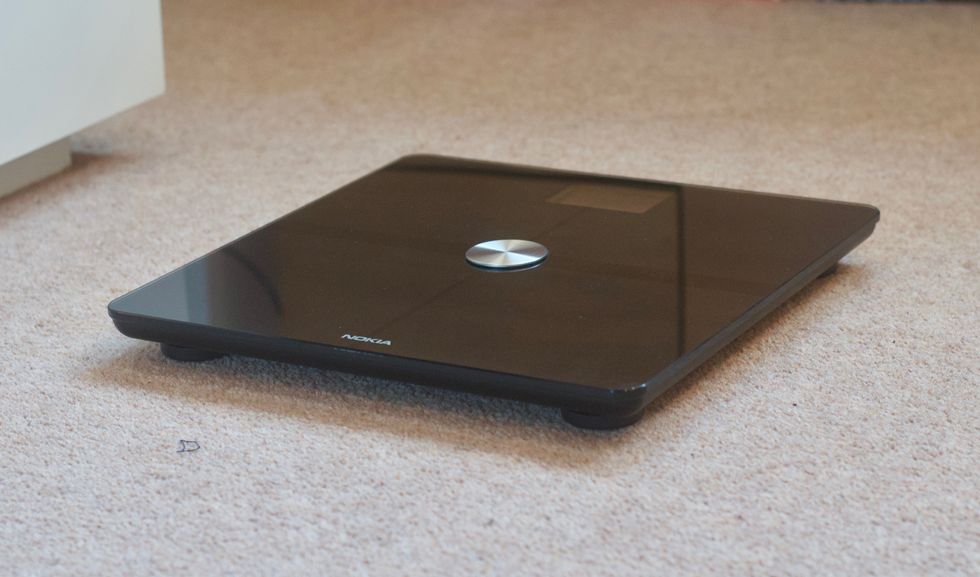 The Nokia Body+ includes for wider feet for use on carpetGearBrain
Nokia Body+ smart scale review: Design
Nokia's scales all look very similar, and this design is inherited from Withings. In fact, the Body+ is just about identical to the Withings WS-50. It has the same glass top, the same color options of blue/black and white, and the same display.
The Body+ is slim and sleek, doesn't take up much space on your floor, and sits close to the ground. It's also easy to clean, thanks to it having a seamless glass top; the underside is one piece of plastic and also easy to wipe clean.
The scale measures 12.8 x 12.8 inches and is 0.9-inch thick. However, if you plan to use the scales on carpet it comes with four plastic feet which stick to the scale's existing feet. These are wider to help counter the compression of carpet and add around a quarter of an inch to the scale's height. We attached the feet to ours as we plan to use it both in a tiled bathroom and carpeted bedroom. So far, the scale has returned the same readings on both surfaces.
Underneath is where you will find a single button for connecting the scale to your Wi-Fi network, and a compartment for four AAA batteries.
Nokia says the batteries will last for 18 months — more than when the scale had Withings written on the front — and while we don't mind buying batteries that infrequently, the Body Cardio was rechargeable via a micro USB connection, something we wish the Body+ could do.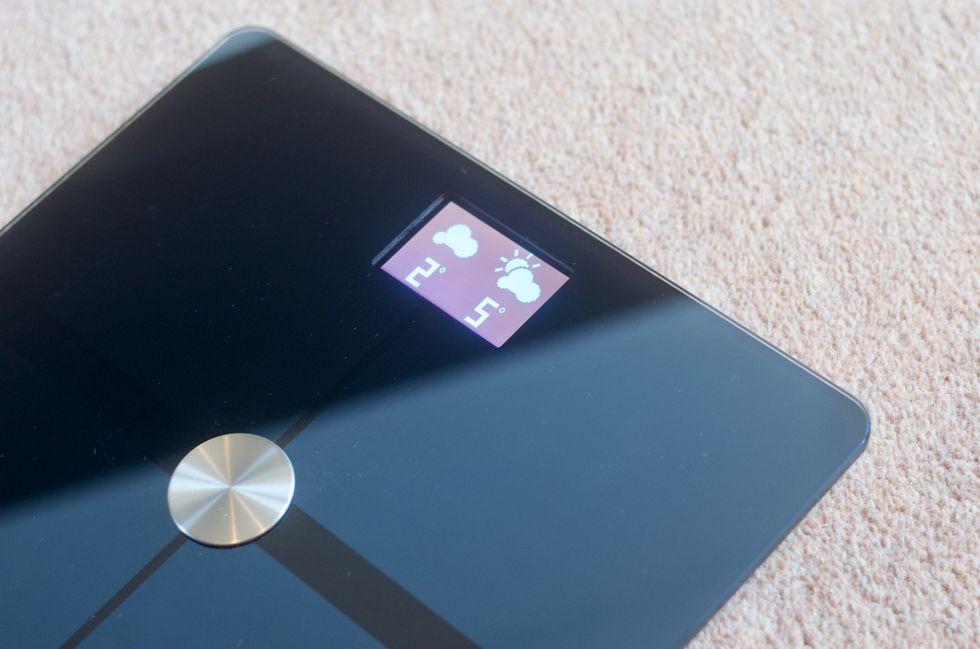 After your vitals are displayed, the Body+ shows the weather forecastGearBrain
Nokia Body+ smart scale review: Setup
The scale is added to your Health Mate account and Wi-Fi network via the Health Mate app, available for iOS and Android. Adding a new device — such as a scale or a Nokia Health watch — is simple and the app does a solid job of taking you through the process.
If you haven't used Health Mate before, you'll need to create a profile and give the app your name, age, gender and height. An optional 'athlete mode' can be switched on to adjust how the app works — but, given we write about technology for a living, this perhaps isn't for us.
Once you have created a profile and paired the Body+ to the app, you can step on it to take your first measurements.
Nokia Body+ smart scale review: Features and user interface
When stepping onto the Body+, the display lights up and displays your weight. An arrow in each corner of the screen indicates how you should shift your weight to get an accurate measurement. Once an arrow appears in every corner, the weight is taken and the scale displays the first three letters of your name to show it has recognized you.
A whole family can be added to the scale and have their weight logged via their own Health Mate app. The scale will automatically recognize the user based on their weight, but if two are similar it will display both names on the scale, then ask you to lean in the direction of your name.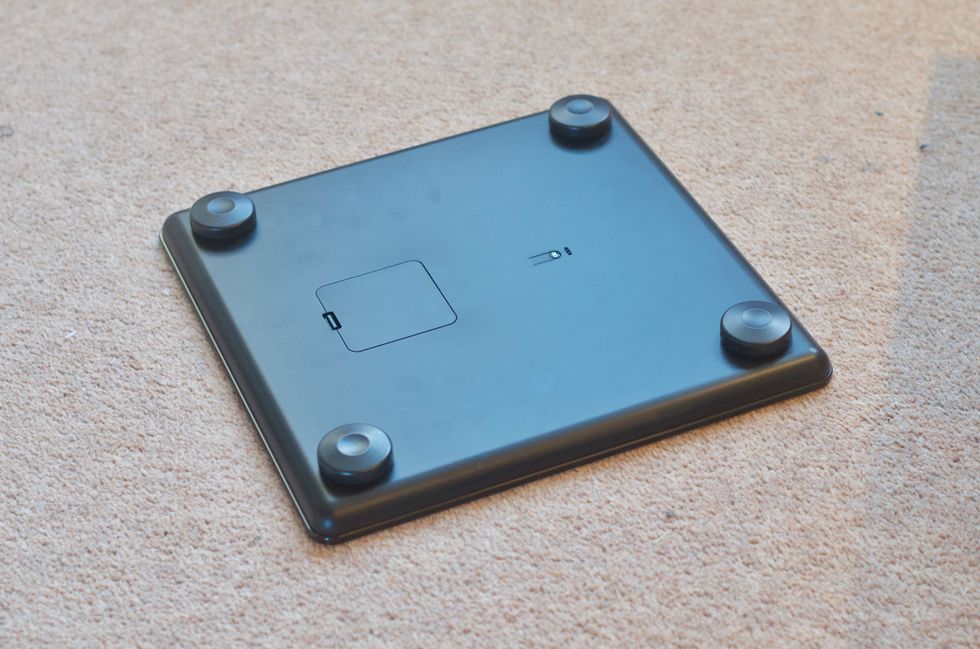 Four AAA batteries power the scale for 18 monthsGearBrain
Your weight (in either kilograms or pounds) is always shown first, followed by a line graph plotting your last seven weigh-ins, then your fat mass, body water, bone mass and muscle mass. Next comes your BMI, then today's weather (highs, lows and icons for sun, cloud, rain and snow), and finally the number of steps taken today. The last figure works only if you also have a smartwatch or fitness tracker connected to the Health Mate app.
Weight always comes first, but after that you can change the order and remove any of the measurements you don't want to see on the scale or track in the app. A few seconds after stepping off the scale, it switches off.
Nokia Body+ smart scale review: The Health Mate app
Nokia received a huge amount of criticism when it replaced the Withings fitness tracking app with its own. The user interface was completely changed, leaving users angry that something they had used for years had suddenly been altered.
This writer was one of those affected by the sudden change and it took a good while to adapt to the new app. Looking back now, it wasn't such a big deal and Nokia should be applauded for making Withings products as useful as they were on day one. For example, we have a Withings watch bought back in 2014 which still works correctly with the Health Mate app.
The app lists all of your measurements in chronological order and also presents a dashboard of your most recent reading for each parameter. There are a range of 'wellness programs' onto which you can enroll. One aims to give advice on improving sleep over an eight-week period, one is designed to help give advice on improving the health of your heart (for which a Nokia heart rate device like the BMP+ is required), and another is designed to track pregnancy.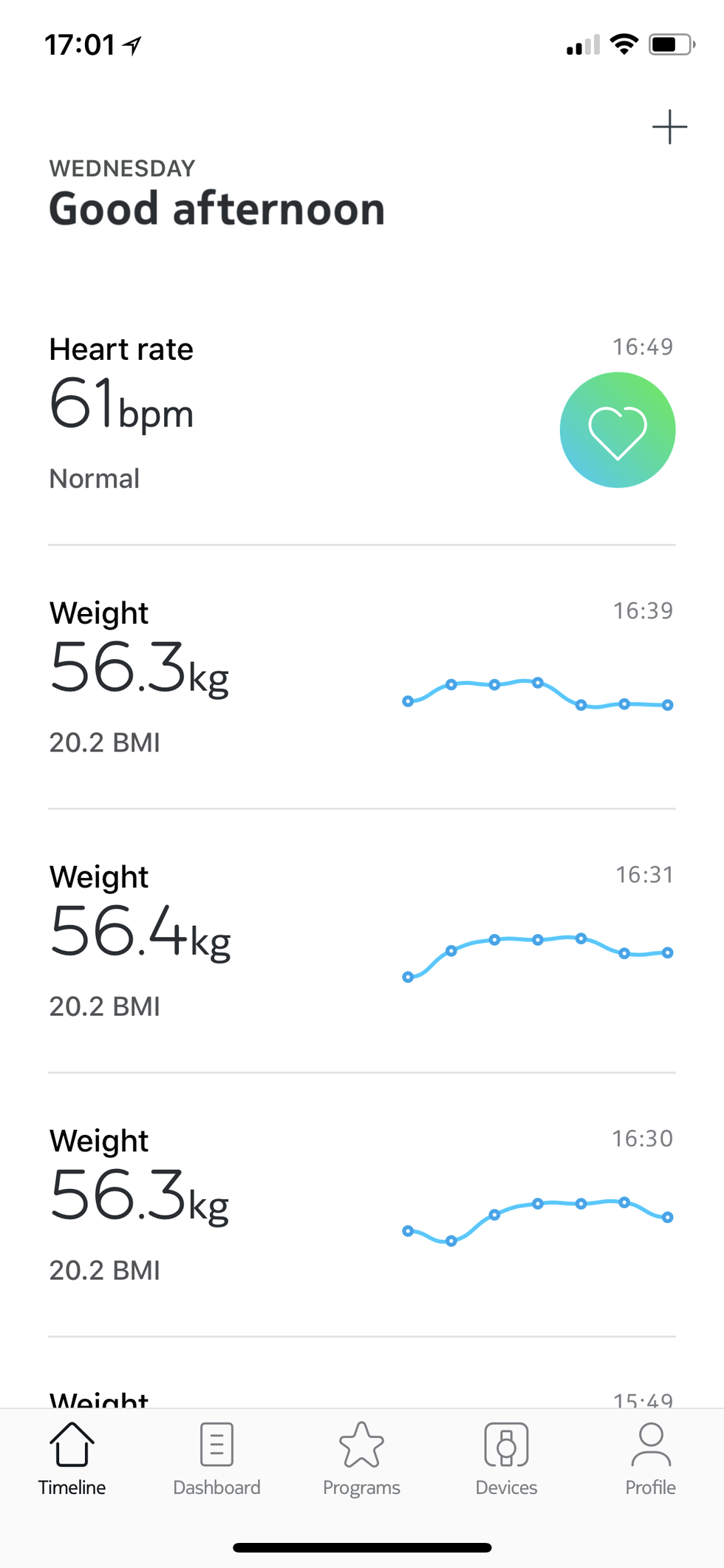 Each weigh-in is joined by a line graph showing the previous sevenGearBrain
After that particular program, the Health Mate app and Body+ scale can be used to measure the weight of your baby. After adding a profile for your baby to the app, stepping on the scale while holding him or her will track their weight — because the scale knows how much you weigh from weighing yourself separately.
Although stepping on the scale or wearing a Nokia fitness tracker will automatically track every variable you have asked for, you can enter each individually and whenever you want via the app. Given the Body+ can't measure heart rate, we have been using the app to input this data. This involved resting our index finger on the camera flash of your iPhone for a few seconds when the app tells us to.
All data gathered by the Health Mate app can be synchronized with Apple's own Health app. Finally, Health Mate can pair up with the MyFitnessPal app, where you can log food intake.
Nokia Body+ smart scale review: Verdict
Smart scales like the Body+ make for a useful and affordable addition to your smart home. They take up no more space than a regular scale, connect quickly and easily to your smartphone, and provide useful data. This is all true of the Body+, too.
The scale looks good, is quick and simple to setup, and is very easy to use. Just step on it each day and all of the data is right there. You don't really need to open the Health Mate app, unless you occasionally want a more detailed view of how your stats have changed over time.
Nokia may have dropped the ball with PWV on the Body Cardio, and while that scale will be back on sale soon, we suggest you save some money and go for the Body+ instead. Your heart rate won't be measured by the cheaper scale, but you can add this from the app, or by wearing a fitness tracker like an Apple Watch or Nokia's own Steel HR hybrid smartwatch.
Pros:
Sleek design
Very easy to set up and use
Captures a wide range of data
Cons:
App design isn't to everyone's tastes
Lack of heart rate monitor on the scale itself
Nokia has to restore trust after the PWV debacle
Like GearBrain on Facebook