Like GearBrain on Facebook
Picking up an airport rental car from the Hertz desk is about to get much faster, thanks to biometric authentication in the form of facial recognition and fingerprint readers. The rental car company announced a new partnership with Clear, a biometric authentication company, which is expected to cut the time to pick up a car and drive away.
Read More:
Members of Hertz's Gold Plus Rewards program, who are enrolled with Clear, can use their face or fingerprint to verify their identity when collecting a rental car, instead of producing valid physical ID, like a passport.

Called 'Hertz Fast Lane powered by Clear', the biometric system is now available at Hartsfield-Jackson Atlanta International Airport, and will be rolled out to over 40 more US airports through 2019. These include Los Angeles International, John F. Kennedy, and San Francisco International airports.
Hertz customers will have to enroll separately with Clear, but once they have they gain access to the biometric system when collecting their next airport rental — providing they are Gold Plus Rewards members and at a participating airport.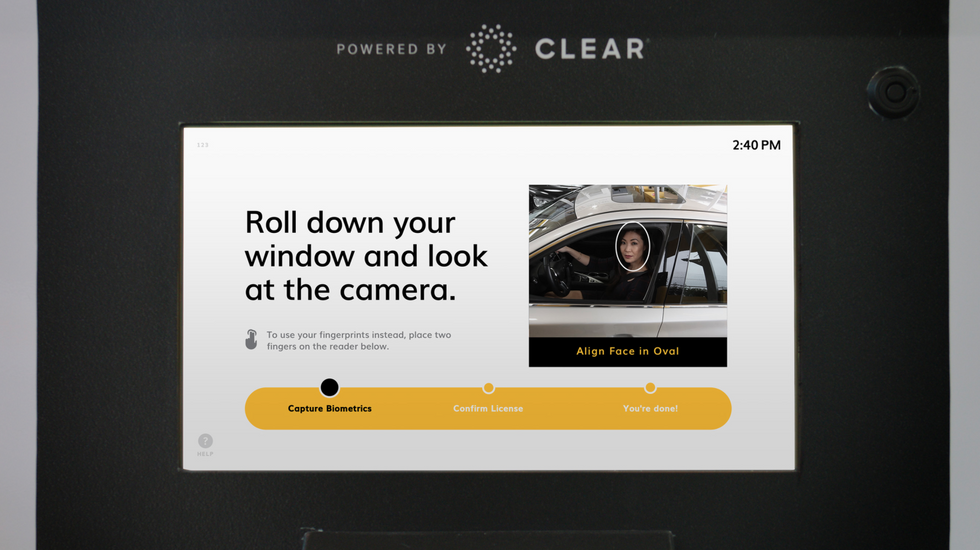 This image provided by Hertz shows how the biometric system worksHertz
Hertz claims the system can offer a time saving of 75 percent compared to current identity verification methods, although the company also admits this cuts the time down to 30 seconds, so your saving is minimal to say the least.

However, while the time saving for each customer is small, when multiplied across dozens of airports this will add up to a more significant time-saving for Hertz itself, along with potential cost savings.
We expect customers to feel comfortable using the system, especially as biometric technologies have been used by smartphones for several years now, proving their speediness, reliability and security. That said, both Hertz and Clear must be careful in how they use biometric technology, as consumers are increasingly wary of how this data — their face and fingerprints — are stored and protected against hacking or theft. After all, while a stolen password can be changed, a stolen fingerprint cannot.

Biometric technology is becoming more common in airports, as cameras use facial recognition to match you with your passport photo at immigration, and when boarding the plane. Earlier in 2018, the TSA laid out a roadmap for its use of biometrics over the coming years; this includes using facial recognition to verify domestic flyers as they pass through airports.
Biometrics Coming To Secure IoT - GearBrain www.youtube.com
From Your Site Articles
Related Articles Around the Web
Like GearBrain on Facebook