Like GearBrain on Facebook
Technology that can identify us is slowly working its way into our lives. Anyone with an iPhone X has their face scanned daily, and Snapchat captures our images by promising cute images and flowers around our head. Lighthouse is a home security device that also keeps tabs on you by reading and scanning moving objects and anyone else within its field of view, keeping tabs on who is coming and going in your home.
We spent some time testing Lighthouse both in a small apartment with little traffic (but a big dog), as well as a large home with lots of people and no animals. Lighthouse surprised in some goods ways, and not as good, as we put the camera through some heavy duty trials.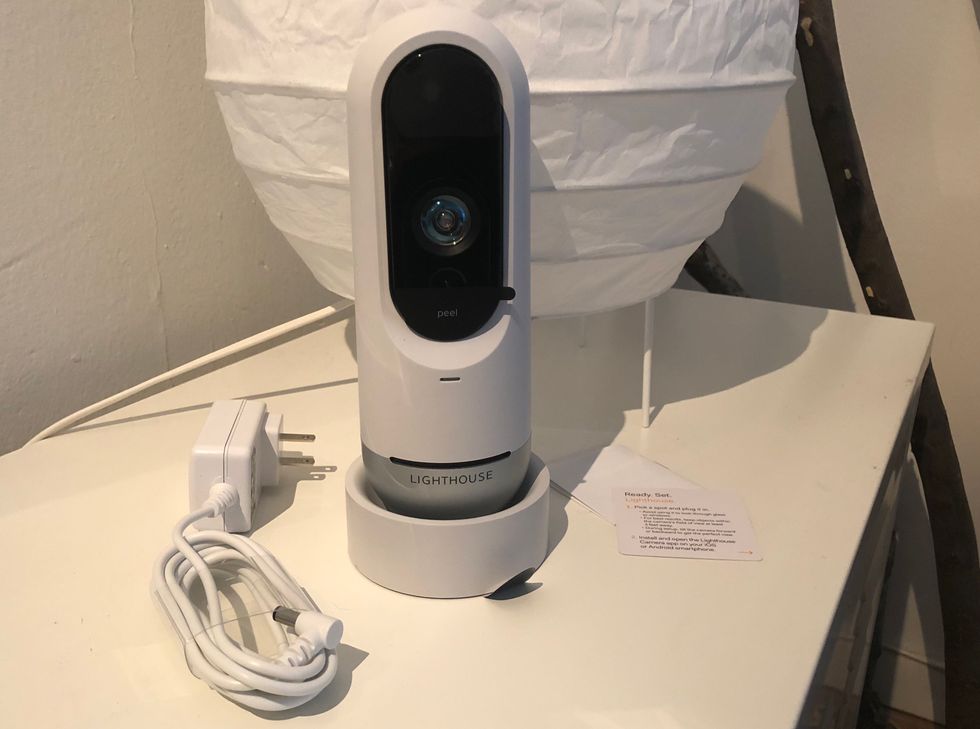 Lighthouse is simple to set-up, including a power cord, the camera and simple instructions.GearBrain
Installation
Lighthouse is nothing but simple to install. The security camera is meant for indoor use only, as it won't work through glass like that in a window or door. After downloading the iOS or Android Lighthouse Camera app, you plug the device into a power source and connect to your Wi-Fi. You'll need Bluetooth to make this connection.
Settings in the app allow you to get notifications on who is arriving in the house, you can also see short video segments of movement around the camera. As Lighthouse snaps images, they're stored in the app where they can be identified for the future. This way the camera knows if it's you who has walked through the door, or your roommate, or daughter or spouse or anyone that's in your space on a regular basis.
Rather than using just facial recognition technology, Lighthouse leans more on what it calls 3D sensing. Lights and shadows are tossed out of its algorithm, and its focused on reading large objects moving around. Facial recognition is put to use to scan faces, and that's added into the entire A.I. system.
As someone walks through a space where Lighthouse is aimed, the camera looks to identify the person — if they're registered, you get a notification, if not you also get a ping, which are managed from the mobile app. You can either select from a pre-existing list or create your own.
We created some of our own including when a certain family member got home, if someone came through that Lighthouse did not recognize, and also if the camera saw someone in the house when everyone invited was away. The last one is key if you want to see who comes into your home when you are not home.
When someone who isn't known walks through, the device can set off an alarm. This is not a quiet sound — in fact we found the 100 dB siren the loudest we have tested. Trust us, it's effective.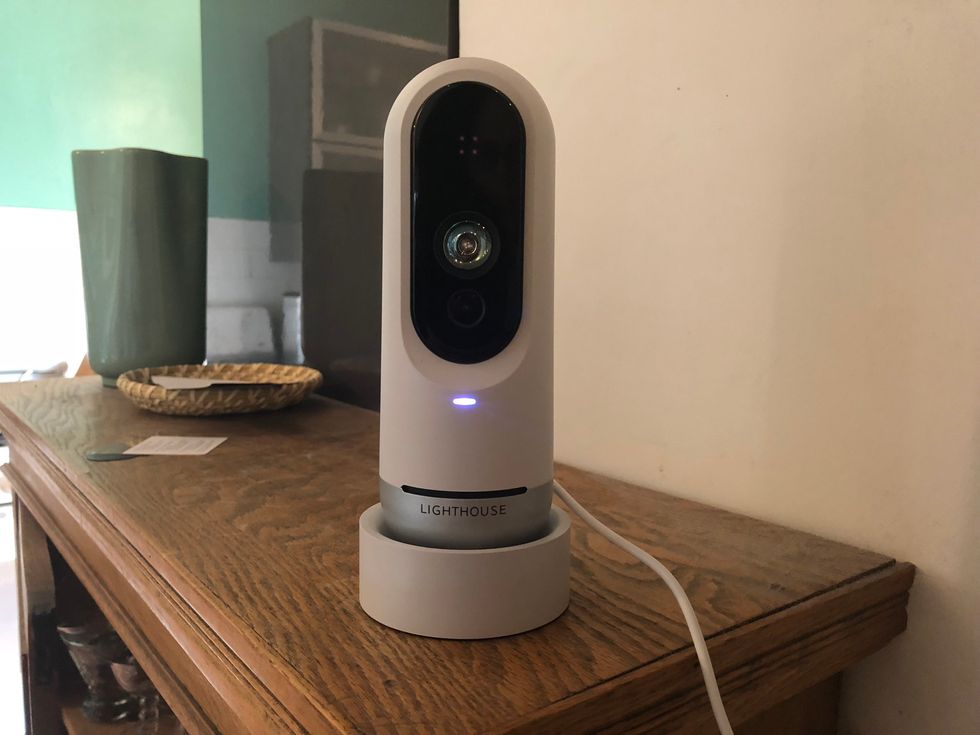 Lighthouse has a sleek modern designGearBrain
Where to place Lighthouse
One problem is the field of view (FOV) of the camera, at just 95 degrees for the 3D camera and 112 degrees for the RGB camera. Many of the good home security cameras offer at least 140 degrees to 180 degrees like the Logitech Circle. However, you can tilt the camera up and down to adjust the view. In the apartment, we had to think carefully about where to place the camera because we wanted to make sure we could capture as much of the space as possible.
In the apartment, we set Lighthouse up by the front door. Because of the small space — and the narrow view — we wanted to get images of anyone who came into the place. In the test house, we put Lighthouse on our kitchen counter facing our back door, and the entry way into the kitchen. That way we capture anyone coming in the back door or from other rooms, like our den, dining room or center hallway.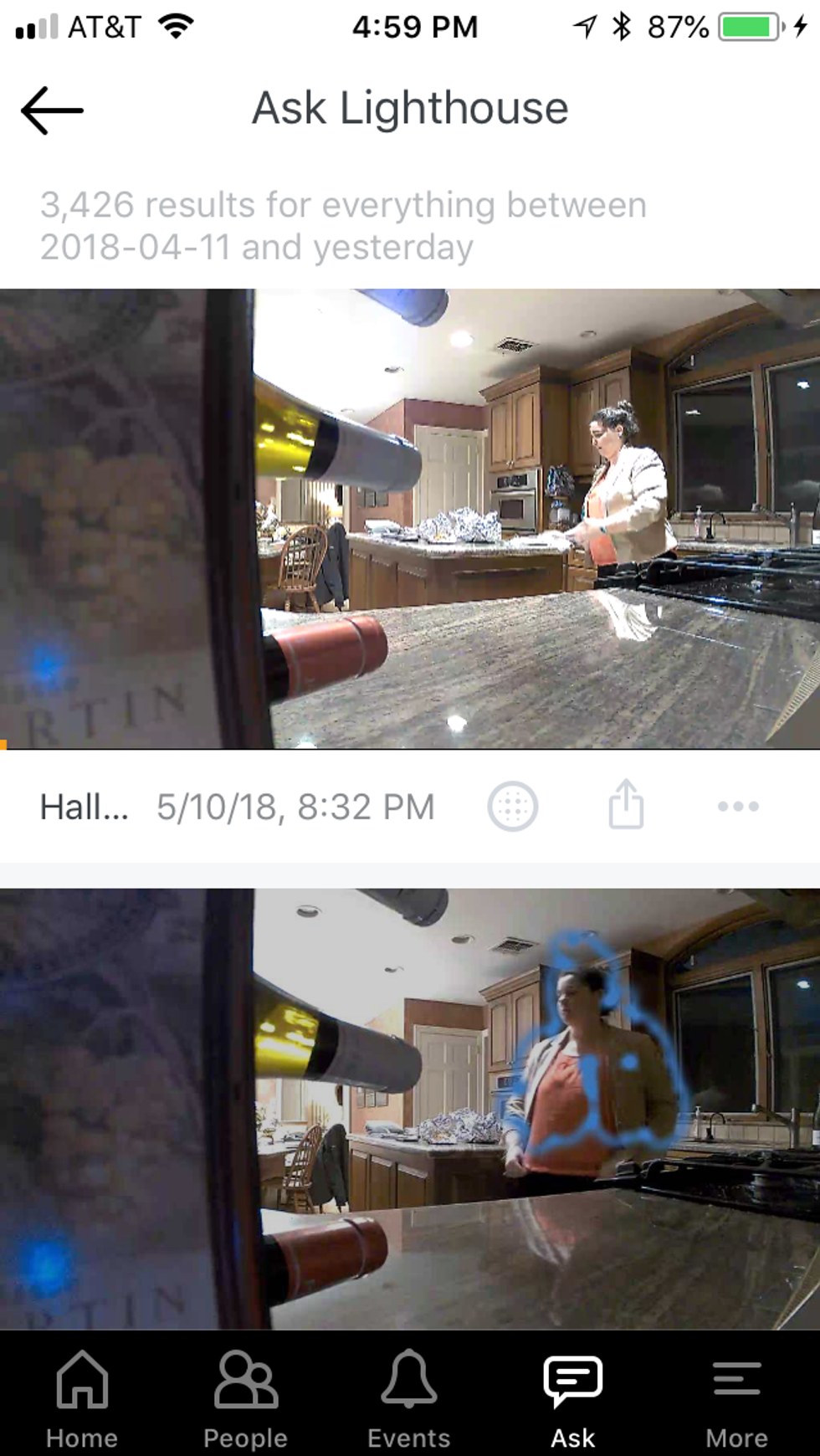 Lighthouse recognizes people, identifying them in the appGearBrain
Its look
We found Lighthouse rather large in comparison to other security cameras — running about 8.5 inches by 3.4 inches. Although we liked the overall design of the device, it's definitely not invisible. You're going to need to allocate some space on a counter — and you're going to need to be okay looking at it. Lighthouse can be mounted, but again given its profile the camera is going to standout.
Features
You can invite people into the app, which is one way to identify people the camera picks up. There are different levels: Guest means they are known to the app, but won't be able to view video.
In the mobile app there is a section called Ask, which allows you to create pings and also search the past 30 days of video using your voice and typing. The voice commands were very easy to use, and responded every time we used the feature.
You can search for video of a pet, ask for notifications when a pet and a child are seen together, watch a time-lapse of specific day.
The app also let us search for videos and images of unwanted faces. We could tag faces and assign them to the correct people.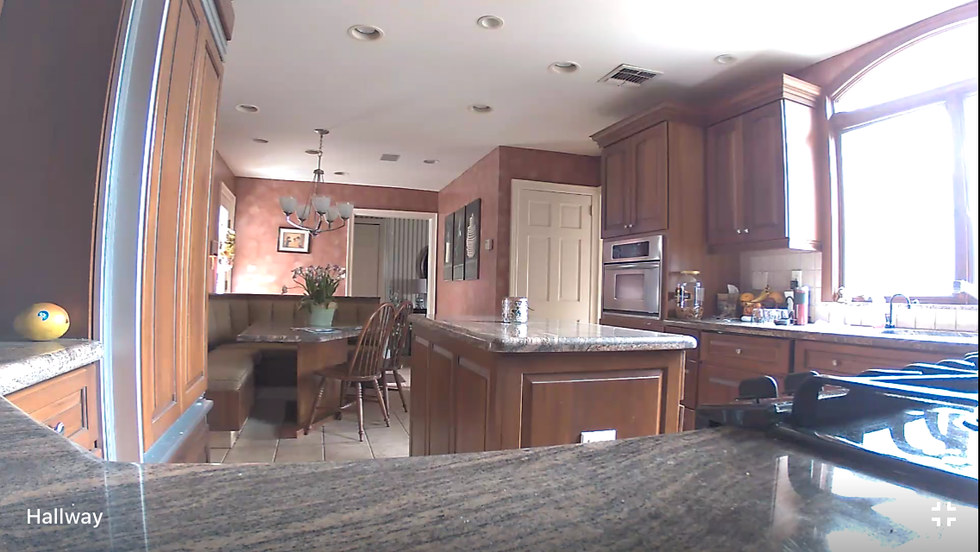 Lighthouse has a 112 degree field-of-view which we found smaller than other security camerasGearBrain
Video and audio

The camera offers HD 1080p with night vision and we thought the video was good, not great. In our apartment setting, we thought the images were a bit pixelated. Lighthouse seemed to be better in the house, with a clear and crisp video quality.
The camera has two-way audio, which means you can speak with someone who comes through your home, as they're near Lighthouse. The two-way audio is also the best of all the security cameras we've tested in our opinions. It's clean and not as delayed as others, there is about a one-second delay versus the three-second which we normally see when testing security cameras that connect to the cloud.
We like that the camera supports 100-240V AC power.
Did it do the job?
Lighthouse uses geofencing to let you know when your users, people who are invited into the app, have entered your home. The device reads the phone's GPS. Those alerts worked well for us, and appeared right on our home screen, telling us when people in our group arrived at home. You can also get pinged when someone specific gets home —and we found those notification also worked well.
Lighthouse also use facial recognition, and that's how it knows, for example, that it's your daughter moving in the home and not your son — or an unwanted visitor who has entered your space. That's how you can have Lighthouse recognize people who aren't actually invited to use the app. Now in our testing, that facial recognition didn't always work. Lighthouse, however, told GearBrain that it can take over a week or two, for the device to learn someone's face.
We also found that the camera really needs to see the face of the person clearly to identify them, and that might improve over time as Lighthouse also recommends you tag 15 to 20 faces per user to get device to accurately identifying someone. That takes some time — so be prepared to invest some effort to get Lighthouse working and up to speed for your home.
In our experience, we had invited our daughter to the app, and when she entered the home we'd get an alert that she was there, through geofencing. Great. When she walked in front of the Lighthouse camera, the device didn't immediately recognize her however. And we did get pinged in those instances from the device that it detected movement. Ideally, Lighthouse wouldn't send those pings because it would recognize her through the facial recognition and not send the alert. Again, Lighthouse says that recognition will click in, but over time.
Dogs do not trigger movement — Lighthouse is designed to recognize the difference between adults, children and pets. That's so you don't get a plethora of pings when it doesn't need to — such as when your dog is chasing its tail. That's helpful.
In terms of the size of device, we would like to see it get smaller, and we would like to see a bigger FOV. You can certainly get a good view in a specific area of your space, but make sure you like the way Lighthouse looks, because you're going to be looking at it a lot.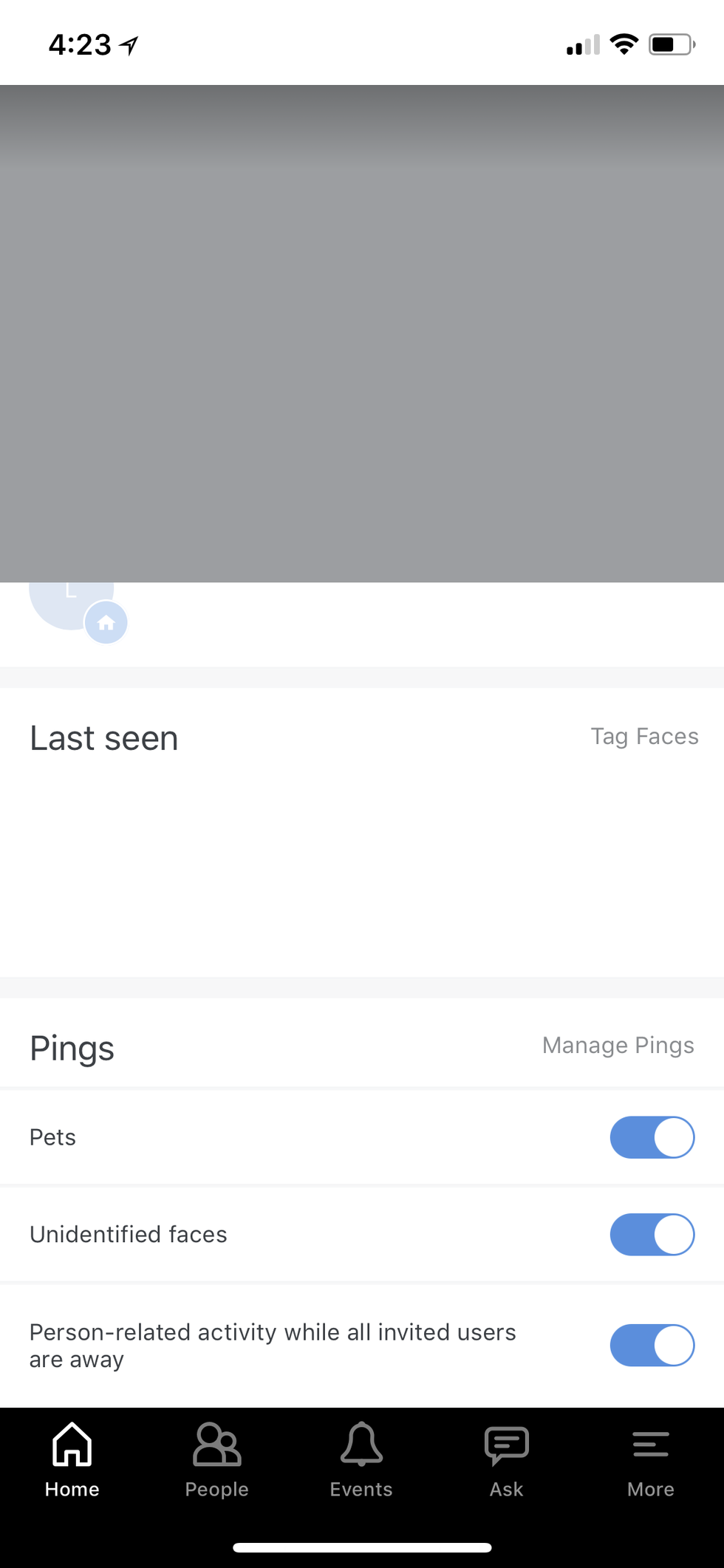 You can set pings for a number of reasons including pets, or when someone enters your home that the app doesn't recognize.GearBrain
The sticker price for Lighthouse is fairly high as well, with the security camera tagged at $299 and $498 if you want any of the AI features for the life of the device. The $299 version has 90 days of A.I. service but after that you pay $10 a month or a $200 one-time upgrade. That's more expensive than a DIY home security system like Blink, with no monitoring.
We do think this is the next step for security devices — the ability to know who is in your space. Lighthouse is the first we've seen that brings that feature to the consumer level — but at a price point that is high.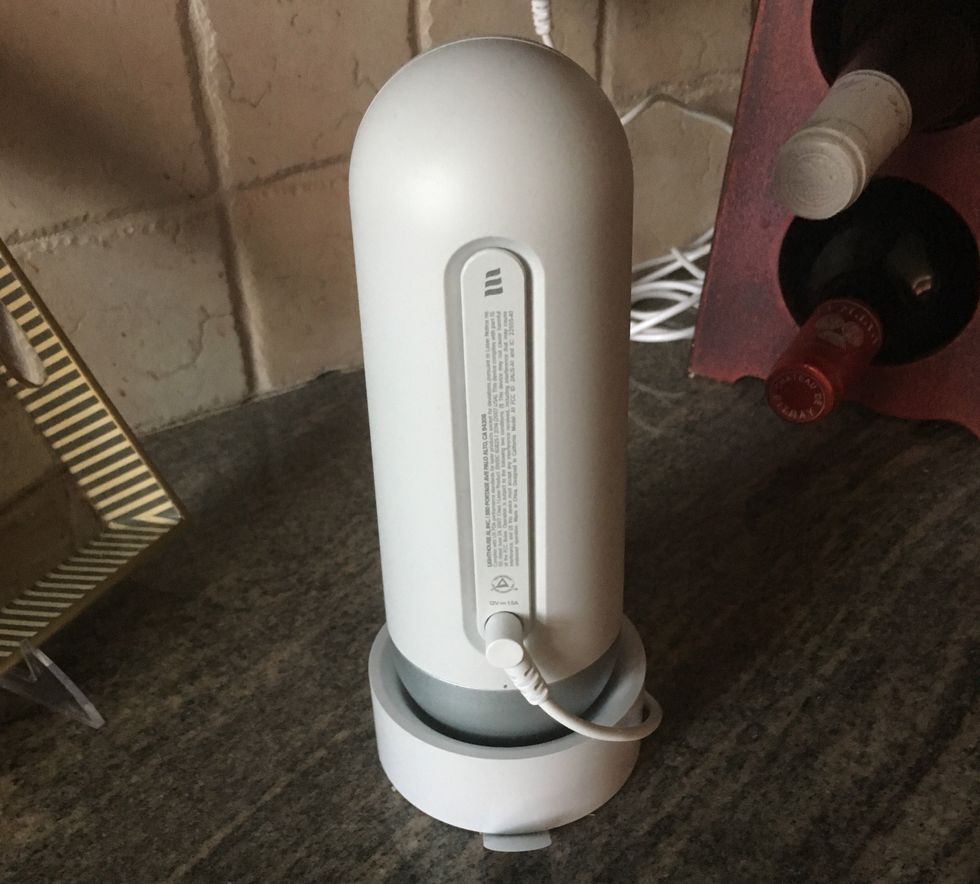 Lighthouse sits on a base, and needs to be plugged into a power source to runGearBrain
Whether Lighthouse is the biometric security camera that everyone wants, or just the beginning of a new trend, is yet to be seen. We think it's certainly a device worth considering, easily by early adopters, and one worth watching over time.
Pros:
3D sensing with facial recognition
Great video and two-audio quality
Customizable app with voice controls
Cons:
Price
Small field of view
Device has a large physical footprint
Like GearBrain on Facebook