Like GearBrain on Facebook
The gender of voice assistants from Google, Amazon and Apple is a hot topic at the moment, with questions being raised as to why they are mostly female by default, and pressure mounting on manufacturers to offer male or gender neutral alternatives.
For Siri and the Google Assistant, the gender can be changed, but with Amazon Alexa it cannot. Instead, you can change the language and also pick from a selection of English accents to make the voice more closely match that of your household.
Here is how to change Alexa's language and accent
Open the Alexa smartphone app of visit alexa.amazon.com and log in
Tap on the menu icon in the top-left corner
Tap on Device Settings
Scroll down until you find the Echo device you want to change the voice of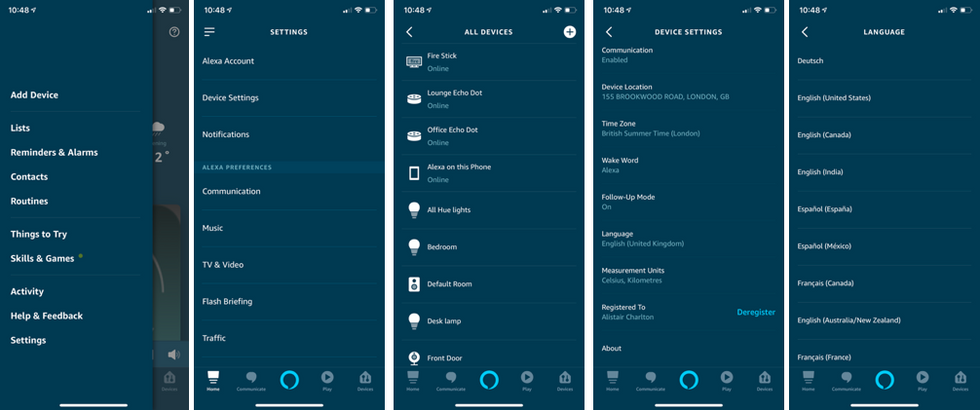 Alexa voice change instructionsGearBrain
Note: The language and accent of Alexa running on non-Amazon devices cannot be changed via the Alexa app. For example, to change Alexa's language and accent on a Sonos speaker, you need to head into the Sonos app, then go to Settings -> Room Settings -> [Pick your device from the list] -> Voice Services -> Login -> Wake Word Language Selection.

Returning to our earlier instructions, you can now tap on the Echo device in the Alexa app you want to change.
Next, scroll down and tap on Language. From here you are given the following language options:
German
English
Spanish
French
Chinese
Some of these also include different regional accents, including:
English (United States)
English (Canada)
English (India)
English (Australia / New Zealand)
English (United Kingdom)
Spanish (Spain)
Spanish (Mexico)
French (France)
French (Canadian)
You can tap on any of these, but the Alexa app then warns you that you are picking a language that does not match your Amazon account language, and is not fully supported in your country (we tried this in the UK with a British Amazon account). The warning adds: "If you make this change, some Alexa capabilities, skills, music and content may be unavailable."
You can tap OK to continue, but there is no information given on exactly what might be missing. You are then told that updating to the new language "may take a few minutes" and that in the meantime your previous Alexa language will continue to work.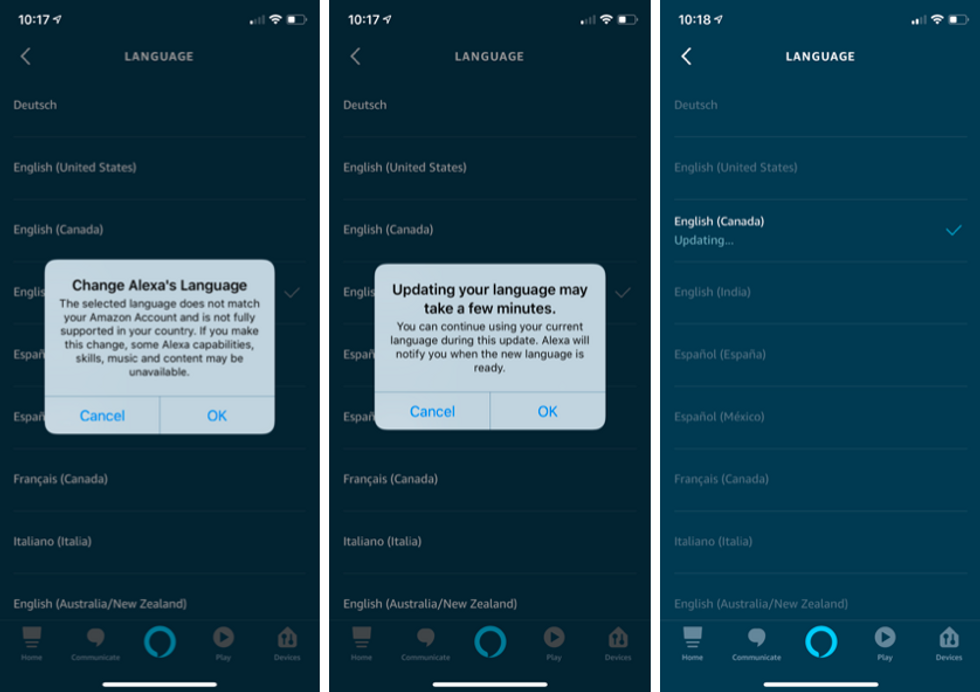 Alexa language change instructionsGearBrain
For us, it took about five seconds for the update to take place, whichever language we picked. We suspect this will depend on the speed of your internet connection.

Once updated, Alexa on the device you chose to change will now speak in the new language, or accent. We tried all of the English accents and found them to be quite accurate, with the Indian option sounding particularly natural and less stilted than we suspected it might be. Amazon has put the work in here, and it shows.
You'll then need to repeat this process to change the language back, or to make the change on any other Echo devices you own.
So, while Amazon still doesn't allow for a male or gender neutral Alexa, you can at least change the language and accent in a few easy steps.
From Your Site Articles
Related Articles Around the Web
Like GearBrain on Facebook