Like GearBrain on Facebook
When they launched in 2016, Apple's AirPods helped kick-start a new category for truly-wireless earphones.
In the years since, AirPods have become the most popular wireless earphones in the world, with data released by Strategy Analytics in January 2020 stating Apple has a 50 percent share of the global wireless earphone market, all to itself.
Read More:
But a major problem shared by all truly wireless earphones is how easily they can be lost. With no wire connecting them to your phone, or to each other, it doesn't take much to drop one, potentially down a grate, or onto a subway line.
The risk of losing a single AirPod is so great that Apple even sells individual earphones to those who have misplaced theirs.
Thankfully, to help mitigate against this, Apple has also created a system for finding your lost AirPods and AirPods Pro. This won't magically scoop your lost earphone up out of the grate, or have it levitate itself back up from the railway line. But it could help you find an AirPods dropped from your pocket on the walk home, or lost somewhere in the depths of your sofa.
Apple AirPods Pro
The Find My app
The system works using the Find My app, which comes installed by default on all new iPhones. Previously called Find My iPhone, the app can help you relocate your iPhone, iPad, Mac, Apple Watch or AirPods. It can also be used to remotely wipe and lock a lost phone or Mac, protecting your personal data from theft.
To get started with Find My, open the app on your iPhone (or download it from the App Store if you have previously deleted it) and follow the instructions.
The app will ask you to switch on Location Services on your iPhone, which is done by opening the Settings app, then tapping on your name at the top of the page, then tap Find My, and make sure everything is switched on. Crucially, you need to switch on the Share My Location setting. If this setting is not turned on, you won't be able to locate your AirPods as they won't sync.
Once set up with your iPhone, any AirPods or AirPods Pro synced to that phone will automatically appear in the Find My app when you open it. In other words, there is no setup required when you buy new AirPods; just connect them to your iPhone, and they will be added to the Find My app right away.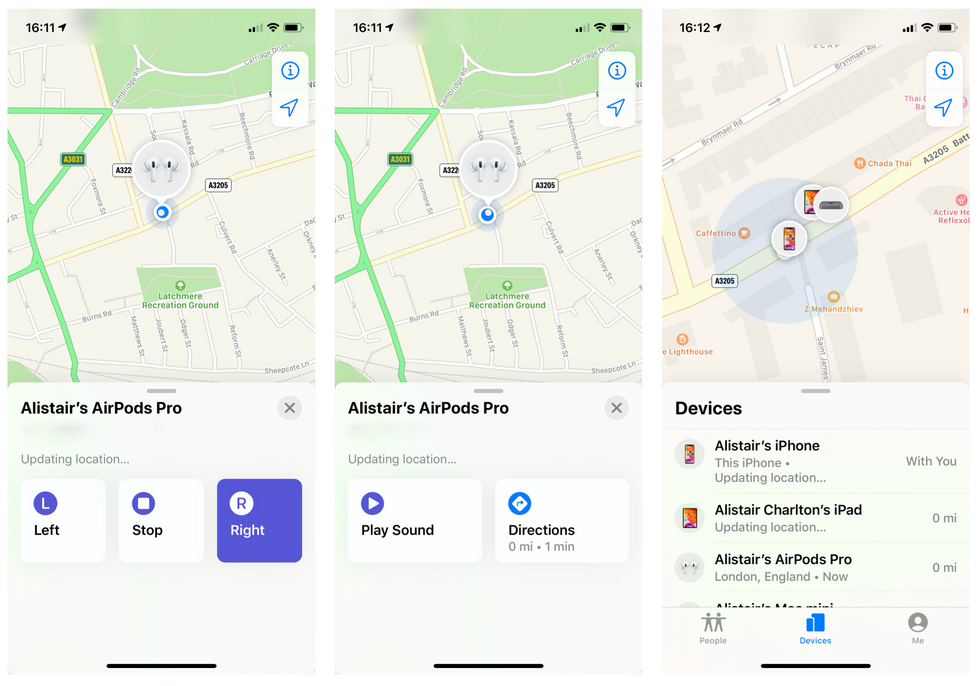 The Find My app plays a loud alert through your AirPodsGearBrain
Finding your AirPods

To find your missing AirPod (or AirPods) all you have to do is open the Find My app, scroll through the list of your devices, then tap on the AirPods that are missing. You will be then shown a map and the location where the AirPods were last connected to your iPhone, along with the approximate address, and the time they were last connected. (We have removed the written address from the images above, but can confirm it was accurate).
You can then tap on the Directions button to be shown the way to where your AirPods were last connected. Once you are there, hopefully the AirPods will reconnect to your iPhone (as they come into Bluetooth range, which is about 30 feet).
When they reconnect to your iPhone, the Find My app will alert you, and you can then tap on the Play Sound button in the Find My app. This plays a loud alert through your AirPods, helping you locate them. You can choose to play the sound through either or both AirPods, depending on which are lost.
At the same time, the Find My service sends you an email to say your AirPods have reconnected to your iPhone.
Be warned, this alert is very loud and shouldn't be tried when the AirPods are in, or even near to, your ears.
That said, if your AirPods were dropped outside somewhere, next to a busy road perhaps, you may struggle to hear the alert over passing traffic. It isn't anywhere near as loud as a ringing phone, or a Bluetooth tracker like those from Tile, for example. We should also point out that the sound can't be played if both AirPods are in their charging case, as in this state they are switched off and not trying to connect to you phone.
If your AirPods cannot be found, Apple lets you buy replacements and new charging cases without having to buy a whole new set. The price of a single replacement AirPod is $69, while a single AirPod Pro costs $89.
Apple also sells replacement charge cases. The regular case for AirPods costs $59; the case with wireless charging costs $79, and the case for the AirPods Pro is $99. Finally, a new pair of rubber tips for the AirPods Pro cost $3.95.
Catalyst Airpods Case Protective Silicon Cover, Compatible with Airpods Charging Case for Airpods 2, LED Light Visible, Compatible with Wireless Charging, Carabiner, Waterproof - Slate Gray
From Your Site Articles
Related Articles Around the Web
Like GearBrain on Facebook