Like GearBrain on Facebook
When it launched earlier in 2019, the long-awaited sequel to Apple's phenomenally popular AirPods wireless earphones wasn't quite what we had expected. Instead of a noise-cancelling, health-tracker device, the AirPods 2 offered smarter Bluetooth pairing and the option for a wireless charging case.
Surely there must be more, we asked ourselves as AirPods 2 quietly appeared on Apple's website.
Read More:
Now, thankfully, the update we have patiently waited for has arrived. Rather than being the AirPods 3, the new headphones, called AirPods Pro, are a more expensive option for those who value noise cancelling above all else.
They take the recognizable AirPods design, shrink it slightly (wave a fond goodbye to those awkwardly long white stems), and introduce a smart active and passive noise cancelling system. They also promise improved sound quality, hands-free access to Siri, around four hours of battery life (plus five more charges from the compact case), and effortless pairing with your iPhone - although they work as regular Bluetooth earphones with Androids and everything else, too.
Are the AirPods Pro worth their inflated $250 price? Can they really offer active noise cancelling to match much larger over-ear headphones from the likes of Bose and Sony? Read on to find out.
Design and hardware

The design of the AirPods Pro is new but immediately familiar. They retain the glossy white finish of the regular model (AirPods Amateur?) despite rumors of multiple color options, and the stem is still there, but shorter and far more subtle than before.
The other end of each earpiece is slightly larger than before, likely due to them housing more components, including a couple of microphones each, one listening to the outside environment, and one inside your ear.
Interchangeable silicon tips are also new, with three size options - small, medium and large - included in the box. These are tricky to remove, requiring such force that you'll worry you are breaking your shiny new AirPods, but easy to attach, and they fit snugly in my ear.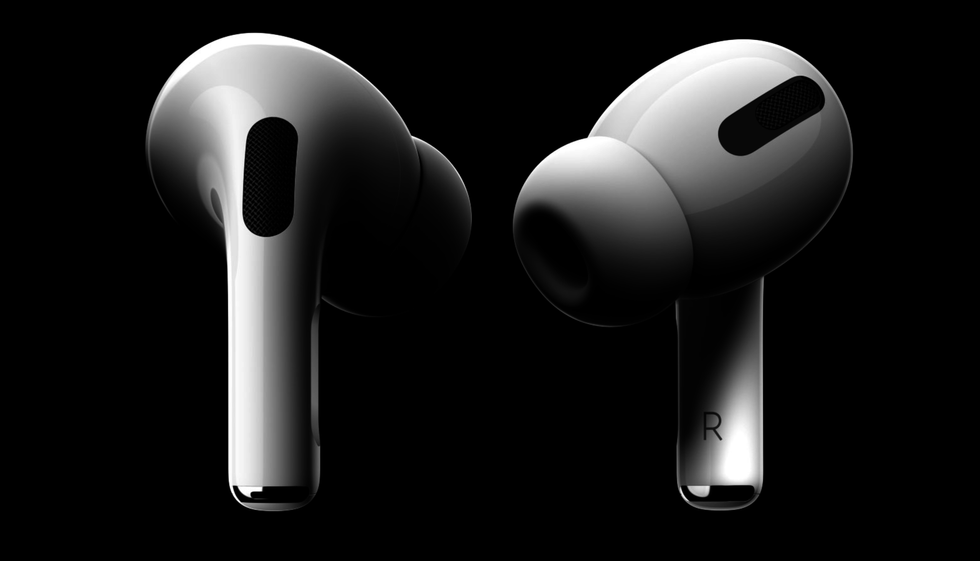 The earphones have a vent to reduce inner-ear pressureApple
Also new is a vent on each earpiece designed to stop pressure building up in your ears, which can become uncomfortable over time, especially with noise cancelling ear- and headphones.

I've been using the AirPods Pro for a couple of days almost non-stop, and haven't suffered from any discomfort at all. I switched from the medium tips installed by default to the smaller pair, and have zero complaints with how they fit in my ears. Of course, everyone's ears are different so your mileage may vary.
The case is also slightly different to the regular AirPods, being wider and shallower to accommodate the near earpiece design. It still clicks open and snaps shut as before, and there is Qi wireless charging as standard, so you can use any smartphone charging pad to top up the battery.
The case can also be charged via its Lightning port, and Apple includes a USB-C to Lighting cable in the box. Don't worry if you don't have a USB-C wall plug or a Mac with those ports, as the case charges with the Lighting cable that came with your iPhone, too.
Finally, the new earphones have an IPX4 water resistance rating. This means they won't be damaged by a light rain shower, or from sweating in the gym; this is something the regular AirPods miss out on.
Setup

Setting up the AirPods Pro reminded me of just how much attention Apple pays to the details. I see this as an extension from its thoughtfully-designed and easy to open retail packaging, and it really helps to convince the buyer that spending a premium was the right thing to do.
Of course, you'll need an iPhone to enjoy the full setup experience, and that iPhone must be running iOS 13.2 or newer.
From there, it's remarkable simple. Opening the AirPods Pro case starts the pairing process, which is completed with a few taps of your iPhone's screen. This process includes a test to make sure the AirPods fit well and provide a good seal between your ear and the outside world - that way, the noise cancelling will work at its best. The setup system tests each ear, and if required may suggest you use different tips - small on one ear and medium on the other, for example - to get the best fit.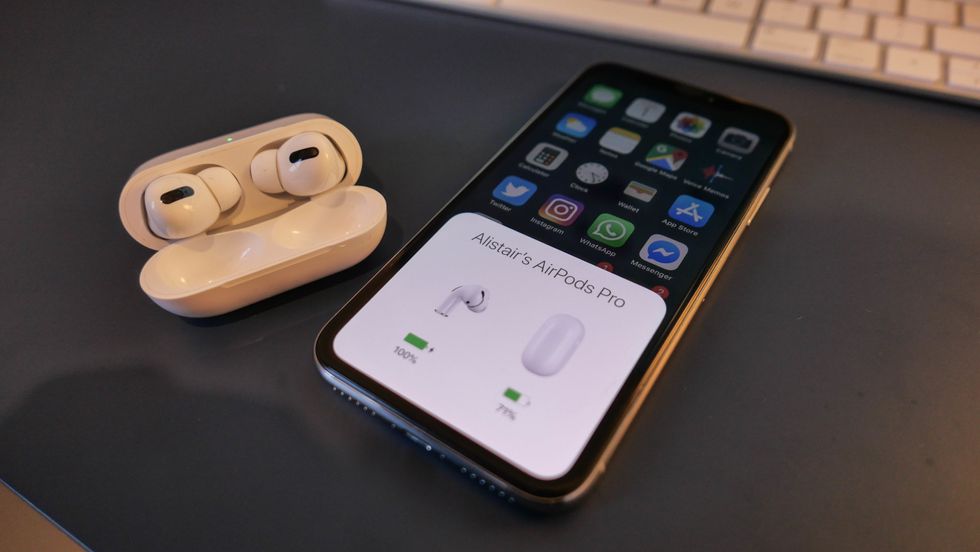 Setting up the AirPods Pro is simple and takes just a few secondsGearBrain
This brief minute or two of hand-holding is polished and helpful without being patronizing or feeling like an unnecessary barrier between you and your music. Once complete, the AirPods Pro are ready to use, and you can always go through the process again if you feel something isn't quite right.

For all other devices, the AirPods work like any other Bluetooth earphones. They will pair with Android phones and work just fine, but doing so means you'll miss out on being able to check the battery levels and adjust the noise cancelling on your phone, of course there's no Siri on Android. The AirPods cannot be used to talk to any other voice assistant.
Noise cancellation
Noise cancelling is by far the biggest feature of the AirPods Pro. First, sound is passively blocked with the use of those silicon tips, then microphones are used to implement active noise cancelling.
This system, as on other headphones from the likes of Bose, works by listening to your environment - the hum of a subway train or airplane cabin, for example - then creates a sound which is the opposite, called anti-noise. This cancels out the original sound, creating artificial silence in your ears, which your music can cut through cleanly.
Right out of the gate, the active noise cancelling of the AirPods Pro is remarkable. Because the technology has always been associated with bulky over-ear headphones, experiencing a similar effect from tiny earphones is a real surprise. They don't create total silence, and they don't block out your environment as well as headphones like the Bose QC35, but they still do a very good job.
For the first time, I've been able to listen to a podcast on an underground train without using bulky headphones. When traveling light and not wishing to carry big headphones, the pocket-friendly AirPod Pros make for a superb substitute.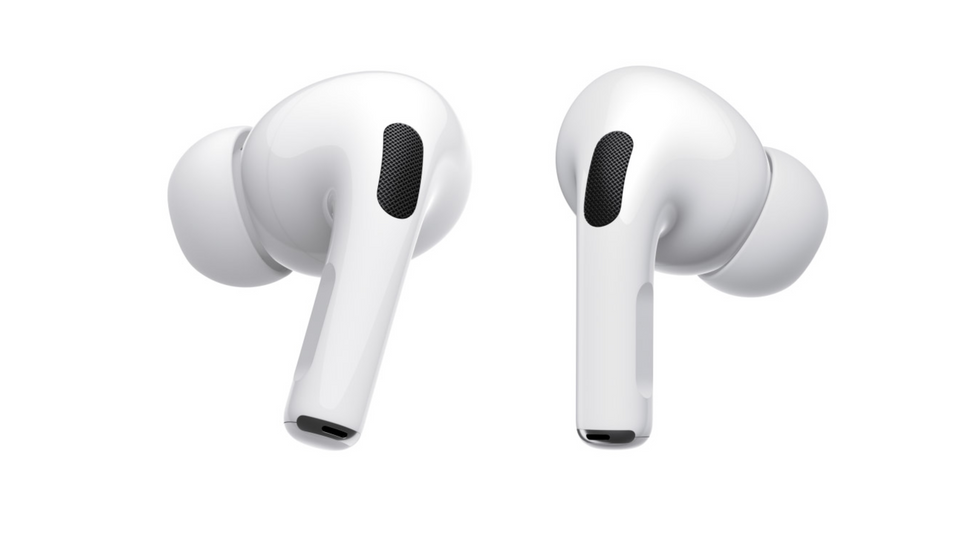 The stems are shorter than on the regular AirPodsApple
Although I found the noise cancelling works really well while out and about, if sat at home in a quiet room it can feel a bit weird, like other noise cancelling systems do. It feels like there's a little bit of pressure on your ears, so when in a quiet environment, I prefer to have the system switched off.

Noise cancelling can be switched on or off in the Control Center page of your iPhone. Alternatively, squeezing a pressure-sensitive panel located on both earphones enables what Apple calls Transparency mode.
This lowers the noise cancellation and uses microphones on the outside of the earphones to help you hear clearly - when someone is asking for directions, for example, or the cabin crew want to take your meal order. Transparency mode completely cuts through the muffled, underwater feeling earphones with silicon tips can cause.
I've been impressed so far, and am keen to try the AirPods Pro on a plane to see how they compare to the Bose QC35, and if they really can replace the jet-setter's headphone of choice.
Sound quality
It was always said that the earphones included with Apple's iPods and iPhones weren't much good, and they were guilty of badly leaking sound, much to the annoyance of anyone stood nearby.
The original AirPods helped reverse this by offering surprisingly good sound quality for their size, and the new Pro model takes this a step further. This is mostly thanks to them operating across a larger frequency range and having a slightly larger chamber, meaning more space for the speakers to push air around.
Much like their noise-cancelling abilities, the sound quality of the AirPods Pro is surprisingly good. Bass is punchy, the mid-range is detailed, and highs stay tight without falling apart at higher volume. There isn't quite the depth and breadth to compete with an equally-priced pair of on- or over-ear headphones, and the bass might feel inadequate if you're using to it being on the higher side. But I feel the AirPods Pro will please most of the people, most of the time.
To help improve sound quality across a broad spectrum of music the AirPods Pro use their internal microphones to listen to what you're hearing, then make small adjustments to their output, based on the shape of your inner-ear, up to 200 times per second.
During my time with the AirPods Pro I kept coming back to the same question; would the effort of carrying around a larger pair of headphones (and their better sound quality) be worth it? The answer was often no, as the AirPods' convenience outweighed all other factors.
If I was at home and wanted to dedicate time to just listening to music on my own, then I'd switch to something better, of course, but for almost all other occasions, the AirPods Pro quickly became my default choice, and their small size meant they went everywhere with me.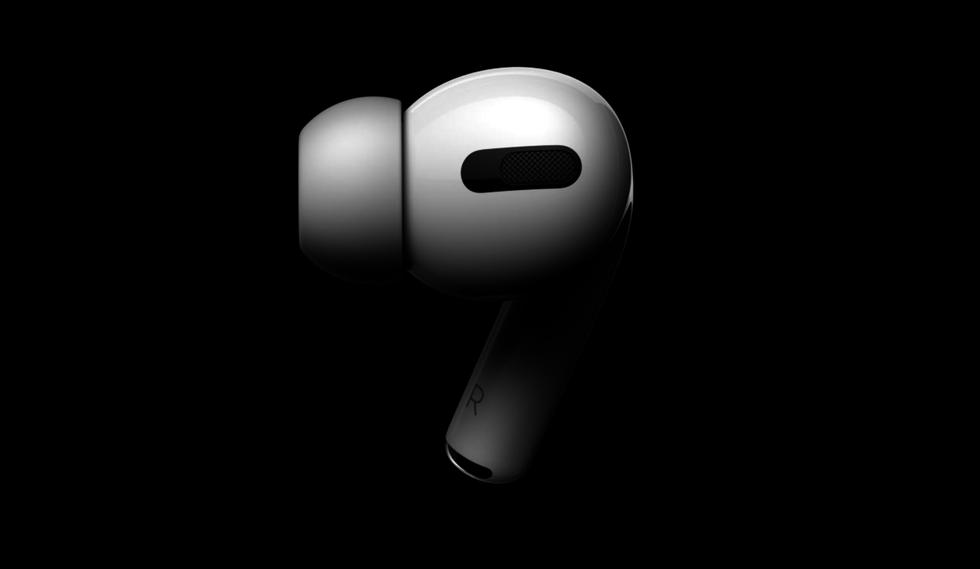 AirPods Pro are available nowApple
Battery life

Apple claims 4.5 hours of battery life for the AirPods Pro, and a total of 24 hours when using the charge case. I found this to be accurate, with the earphones giving a beep to let me know they were running low after about four hours. Sitting them back in the charge case for five minutes gives enough charge for a further hour of listening.
This is all well and good for daily use, but I think the constant charging could become annoying on a long-haul flight, where over-ear options from Bose and Sony block more noise and last far longer before needing more juice.
That said, for use on your daily commute the AirPods Pro last plenty long enough, especially considering the compact size and the fact running active noise cancelling is running at the same time.
Verdict

Much like a camera, the best headphones are the ones you have with you. If that happens to be a premium pair of over-ears with a beautiful leather and metal design, superb noise- cancelling and bass to rattle your ribcage, then great, use those.
But if you don't have a bag with you, don't want to deal with the conspicuous look of huge headphones, and aren't about to step onto a transatlantic flight, then the AirPods Pro tick a lot of boxes. They are small, comfortable, more discreet than the regular AirPods, with surprisingly good sound quality, good sound isolation, a secure fit, and effective noise cancelling.
While they don't quite create silence, they still cut out much of your surroundings in a way the regular AirPods simply can't manage.
Add to this the simplicity with how they are set up and paired with Apple devices, and it's hard to raise any real fault with the AirPods Pro. Even the price, which appears fairly steep at $249, isn't too bad if you bear in mind the regular AirPods with their optional wireless charging case cost $199. My only real gripe is the lack of volume controls, so you've to reach for your phone - or ask Siri, which surely no one will do.
What the AirPods Pro do best is earn a 'surprisingly good' score across the board, while being easy to use, comfortable, and pocket-friendly. As much as I love using 'proper' headphones like my Bowers & Wilkins PX, they are huge, don't sit comfortably on my neck when not in use, and their case takes up half of my backpack. For listening to music alone at home, they are excellent. But for every other occasion from now on, I'll be reaching for the AirPods Pro first.
Pros:
Decent active noise cancelling
Good sound for their size
Simple setup
Cons:
Pricey
Four hours of battery is only just enough
Android users lose some functionality
Like GearBrain on Facebook