The biggest feature of Apple's new AirPods Pro earphones is their active noise cancelling (ANC). Like many other earphones and headphones with ANC, the AirPods Pro use microphones to hear the wearer's surroundings, then use an algorithm to create the opposite sound. Called anti-noise, this is played into your ears and creates artificial silence.
To frequent flyers, this is nothing new. Board any flight and you will undoubtedly see a lot of headphones with ANC. In my experience, you're likely to see Bose headphones everywhere, along with fewer passengers sporting options from Sony, Beats and Bowers & Wilkins.
Read More:
I've used the $350 Bose QC35 headphones for the last four years and swear by their comfort, sound quality and noise-cancelling technology. Their ability to drown out the never-ending thrum of an airplane cabin is bliss on long haul flights, even if I'm not actually listening to anything.
But, having bought the $250 AirPods Pro and been impressed by their ANC, I was curious; could the tiny Apple earphones really create silence as pure as that of the Bose? I've just boarded an 11-hour flight from London to Los Angeles and I'm about to find out.
I start with my trusty and familiar Bose QC35. They take up a chunk of space in my bag and fit awkwardly in the stowage space by my airplane seat, but they've already made up for this with their ability to cocoon me in near-silence. And their 20-hour battery life means they can survive the longest flights, and often see me return home again before needing a recharge.

The silence they produce as we push back from the gate is immediately familiar. Paired with the soft embrace of the leather ear pads, which rest around one's ears and not on them, the anti-noise blocks out most of the hustle and bustle of boarding and pre-flight checks. Half an hour later, and as the Boeing reach cruising altitude I'm listening to a podcast with my iPhone's volume at about 60 percent. There's a constant hum in the background, and harsher noises from the galley, of drinks bottles and the occasional laugh from cabin crew, sneak through, but remain unintelligible.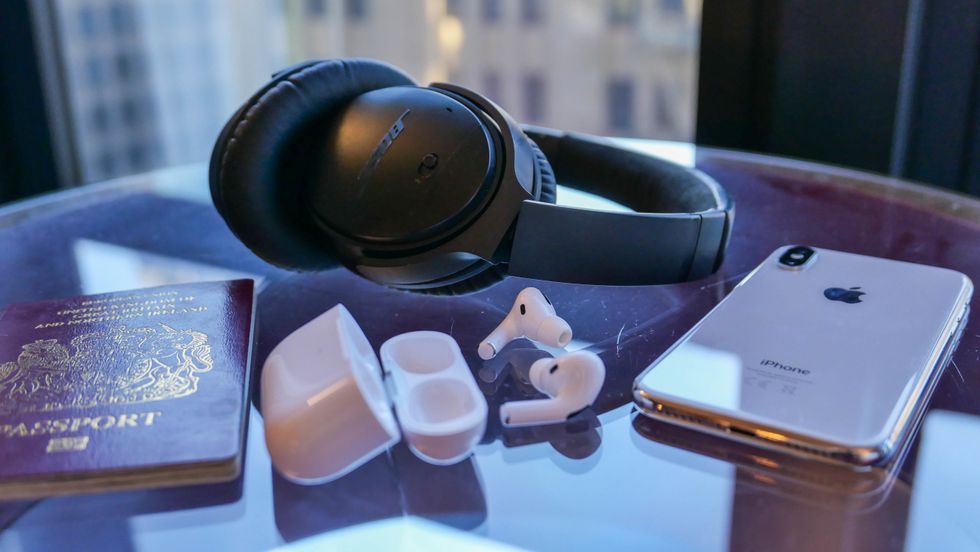 Both offer a similar level of noise cancellationGearBrain
I then switch to the AirPods Pro, which connect to my iPhone as I remove them from their charging case. I push one into my right ear, sensing the silicon tip perform some passive noise cancelling as it fits snugly into place. I then insert the left earphone, and a moment later the active noise cancelling kicks in — and it is every bit as good as the Bose QC35. Perhaps slightly better.

We're brought up to assume bigger is better, so for the tiny AirPods Pro to produce ANC as good as a big pair of Bose headphones is astounding.
Not entirely convinced by my own hearing, I switched between the two over the course of an hour-long podcast, and ultimately decided that the Apple earphones were blocking out more noise than the Bose headphones. There was still noise, of course — airplane cabins are loud — but I felt a larger amount of noise was blocked by the AirPods. This is likely due to them physically blocking out sound with their silicon tips as well as using ANC.
Because flights quickly get boring, I also tried to place the Bose over the top of the AirPods, both running their ANC at once. The result was strange, didn't produce total silence, and I wouldn't recommend it. Plus the passenger next to you will think you're pretty weird.
So, while I felt the AirPods Pro offered better noise cancelling than the Bose QC35 (a sentence I am still struggling to believe as I type it), that isn't the end of the story.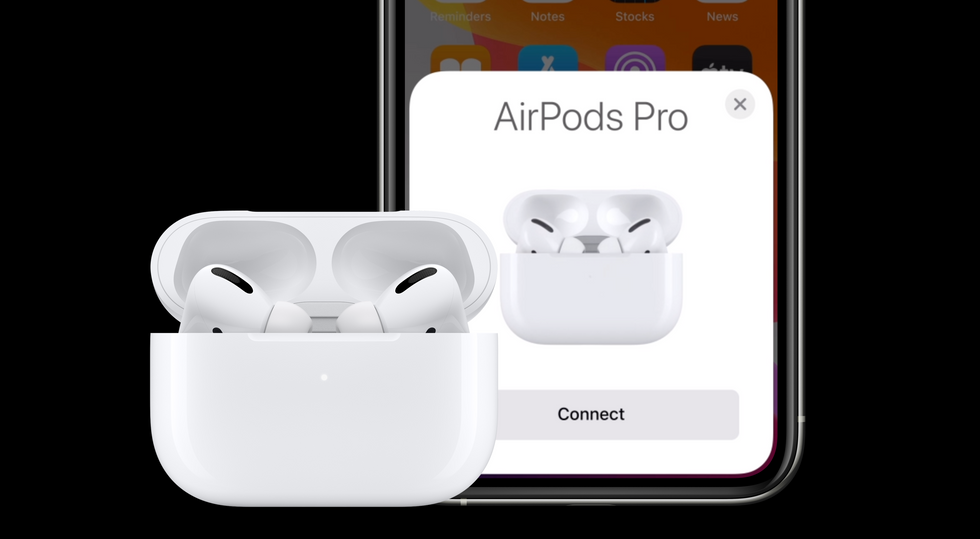 AirPods work with all Bluetooth devices, but the iPhone gets some benefitsApple
The Bose's sound quality is better, for a start. It isn't as night-and-day as it is with the regular AirPods, but the larger speakers of the Bose mean they deliver a broader, fuller and generally higher-quality sound compared to the AirPods. The battery life is also four to five times longer, and on my flight to LA I had to recharge the AirPods once using their charge case, which meant not using them for a little while until the batteries refilled. With the Bose, I've previously worn them non-stop for 11-hour flights, no charging required.

Comfort, as alluded to earlier, is also a factor to consider. The AirPods become a little tiring after a few hours, whereas the Bose simply do not. The ear pads are comfy for hours at a time, and the headband doesn't cause any discomfort either, unlike the Bowers & Wilkins PX, which I adore for their design and sound, but found they hurt the top of my head after an hour or so.
Apple AirPods with Charging Case (Latest Model)
But, all that said, everyone's ears are different and your mileage will vary.

Another detail I wanted to address on this flight is the 'Transparency Mode' of the AirPods Pro, which uses their external microphones to amplify your surroundings, sending it directly into your ears to overcome the sound-blocking properties of the silicon tips. This mode is activated with a second-long squeeze of the earphone stem, and is designed for speaking to the flight attendant without removing them from your ears.
While the mode clearly works, I couldn't quite get over the social weirdness of talking to someone with AirPods clearly wedged into my ears. My instinct was always to remove one (which automatically pauses the audio and switches off ANC) to speak to someone, rather than giving the AirPod a squeeze and hoping the system works correctly.
Although I arrived in Los Angeles with two AirPods present and correct, removing them whenever you want to speak will surely increase the probability of dropping and potentially losing them, compared to popping off the Bose QC35 and letting them rest on your neck.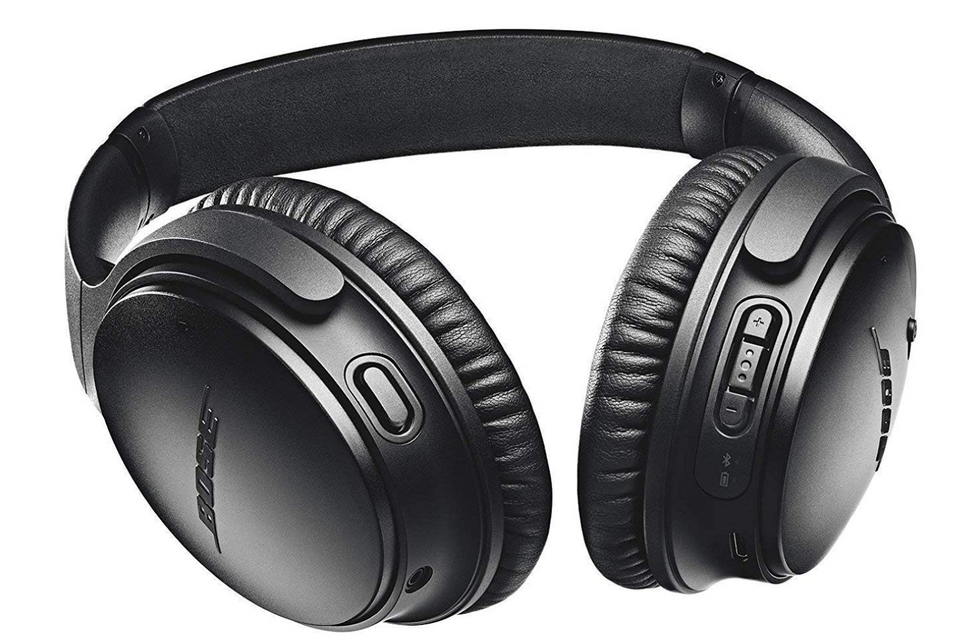 Bose QC35 noise-cancelling headphonesBose
But, while the Bose wins that particular round, I place a greater value on the AirPods' ability to slip into my pocket — charging case and all — instead of taking up a not unreasonable amount of space in my bag.

At this point I'd like to address using these earphones with a plane's in-flight entertainment. Because these systems don't yet offer Bluetooth natively, you'll need to either pack the adaptor (or a 3.5mm cable) with the Bose, which I forgot to do, or a Bluetooth adapter to plug into the socket and connect to with their AirPods Pro, which I don't own. Buying one would let me connect both earphones to the in-flight screen without issue.
Bose QuietComfort 35 II Wireless Bluetooth Headphones, Noise-Cancelling, with Alexa voice control, enabled with Bose AR - Black
Somewhere over the Atlantic, I decide to get some sleep. On previous flights I'd attempt to rest in a way where the Bose remained over my ears, but without the microphones touching anything, otherwise the wearer is subjected to a harsh rustling noise.

Instead of battling with the microphones, I opt for the AirPods. This was the right choice, as they stay in my ears and maintain a good enough seal in my ears, despite resting against a pillow. Their battery lasted plenty long enough to sustain artificial silence for the four hours or so that I napped. Strangely, the left AirPod gave out a brief high-pitched whine when pressed in a certain way. I don't know what caused this, but it only lasted for a brief few moments while getting comfortable against the headrest. Rustling through the microphones wasn't an issue, as it can be with the Bose.
I then placed them in their charger for a few minutes while I freshened up, giving them enough battery to listen to a podcast for the last hour or so as I approached Los Angeles. Remembering to charge them little and often — every time you go to the bathroom, perhaps — is the key to getting the most out of AirPods on a long flight.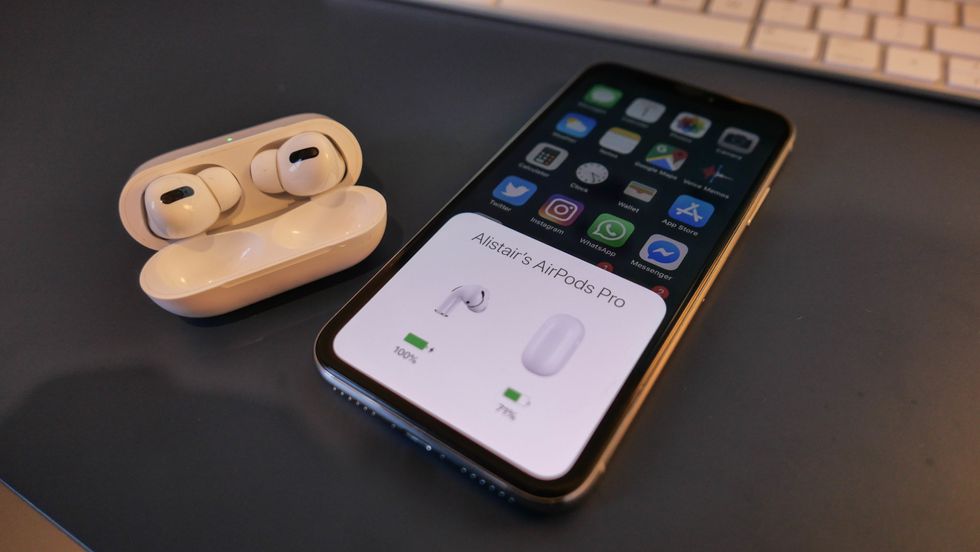 Four hours of continuous battery life can be a limitation of the AirPodsGearBrain
All of this leaves me somewhat conflicted. Impressed, but conflicted. As much as I feel I should always carry the Bose with me on a long flight, because they are recognized pretty much globally as the go-to flight companion, I'm now no longer sure if the compromise of their bulk is worth it compared to the AirPods Pro.

I suppose if I had to transcribe hours of interviews quickly, therefore needing audio with noise cancelling for an entire transatlantic flight, I may opt for Bose over Apple. But even then, an occasional break to recharge wouldn't be a problem, and the AirPods remain remarkably comfortable, even after several hours' use at a time.
Arriving at the Los Angeles International Airport, I think once I've bought a Bluetooth adapter to connect my AirPods to the in-flight entertainment system, I'll have the perfect package. I didn't really want this to be the case — I love my Bose and wearing them on a flight just feels right — but what Apple has achieved here is remarkable.
I know this setup won't work for everyone, and ultimately the Bose will for most people remain more comfortable for longer, but the packaging and convenience of the AirPods is a huge factor here, and one I suspect will result in many taking the place of larger headphones on future flights. Give it a try — like me, you're probably in for a pleasant surprise.