Like GearBrain on Facebook
As many of us crave an opportunity to socially distance ourselves from reality, virtual reality headsets are in incredible short supply.
The Oculus Quest, widely regarded as one of the best VR headsets on sale today, thanks to its room-scale capabilities and reasonable price, is now continually out of stock at most retailers. As a result, third-party sellers are charging a hefty premium.
Read More:
Oculus Quest All-in-one VR Gaming Headset – 64GB
The problems for Facebook, which owns the Oculus brand, are numerous. From mid-2019, the Oculus Quest, which starts at $400 and does not require a PC, console or smartphone to function was already, pre-pandemic, in short supply simply due to simply being a popular product. Facebook said even then that the Quest was selling "as fast as we can make them."

Then the coronavirus hit China, and by early February 2020 Facebook had put measures in place to protect its employees involved with the Chinese supply chain and manufacturing of Oculus products.
Facebook told Reuters at the time: "Due to the coronavirus we began taking additional safety precautions, which has compounded this [stock level] issue and is why we expect additional impact in production...Oculus Quest was already in high demand and back-ordered in several regions."
As the coronavirus swept across Europe and the US, lockdown measures came into force, temporarily closing businesses and limiting travel. Furloughed and stuck at home, consumers quickly turned to video games and other sources of quarantine entertainment.
At this point, the products already in short supply due to temporary Chinese factory closures were, however, exactly what quarantined consumers wanted. Stock levels of game consoles like the PlayStation 4, Xbox One, and especially the family-friendly Nintendo Switch were quickly exhausted, and prices on the second-hand market rose.
Even VR headsets at the top end of the gaming and virtual reality market are hard to find. The $999, PC-tethered Valve Index VR headset is suffering for repeated stock shortages and sell-outs. Valve emailed customers in early March to say some stock was on its way, but would likely sell out in a single day.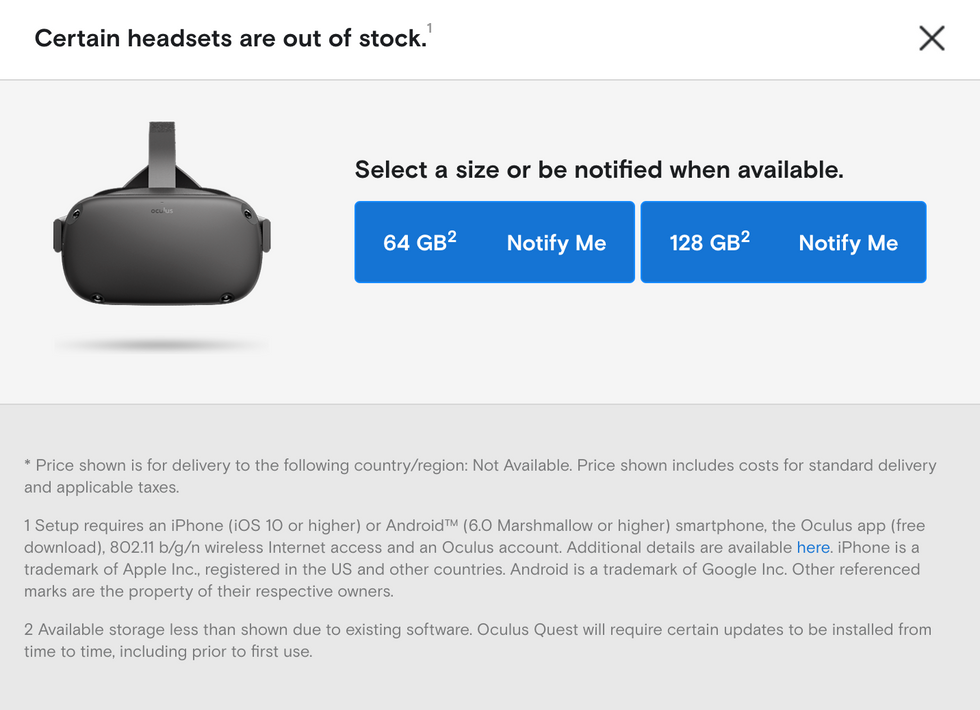 There is no Quest stock on the Oculus websiteOculus
When GearBrain looked at Amazon on April 27, we found just one Valve Index kit in stock, priced by a third-party seller at $1,950, an almost 50 percent markup on the recommended price. Other third-party sellers (also with a $950 markup) have adjusted the product titles to include phrases like "in hand, ships fast" to win sales.

It is a similar situation for the Oculus Quest. This headset is officially priced at $399 for the 64GB model, and $499 for 128GB of storage. And yet, with the headset widely sold out, the 64GB model is priced on Amazon at $543, instead of $399.
Other third-party sellers are showing similar markups, including eBay, where the 64GB Oculus Quest is available from various sellers for between $540 and $570.
Examples of the Quest sold by third-party sellers on Walmart are charging $570 for the $399 model, and $650 for the $499 version.

In almost every case, across Amazon and retailers like Walmart, these overpriced listings have received one-star reviews from consumers. Some sellers are even getting branded as "scalpers" taking advantage of demand outstripping supply during a global pandemic.
The Oculus website, where prices are fixed at the correct $399 and $499 level, has no stock is available. Instead, the 'buy now' button is marked 'notify me.' Click, and you'll be emailed when fresh stock arrives.
Inflated prices aside, it is difficult to say if a global pandemic really has helped increase demand for VR, or if shoppers who were always going to buy a Quest or a Valve Index are now struggling to do so, due to manufacturing delays.
That said, it perhaps shouldn't be surprising that consumers stuck at home are reaching out for a new reality to enjoy. It will be interesting to see if VR demand holds up once we are all on the other side of Covid-19, and normality returns.
Best VR Headsets for Under $100 by GearBrain www.youtube.com
Samsung HMD Odyssey+ Windows Mixed Reality Headset with 2 Wireless Controllers 3.5" Black (XE800ZBA-HC1US)
Like GearBrain on Facebook