Like GearBrain on Facebook
With the world in lockdown, video chat apps like Houseparty have become hugely popular. But pandemic social isolation is a marathon, not a sprint, and what we could do without is Houseparty's constant notifications driving us all crazy by week three.
The app itself is pretty good — you can read more about what we thought here — but the default notification system is annoying. Notifications buzz your phone every time a Houseparty friend of yours merely opens the application. The app also alerts you every time someone in your phonebook installs the app, and of course there are messages each time your friends actually get together and invite you to the party.
Read More:
You only really need the latter, unless you really want to be told every single time every friend opens the app. Thankfully, there are settings menus in the app and your phone itself to get your Houseparty notifications under control.
Sneak into the house
First, a useful trick for iPhone users. You can 'sneak' into the app — in other words, open it without anyone receiving a notification — by long-pressing on the Houseparty app icon, then tap the 'Sneak into the House' button.
Sneaking into the app also works when you tap on an incoming Houseparty notification. That way, when you're told someone has opened the app, you can tap the notification to get in without alerting anyone else. It's a bit like a friend smuggling you into an actual party through the back door.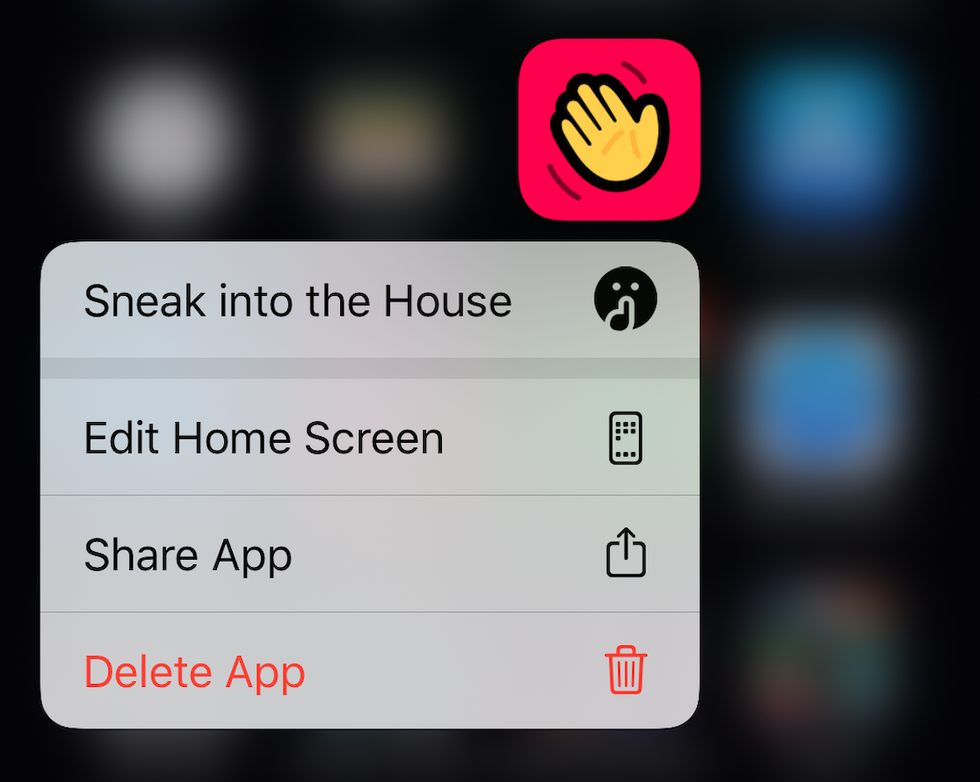 Houseparty 'sneak' tipGearBrain
Ghost everyone

This may sound a bit extreme, especially in a time when social interaction is at a premium, but it's not as drastic as it sounds. Ghosting is the phrase Houseparty uses in its own set of house rules, and means that friends who are ghosted will no longer receive those annoying 'in the house' notifications when you open the app.
To ghost your friends, open the app (or sneak in), then tap the face icon into the top-left corner, then tap Manage Notifications.
From here you can switch off 'Send Out My Notifications' to effectively ghost everyone, meaning no one will be told when you open the Houseparty app.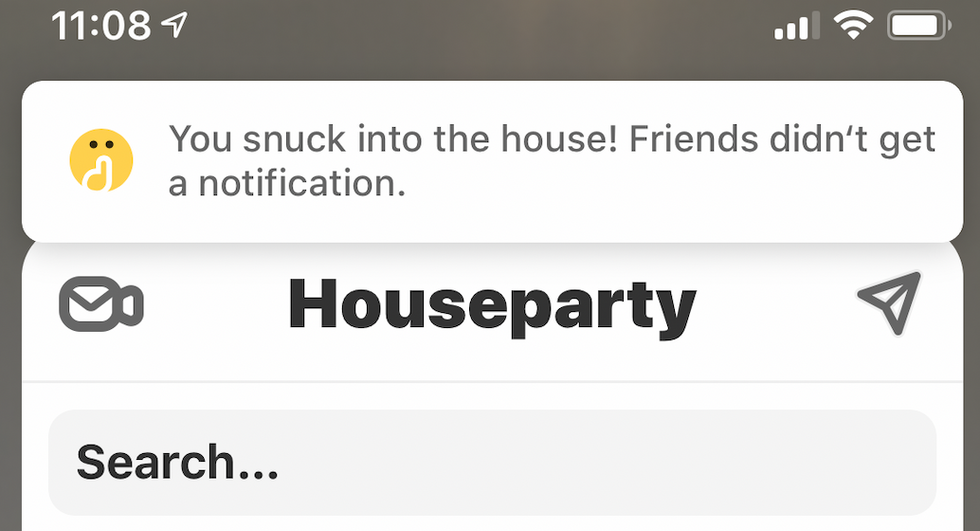 Sneaking into the partyGearBrain
Alternatively, you can choose to ghost individual contacts, so only those who remain un-ghosted are the ones you are alerted when you open the app.

This page also lets you switch off 'Get My Friends' Notifications.' Toggle this off and you will no longer receive those 'in the house' alerts every time a friend opens the app.
With both of these switched off, you will still receive notifications when a contact calls you, invites you into a video chat, or sends the 'hi' notification, which we think is a good compromise.
Restricting iOS notifications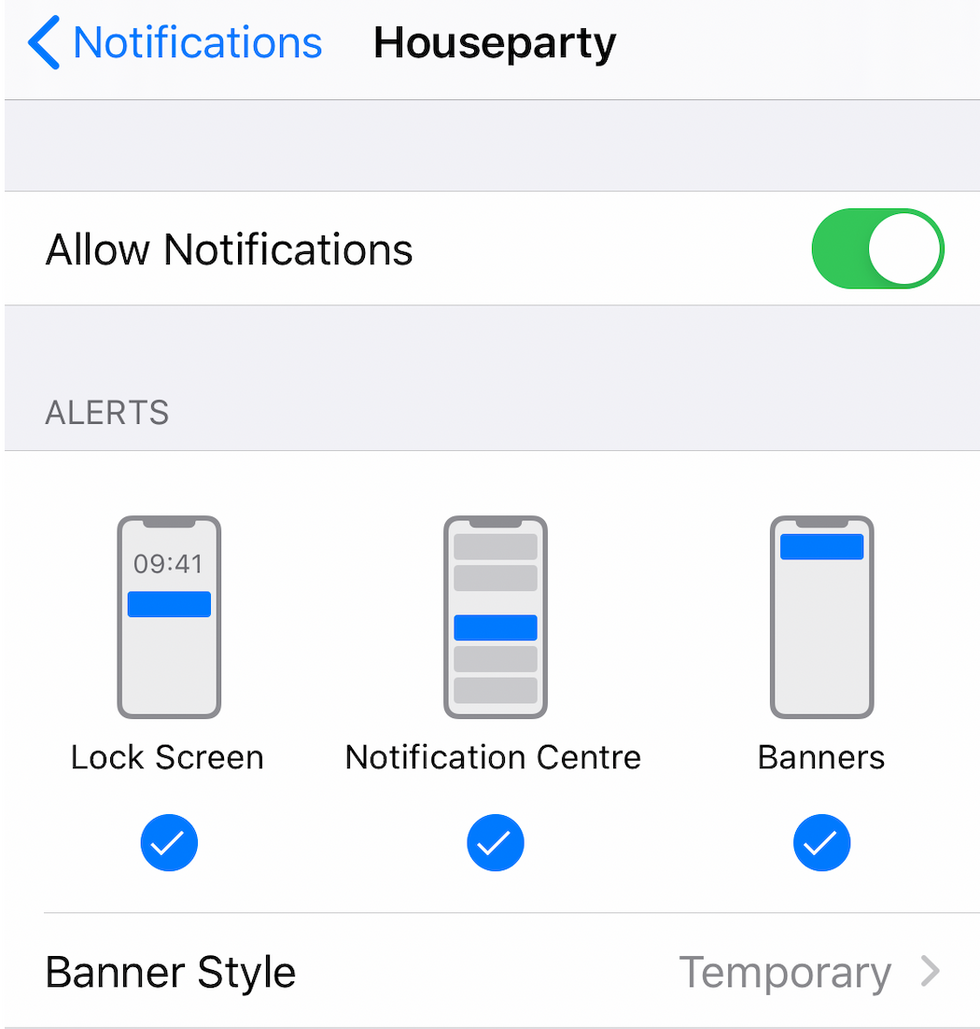 Notifications for all apps can be adjusted in the Settings appGearBrain
Of course, you can also limit notifications at a system level by going into your phone's settings menu. For iPhone users, this means opening the Settings app, then tapping on Notifications, then Houseparty.

Here you can turn notifications for the app off entirely (meaning you won't know when a friend invites you to a party), or change how they look. You can have them appear on the lock screen or not, appear in the Notification Center or not, and appear as a drop-down banner at the top of the screen, or not.
You could turn all of these off, but leave Badges open, where the notification number appears in a red circle on the Houseparty app icon.
Restricting Android notifications
The same system is in place on Android too. Go into the settings app, then tap on Apps & Notifications, and tap on Houseparty. From here you can fine-tune how you want Houseparty's notifications to appear on your phone.
Like GearBrain on Facebook