Like GearBrain on Facebook
As most of the technology we own becomes more attractive each year, adorned with sleek lines of glass and aluminum, the humble printer has been left to look like a 90s relic, gathering dust, taking up space and rarely working properly since the day we bought it.
HP has this week set out to change this with a new printer called the Tango. This is a fairly standard wireless printer, complete with smartphone app for printing from your computer across the room without hunting for the right cable.
Read More:

But beyond that, the Tango also connects to the web (not just your Wi-Fi network), meaning you can print documents and photos from anywhere, via the app. That way, you can send printed vacation photos to family members the moment they are taken, or quickly scan a document with your phone camera and print it directly to the recipient's desk from anywhere in the world.
We can see the appeal of sending printed photos directly to older family members who may not have a device like an iPad to conveniently view them on.
Tapping into HP's existing Instant Ink subscription service, printing photos from your phone is free. Just pay the monthly ink fee (which starts at $2.99), and photos printed from your smartphone at up to 5 x 7 inches will not count towards the pages included in your subscription.
HP is also leaping aboard the personal assistant bandwagon, giving the Tango access to three of the major ecosystems - Amazon Alexa, Google Assistant, and Microsoft's Cortana. With these onboard, you can ask your smart speaker (an Amazon Echo or Google Home, for example) to print a document.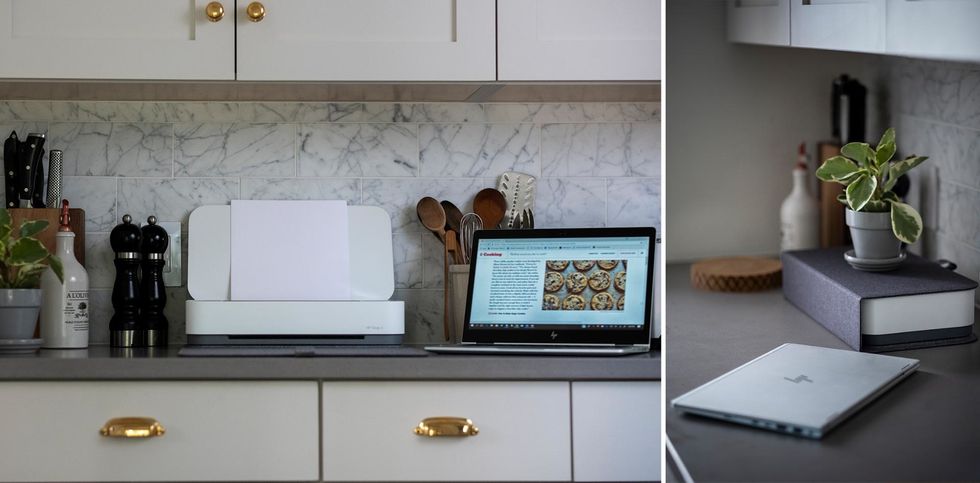 Hide a printer in your kitchen with fabric and a plant, suggests HPHP
Via the Alexa skill, you can say things like: "Alexa, ask my printer to print my shopping list", or: "Alexa, ask my printer to print metric graph paper".
Recognizing a certain ugliness shared by most printers, the HP Tango is offered with a linen cover which folds around the device and helps it blend into the decor of your home. The cover wraps around like a book sleeve. Of course, you still have to unfold the cover, open the paper tray and insert some sheets before printing anything - but at least the fabric cover means the printer is less of an eyesore when not in use.
The covers, which add $50 to the printer's $199 retail price, are available in indigo and gray, and a finish which pairs cork with red fabric.
Applying fabric to tech products is a growing trend in a bid to make gadgets more welcome in our living spaces. The Amazon Echo smart speaker range is a good example here, along with the Google Home and Apple HomePod. These will soon be joined by the Citation speaker range by Harman Kardon, which also features a fabric cladding to help make them more lounge-friendly.
Check out The GearBrain, our smart home compatibility checker to see the other compatible products that work with Amazon Alexa and Google Assistant enabled devices.
From Your Site Articles
Related Articles Around the Web
Like GearBrain on Facebook