Audio company Harman Kardon has just announced the Citation smart speaker collection at IFA, Europe's largest technology show in Berlin, Germany.
Going up against other high-end smart speakers by the likes of Sonos, Bose and Apple, the Citation collection includes four tabletop speakers, as well as a sound bar and a surround sound system comprising a subwoofer, tower speakers and surround sound speakers.
Full Disclosure: Harman Kardon covered GearBrain's flights to Berlin and accommodation to report from IFA 2018
Read More:
The entire Citation range has Google Assistant built in, so you can make song recommendations out-loud, or ask the assistant to look up something online, read the weather forecast, tell a joke, or control your smart home. Wi-Fi and Bluetooth is included on every model.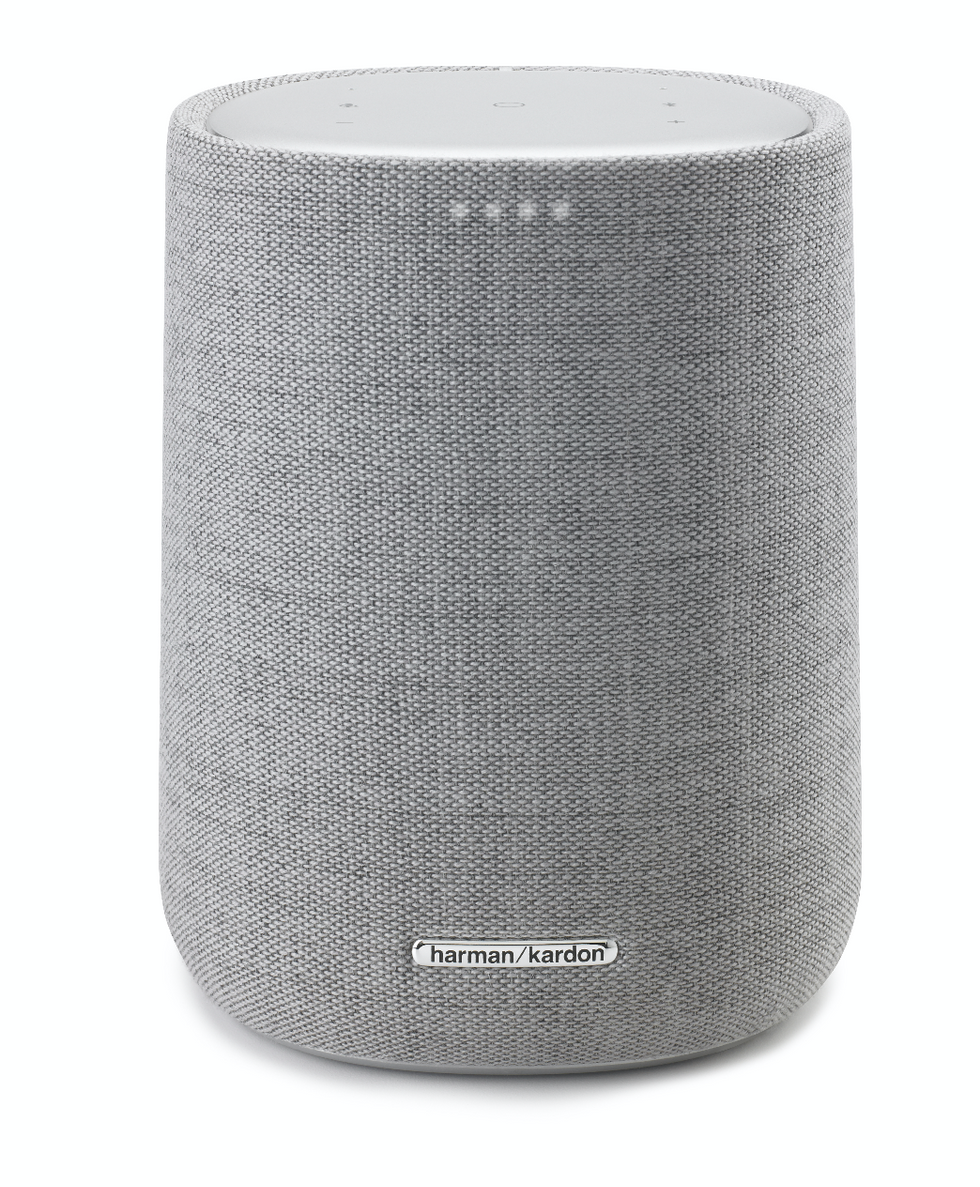 The Citation range begins with the entry-level OneHarman Kardon
All Citation devices also have Chromecast built in, so content can easily be played through them from a smartphone, tablet or computer connected to the same Wi-Fi network. Chromecast also gives the speakers access to over 300 streaming services.
Every member of the Citation range shares a similar design language, with aluminum details and fabric by Danish acoustic textile specialist Kvadrat; each model is available in black or gray, while the fabric is claimed to be dirt-repellant and fire-retardant.
Harman Kardon is clearly going after Sonos with the Citation collection. These are speakers which are attractive and offer powerful networking capabilities, where music can be played on several speakers simultaneously throughout your home, or a different track can be played in each room. The speakers can also be synced together to perform as a wireless 5.1 surround sound system.

The Citation range will be available for pre-order in Europe and the UK in October, while US consumers will have to wait until early 2019. US prices are expected to be announced at the CES technology show in Las Vegas in January, but it is understood that they will closely match the European pricing structure. For now, only the $600 Citation 500 has its US price confirmed.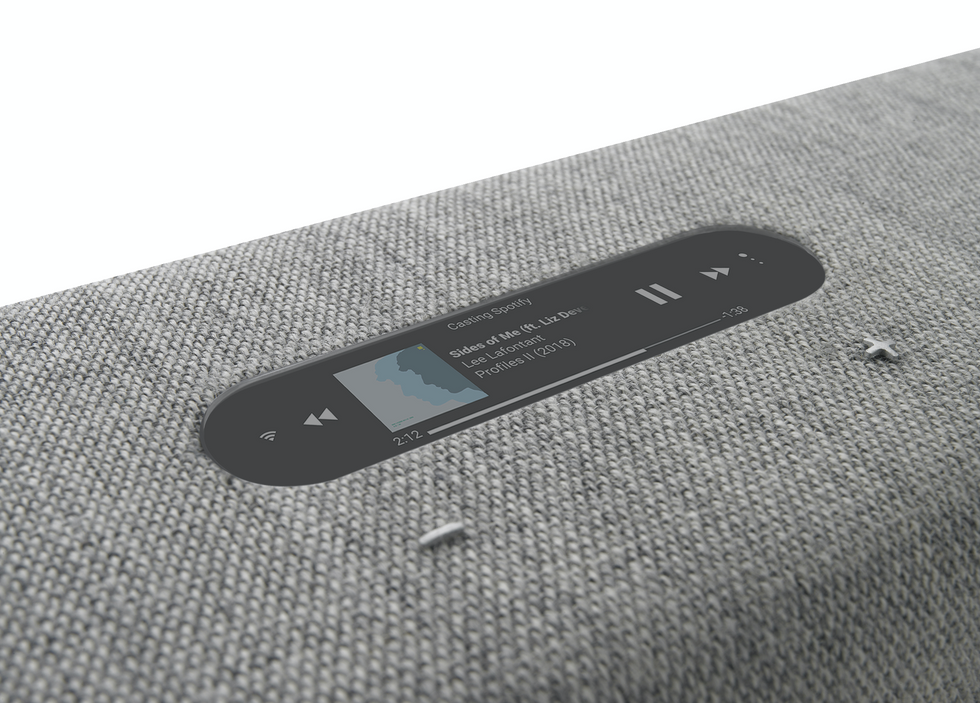 All members of the Citation range, apart from the One, have a color touch screen control panelHarman Kardon
The entry-level Harman Kardon Citation One has a power output of 40W, and with a price of €199 ($230) it is designed to compete closely with the $199 Sonos One. The Citation 100 comes next, a larger smart speaker with a 50W output and €299 price tag. Both have touch controls on the top for media playback, similar to the Sonos One, while the rest of the Citation lineup feature a color display for music control, complete with space for album art.
The larger, more premium models to be graced with a touch screen include the Citation 300 and 500, priced at €399 and €649 with outputs of 100W and 200W respectively. The Citation 500 is the only model so far to get a US price, of $600. Being larger than their stablemates, the 300 and 500 offer stereo sound instead of mono - something neither the Sonos One nor Apple HomePod can do without two being purchased and synced together.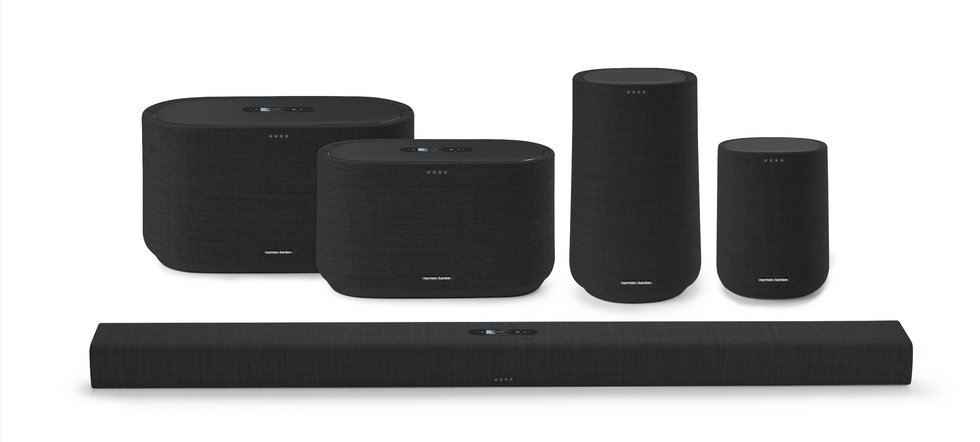 From left to right; the Citation 500, 300, 100 and One, with the Bar in frontHarman Kardon
Above these speakers sits the Citation Bar, an €899 sound bar with Google Assistant and Chromecast built in, the same fabric finish and black/gray color options, Wi-Fi, Bluetooth, and 150W of power. The sound bar connects to your audio/video equipment with three 4K-ready HDMI ports, and there are three channels of sound for left, center and right.
Finally, Harman Kardon has used IFA to announce a high-end Citation surround sound system. This includes a subwoofer (€799), a pair of tower speakers (€2,499) and a pair of surround sound bookshelf speaker (€449). All are finished in the same Kvadrat fabric, and the tower speakers include Google Assistant, Chromecast, Wi-Fi, Bluetooth, and a touchscreen on top. The subwoofer (called Sub) has a power output of 200W, while the Tower duo offer 200W each, and the Surround pair produce 50W each.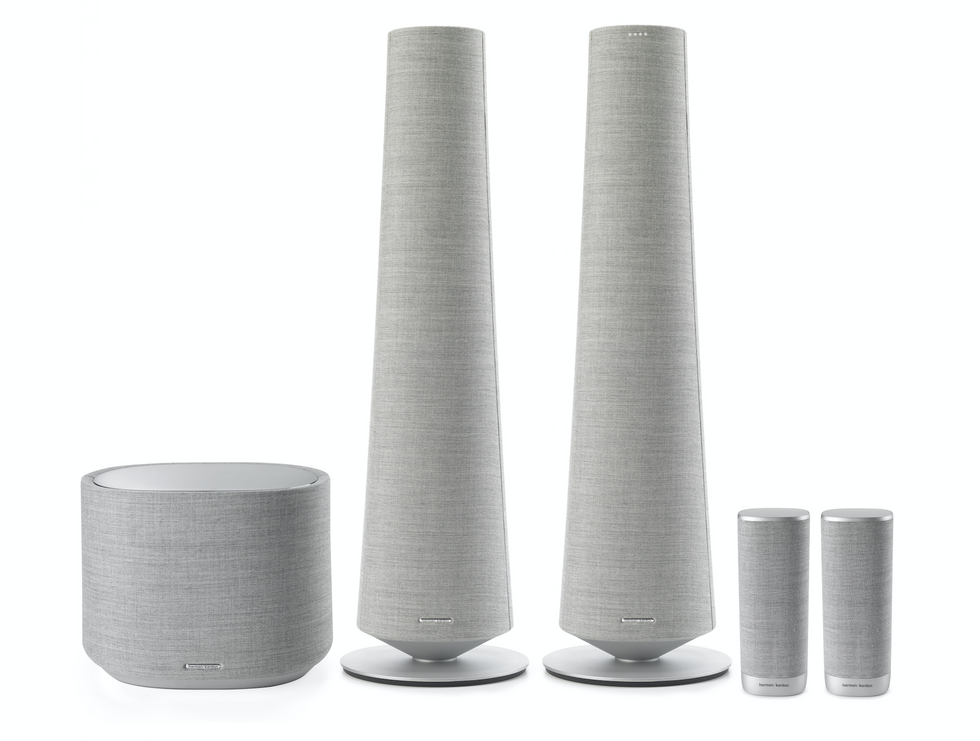 The Citation range-topping Tower, Sub and Surround speakersHarman Kardon
The Citation range will be available for pre-order from the start of October in Europe, while US customers will have to wait until early 2019, with prices expected to be confirmed at the IFA tech show in Las Vegas in January.
Elsewhere on the Harman stand at IFA this year is the JBL Link Bar, a sound bar with Chromecast, Android TV, and the Google Assistant built in.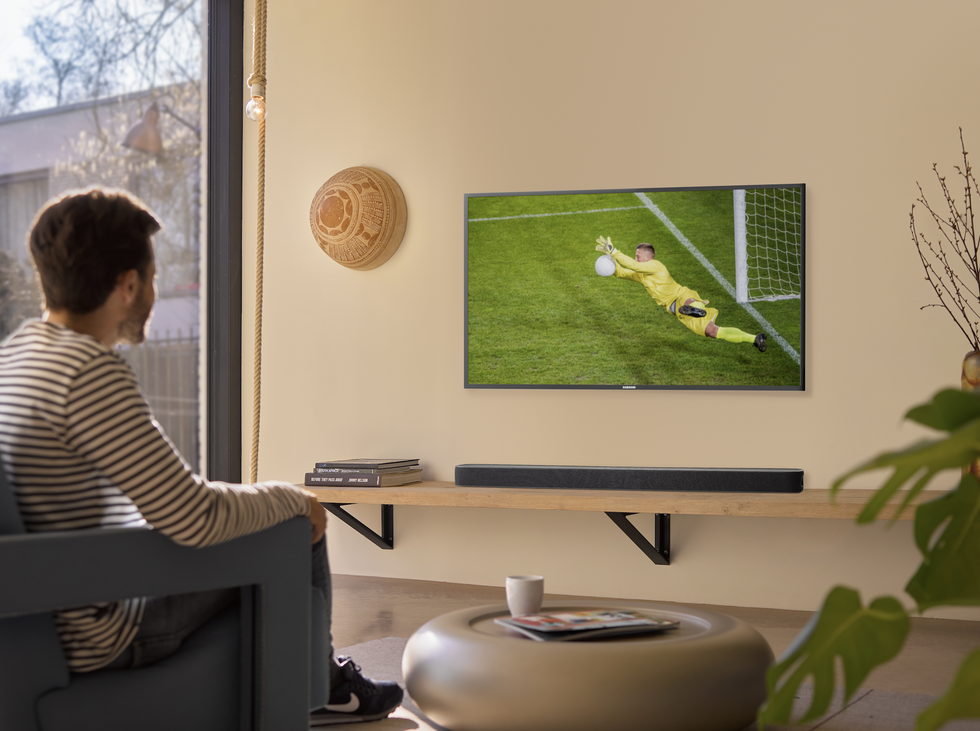 The JBL Link sound bar has Google Assistant, which can be used for switching TV inputs with your voiceHarman Kardon / JBL
This means you can ask Google to play music, put on a movie, or find a video on YouTube, then play it on the TV. Interestingly, the Google Assistant can also be used to switch input, so you can ask Google to swap from your cable box to the games console without reaching for the remote and doing it yourself.
The sound bar has three 4K-ready HDMI inputs and one HDMI ARC output for connecting to your TV.
As with the Citation range, US prices and release dates are expected at CES in January.
Check out The GearBrain, our smart home compatibility checker to see the other compatible products that work with Google Home and Home Mini