Like GearBrain on Facebook
One year after Google Home's launch, Google has a smaller version: the Google Home Mini. Priced at $49.99, the smart home gadget is designed to compete directly with the equally-small — and equally-priced — Amazon Echo Dot.
But is the Home Mini equally intelligent, and should you buy one? Let's find out.
Google Home Mini review: Design and hardware
Shaped like a pebble and about the size of a donut, the Home Mini is covered with the same fabric as the lower half of the full-size Home. Three color options are available — red coral, light gray and dark gray. But unlike the regular Home, these fabric coverings are not interchangeable.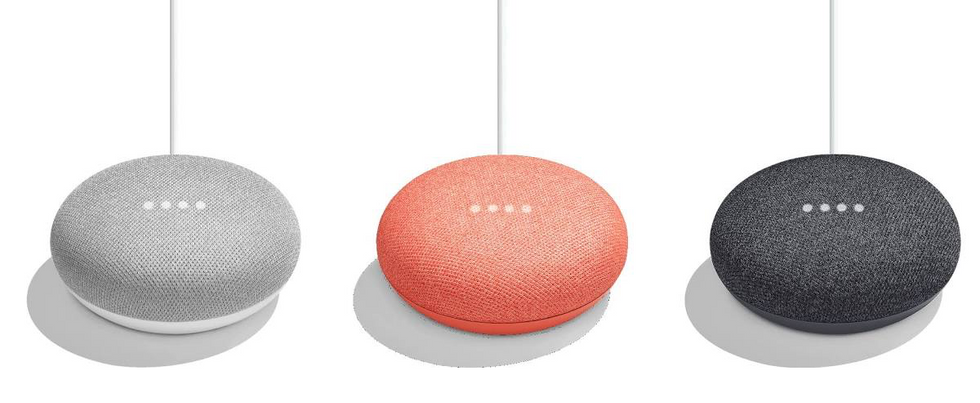 The Home Mini is available in three colorsGoogle
There are no real buttons on the Home Mini. The only physical controls are touch-sensitive volume keys: you tap the right side of the fabric cover to increase the volume and the left to decrease. This changes the volume emitted from the Home Mini itself, not the music it plays through a connected speaker. Volume level is displayed with four lights under the fabric cover.
Google originally intended for a long press of the Mini to act as a touch-to-listen instruction, negating the need to always say 'Okay, Google' or 'hey, Google' to get its attention. But after an early example was caught accidentally recording almost constantly, this feature was permanently removed via a software update.
There is a physical switch on the back which turn the microphone off, stopping the Home Mini from hearing you. Doing so causes the four volume lights to go red, and Google Assistant to say "The mic's off". Switch it again, and she says "The mic is back on," while the red lights disappear. We found the switch difficult to locate without looking for it — and we often accidentally altered the volume while reaching around to the switch.
In reality you won't need to switch the mic off very often. Still, it can be advisable to do so when watching a film, just to stop Google Assistant from confusing a character's voice for your own and trying to act on a command.
Unlike the Amazon Echo Dot, there is no auxiliary port for connecting to other speakers. And you can use Bluetooth with the Mini as a speaker (for your smartphone, for example), it is not possible to Bluetooth the Mini to a larger speaker. Instead, you need to buy a Chromecast dongle to send the Mini's sound to a better system, or invest in speakers which come with Chromecast support out of the box. More on that later.
The Home Mini is powered via a microUSB port; a cable and wall charger come included in the box.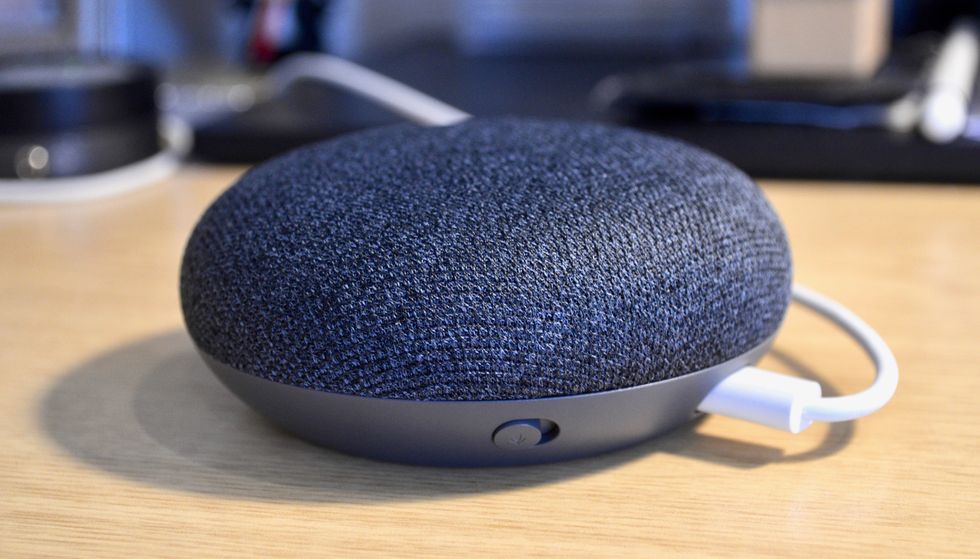 Microphone mute switch is hidden behind the speakerGearBrain
Google Home Mini review: Sound quality
With a single, 1.57-inch speaker you shouldn't expect the Home Mini's sound quality to set your world alight. And indeed it doesn't. However, the sound is much better than the even smaller Amazon Echo Dot, whose speaker is a measly 0.6-inch in diameter. If you're going to use Google Assistant mostly for radio, news and spoken word then you'll be fine. But play music loudly and you'll be wanting to hook up a better speaker via Chromecast.
Google Home Mini review: Chromecast
There are a number of Chromecast-compatible speakers and AV receivers already sold by Sony, LG, Philips, Bang & Olufsen, Pioneer, Onkyo, JBL and others. These connect wirelessly to the Home Mini, ready for you to play music from Spotify, Google Play Music, Deezer and more. But when you do, it's worth noting that the voice of Google Assistant still comes through the Home Mini itself, not the connected speaker. Music playback is controlled by the Google Home app for iOS and Android, or by voice commands.
Chromecast also works with video, and compatible televisions that are sold by Sharp, Sony, Philips, Toshiba and other manufacturers. This lets you 'cast' video from YouTube, Netflix, HBO Go, Hulu, BBC iPlayer and more to your TV. Just say to the Home Mini "Hey Google, play the latest episode of Stranger Things on the TV" and the show will begin to play from Netflix (A subscription is required.)
To connect the Home Mini to a device which doesn't have Chromecast built in, you will need to buy a Chromecast dongle. The standard Chromecast costs $30 and connects to your TVs HDMI port, ready to stream content from Netflix, YouTube and other services. You can use your smartphone as the remote, or speak instructions to the Home Mini.
For streaming music from the Home Mini to a non-Chromecast speaker you will need the $30 Chromecast Audio, which uses a 3.5-mm auxiliary cable. Essentially, this acts as a dongle to give your regular speaker a WI-Fi connection for streaming music from your phone or the Home Mini.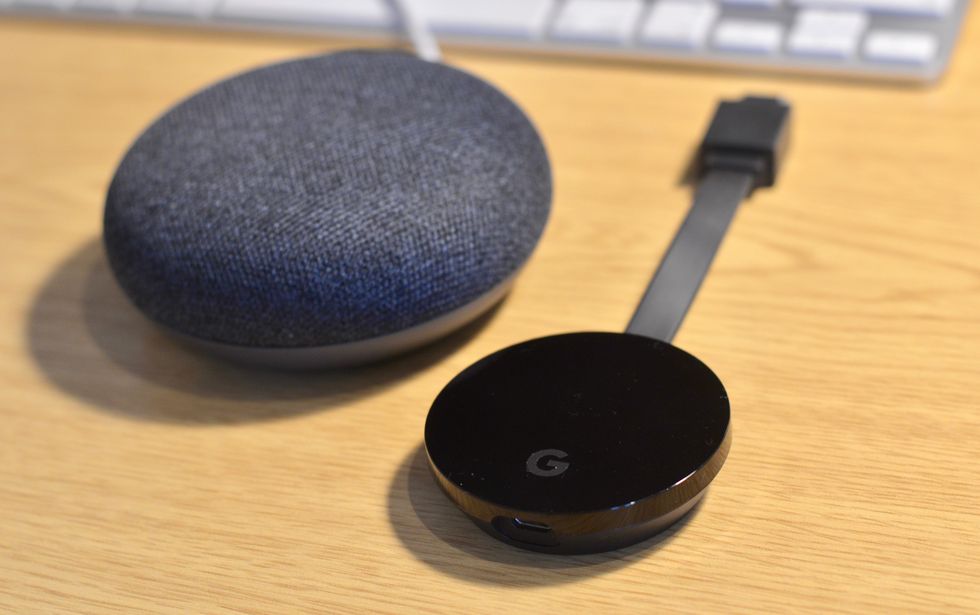 The $69 Chromecast Ultra gives the Mini wireless control of Netflix, Spotify and moreGearBrain
Google Home Mini review: Google Assistant

And so, to the main event. Both the Google Home and Home Mini work with the company's digital assistant, which is unimaginatively called Google Assistant. Much like Alexa on Amazon Echo devices, Assistant constantly listens out for either 'Okay Google' or 'Hey Google', and is then ready to answer a question or respond to a spoken command. While 'Okay Google' is quite clunky to say out loud, we got used to 'Hey Google' after the first day.
We found the Home Mini to be better at listening than the Amazon Echo Dot, and Google Assistant was more likely to understand what we said than Amazon Alexa. In fact, we were often surprised at how well Google understood us, even if we hadn't spoken clearly.
A key benefit of Assistant over Alexa is how it often understands the context of the conversation. Ask Google Assistant which of your favorite sports teams is playing next, and she will answer. Then ask "Where are they in the league" and she understands that you are still talking about the same team, before telling you their current position. The latter is something Alexa cannot do.
Assistant will also ask you questions and wait for a reply, giving the impression of increased intelligence. We asked her to play music, to which she said okay. But she then asked if we wanted to play that through the Chromecast-enabled TV we were streaming from earlier. Alexa can also ask questions, but in what feels like a far less intelligent way.
For example, we asked Alexa "How much are flights to Geneva?" to which she replied: "Do you want to know the price of flights to Geneva?". We said yes, but she replied: "Sorry, check price is currently not available."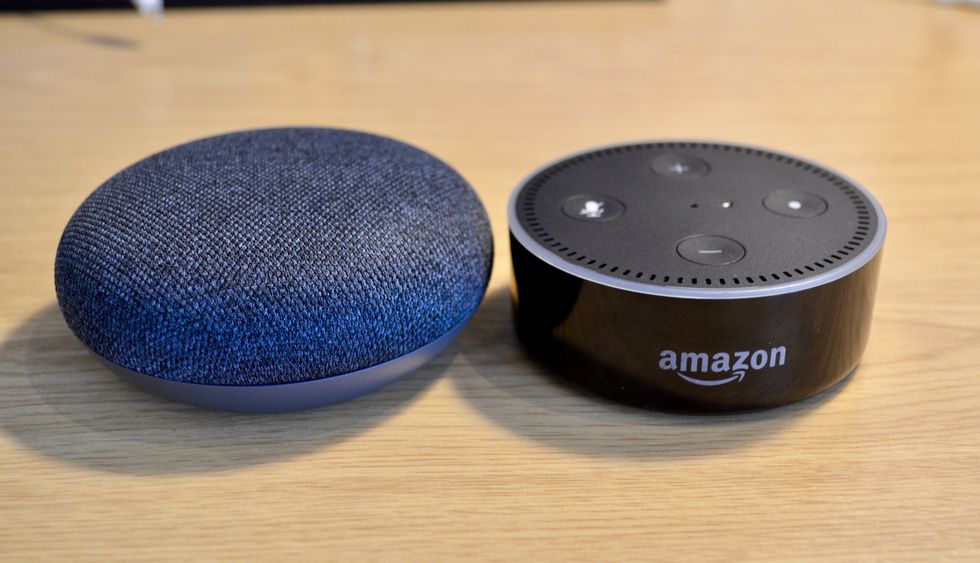 The Home Mini is roughly the same size as the Echo DotGearBrain
Google Assistant, however, pleasantly surprised us with her response. We asked the more complicated: "Hey Google, how much are flights to Geneva in May?". She replied with the price from London, from our current location (a detail Alexa seemingly didn't pick up on), for early May. She then asked if we'd like her to email us if that price changes. We found this genuinely useful and said, "Yes."
Alexa's problem here is her reliance on Skills, which have to be found and installed. Whereas Assistant, thanks to the sheer scale of Google's search engine, just knows more — and without relying on the services of others (such as Skills) to find the right information.
Also in Assistant's favor is her more natural-sounding voice. There is more warmth to it and her pronunciation sounds less robotic. It often feels as if Alexa is saying one word at a time, with each word sounding exactly the same on every occasion used. Google Assistant, however, strings words and phrases together into flowing sentences.
Google Home Mini review: Smart home integration
Just like the Amazon Echo range, Google Home and Home Mini can control many smart home gadgets such as Philips Hue lights, TP-Link smart plugs, Nest and Tado thermostats, and much more. Setting up smart home control is done in the Home smartphone app and is a simple process, just as it is with Alexa. The same device can be controlled with Alexa and Google Assistant at the same time — ie, you can turn a smart plug on with Alexa and off with Google, if you so wish.
Google communicates with fewer devices than Alexa — Roomba robotic vacuum cleaners being an omission we noticed in our home — but there are still many to choose from and we expect compatibility to improve over time.
Devices can be organized into rooms — similar to Alexa's groups — and the voice commands are all as you would expect. Say "Hey Google, switch the kitchen lights on" and she will do just that, providing you have named and grouped everything correctly. (You can learn more about what smart home devices work with Google Home or Home Mini by visiting GearBrain's HERE'S WHAT WORKS WITH GOOGLE HOME AND THE GOOGLE HOME MINI)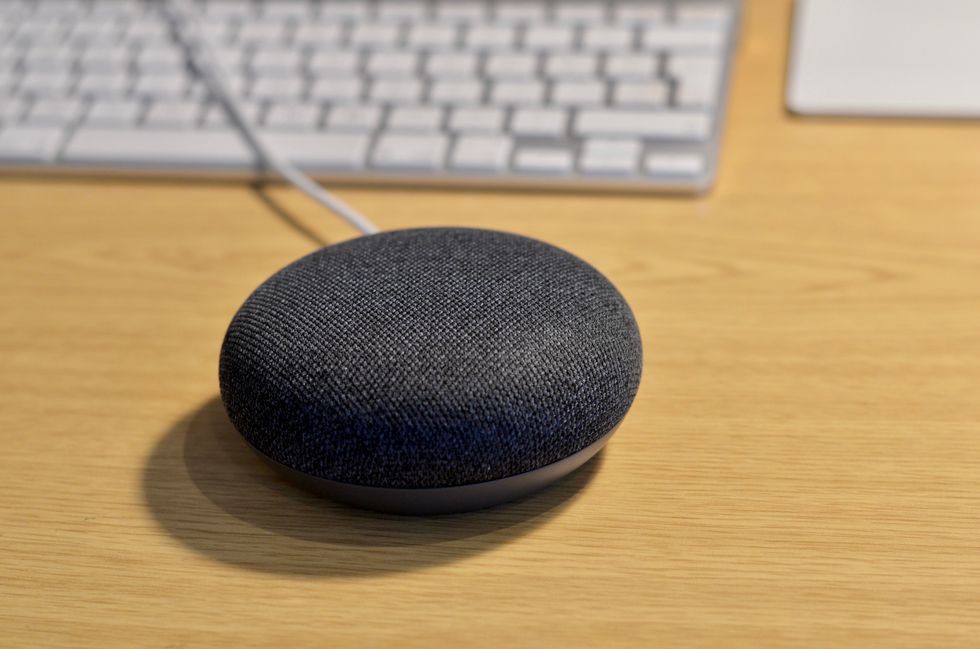 Home Mini is surprisingly loud for such a small speakerGearBrain
Google Home Mini review: Conclusion
For $49.99 the Home Mini represents excellent value for money. It takes everything which made the original Home great and shrinks it down into a donut-sized package with a price low enough to make it an impulse purchase for many. The design is subtle and unobtrusive, just as a virtual butler should be, while the fabric finish is more design-friendly than the shiny plastic of the futuristic-looking Amazon Echo Dot. (Buy Google Home Mini at Best Buy.)
The lack of Bluetooth and auxiliary out is a shame for anyone hoping to hook up the Mini to a speaker they already own. But the volume and sound quality is surprisingly good for a device so compact — and $30 for a Chromecast Audio dongle shouldn't be too much of a stretch for anyone already interested in the Home Mini.
Assistant's intelligence and natural speech is, in our opinion, an improvement over Alexa and the Echo Dot we have used for the past year. Google just knows more (as perhaps shouldn't be a surprise) and seems more eloquent. When talking to Assistant we feel more confident that she understand what we are saying compared to Alexa, which can be hit-and-miss.
The great thing is, as AIs like Alexa and Google Assistant get smarter, devices like the Home Mini and Echo Dot will improve and get better with age. With that in mind, it's time for Alexa to smarten up if she's to keep pace with Google.
Pros: Compact and attractive design with decent sound quality for the size and excellent Google intelligence
Cons: No Bluetooth or auxiliary for connecting other speakers, mute switch awkward to use
Like GearBrain on Facebook