Like GearBrain on Facebook
Pros: Clean, aesthetic design, bands are pop of color, simple interface that stays true to its intent as a workout wearable
Cons: Perhaps too simple for those wanting more robust features
Smart watches are flooding the market, devices that answer calls, let you play games, send emails and even train for a marathon. One of the latest is the Huawei Fit which GearBrain had a chance to play with for a few days before its launch today.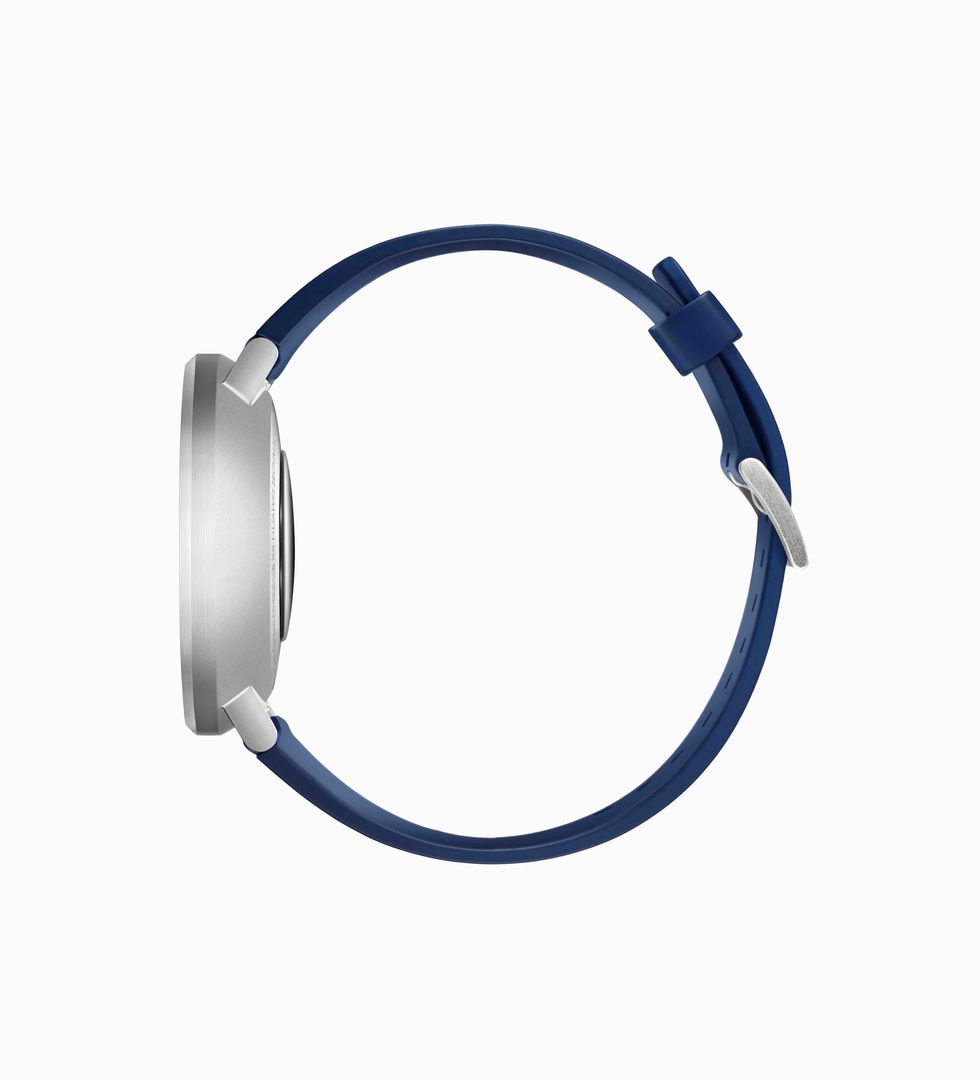 Huawei FitHuawei
Clean design

To start, the device has a nice aesthetic—a rounded touchscreen, black and white face, with a body that bowls up gently with a silver metal color, and very reminiscent of the round Pebble. The bands, blue, orange and black come in different sizing but are a solid pop of color. I got a compliment on mine within 15 minutes of wearing the Huawei Fit. Truthfully, I took to the look myself as well.
The smartwatch holds a battery for about six days. However, with infrequent use I noticed the battery draining after a few days. Charging takes about two hours—easily done overnight if you're not enabling the sleep tracking feature on the device. There's also 256 KB RAM, 1 MB ROM and 16 MB Flash memory.
Launching the smartwatch could not have been easier I am an iOS user, and the app downloaded to my iPhone, then found and paired with the smartwatch quickly via Bluetooth. (The smartwatch also pairs with Android devices.) I allowed the app permission to see contacts and receive notifications. Doing so meant I could see calls coming in on the screen of my smartwatch—although answering them and talking is not possible.
One nice element: muting the call from the smartwatch face. I'm a big fan if turning off unwanted sounds at my discretion. I would have preferred an option to answer those calls. But also, the Dick Tracy-take-a-call-from-your-watch scenario does not exactly lend itself to the most private conversation. And if you've been around someone having a smartwatch call recently, well, you may wish they'd put in their headset. Still, a quick audible conversation would be nice.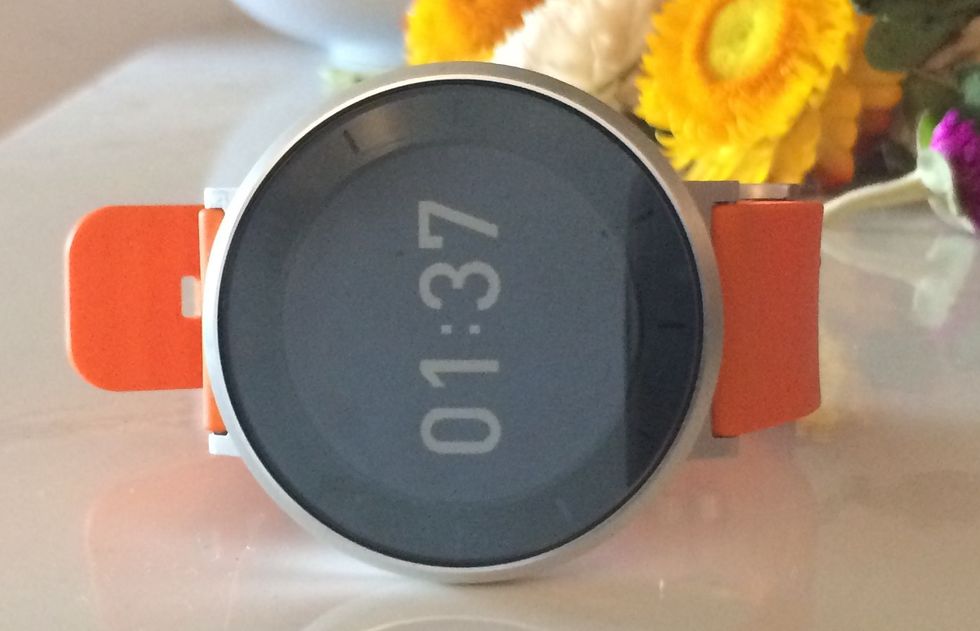 Face of Huawei FitGearBrain
Streamlined features
This is not, however, the Apple Watch. Not does Huawei Fit presume to be so. You're not going to download a ton of apps. You're not going to have a colorful rainbow of options available. You're not going to send and receive emails. The Huawei Fit is instead a very streamlined device, designed for the workout crowd with a little extra oomph thrown into the mix. The smartwatch mainly wants to track your fitness through steps, planned workout sessions—even your heart rate.
You slide through the different options like many Android smartwatches: through Android gestures or touch and sliding your finger on the screen. There's the watch face, with a few options from digital to traditional, plus others including one that shows battery life, date and whether you're connected via Bluetooth or not. (I chose this one.) There's a workout screen which can track your steps, heart rate and time, a simple step tracker screen, one for sleep tracking, another that acts as a heart rate monitor in real time, and one that can hold you a training session you design on the smartphone app.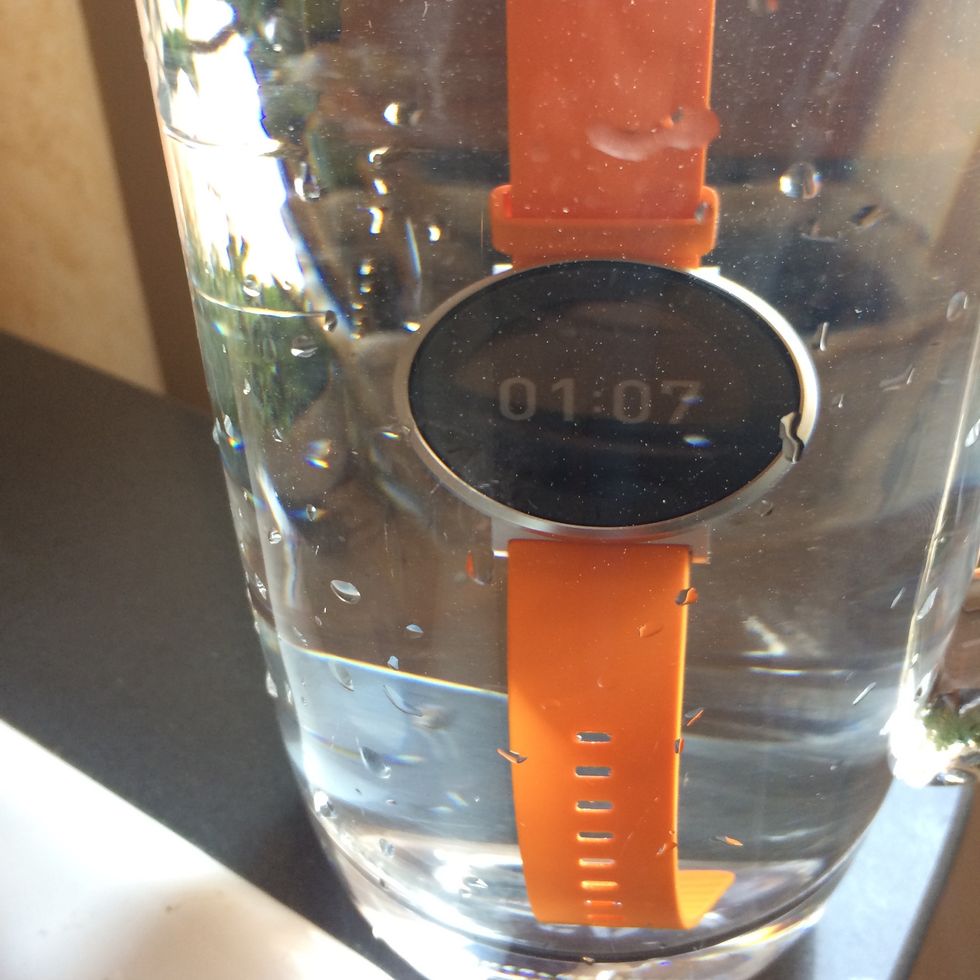 GearBrain placed Huawei Fit in glass of water.GearBrain
Workout support
I have a step counter in my iPhone—we all do. But I liked the ability to gesture up quickly on the Huawei Fit to see how far I'd walked. Yes, I know step counters aren't always reliable. But I see them as a motivator—to see I clocked some miles today, or to realize it's 3 pm and I haven't really moved so I need to get going. I also liked checking the heart rate meter, even when I wasn't hitting my boxing class. I like the ability to monitor my heart rate to see if I'm getting too stressed, or able to stay in a relaxed mode.
The smartwatch also allows you to monitor details like the distance you've covered, calories you've used and other metrics including your endurance. Swimmers too can make use if the Huawei Fit, as it's water resistant to up to 5 ATM, or 165 feet. That's really decent—and easily usable then for snorkeling.
To be fair I didn't take Huawei Fit into a pool with me, or try diving or snorkeling. I did, however, immerse the smartwatch into a pitcher of water for 30 minutes. And it came out fine. Why did I like that? To start, I don't want to have to take off a watch when I wash dishes. More key for me, though, is a I have a Labrador Retriever who needs frequent bathing from his park outings. Which means I get a bathing too. I don't want to take off a device for that, and with Huawei Fit I won't.
As a smartwatch to support workouts, the Huawei Fit is definitely a solid option. Those accustomed to more robust features may not feel this is the right choice. Yet priced at just $129.99 at Best Buy, Amazon and Newegg (far lower than the $269 starting point for even a Series 1 Apple Watch) it's a good entry point for a first-time smartwatch buyer.
Ultimately, Huawei Fit's streamlined look is also going to the main appeal to fitness buffs who want a device that can help them train—but still offers a cleaner look to their wearable.
Like GearBrain on Facebook