Like GearBrain on Facebook
Not long after the Philips Hue smart lighting system introduced its first Edison-style filament bulb, Ikea now has its own - and it is significantly cheaper.
The Ikea bulb, part of the company's Tradfri smart home system, is priced at $9.99, while the equivalent bulb from Philips Hue costs $24.99. That makes the Ikea bulb 60 percent cheaper.
Read More:
Being Edison-style filament bulbs, they both look very similar and are designed to create the same aesthetic - think of a brick-walled apartment in a former industrial building, with these bulbs suspended from the ceiling on long cables, and you're pretty much there.
Both are also designed to emit a warm decorative glow, rather than be used to add meaningful flood lighting to a room.
Delve into the technical specifications of each bulb, and the similarities continue. The Hue shines at 2100 Kelvin, compared to 2200 Kelvin for the Ikea. Brightness is less with the Ikea option, at 250 lumens compared to 530 from the Hue, although we would argue that these bulbs are intended to be looked at directly, rather than be too bright to appreciate their filament detailing.
With regard to brightness, both can be adjusted using their respective smartphone apps and dimmer switch accessories, but neither should be fitted to a regular non-smart dimmer switch.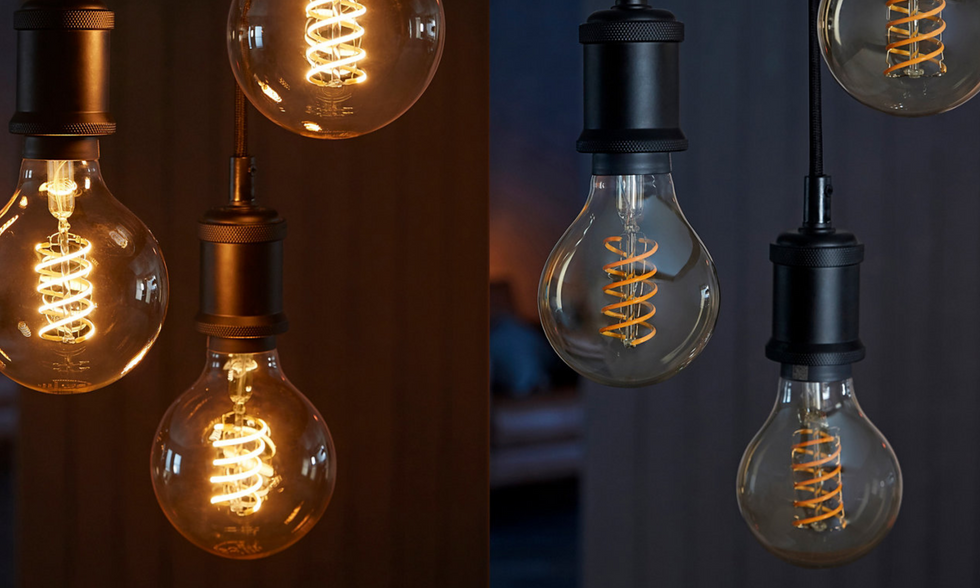 The Philips Hue filament bulb costs $25Signify
Philips Hue claims its bulb will last for 15,000 hours, compared to approximately 25,000 hours for the Ikea Tradfri. Both bulbs have the same A19 appearance and E26 screw-in fitting.

In our experience the Philips Hue ecosystem offers more customization of how your bulbs work, and their transitions between different settings are smoother than the Ikea Tradfri. But we doubt many consumers will value these small benefits enough to spend more than twice as much on the Hue bulb.
Ultimately, which bulb you purchase may come down to what smart lighting system - if any - you already have installed in your home. And even then, because both systems use the Zigbee wireless protocol, it is even possible to use Ikea bulbs with a Hue system.
Philips Hue White Filament ST19 Smart Vintage LED bulb, Bluetooth & Hub compatible (Hue Hub Optional), Edison bulb, voice activated with Alexa
From Your Site Articles
Related Articles Around the Web
Like GearBrain on Facebook