App-controlled lighting can be the best first step to making your home smarter. These systems are easy to install and set up, can be easily moved to a different room or a new property, and have a certain wow-factor that devices like smart thermostats lack.
They are also the ideal device for people living in rented property, as they can be installed without making permanent changes to the property, and taken with you when you move.
Although you may only have heard of smart lights from Philips and Ikea, the market is already surprisingly large. All systems offer a very similar promise — millions of colors and temperatures of light, adjustable to however you like — but there are differences to be aware of before you make your first purchase.
You should also plan where you'd like the lights to go. Of course the ceiling is the obvious place to begin, but LED light strips and lamps mean you can get more creative than with regular bulbs — and all without upsetting your landlord.

Here is your complete guide to installing smart lighting in a rented property:
Companies producing smart lights
The following mainstream brands all produce smart lights, while a browse on Amazon will reveal many more lesser-known companies selling their own bulbs and light strips, often at lower prices but with fewer features and connectivity options.
LIFX
Ikea
Belkin Wemo
Nanoleaf
TP-Link Kasa
Elgato Avea
Installing lights
Some smart bulbs — like those by LIFX and TP-Link — connect directly to your Wi-Fi network, ready to be controlled by their smartphone app from a phone connected to the same router. Others, like Philips Hue and Ikea Tradfri, connect to their own dedicated hub, which plugs into your router with an Ethernet cable.
Some require you to provide your own Z-Wave or Zigbee smart home hub, like an Amazon Echo Plus, or one produced by Samsung SmartThings. These hubs act as middlemen between your smartphone and the bulbs (and other smart home devices).
Renters are unlikely to have any issues no matter system they buy, unless your landlord has imposed some restrictions on the property's router. In our experience, you are free to plug in your own router and control the home's network however you like.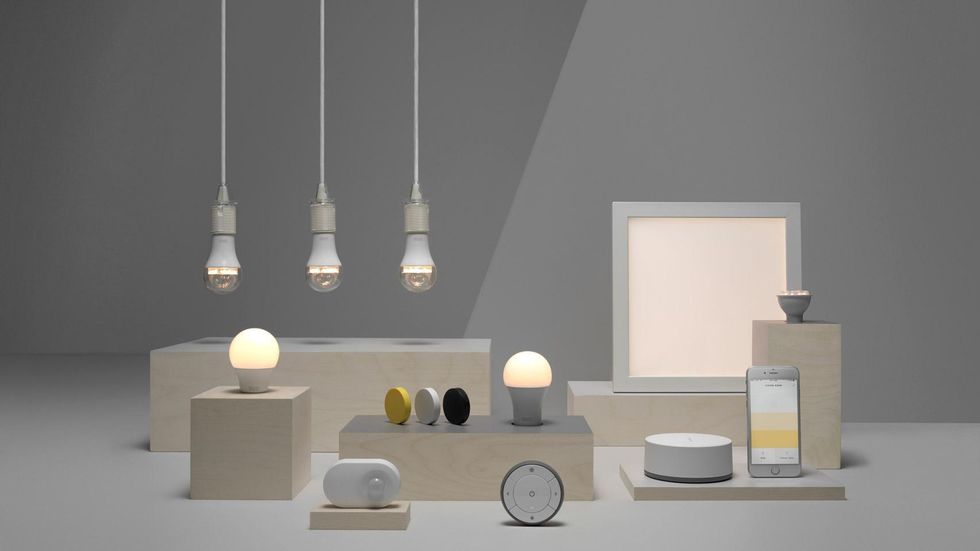 Ikea's Tradfri range is a budget alternative to Philips Hue and LIFXIkea
Check your fittings
The first thing you should do is check what fittings your current lights use. Do they have a screw or bayonet connection, and what size is it? Are they regular bulbs or spotlights?
Once you have worked this out, you can start researching which smart light company offers the right bulbs for your connections. Property owners could replace their connections (often a fairly simple job for those comfortable with basic wiring), but for renters this likely isn't an option.
It could be worth checking with your landlord — you never know, they might agree to changes because they like the idea of the property being smart bulb-friendly — but you will likely be stuck with the current fittings.

As for controlling smart lights, this is done with a phone app or by talking to a smart speaker like the Amazon Echo. Just leave all of your conventional switches on and turned up to maximum brightness, then control the bulbs directly with your smartphone.
Some systems (like Philips Hue and Ikea Tradfri) include switches, dimmers and motion sensors, but these are wireless so can be placed anywhere and don't need fitting to the walls.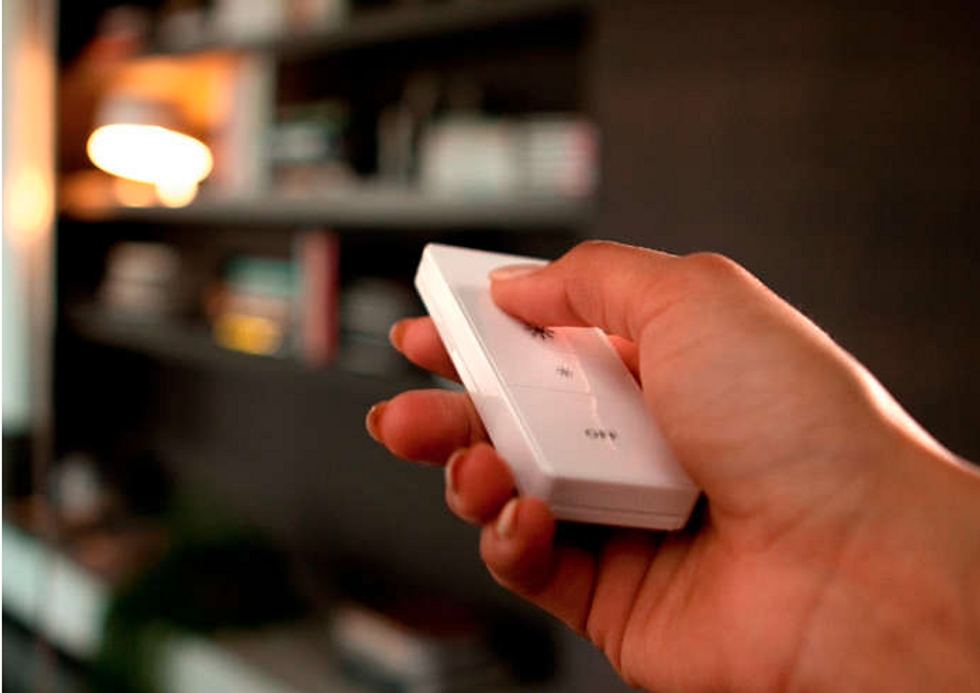 Philips Hue lights can be controlled by a wireless switch and dimmerPhilips
Standalone lamps are a landlord-friendly option
It is highly unlikely that you won't be able to fit at least some smart bulbs to your current fittings. But it can still be disappointing to discover widespread incompatibility across your home — as I did last year, as Philips Hue does not offer GU5.3 spotlights, which my home uses almost exclusively. If you find yourself in this situation, then companies like Philips, LIFX and Nanoleaf sell smart lamps and light strips, which can be placed almost anywhere and plugged into a wall outlet.
Another way to get some smart lights into your rented property is to buy some lamps. Either pick something like the Philips Hue Go, or buy any budget lamp with a common bulb fitting, like the E27 standard. Now you can place smart lights wherever you like and with zero modification to the property itself.
LED light strips

As well as lamps, LED light strips are a great way to bring new lighting into your rented property. A wide range of companies sell such strips, from the likes of Philips and LIFX, but also lesser-known firms like Nexlux, YiHong and Lampwin. Many work with their own app and offer control via Amazon Alexa, Google Assistant and Siri.
We recommend going for a better-known brand, but their prices can seem high compared to the alternatives. For example, a kit including one 80-inch Hue light strip with a 40-inch extender costs $115, while a YiHong 198-inch strip with Alexa and Google Assistant support can be bought for just $30.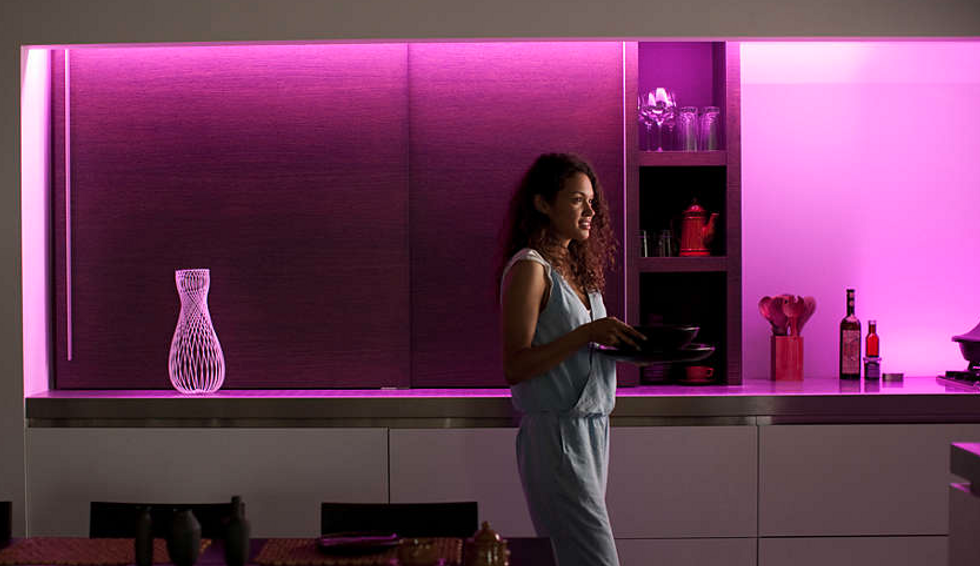 LED strip lighting can be used to add featuring lighting to your kitchenPhilips
Popular places for light strips include behind the television, above and below kitchen cupboards, and under or behind items of furniture like wardrobes and sofas. The trick is to completely hide the light strip from sight, so instead of seeing the individual LEDs, you see the pool of light they create.
These strips are powered by a wall outlet, can often be daisy-chained together to make them longer, and come with an adhesive strip to stick them in place. Renters will want to be careful here, as sticking them to your walls could cause damage when you remove them months or years down the line.
We recommend only sticking them to your own property, like the back of your television. Alternatively, placing a lamp behind the TV with a smart bulb fitted can create the same soft backlighting effect.
Feature lighting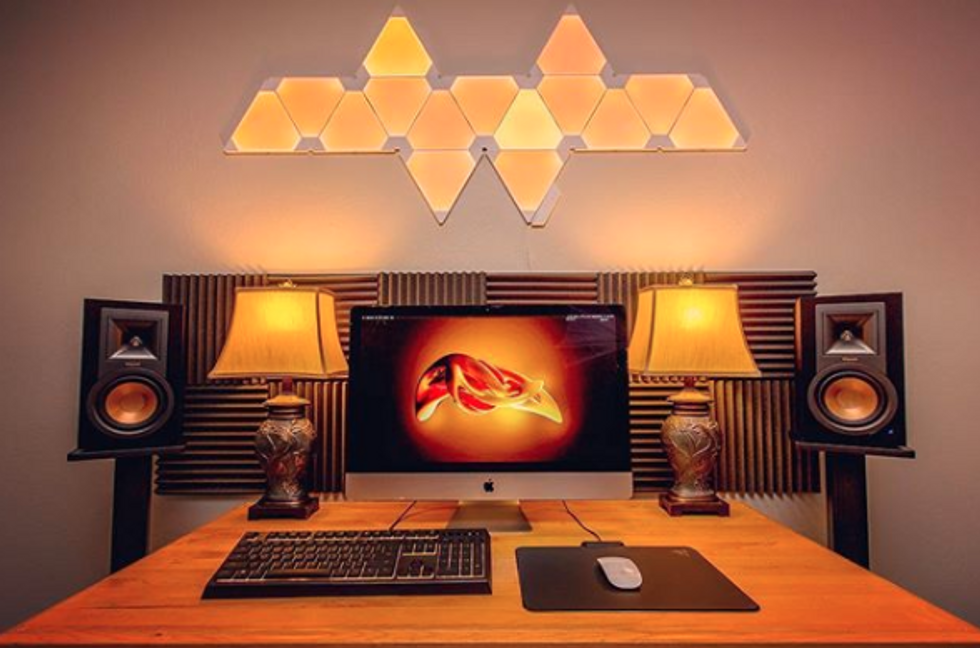 An example of how feature lighting can also be smartNanoleaf
Smart lighting gives you the chance to great creative with how your property is lit, even if you don't own it. For decoration instead of room-filling lighting, try the Nanoleaf Aurora, a modular system that starts at $200 and is comprised of light-up triangles which clip together into many different shapes.
The starter kit comes with nine triangles and a main plug, but up to 30 can be added and you can make each a different color. The picture above is 15 panels — which costs about $320 and includes the $65 rhythm module, which allows lights to flash in time to music you play nearby. Alexa, Google Assistant and Apple HomeKit support comes as standard.
Outdoor lighting

If you're fortunate enough to have some outside space with your rented property, then there are some smart lighting options available to you. Obviously, digging up the garden to install cables for extensive lighting isn't something most renters can do, but replacing existing bulbs is easily done.
For example, I have a small roof terrace with a light fitting in one corner. I recently discovered this is a regular E27 bulb, so swapped it for a Philips Hue bulb, added it to my Hue app, and I now have a terrace smart light which can be made any color.
If you can't guarantee the light will be protected from rain by its cover (mine is in a glass case), then the BR30 and +BR30 bulbs by LIFX are water resistant and designed for outdoor use.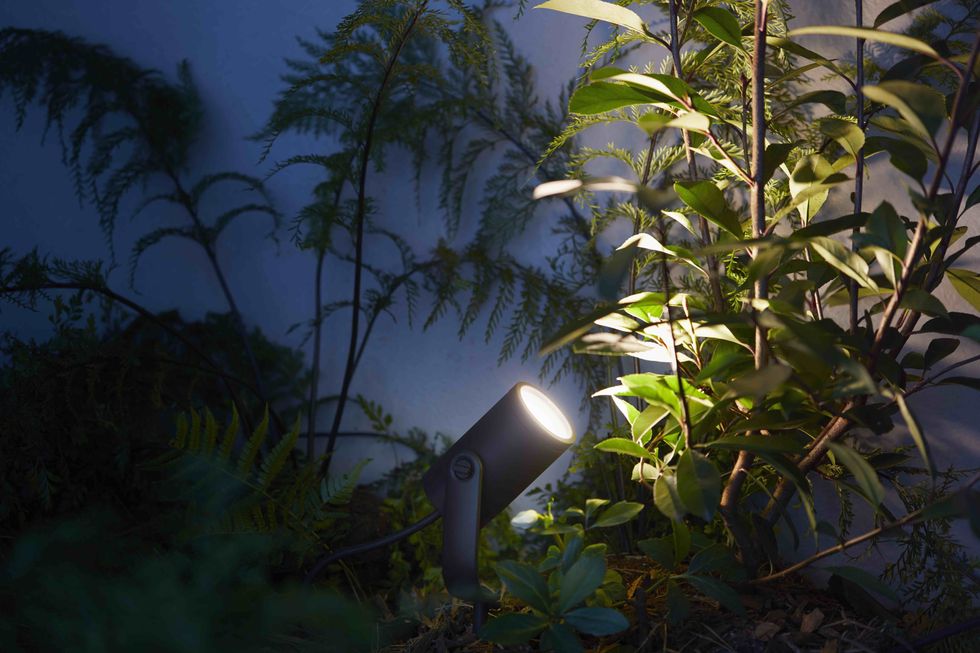 Hue outdoor lighting is going on sale this summerPhilips
This will be your simplest option for making your outside lights smart, but if there aren't any fittings to start with you could purchase a Philips Hue Go, which is a portable and battery-powered smart lamp compatible with Alexa, Google Assistant and Siri via Apple HomeKit.

It's an expensive lamp, at around $77, but gives out up to three hours of light per charge, which should be enough for most summer evenings in the garden. It can be used while plugged in and made to emit any color via the Hue app.
Another option is something like the Sylvania Lightify outdoor lighting kit, which includes nine lights spread across a single power cable. Each light sits on a small spike which can be pushed into the ground. These would look good illuminating a pathway and can be removed without causing any permanent damage to the ground.
The results
One of my favorite uses for smart lights is to fit a bulb or LED strip behind a television. This emits a warm, soft glow all around the display, making the bright screen easier on your eyes. I also have two LED strips stuck to the sides and top of my wardrobe, which is in the corner of my bedroom. Like with the TV, this casts a nice soft light across the walls and ceiling; with the Routines feature of the Hue app, I have these lights brighten gradually to wake me up each morning.
But it's down to personal preference, and with almost limitless options available — even for renters — smart lights can really be anything you want them to be. And when it's time to move out, you can easily take everything with you to your next smart home.