Like GearBrain on Facebook
Ikea has expanded its Tradfri smart lighting range to include several new types of bulb. There are also new light panels, filament bulbs, and a water-resistant controller for bathroom use.
Since launching a couple of years ago, Ikea's cut-price Tradfri range has offered a cheaper alternative to the likes of Lifx and Philips Hue, but with a far more limited range of lighting options.
Read More:
That is now less of a case, thanks to the new models appearing on the Ikea website this week. First spotted by Homekit Hero and now available to buy, the new range includes an in-fashion LED filament E26 bulb priced at $15.99. Although not full color, the decorative bulb offers three color temperatures spanning from a warm orange glow to cool white.
Next up, Ikea has added the Floalt light panels to its U.S. website for the first time. These are priced from $69.99 for a 12 x 12-inch model, up to $129 for models measuring 24 x 24 inches and 12 x 35 inches. These panels offer three different temperatures of light, the same as the E26 filament bulb.
Then there is the new E12 bulb with a compact candelabra fitting. This is a rare find among smart lighting collections, and means you can now add some smartness to the lights of a ceiling fan, chandelier, or other places which use compact bulbs. This full-color bulb costs $19.99, making it something of a bargain. Philips Hue and Lifx color bulbs tend to cost double the price of the Ikea bulb.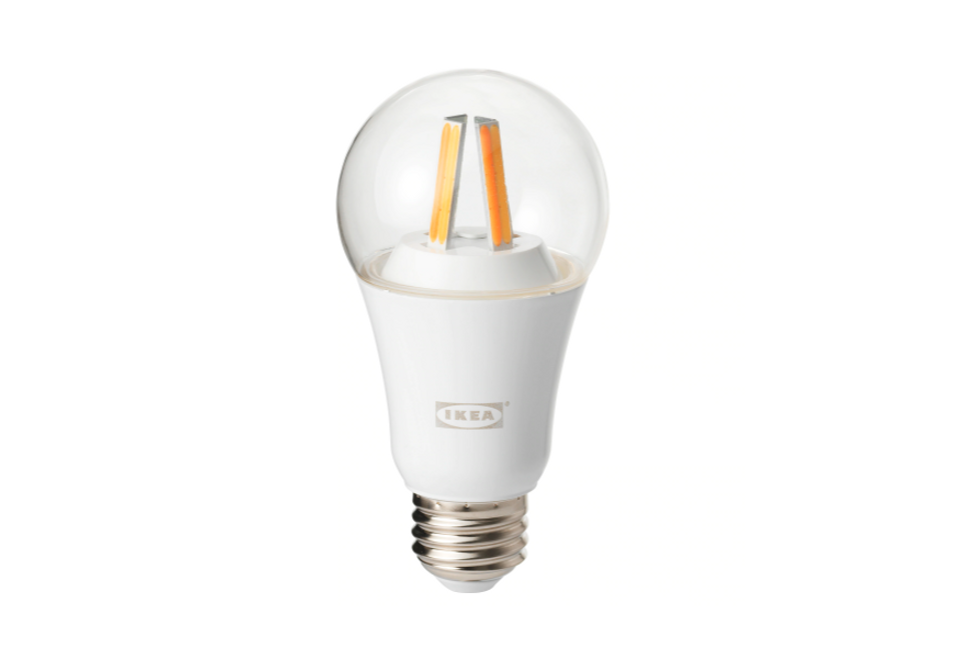 The E26 filament smart light costs $15.99Ikea
Ikea also recently added smart GU10 ceiling spotlights to its Tradfri range, priced at just $8.99 for a dimmable bulb, and $19.99 for a GU10 with adjustable temperature and brightness.

Finally, the Tradfri wireless controller has been updated to include an IP44 rating, which means it will survive splashes of water. We wouldn't recommend fitting this to a wall outside where it will be rained on, but this rating at least means it will survive life in a humid bathroom, or when used with wet hands.
This is all great news for smart home owners, especially as the Tradfri kit works with Amazon Alexa, Google Home and Apple HomeKit, and is cheaper than other options.
This broadening of the lighting range also shows Ikea's intent to be a real player in the smart home space. The company recently changed the name of its Tradfri smartphone app to Ikea Home, in preparation for expanding beyond smart lights with the Fyrtur motorized blinds due in the U.S. on October 1, and the Symfonisk smart speaker built in partnership with Sonos and set to go on sale in August.
From Your Site Articles
Related Articles Around the Web
Like GearBrain on Facebook