Like GearBrain on Facebook
Gaming on the iPad has always been a frustrating experience. Where the iPhone lends itself to mobile games that are simple, quick to play, and easy to control with one hand, the extra size and power of the iPad requires a different touch.
But, despite yesterday's flagship console games like Grand Theft Auto and Fifa appearing in the iOS App Store (for both iPhone and iPad, it must be said), the touchscreen-only form factor of the iPad made complex controls tricky.
Read More:
Developers added on-screen controls for the iPad to replace the buttons, tiggers and joysticks of a true controller, but it was never quite the same. As much as I wanted to play proper games on an iPad, the reality always fell short.
Lackluster third-party gaming controllers which, while compact, portable and cost-friendly, also lacked the comfort, customization and quality of feel gamers yearn for while playing.
After buying the 11-inch iPad Pro in 2018, I even felt more stymied. Here is a machine which is insanely powerful, and has a gorgeous, HD display with a face refresh rate — but the device still struggled to present console games in their best light.
Step forward to iOS 13, and more specifically its new iPadOS offshoot. This operating system is available as a public beta now, but remains fairly buggy. The finished version will be released in the fall.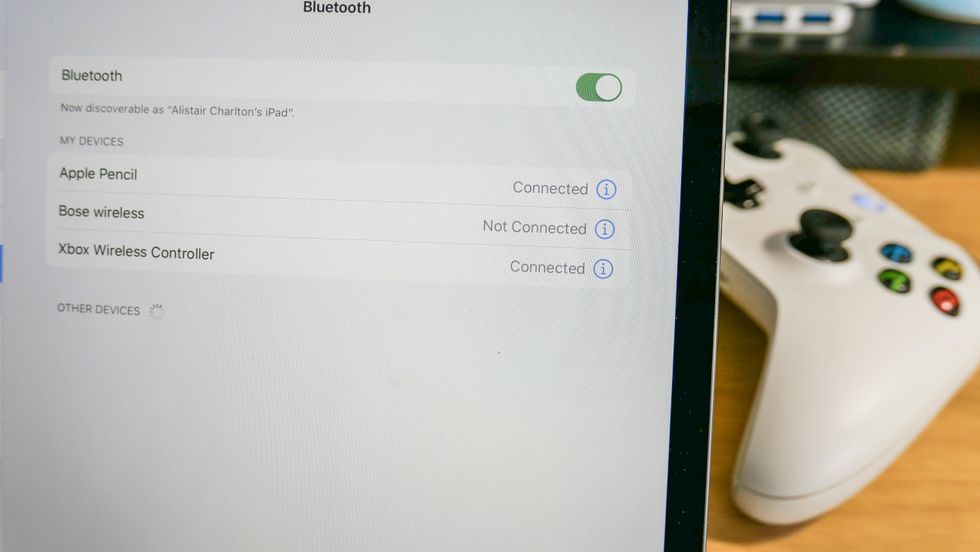 The Xbox controller pairs over BluetoothGearBrain
With iPadOS, the iPad works with Xbox One and PlayStation 4 controllers for the first time, via its Bluetooth connection. The iPhone and Apple TV work with these controllers as well, but for now, let's focus on the iPad.

The setup process is remarkably simple. After switching on my Xbox One controller, then press the pairing button on its front edge, open the iPad's settings app, tap on the Bluetooth sub-menu, tap on the controller, and the two are paired. One paired, turning the Xbox controller on automatically connects to it the iPad (and no longer switches on my Xbox).
The controller cannot be used to navigate around the iPad, but works with games where the developer has included controller support. This does not include PUBG for now, where the right stick of the Xbox controller moves the camera but nothing else works, but does include "Fortnite" for your battle royale fix.
Xbox and PlayStation controllers should work with all games with MFi (Made For iPhone/iPad) certification. You can see a list of these games here. While that collection doesn't scream quality games console in the way of list of games for the Xbox One PlayStation 4 or even less powerful Nintendo Switch might, it still offers quality titles for gamers to sink their teeth into — and with controller support and Apple Arcade, this is only going to improve.

At this point I should explain that not all Xbox One controllers will work. Microsoft has a guide to help explain which do. The controller I bought in the fall of 2017 works just fine.
I've been playing "Real Racing 3" and "Grand Theft Auto: San Andreas." Both work just as you'd expect, although some fine-tuning with the steering sensitivity in the former would make a difference. The controller is a bit too on/off by default, although this can be adjusted in the game's setting menu.
I also found the accelerator and brake for "Real Racing 3" is on or off, with no linear progression as I squeeze the controller's triggers. Obviously, this is a control system meant for a touch screen, where inputs are binary, but hopefully with the new support for 'proper' controller, developers will make improvements here.
Navigating game menus can be done with the controller, but it's often easier to reach out and tap at the screen.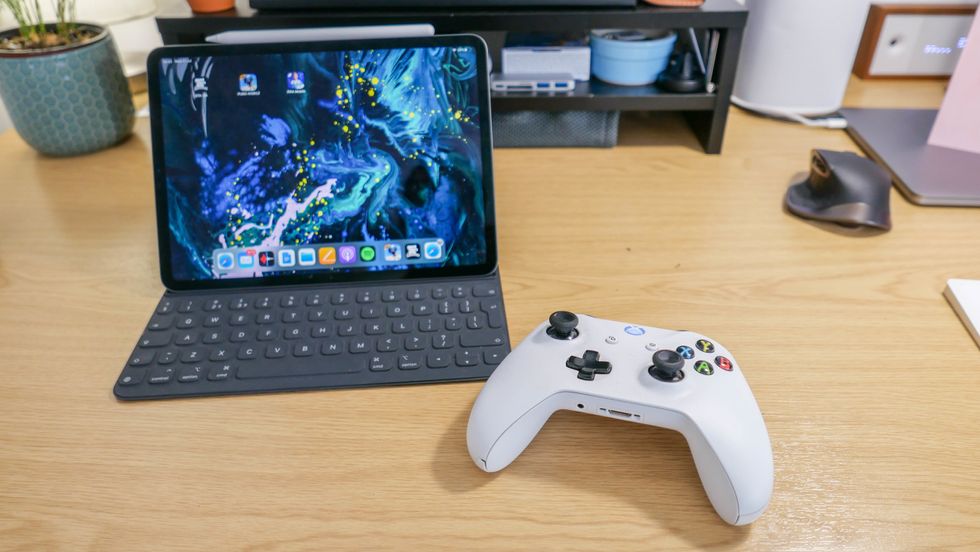 PlayStation 4 controllers also work with iPadOSGearBrain
This is a great time for Apple to finally bring proper gaming support to the iPad (and iPhone and Apple TV), just as Google plans to launch its Stadia game streaming service. With Stadia (and a monthly subscription) gamers can play the same titles on its computers, televisions and smartphones, as the processing power is done on Google's server, not the actual device.

Apple isn't doing this (yet). But the power of the iPad Pro presents a worthy mobile alternative to Google Stadia on a Pixel phone, or indeed an iPad — when that particular Stadia app eventually arrives. Of course, Apple is also luring gamers over to its Apple Arcade subscription service, due to launch later this year, which will contain exclusive games for its devices.
All of this makes it an exciting time for mobile gaming, giving the Nintendo Switch too, and its ability to play the same games on your TV or on the move, some strong competition.
For now, does iPadOS turn the iPad into a games console? It certainly lays some solid foundations for that to happen. The best iOS games are still somewhat mobile in feel for now (or are ports of console games which are 10 or 15 years old, in the case of "San Andreas"), but the power is there to build on this, especially with the iPad Pro.
I'm not an avid enough gamer to start packing an Xbox controller with my iPad Pro for every journey, but with iPadOS I'm more likely to think about this ahead of my next long-haul flight. There, while those around me are playing games on their phones or the seat-back system, I could be playing something altogether more serious — and most importantly, I'd be playing with a proper, familiar controller. Not something I picked up in duty-free.
GearBrain: OhmniLabs launches its new robot with remote controlled arms www.youtube.com
Like GearBrain on Facebook