A little-known feature of the iPhone is how it can be used to make an emergency call by holding down the power button. The phone can also be made to sound an alarm and share your location with select contacts, updating them when you move.
If you get into difficulty and are unable to make a call in the normal way, or feel you are in a dangerous situation and need to reach out for help, the Emergency SOS feature of your iPhone is worth knowing about.
It works on a wide range of iPhones, but there are different ways to enable Emergency SOS depending on the age of your handset.
First, the system needs setting up. Here is how to get started:
Before being able to fully rely on Emergency SOS, you should create emergency contacts for the system to automatically inform and share your location with. To get started, follow these instructions:
Open the Health app
Tap on your profile picture in the top-right corner
Tap on Medical ID and tap Get Started
You can fill out as much or as little of this page as you like, but adding medical conditions, notes, allergies and your blood type could prove useful if you are ever taken to the hospital. For now, you need to scroll down to Emergency Contacts and tap the green plus button.
Now pick the person and their number, then select what their relation is to you. You can then add as many emergency contacts as you need.
Your medical notes and emergency contacts can be viewed (and called) from the lock screen of your iPhone. Even when locked, an Emergency button appears in the lower-left corner of the lockscreen keypad. Tap this, then tap Medical ID, and the details will be shown.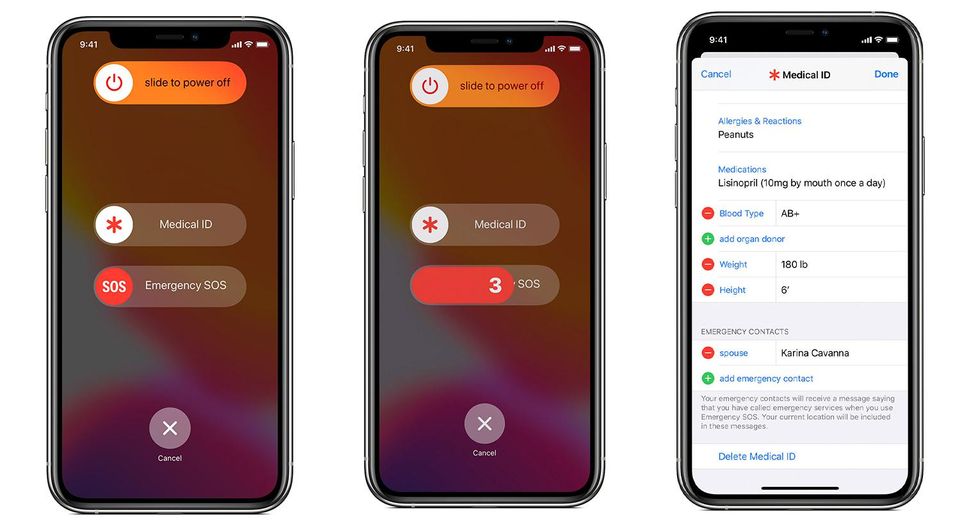 iPhone Emergency SOS modeApple
Now you have your emergency contacts selected, this is how to activate Emergency SOS:

On an iPhone 8 or later:
Press and hold the side button (also known as the power or lock button) and either one of the volume buttons until the Emergency SOS screen appears. From here, your Medical ID and emergency contacts can be viewed, and a slide of the Emergency SOS slider will call the local emergency services.
If you instead continue to hold the buttons down, a countdown timer will start and a loud siren will play for a few seconds. Keep the buttons held until the countdown ends, and the emergency services will be called.
Once the call has ended, your iPhone will send a message to your emergency contacts with your current location. They will then be messaged again if your location changes, as your iPhone is now in Emergency SOS mode. If you wish, you can choose to cancel these messages before they are sent.
On an iPhone 7 or earlier:
Quickly press the side or top button (again, this is the power or lock button) five times
Slide the Emergency SOS slider to call the emergency services.
As before, when the call ends your iPhone will send your location to your emergency contacts.
Once the iPhone has begun sharing your location with your emergency contacts, the phone will ask every 24 hours if you want to switch this location sharing off. To turn it off manually, tap the status bar at the top of the screen, then select Stop Sharing Emergency Location.
Finally, if you start the Emergency SOS countdown by accident, releasing the two buttons on an iPhone 8 or newer will cancel it. If you accidentally make an emergency call with an iPhone 7 or older, just tap the red icon to end the call as normal.
You can also set your iPhone to not make the emergency call automatically. Instead, it will only play siren when the countdown ends. To enable this mode, go to the Settings app and tap Emergency SOS, then turn Auto Call off. It is on by default.
Waterproof Case for iPhone 7, Shock Proof, Drop Proof by Catalyst for iPhone 7 with High Touch Sensitivity ID (Stealth Black)