Like GearBrain on Facebook
When it comes to an iPhone, you only need to shatter a screen once to start ordering protectors by the box. While you can certainly encase an iPhone completely around, that main screen is so pretty it's hard to want to lose it entirely. That's where a glass protector comes into play – something I've used for years on nearly every iPhone I've had since the iPhone 6.
With a new iPhone 12 Pro in hand, it was time to order the cover to protect that ceramic glass screen. And this time I decided to pick up the Spigen Tempered Glass Screen Protector, which almost promises you can't make a mistake when applying it to the iPhone. I accepted that challenge.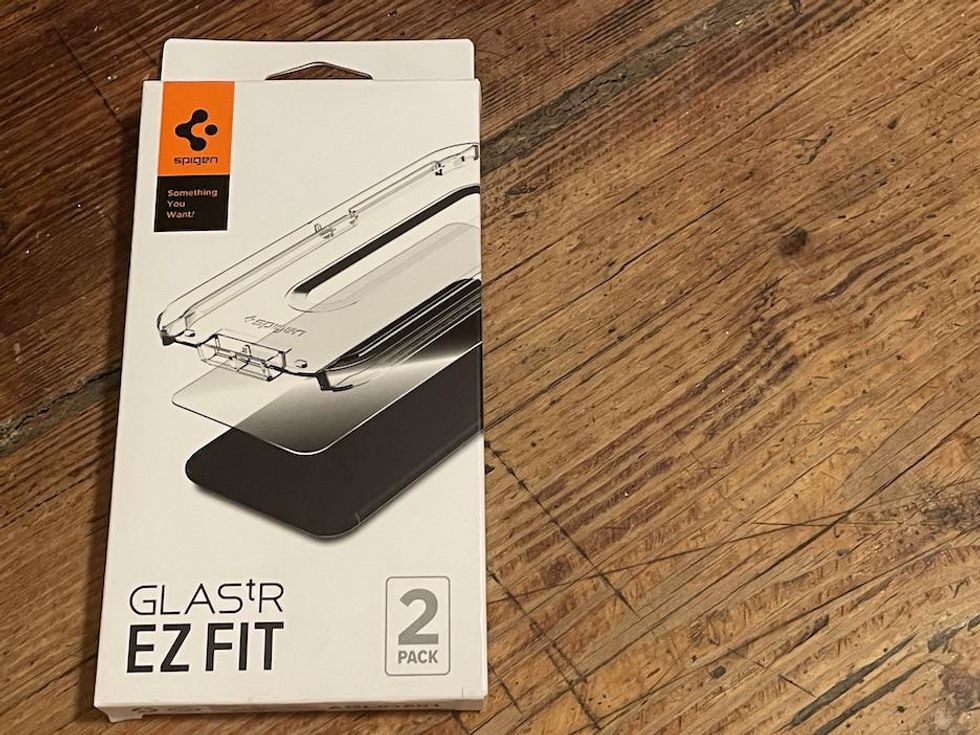 The Spigen Tempered Glass Screen Protector kit comes with two screensGearBrain
For the $12.99 price tag for the Glas.tR EX Fit series, you get two protectors. Why would you need two you ask? Those of us who use these know that the protectors themselves can crack and chip. That's the point actually — they bear the brunt, not your iPhone's screen. But typically, these boxes come with three or even four protectors.

But we're talking $13 — or $6.50 each. After buying an iPhone, this is one of the best bargains you're going to get.
What the installation looked like
Inside the box, is what looks like an iPhone case — two of them. These are actually the installation bits that ensure the screen fits exactly over the cutout on the top, and extends perfectly along the sides.
First step — always — is to clean the iPhone screen and Spigen sends not only alcohol wipes but also a cloth to ensure you get that glass perfect before you cover it. There are also stickers that remove dust particles if you need as well.
Then, you remove a back sticker on the case, and then place the entire case over the iPhone. A few points of pressure, and a short wait, and you then lift up the plastic holder with the protector in place. I still had a couple of bubbles, which I pressed out in seconds. All in, I had the new screen on in two minutes.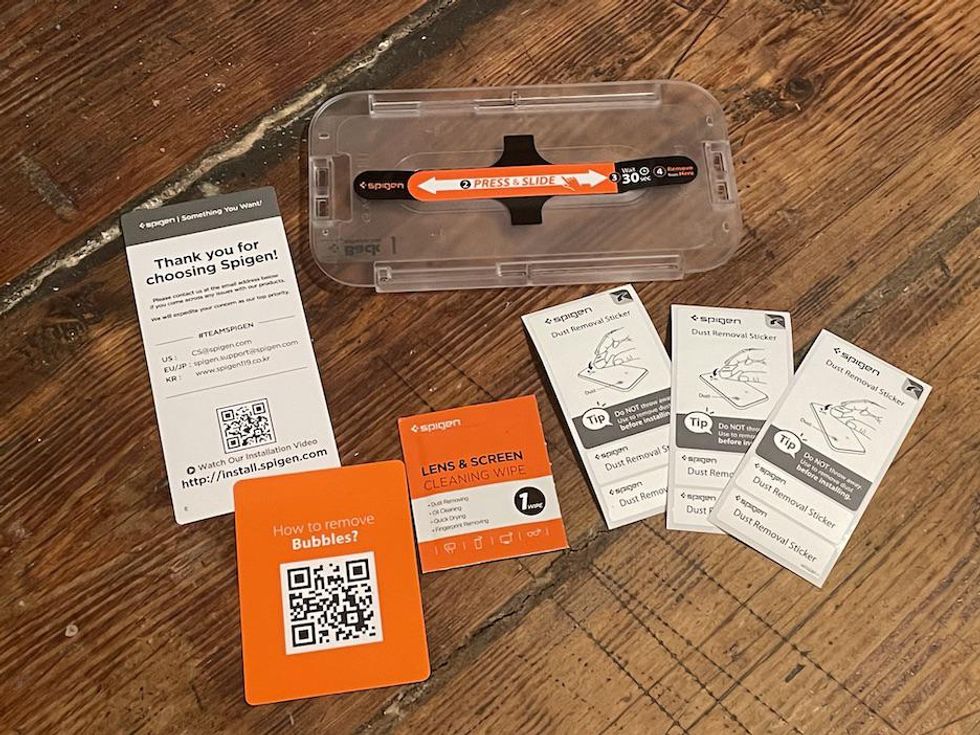 You get lens cleaners, stickers to remove dust, and even an online guide on how to remove bubblesGearBrain
How the Spigen protector protects

The Spigen Tempered Glass Screen Protector is made of actual glass that's tempered, and what some people know as safety glass, which is made through a process that uses chemicals or heat. That means when it breaks it tends not to shatter into tiny minute fragments, but stays together. You'll see it used in ovens and definitely car windows.
On the top of the Spigen protector is also an oleophobic coating on top of it, which means it's a bit more resistance to oil, like those that sit at the end of the your finger. Basically this helps to keep your fingerprint from constantly smudging the screen. It also helps to keep the screen a bit more scratch resistant too.
The protector is rated a 9H for hardness. This rating is referring to the Mohs Hardness Scale, and in this case the mineral talc (where we get talcum powder) is a 1 — a diamond is a 10.
Basically if something can scratch something else, it's harder. So a topaz, which is an 8, can scratch a piece of quartz, which is a 7. But neither can scratch a diamond. Regular glass can fall between 5.5 and 7. So you can gather here that a 9H rating makes this protector very very tough.
Interestingly, the new iPhone 12 Pro, made with a ceramic glass screen, has been tested and found by some to have a level 6 hardness. And that makes adding a screen protector — any frankly, let alone the Spigen Tempered Glass Screen Protector, an easy choice.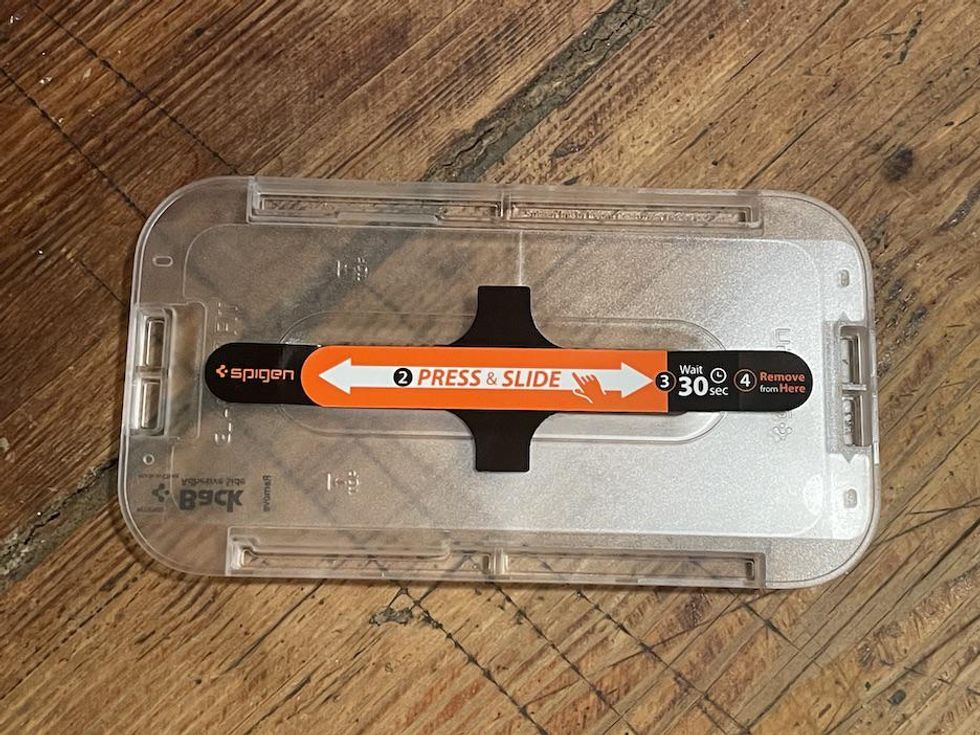 A big negative? The plastic installer is not recyclableGearBrain
Price

As mentioned above, the Spigen Tempered Glass Screen Protector is just $12.99 for two protectors.
Worth picking up
Unless disaster strikes, I can't really say whether this is the best protector I can buy. But I can say, after testing four to five brands over six years, the Spigen Tempered Glass Screen Protector is absolutely the easiest one to install.
It's as sensitive to touch as the actual iPhone screen, and it feels like glass, although it is truthfully not as sleek as the actual ceramic glass that covers the iPhone.
That screen on the iPhone 12 Pro costs $29 to replace with Apple Care — and $279 once out of warranty. The screen protector set me back just $13 for two.
I will say I don't love how much plastic I had to throw away to install the protector — it's terrifying to think about these sitting in a landfill. And no, they are not recyclable which means I will be thinking about ways to reuse these pieces, and also why we could not give the protector a perfect 10.
Pros:
Ridiculously easy to install
Price
9H hardness rating on Mohr scale
Cons:
Plastic piece can't be recycled after installation
You get 2 pieces, typically get 3 from other brands
Spigen Tempered Glass Screen Protector [Glas.tR EZ Fit] designed for iPhone 12 Mini (2020) [5.4 inch] [Case Friendly] - 2 Pack
From Your Site Articles
Related Articles Around the Web
Like GearBrain on Facebook