Like GearBrain on Facebook
The lack of home button on the iPhone X is at first shocking. And while Apple's replacement swipe gestures will likely become intuitive over the course of a weekend, for those who just can't deal with the lack of a home button help is at hand - in fact, it's right beneath your fingerprints.
AssistiveTouch has been a part of iOS's 'Accessibility' settings for several years, helping those who struggle to press the home button by placing a digital version on the screen, which can be dragged around and placed wherever you like.
And, because Assistive Touch is also available as a part of iOS 11 on the iPhone X, Apple's buttonless handset can be given the simple modification.
To enable the virtual home button, follow these instructions:
Open the Settings app
Tap General then Accessibility
Scroll down and tap AssistiveTouch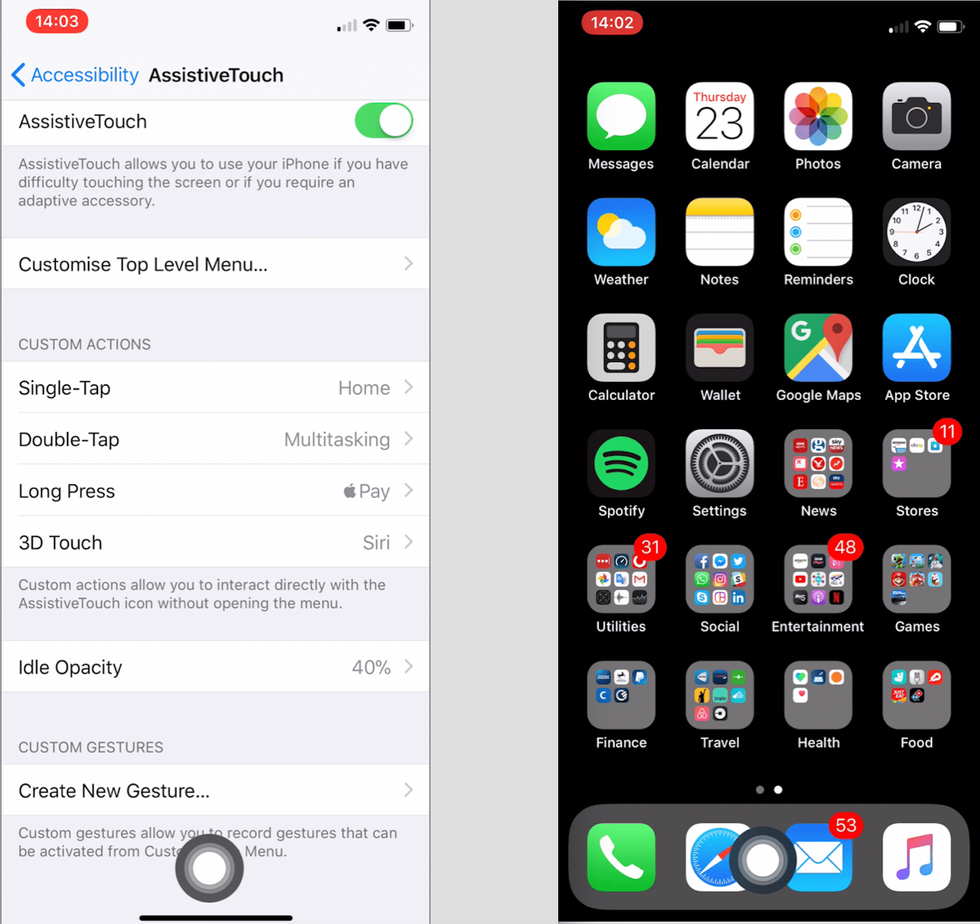 AssistiveTouch gives the iPhone X its home button backGearBrain
Once activated you can not only position the digital home button wherever you want, but also assign it with four different commands - one for a single tap, double tap, long press and 3D Touch (also known as a firm press).
For mimicking the actions of the home button on previous iPhones, you will want to assign the single tap or 3D Touch command to home from the menu. There are no fewer than 24 options for each tap and press of the button, ranging from home and Siri, to notifications, volume, multitasking, screenshot, Apple Pay, SOS and more.
To recreate the physical home button, we set ours like so:
Single-Tap: Home
Double-Tap: Multitasking
Long Press: Apple Pay
3D Touch: Siri
We also left the idle opacity of our home button at the default - 40 percent - meaning it fades to just below half opacity when not in use. Naturally, we positioned it at the bottom of the screen, in the middle and right where the physical home button used to be. Having said that, the button tends to move around in a bid to get out of your way, like when typing, and will often default to the top-right corner, which can be annoying if you always want it in the same place.
But that small frustration aside, iOS Accessibility gives your iPhone X a fully-functional home button where there wasn't one before.
Like GearBrain on Facebook